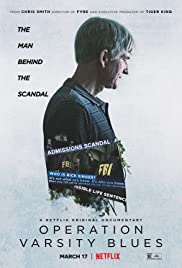 On March 12, 2019, the lid was blown off the biggest college admissions scandal in United States history as dozens of very wealthy parents were found to have paid foundations run by scam artist William "Rick" Singer (Matthew Modine) to open a "side door" (as opposed to the far more expensive "back door" opened with direct donations by parents) for their children to get accepted to prestigious universities. Using recreations of conversations captured on FBI wiretap transcripts obtained from Singer's phone and released by the US government, Operation Varsity Blues tells a shocking true story. A number of those interviewed in this film help to tell the story of college counselor Rick Singer whose various foundations served as the vehicles for illicit transfer of funds to various universities.
Singer's group often fabricated application data like ethnicity, had professional test takers fill out answer sheets on students' standardized examinations, and faked students' learning disabilities to enable them to get more time to complete their tests. A former college basketball assistant coach, Singer had an insider's knowledge of how college athletic departments worked and readily exploited their vulnerabilities, particularly when it came to "donating" money. These departments provided an accessible side door as Singer presented his college applicants as skilled participants in the less popular sports like sailing and women's soccer. These students would then become eligible as walk-ons without ever having to participate in their sport once they were accepted. Fake records of participation and altered game photos were also used to enhance the credibility of these young college aspirants.
OPERATION VARSITY BLUES: THE COLLEGE ADMISSIONS SCANDAL (2021)
Rick Singer's downfall was quite serendipitous. LA businessman Morey Tobin, under FBI investigation for securities fraud, made a deal with the agency. He would wear a wire while talking to Yale women's soccer coach Rudy Meredith (William Christopher Stephens) who asked for nearly half a million dollars to get Tobin's daughter admitted to Yale as an "elite" soccer player. The FBI nabbed Meredith who then steered them directly to Singer who, in turn, agreed to have his phone conversations with his clients recorded, thus drawing in the wealthy parents involved in this scandal.
While this docudrama uses actors to portray some of the parents charged in the case, former Stanford sailing coach John Vandermoer who did not benefit from the donations to his team does appear as himself. There are end-credit news program videos showing some of the real parents being arrested and then charged by the FBI, including Hollywood celebrities Lori Loughlin and Felicity Huffman. Those who pled guilty and were jailed got very little prison time and, considering their personal wealth, paid relatively small fines. Ironically, Rick Singer is still a free man but, perhaps, not for much longer.  Documentary filmmaker Chris Smith (Fyre) does his usual fine job in tackling a very hot-button subject and exposing the various parties to the bribes and cheating that, in the words of one interviewee was really a case of "parents applying to college and their kids are the vehicle." Matthew Modine does a knock-out impersonation of the real William Rick Singer right down to some mannerisms that were caught in Singer's actual news video footage.  The remainder of the cast presents a very credible lot of misguided wealthy parents who were more than willing to game the college systems for their children, some of whom might have been admitted to these schools on their own merits.  My only criticism of this film is that Jon Karmen's script presents more of these parent-Singer interactions than are really needed to hammer home their obvious illegality.  Otherwise, this cautionary tale is well worth taking in particularly by those with children in high school who are hoping to go to college. Highly recommended.
---
If you found this article useful please consider clicking the button below and donating to help keep TheaterByte funded, which will allow us to continue posting great content.
---
Operation Varsity Blues: The College Admissions Scandal is streaming now on Netflix
---
Rating Certificate: R (for some language)
Studios & Distributors: Netflix
Country: USA
Language: English
Run Time: 99 Mins.
Aspect Ratio: 2.39:1
Director: Chris Smith
Written By: Jon Karmen
Release Date: 17 March 2021