Aspect Ratio: 2.35:1

Video Codec: AVC/MPEG-4

Resolution: 1080p/24

Audio Codec: English DTS-HD Master Audio 5.1, English PCM 2.0

Subtitles: English SDH

Region: ABC (Region-Free)

Classification: 15

Discs: 2
Studio: Metrodome Video

Blu-ray Release Date: July 19, 2010

RRP: £24.99
Shop for more Blu-ray titles at Amazon.co.uk
Shop for more Blu-ray titles at Amazon.com
Overall
[Rating:3.5/5]
The Film
[Rating:4.5/5]
Video Quality
[Rating:3/5]
Audio Quality
[Rating:3.5/5]
Supplemental Materials
[Rating:3.5/5]
The Film
[Rating:4.5/5]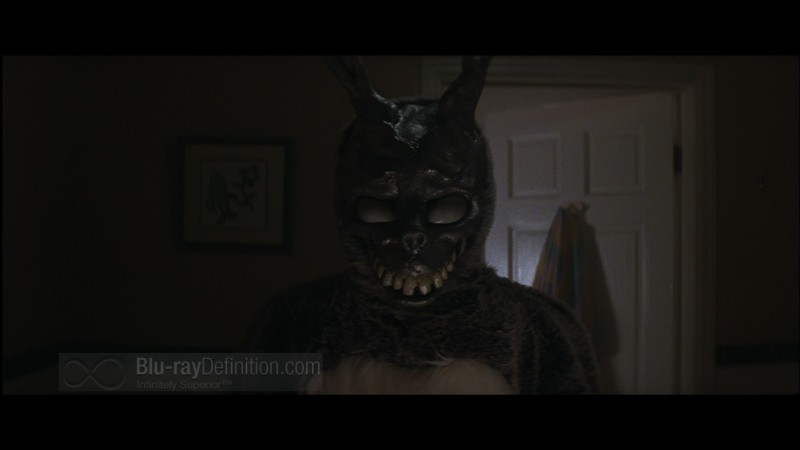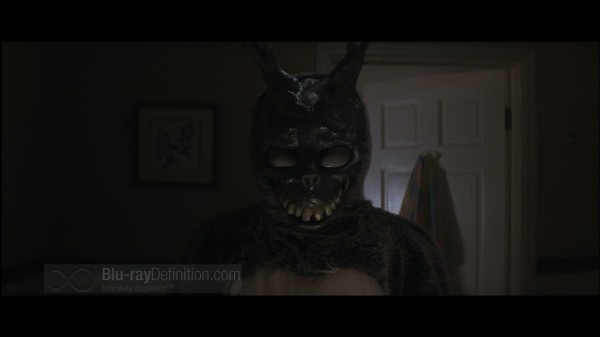 Writer/director Richard Kelly's overwhelmingly dark, intense, and moody film Donnie Darko arrived in theaters at the worse possible time. The country was still in shock from the 9/11 terrorist attacks and the weighty endeavor that was Donnie Darko was perhaps to dark and psychologically taxing for the nation's psyche to bear just yet.
Donnie Darko slipped quietly away from theatres due to lack of promotion and apathy on the part of the viewing public and many critics. Over the years, however, the film kept a foothold in the minds of the public through late night showings and word-of-mouth. Building up to cult status, Donnie Darko has become one of the modern classics of cinema over the past decade as its star, Jake Gyllenhaal, has steadily risen to greater successes as well.
Set in the 1980's during the Bush and Dukakis presidential elections, Donnie Darko is an atypical yet easy mixture of suburban drama, fantasy, science fiction, religion, physics, and psychological thriller. Gyllenhaal plays the eponymous role. He's a high school kid in an average suburb suffering through a torturous high school career. But Donnie is having issues. He's been sleepwalking and waking miles from home, so he sees a psychiatrist. Soon, however, an imaginary friend who tells him exactly when the world is going to end is visiting Donnie. Or, is the friend imaginary? Has Donnie been slipping through time, different universes? Or is he lapsing into a complete mental breakdown?
Donnie turns to his new girlfriend (Jenna Malone) and even his science (Noah Wyle) and English (Drew Barrymore) teachers for solace and insight into theories on time travel and other metaphysical phenomena, but in the end, he is left on his own to deal with what he is going through.
Kelly keeps the film interesting at every turn. It never lapses into the world of sublimely ridiculous sci-fi, but, rather, it remains a contemplative journey that encompasses religion, philosophy and science seamlessly. Aiding the drama are the carefully placed songs of the 80's, chosen for their mood more than for their familiarity.
'Till Tuesday's "Voices Carry," Tears for Fears' "Head over Heels" and an achingly dark remake of their "Mad World" by Gary Jules all make an appearance.
The Director's Cut adds in most of the deleted scenes from the Theatrical Cut and a few never-before-seen scenes and attempts to straighten out the ending a bit. It also changes some songs around, but ultimately it does not succeed in besting the already remarkable original cut of the film.
Video Quality
[Rating:3/5]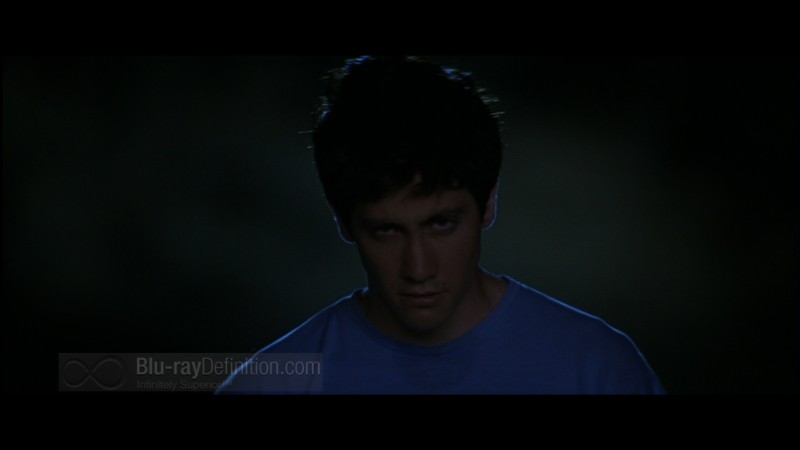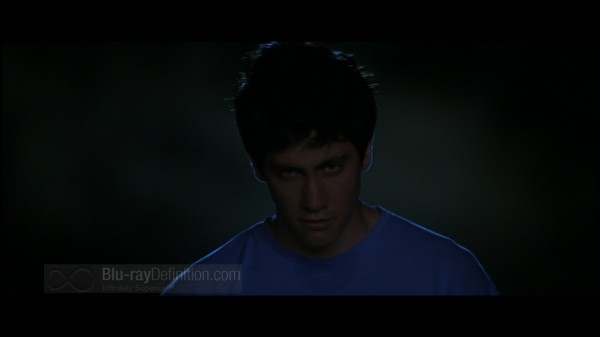 Donnie Darko's 2.35:1 AVC/MPEG-4 1080p transfer looks film-like with a heavy layer of grain, but it's not going to win any rewards for being a reference quality release any time soon. Detail is soft, source damage creeps in on a regular basis, and overall gamma seems rather washed out. Flesh tones show some red push and there is some film judder apparent as well.
Audio Quality
[Rating:3.5/5]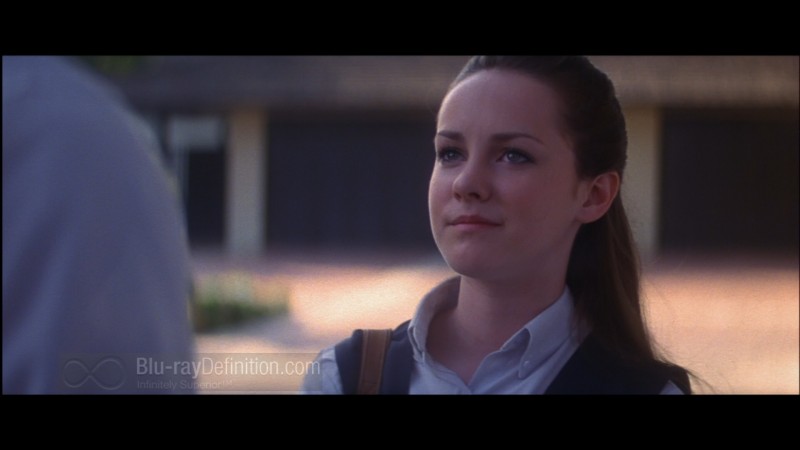 An English DTS-HD Master Audio 5.1 soundtrack is offered as the main option for Donnie Darko in addition to a LPCM 2.0 mix. The DTS-HD mix sounds as dull as the image for Donnie Darko looks.  Although the surround channels offer good ambience with some occasional discrete information that seems a little out of place, the mastering is on the veiled sounding side and dialogue often displays some crackle as well. Things do come alive a bit more whenever the cool 80's tunes start to crank, but then the music is still just spread across the front with a nice bit of ambience added to the surrounds and a punchy mid-range behind it.
Supplemental Materials
[Rating:3.5/5]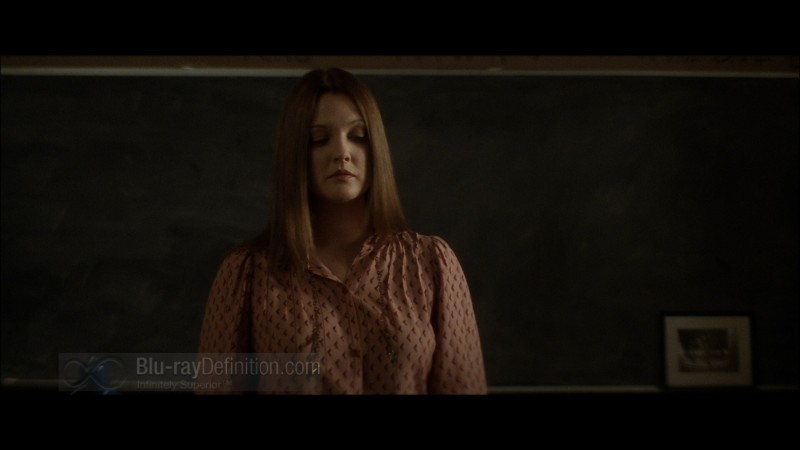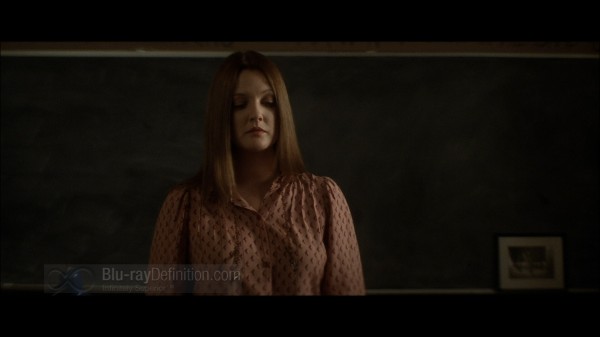 With the Theatrical and Director's Cuts included, three audio commentaries, and much more spread across two Blu-rays, this is a high-value release for sure.
The supplements provided with this release are:
Disc 1:
Commentary with Director Richard Kelly
Commentary with Cast and Crew
They Made Me Do It (PAL)
Art Gallery — (1.78:1; 1080p/24) — 16 leading artists emerging from the UK graffiti scene were asked to complete a piece on canvas, in 6 hours, 42 minutes, and 12 seconds, inspired by the film Connie Darko. The exhibition ran for 28 days at Dreambagsjaguarshoes, London. The exhibition also included two murals and an interactive element in the form of a digital countdown clock, counting down in days hours minutes seconds the 28 days of the show. The original "Frank" mask from the film was also exhibited.
Behind the Scenes (PAL):

B-Roll Footage
Cast & Crew Interviews
Additional Scenes w/ optional director's commentary (PAL) — Deleted and extended scenes from the original theatrical cut.

Promos:

Theatrical Trailer
TV Spots
Cunning Visions Infomercials w/ commentary
The Philosophy of Time Travel (1.78:1; 1080p/24)
Disc 2:
Commentary with Director Richard Kelly and Kevin Smith
Production Diary w/ optional Commentary (1.33:1; 480i/60)
They Made Me Do It (PAL)
Director's Cut Trailer (1.33:1; 480i/60)
The Definitive Word
Overall:
[Rating:3.5/5]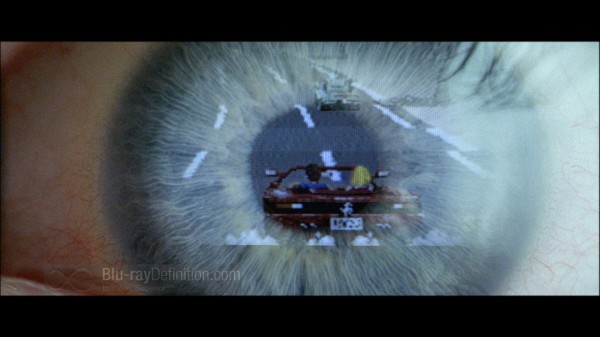 Donnie Darko is a cult classic that people either love or hate. If you're inclined to hate it, then obviously this new Blu-ray release will not be for you. I do implore everyone to at least give this compelling film a try. I didn't care for it much the first time I watched it either. The second time didn't move me much more either, but after the third or fourth time, Donnie Darko begins to make sense and reveal itself to you. What better way to come to that understanding than with this 2-disc Theatrical and Director's Cut Blu-ray release?
Additional Screen Captures: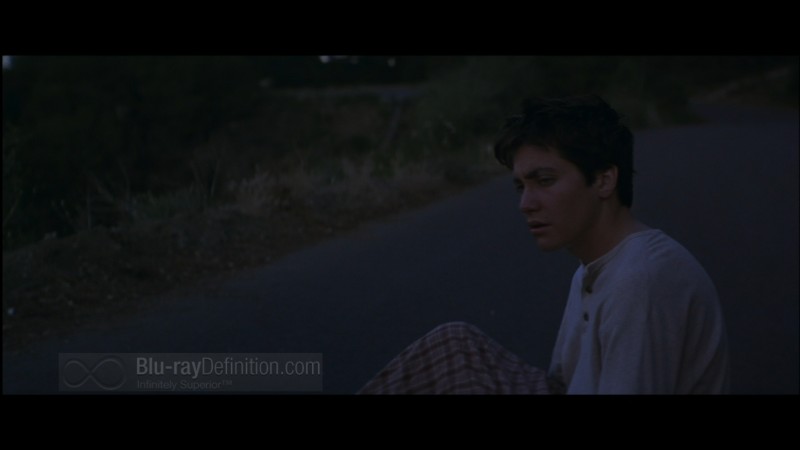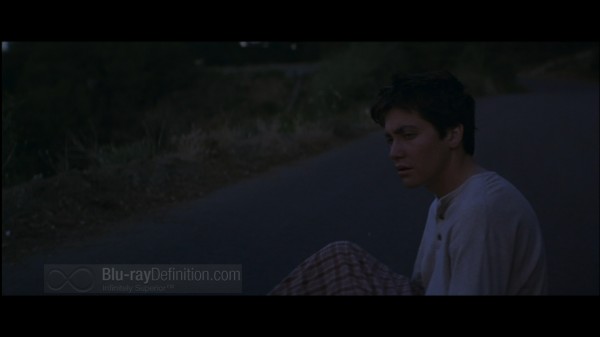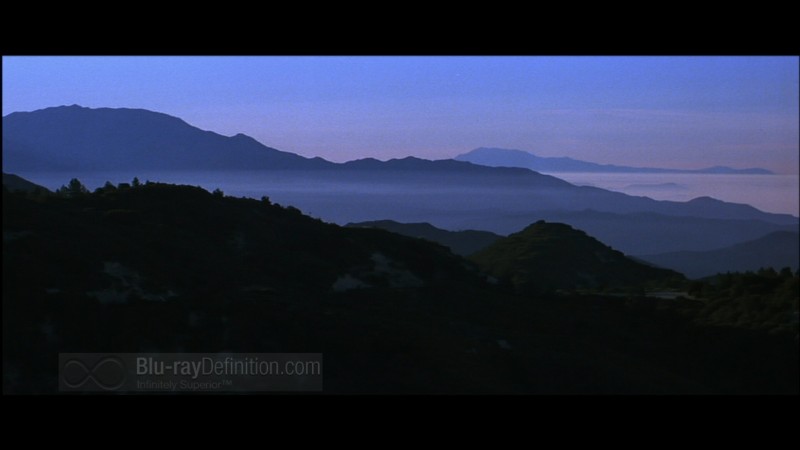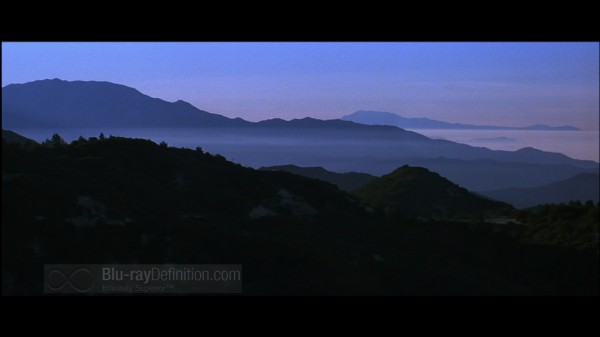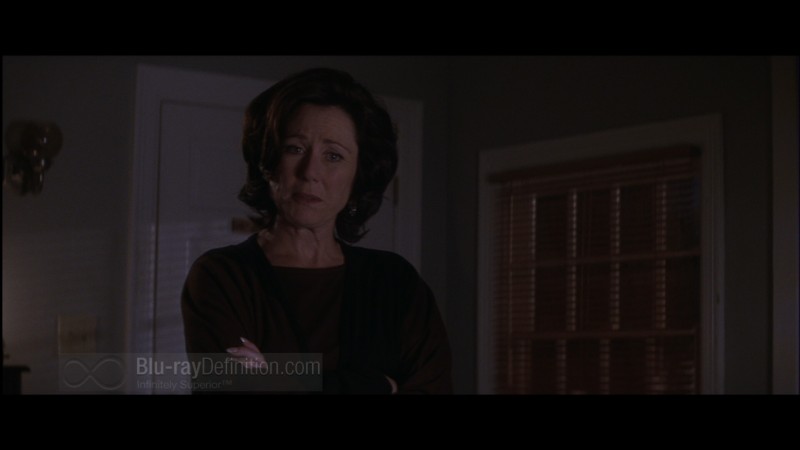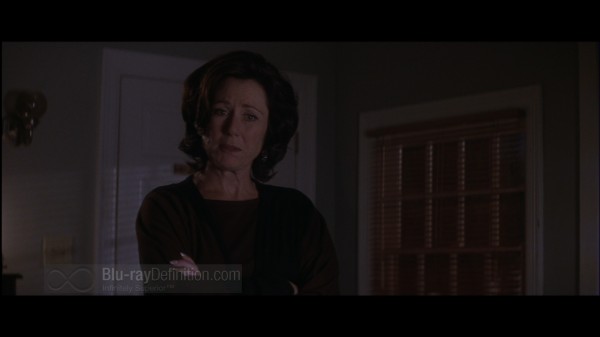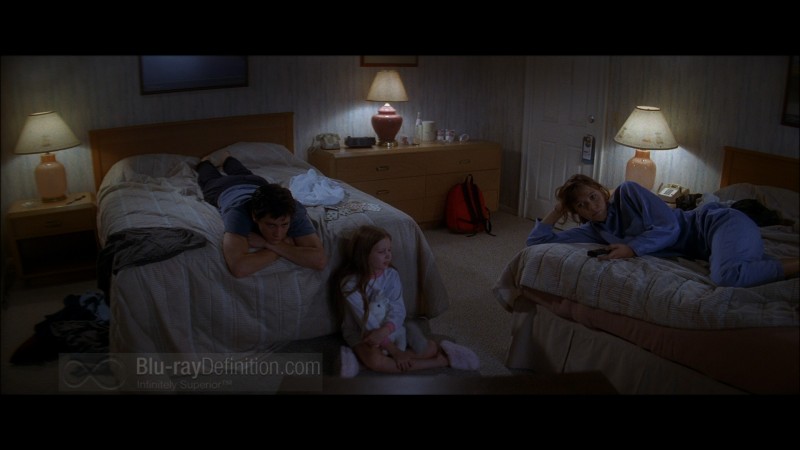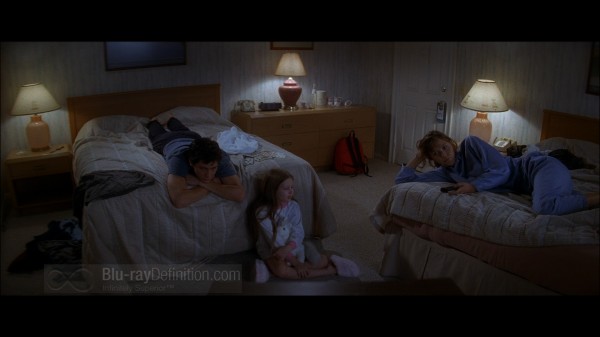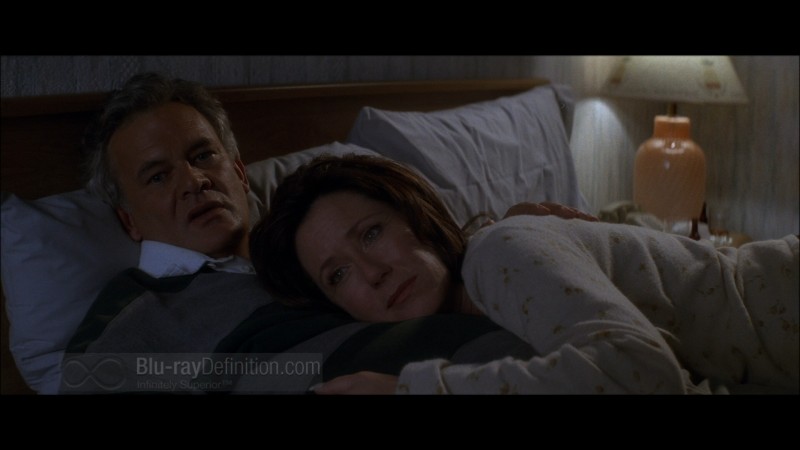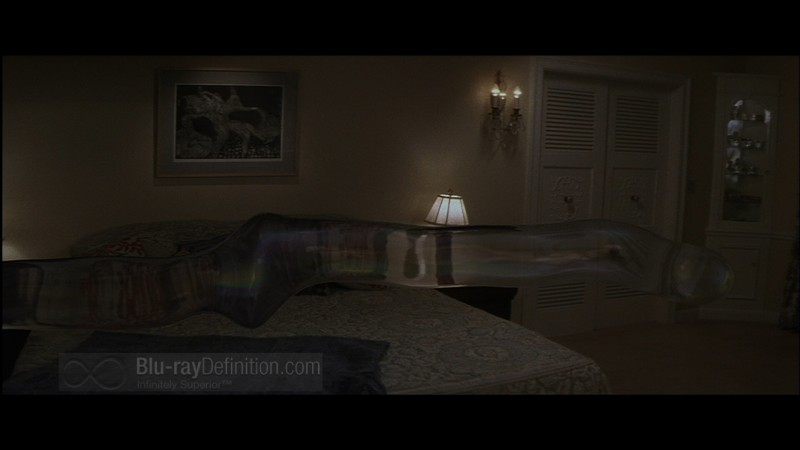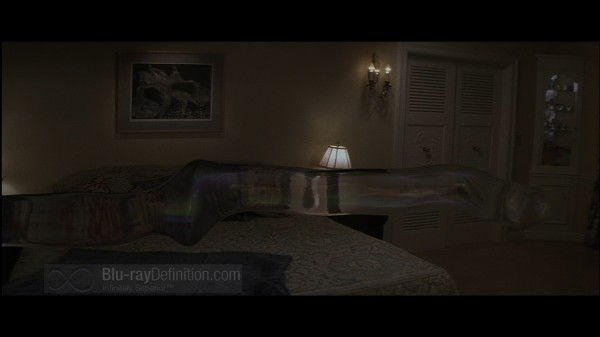 Shop for more Blu-ray titles at Amazon.co.uk
Shop for more Blu-ray titles at Amazon.com