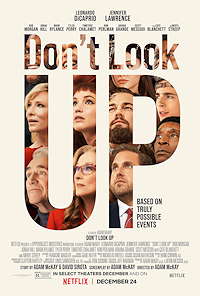 You would think that when writer-director Adam McKay stacked the deck for Don't Look Up with a cast of A-listers like Leonardo DiCaprio, Jennifer Lawrence, Meryl Streep, Cate Blanchett, Tyler Perry, Timothée Chalamet, and Mark Rylance this sci-fi/satire/disaster film would be a can't-miss watch. Well, sorry to say, as will be pointed out later, like most of the characters in this film, you would end up being dead wrong.
Michigan State University astronomy doctoral candidate Kate Dibiasky's (Lawrence) discovery of a huge comet headed straight for Earth literally launches her and her mentor Dr. Randall Mindy (DiCaprio) on a mission to warn NASA of an impending extinction event. The pair arrives with NASA Planetary Defense Coordination Head Dr. Teddy Oglethorpe (Rob Morgan) to meet with President Janie Orlean (Streep) and her son and Chief of Staff Jason (Jonah Hill). Janie's advisors dismiss these scientific findings because Mindy was not on the faculty of a more prestigious university.  Next, on The RIP, a TV talk show with Brie Evantee (Blanchett) and Jack Bremmer (Perry), Randall scores points with his good looks while Kate's screaming "we're all gonna die" goes viral on social media, making her a cult darling for young people like fanboy Yule (Chalamet) with whom she later hooks up.
To boost her sagging popularity, Orlean announces the launch of a spacecraft to divert the comet's course.  However, billionaire Peter Isherwell (Rylance), the CEO of BASH Industries, discovers that the comet contains a fortune in rare-earth elements and gets the spacecraft turned back.  Isherwell then proposes to use his Nobel-laureate designed space-bots to break up the comet and have its falling fragments recovered in the Pacific Ocean by US naval vessels. Mindy becomes the National Science Advisor to advocate for the BASH project while Diabiasky's barroom rant about the plan to let the comet strike Earth starts worldwide riots for which she is briefly arrested before being sent back home to Illinois.
After Mindy's wife June (Melanie Lynskey) catches him having a torrid affair with Evantee, he changes his tune about the global economic opportunities afforded by the comet. Teaming up with Dibiasky and Oglethorpe, Mindy starts a "Just Look Up" social media protest movement against Orlean and Isherwood, immediately countered by the Orlean administration's "Don't Look Up" campaign. As the BASH-bots are launched into space to break up the comet, an inevitable moment of truth looms ahead for the inhabitants of planet Earth.
If you managed to make it to the end credits, there is a tacked-on a cartoonish finale that will make you wonder whether the over two hours invested in this long and vapid sci-fi epic was worth your time and attention. Except for Rylance's Elon Musk-like character whose high-pitched colorless voice is a bit scary as he tells Mindy and Orlean how they are going to die, most of the big-name cast get two-dimensional characters that are just not very interesting. McKay's stabs at dark humor like having Pentagon Liaison General Stuart Themes (Paul Guilfoyle) sell Dibiasky and Mindy the free White House snacks or Ron Perlman's cameo as demented former astronaut Colonel Benedict Trask assigned to a sure-death mission on the comet-diversion spacecraft are overly contrived and not funny. If Don't Look Up was meant to be a satiric commentary aimed at the environmentalist nut jobs whose best efforts could be readily undone by a rogue comet, it never makes a compelling case for that intent either.  If there is one highlight in this otherwise grim cinematic outing it is the spectacular if misguided anthem "Don't Look Up" by Ariana Grande and Kid Cudi that will probably garner an Oscar bid. Given Adam McKay's outright comic successes like Anchorman, Talladega Nights or The Other Guys, perhaps Don't Look Up could have replaced DiCaprio with Will Ferrell and ended up with a better result. Or even better, McKay could have revisited Stanley Kubrick's Dr. Strangelove for inspiration and style. As neither was the case here, this film is simply a star-studded dud.
Released in the United States on Netflix on December 24th, 2021 at 3:00 AM EST
Theatrical: Film released in select theaters on December 10th, 2021
---
Rating Certificate: R (for language throughout, some sexual content, graphic nudity and drug content)
Studios & Distributors: Hyperobject Industries | Province of British Columbia Production Services | Bluegrass Films | Netflix
Country: USA
Language: English
Run Time: 138 Mins.
Aspect Ratio: 2.39:1
Director: Adam McKay
Written By: Adam McKay