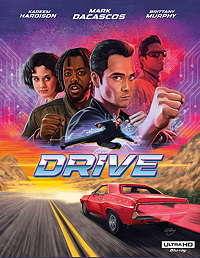 Drive is the 1997 martial arts genre mashup starring Mark Decascos and Kadeem Hardison. A year before Rush Hour, this Jackie Chan-esque romp, which was a Hollywood production that owed a lot to Hong Kong cinema, set the model for this sort of film in Hollywood.
Secret agent Toby Wong (Decascos) has been fitted with an advanced technology that gives him superhuman strengths, but now he is on the run because, with the turnover of Hong Kong to Mainland China, he is afraid the Chinese government will exploit the technology for nefarious reasons. Toby flees to San Francisco, planning to sell his technology to a company in Los Angeles, but he is being pursued by the ruthless mercenary Vic Madison (John Pyper-Ferguson). When Toby ducks into a bar to escape Madison and his underlings, down-and-out singer Malik (Hardison) gets caught up in the fray. Toby and Malik end up on the run together, Malik well out of his league.
Drive is silly, but it is a fun film to watch. The fight set pieces courtesy of fight choreographer Koichi Sakamoto are intense, inventive, and insane. The comedic chemistry between Decascos and Hardison is palpable and well directed by Steve Wang who also keeps the pace of Drive up. There is only one bad spot and regrettably it is Brittany Murphy's brief appearance as a ditzy, oversexed motel owner. She adds nothing much to the story and as comic relief was hardly needed either.
The Video
The Extended Director's Cut of Drive is from a brand new 4K scan of the original Super 35, 35mm camera negative. It arrives on 4K Ultra HD Blu-ray in a 2.35:1 HEVC 2160p (4K UHD) Dolby Vision HDR encodement. From the opening scene one will notice that there is a heavy amount of coarse, streaking, and noisy grain in the source as well as some small amount of specks of dirt and scratches. Does this ruin the presentation completely? Not exactly, since this streakiness does not show constantly, and the application of Dolby Vision's wide color gamut and dynamic range helps to abate some of the negative aspects of the source. Detail is acceptable and dark areas look good, but the colors and specular highlights are the greatest strengths of the presentation. Neon lights in the final act when the guys get to the Apollo 14 nightclub, for example, 'pop' brilliantly. There are also numerous instances of fires and explosions that offer lots of nuanced and vibrant flames. The scene in the motel when Toby is attacked by the guys with the electrical rods has lots of sparks that have vibrant highlights as well.
The Audio
Drive is provided with an English Dolby Atmos audio mix. There is a reasonable amount of height awareness and some movement through the surrounds of atmospheric sounds, but overall, the mix is a bit stagnant. There are extended low end frequencies that support some bombastic explosions, beefy gunfire, and rumbling engine noise. Dialogue is clean and intelligible throughout the mix.
The Supplements
88 Films includes the original cut of the film as well as an archival 'making of' documentary and a number of interviews with the cast and crew. Additionally, there is the gorgeous collectible packaging with brand new artwork. 88 Films always has some of the best artwork around for their releases and this one is no exception.
Poster featuring new artwork by Sam Gilbey
Limited Edition Slipcase with New Artwork by Sam Gilbey
Reversible Sleeve with New Artwork by Sam Gilbey
Commentary with Director Steve Wang, Fight Choreographer Koichi Sakamoto & Stars Mark Dacascos and Kadeem Hardison
Drive: Original Cut (1080p; DV; 01:39:48)
Drive: The Force Behind the Storm Documentary (1080p/60; DV; 00:47:43)
Highway to Nowhere – Jason Tobin & Drive (1080p; DV; 00:20:01)
Deleted Scenes (1080p; DV; 00:08:01)
Interview Gallery (1080p/60; DV; 00:24:41)
Original Trailer (1080p; DV)
The Final Assessment
An over-the-top low budget action/comedy genre mashup that has gained a cult following over the years, this original direct-to-video production is a fun film that is spruced up and gorgeously packaged by 88 Films and MVD in this new 4K Ultra HD edition. Recommended.
Drive: Special Edition is out on 4K Ultra HD September 13, 2022 from 88 Films
---
Rating Certificate: R (for strong violent content and language)
Studios & Distributors: Overseas FilmGroup | NEO Motion Pictures | FilmRise | MVD Entertainment | 88 Films
Director: Steve Wang
Written By: Scott Phillips
Run Time: 117 Mins (Director's Cut) | 100 Mins (Original Cut)
Street Date: 13 September 2022
Aspect Ratio: 2.35:1
Video Format: HEVC 2160p (4K UHD)
HDR Format: Dolby Vision (HDR10 Compatible)
Primary Audio: English Dolby Atmos (Dolby TrueHD 7.1 Compatible)
Secondary Audio: English DTS-HD MA 5.1 | English DTS-HD MA 2.0 Stereo
Subtitles: English SDH