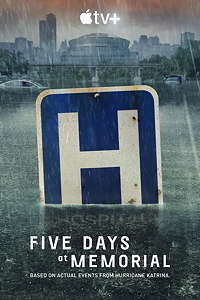 What began as the natural disaster known as Hurricane Katrina on August 29, 2005, exploded into a series of human tragedies when critical levees in New Orleans  were breached and water from Lake Pontchartrain engulfed the city. As adapted by John Ridley and Carlton Cuse from Sheri Fink's book of the same title, this 8-episode series presents the events impacting a major New Orleans hospital during the five days in question and the aftermath of life-and-death decisions made during attempts to evacuate patients and staff.
As news of an impending Category 5 hurricane reaches New Orleans, acting emergency operations director, nurse Susan Mulderick (Cherry Jones), meets with her staff to prepare for wind damage and possible flooding of the Tenet-run Memorial Medical Center. What complicates matters is the presence of an independently owned and operated Life Care facility, an extended-care nursing unit for chronically and terminally ill patients, that occupies Memorial's top floor. There was a brief collective sigh of relief when Katrina moved on after two days because Memorial had back-up generators that supplied enough power for critical devices like ventilators. But air-conditioning systems and other electrical equipment, dependent on the city's grid, had stopped working resulting in a dark, oppressively hot building that made life uncomfortable for patients and staff alike.
Doctors like Bryant King (Cornelius Smith, Jr.) and Anna Pou (Vera Farmiga) are trapped in the hospital and worry about caring for patients, some of whom are critically ill, while an evacuation plan is being drawn up.  However, the helipad is two stories above the main building and can only be reached by an external series of stairs.  When you witness the challenges of evacuating even a tiny premature infant on a ventilator who must be hand-carried to the sole helicopter that will visit the hospital in the beginning, the enormity of the evacuation mission for the remaining patients becomes readily apparent.
Five Days at Memorial (TV) (2022- )
The situation becomes more dire when water floods the hospital basement and takes out the backup generators.  A time-limited ultimatum from the crew of the rescue boats leads to difficult decisions that the staff must make about their patients.  In particular, it dawns on one massively obese patient in the Life Care facility, Emmett Everett (Damon Standifer), that he may experience the same fate as the pets in the hospital that were put down because he is simply too big to move out.
Whether or not you condone "mercy killings," Dr. Pou and several nurses at the hospital will get taken to task by the legal system as the final three episodes ponder whether euthanizing patients who could not be evacuated was a justifiable alternative to letting them endure end-of-life suffering due to lack of treatment options. As a physician, I could empathize with the decision-making dilemmas faced by senior staff members like Dr. Horace Baltz (Robert Pine) when they realized the apparent hopelessness of getting all their patients safely evacuated. It was also hard to watch the placement of color-coded bracelets on patients' wrists to prioritize the order in which they were to be evacuated.  A heart-rending moment occurs when Life Care nurse Diane Robichaux (Julie Ann Emery) realizes her patients will be among the last ones out. Physicians are not often placed in the role of "playing God" but such unusual circumstances are clearly depicted in the strong script provided by John Ridley and Carlton Cuse. The storyline also has several poignant subplots that follow Katrina's impact on particular patients and their family members.  From top to bottom, this series has a superb cast, each member delivering credible and sensitive portrayals of their assigned characters.
The graphic presentation of Five Days' subject matter makes this a difficult show to watch and definitely not one that readily lends itself to binge-watching. That said, the lessons learned from this experience have informed the New Orleans medical community and will hopefully serve to prevent such tragedies in the future. Highly recommended.
Five Days at Memorial is streaming now on Apple TV+ with new episodes available weekly.
---
Rating Certificate: TV-MA
Show Creators: John Ridley | Carlton Cuse
Original Release Date: 12 August 2022
Streaming Service: Apple TV+
Episodes Run Time: 45 Mins.
Num. Episodes: 8
Studios & Distributors: ABC Signature | Scott Rudin Productions | Apple TV+