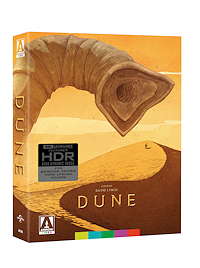 Hot off the success of The Elephant Man (1980), David Lynch turned his attention to adapting Dune, the successful Frank Herbert sci-fi novel that had been knocking about for years in Hollywood with people trying to adapt what had been become known as an unadaptable novel. Even Alejandro Jodorowsky (The Holy Mountain, El Topo) left an uncompleted adaptation of the novel that never made it to the filming stage.
Lynch worked under the famed executive Dino De Laurentiis and Rafaella De Laurentiis stepping in as producer in place of her late brother. He would take the story set in 10,191 on far away worlds under a neo-feudal order all under the control of Padishah Emperor Shaddam IV (José Ferrer) and turn it into a somewhat rambling, dark, and incomprehensible tale about the young hero Paul Atreides (Kyle MacLachlan) son of the Duke of House Atreides Leto (Jürgen Prochnow), who rules with the help of his concubine Jessica (Francesca Annis). Paul is at the center of an ancient prophecy and the central conflict is the substance called "spice" that everyone needs to extend their lifespan and expand their minds. It is mined on the dry desert planet Dune. The problem is the people mining the spice, the Femen, are in virtual slavery and Paul is prophesied to be the savior who will free them and overthrow the ruling order. Paul becomes romantically entwined with a Femen woman (Sean Young) he has seen in his dreams.
Herbert's long and complex writing is edited down to a surreal Lynchian tale that doesn't always make much sense, especially if you have never read through the novel. But Lynch isn't entirely to blame. He was brought onboard to direct by De Laurentiis solely on the success of The Elephant Man, with De Laurentiis not knowing of Lynch's previous, more artsy work Eraserhead. When Dino De Laurentiis saw the direction Lynch's Dune was taking, pressure was placed on Lynch to go more commercial. To edit the length, budgets were slashed, in effect, he was not free to complete his vision.
Still, we get a visually stunning picture that is filled with some impassioned performances and score by pop-prog band TOTO that sets the moody atmosphere in much the same way the Vangelis score did for Blade Runner (1982). These elements and Lynch's obvious abilities to bring his viewers into an off-kilter world have helped to make this flawed film a cult sci-fi favorite. The film also stars Sting in a small but scene stealing role as Feyd Rautha.

The Video
This is a brand new 4K restoration of Dune from the original camera negative. The film was originally shot on the Arriflex 35 BL2 and Photo-Sonics 4E cameras with Todd-AO (anamorphic) lenses on Eastman 125T 5247 and 400T 5294 filmstock. The new transfer uses a 4K DI and has Dolby Vision HDR. There is a natural grain structure that is maintained throughout the film and very crisp detail. The Dolby Vision is subtly applied, so it doesn't make this catalogue film look gimmicky in anyway, or too bright or too dark when compared to the newly restored Blu-ray. In in fact the difference between the two is very slight. With the 4K you get better resolved film grain and a little more 'pop' in the colors, such as the greens in Chapter 4 or the glowing orange and amber in flames, or the specular highlights in some lights. Blacks are nice and inky across both discs, but crush isn't an issue. You can see the detail in cloth on costumes or the formal uniform of House Atreides with just the slightest amount of light cast upon them.
The Audio
Dune ran in theaters with a 6-track mix for its 70mm blow-up and in Dolby Stereo. On 4K Ultra HD it comes with DTS-HD Master Audio 2.0 stereo and DTS-HD Master Audio 5.1 mixes. Both mixes sounds great with wide panning, clear dialogue, and good dynamic range, but it is the 5.1 mix that takes things to another level spacing the score out through the channels with superb dynamic range and placing foley effects around the room. Action scenes get deep lows and lots of wide side panning with strong use of the surrounds.
The Supplements
As always, Arrow loads this set up with collectibles and bonus features. See the list below of what you will find in this two-disc set.
60-page perfect-bound book featuring new writing on the film by Andrew Nette, Christian McCrea and Charlie Brigden
Large fold-out double-sided poster featuring original and newly commissioned artwork by Dániel Taylor
Six double-sided, postcard-sized lobby card reproductions
Limited edition packaging with reversible sleeve featuring original and newly commissioned artwork by Dániel Taylor
Audio Commentaries:

Commentary by Paul M. Sammon
Commentary by Mike White

Impressions of Dune (1080p; 00:39:39) – This 2003 documentary features interviews with star Kyle MacLachlan, producer Raffaella de Laurentiis, cinematographer Freddie Francis, editor Antony Gibbs and other crew members.
Designing Dune (1080p; 00:08:55) – This 2005 featurette, looking back on the work of production designer Antony Masters, features interviews with crew members Giles Masters, Ron Miller, Kevin Phipps, Benjamin Fernandez, and Steve Cooper.
Dune FX (1080p; 00:06:01) – This 2005 featurette, exploring the special effects in the film, features interviews with the crew members Kit West, John Baker, Trevor Wood, Rodney Fuller, Jon Hatt, and Gary Zink.
Dune Models & Miniatures (1080p; 00:07:03) – This 2005 featurette, focusing on the model effects in the film, features interviews with producer Raffaelle de Laurentiis and crew members Charles Finance, Golda Offenheim, Emilio Ruiz del Rio, Brian Smithies, and Eric Swenson.
Dune Costumes (1080p; 00:04:50) – This 2005 featurette about the costumes in the film features interviews with crew members Bob Ringwood, Debbie Phipps, Michael Jones, and Mark Siegel.
Deleted Scenes with introduction by Raffaella de Laurentiis (1080p; 00:19:03)
Destination Dune (1080p; 00:06:25) – This 1983 featurette, directed by Paul M. Sammon, was originally produced to promote the film at conventions and publicity events in the lead-up to its release.
Trailers & TV Spots (1080p)

Theatrical Trailer 1
Theatrical Trailer 2
US TV Spots
VHS Promo

Image Galleries (1080p):

Production Stills
Behind the Scenes
Cast Portraits
Production Design
Poster & Video Art
DISC TWO – BONUS DISC (BLU-RAY)
Beyond Imagination: Merchandising Dune, a brand new featurette exploring the merchandise created to promote the film, featuring toy collector/producer Brian Sillman (The Toys That Made Us)
Prophecy Fulfilled: Scoring Dune, a brand new featurette on the film's music score, featuring interviews with Toto guitarist Steve Lukather, Toto keyboardist Steve Porcaro, and film music historian Tim Greiving
Brand new interview with make-up effects artist Giannetto de Rossi, filmed in 2020
Archive interview with production coordinator Golda Offenheim, filmed in 2003
Archive interview with star Paul Smith, filmed in 2008
The Final Assessment
Arrow have delivered the good once again for this cult favorite providing a reference catalogue restoration on 4K packaged with a treasure trove of collectibles and bonus features. This is a must for fans and collectors.
Dune (2-Disc Limited Edition) is out on 4K Ultra HD August 31, 2021 from Arrow Video
---
PG-13
Studios & Distributors: Dino De Laurentiis Company | Estudios Churubusco Azteca S.A. | Arrow Video
Director: David Lynch
Written By: Frank Herbert (novel) | David Lynch (screenplay)
Run Time: 137 Mins.
Street Date: 31 August 2021
Aspect Ratio: 2.35:1
Video Format: HEVC 2160p (4K UHD)
HDR Format: Dolby Vision (HDR10 Compatible)
Primary Audio: English DTS-HD MA 2.0 Stereo
Secondary Audio: English DTS-HD MA 5.1
Subtitles: English SDH