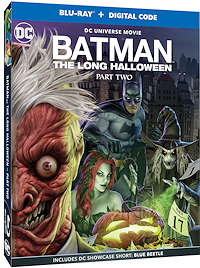 In the second part of this strong adaptation of Batman: The Long Halloween, Holiday keeps killing in Gotham and the tensions boils over between the rival Falcone and Maroni crime families. Batman, James Gordon, and Harvey Dent race to find the killer, but their investigations are complicated when a breach at Arkham lets Poison Ivy, Mad Hatter, and Scarecrow loose. Bruce Wayne has been caught in the influence of Poison Ivy's trance, forced to sign over properties to the Roman, and Harvey Dent, scared by an attack, begins to lose a grip on reality.
This conclusion closes out the story, ramps up the tension and introduces one the more famous villains from the Dark Knight mythology. The atmosphere remains the same as in Part One, more crime thriller than action/adventure superhero film, and the voice acting from Jensen Ackles (Batman), Josh Duhamel (Harvey Dent), Naya Rivera (Catwoman), and others is excellent.

The Video
Batman: The Long Halloween, Part Two is offered up in a 1.78:1 AVCV 1080p encodement of its digital animation. This is a nearly flawless looking transfer with crisp line art, no motion artifacts and nuanced color gradations. There is a 4K Ultra HD w/Dolby Vision HDR version of the film available digitally. I doubt the resolution of the 4K digital stream matches the clean, detailed look of this Blu-ray, but it probably adds a little more 'pop' in the specular highlights.
The Audio
Batman: The Long Halloween, Part Two comes to Blu-ray with an English DTS-HD Master Audio 5.1 mix. It continues the more atmospheric, balanced approach that we heard on Part One. For a demonstration of the best this mix has to offer, skip to Chapter 6, around the 00:53:00 mark and the space opens up, we get some solid effects in the surrounds and an example of the superb dynamics.
The Supplements
I really like these DC Showcase animated shorts they have been including on these releases. The Blue Beetle short is fun and tongue in cheek. The other extras are usual previews and DC Vault animated series episodes that are thematically related.
Digital Copy Code
DC Showcase Short: Blue Beetle (1080p; 00:15:30)
A Sneak Peek at the Next DC Animated Movie, Injustice (1080p; 00;07:48)
A Preview of Batman: The Dark Knight Returns, Part 2 (1080p; 00:06:53)
A Preview of Batman: Hush (1080p; 00:09:17)
From the DC Vault: Batman: The Animated Series – "Two-Face Part 1" (1080p; 00:22:27)
From the DC Vault: Batman: The Animated Series – "Two-Face Part 2" (1080p; 00:22:30)
The Final Assessment
A strong DC Universe Movie that adapts one of the classic graphic novels from the Dark Knight universe. The Blu-ray is top-notch.
Batman: The Long Halloween — Part Two is out on Blu-ray+Digital August 10, 2021 from Warner Bros.

---
R (for some violence and bloody images)
Studios & Distributors: DC | Warner Bros. Animation | Warner Bros. Home Entertainment
Director: Chris Palmer
Written By: Jeph Loeb (author) | Tim Sheridan (screenplay)
Run Time: 87 Mins.
Street Date: 10 August 2021
Aspect Ratio: 1.78:1
Video Format: AVC 1080p
Primary Audio: English DTS-HD MA 5.1
Secondary Audio: French DD 5.1 | German DD 5.1 | Spanish DD 5.1
Subtitles: English SDH | French | German SDH | Dutch | Spanish