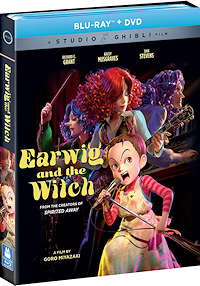 Goro Miyazaki (From Up on Poppy Hill) returns with his first feature film in nine years to direct Earwig and the Witch the latest effort from Studio Ghibli and Miyazaki.
Based on the novel by Diana Wynne Jones, the film follows the story of Earwig, a girl left at an orphanage as a baby by her witch mother. Earwig grows up learning how to manipulate the grownups around her to her will, but she is eventually adopted by another witch, Bella Yaga. The stubborn Earwig is faced for the first time in her life with doing something against her will and when she arrives at Bella Yaga's home, she realizes the woman, who lives with an ill-tempered demon called The Mandrake, really only wants her as an assistant to help her brew spells as a means to earn a living. The wily Earwig agrees to help Bella if the woman will teach her magic, but Earwig must also abide by the very strict house rules.
The first thing that will stand out about this film for longtime fans of Studio Ghibli will be the animation style. This is not a hand drawn, 2D animated film. This is 3DCG in the style of Pixar or DreamWorks and like one would expect from StudioGhibli, it looks beautiful. If they are going to go in this direction, they're going to do it well. That said, it also some of the Ghibli flair in the process. I struggled to find that signature style that has been so much imitated by other anime studios and feature-length anime films.
That out of the way, the biggest letdown in this film is not the animation, as I said, it's good, just different for Ghibli, no, the disappointment is in the storytelling. There is no point in this film that one really develops an attachment for Earwig and what will become of her. She is sort of a brat from the beginning. The screenplay also ignores the friend she has early in the film and abandons him for another companion, which is poor storytelling, and then we are given no cause for why she should begin to grow comfortable with her new, miserable surroundings. They do seem quite determined, however, to point us to a tidy and happy conclusion that will be fitting for families.
But what does Earwig ultimately learn? Does she grow? Not really. She begins a brat, defies an admittedly cruel taskmaster of a foster mother, turns to cruel tricks herself, and then is rewarded for it all because that's what's supposed to happen.
The good parts are that the voice acting is great, whether you choose the English or Japanese tracks, even if Kasey Musgraves' brief appearances are plagued by bad English accents, and so is the music, which plays a much smaller role than the promotional art would have you believe even if it is a key to the plot. Ultimately, however, this one will likely not be considered one of Studio Ghibli's best nor does it live up to Goro Miyazaki's past works.


Earwig and the Witch (2020)
The Video
The digital 3DCG animation for Earwig and the Witch arrives on Blu-ray in an AVC 1080p encodement framed in its original 1.85:1 aspect ratio. This is a gorgeous transfer that lacks for little if any detail, has vibrant colors and excellent contrast. The shadow details are also quite good.
The Audio
Earwig and the Witch on Blu-ray comes with the original Japanese-language DTS-HD Master Audio 5.1 mix and an English dub also in DTS-HD Master Audio 5.1. Both of these tracks are brilliantly mixed with lots of solid sound effects mixed through the room, deep low end, balance, good atmospherics, and clear dialogue. The hard rock/dark metal theme that accompanies angry Mandrake really crunches and surrounds you. That said, there is an audible difference between the English and Japanese versions. The Japanese track is louder and has much fuller, more upfront dialogue and punchier sounding music. The English track sounds a bit weaker, thinner, and has the dialogue a bit farther back in the mix. My preference is for how the Japanese audio is mastered, but it could be a matter of personal taste.
The Supplements
We get the now expected feature-length storyboards, a 'making of' featurette with interviews with the Japanese cast & crew, and also interviews with the Japanese voice cast. There's plenty enough here to go through.
Blu-ray & DVD included
Feature-Length Storyboards
Creating Earwig and the Witch (1080i; 00:29:46)
Interviews with Japanese Voice Cast (1080i; 00:15:32)
Trailers & Teasers (1080p; 00:05:16)
The Final Assessment
Earwig and the Witch is watchable, just not up to the usual Studio Ghibli standards. Even that makes it better than many of the other animated features out there. This Blu-ray is top notch, but maybe only for Studio Ghibli completists.
Earwig and the Witch is out on Blu-ray Combo on April 6, 2021 from Shout! Factory
---
Rating Certificate: PG (for some scary images and rude material)
Animation Studio: Studio Ghibli
Distributors: Shout! Factory | GKIDS
Director: Goro Miyazaki
Written By: Diana Wynne Jones (novel) | Keiko Niwa (screenplay) | Hayao Miyazaki (developed by)
Run Time: 82 Mins.
Street Date: 6 April 2021
Aspect Ratio: 1.85:1
Video Format: AVC 1080p
Primary Audio: Japanese DTS-HD Master Audio 5.1
Secondary Audio: English DTS-HD Master Audio 5.1 | English Descriptive Audio 5.1
Subtitles: English SDH | English for original language version