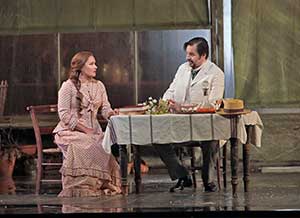 April 22, 2107. Since its 1879 Moscow debut, Eugene Onegin has remained the most popular of Tchaikovsky's many operas. The eponymous hero is an urbane young man from St. Petersburg on a visit to the Larin country estate with his friend, the poet Vladimir Lensky who is engaged to the younger Larin daughter, Olga. Once at the estate, Onegin meets the naïve and repressed Tatiana, Olga's older sister. Tatiana becomes immediately infatuated with the handsome, older Onegin and writes him a passionate letter.  They meet after Onegin has received Tatiana's love note and he rather heartlessly informs her that he is not the "marrying" kind. Later, Tatiana celebrates her name day and, during the party, Onegin has an innocent flirtation as he dances with Olga. Seeing this, Lensky becomes enraged and challenges his friend to the duel that will cost the young man his life.
Five years have passed, and Onegin returns to St. Petersburg following a self-imposed exile. Tatiana has become the beautiful wife of the much older Prince Gremin. At the Prince's ball, Onegin recognizes Tatiana and, ironically, he now writes her an intense love letter. The two then meet and although Tatiana admits that she still loves Onegin, they can have no future together as she will honor her marital vows. After Tatiana says her goodbyes, a distraught Onegin is left alone.
This Metropolitan Opera performance revives Deborah Warner's 2013 production with Tom Pye's sets and Chloe Obolensky's costumes that place the opera in the era of its premiere. Russian soprano Anna Netrebko reprises her 2013 portrayal of Tatiana, and, having seen her  in that performance, I was impressed by how much this singer has deepened her characterization and captured perfectly the transition from ingénue to sophisticated high-society lady. Netrebko nails every nuance of the famous "letter scene" and quite effectively turns the tables on Onegin in the final scene with fabulous vocalism and acting.  Her partner, Swedish baritone Peter Mattei replaced an indisposed Dmitri Hvorostovsky and, in contrast with his predecessor, presents a more suave Onegin. His mellifluous baritone provides the perfect foil for Netrebko's emotional soprano. Russian tenor Alexy Dolgov is the unfortunate Lensky and in his second act pre-duel aria, "Kudà, kudà," he pours out the ultimate lament for a life that he will never get to enjoy.  Other principals include Russian mezzos Elena Maximova as Olga, a high spirit with great stage presence, and Elena Zaremba (Olga in the 2006 production) as her understanding and warm-voiced mother.  Met character bass Stefan Kocan, a younger than usual Prince Gremin, delivers his Act III aria that, with a seemingly endless subterranean final note, effectively portrays the emotions of a man blessed with a beautiful young wife. Maestro Ticciati has a wonderful feel for the ebb and flow of this uber-romantic score and leads a very singer-friendly performance.
My only reservation about this well-played and sung performance is the same one that I had four years ago: the sets. The rooms in the Larin house are drab and dingy while the columns in the Act III ballroom scene make for an awkward obstacle course for the elegant dancers. The final scene (originally set in a room in Tatiana's home) loses much of its poignancy when it is played out on a snowy set amidst those pesky columns. But this Eugene Onegin again demonstrates how a musical performance at the highest level can surmount the limitations of its staging.
Eugene Onegin is the Tchaikovsky masterpiece that absolutely every opera lover should see and ran through April 22, 2017. More information about this production can be found at the Met's website www.metopera.org.
[fvplayer src="https://www.theaterbyte.com/wordpress/storage/2017/05/EugeneOneginClip1Titlesrev-1280.mp4" splash="https://www.theaterbyte.com/wordpress/storage/2017/04/metropolitan-opera-live-in-hd-eugene-onegin-2017_tb_env_gly_8.jpg" width="1280" height="720"]
Anna Netrebko | Peter Mattei | Alexy Dolgov
Artist
Summary
A brilliant revival of the Met's 2013 production of Tchaikovsky's most popular opera.
What people say... Login to rate
Be the first to leave a review.
Show more