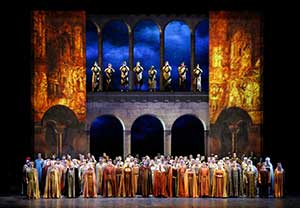 May 7, 2107. It was indeed a starry, starry night, as the Metropolitan Opera threw a huge party to celebrate fifty years in its new home at the Lincoln Center for the Performing Arts. The five-hour show had thirty-two musical selections featuring artists who have graced the Met's stage from nearly the start of this half-century run to the present. Program content was a microcosm of the company's current repertory: heavy on Italian and French, light on German and Russian, and even lighter on contemporary works in English. Maestros Yannick Nezet-Seguin, Marco Armiliato, and James Levine shared the conductorial duties. Several brief films, inserted to facilitate scene changes, touched on the company's Lincoln Center history.
Opening appropriately with the overture to the film of Leonard Bernstein's West Side Story, as the once blighted upper West Side neighborhood with rampant gang activity was hardly prime real estate for the site eventually chosen for this magnificent opera house. A film of the Lincoln Center groundbreaking (with former President Dwight D. Eisenhower hoisting the first shovel) showed the heavy digging and lifting needed for a project that cost nearly $200 million. Project chairman John D. Rockefeller III and opera house architect Wallace Harrison "discovered" the idea for the iconic "sputnik" chandeliers by chance when a interior design drawing by Tadeusz Leski, accidentally spattered with white paint, was hastily presented to them. Another brief film describes the creation of the Marc Chagall murals that grace both sides of the Met's Grand Tier. In yet another film, soprano Leontyne Price describes her September 16, 1966 opening night experience as Cleopatra in Samuel Barber's Antony and Cleopatra that neatly segues into a chorus from this opera "From Alexandria, this is the news."
[envira-album id="100200″]
The meat of the vocal program opens, appropriately enough, with the ageless Placido Domingo singing a full-voiced baritone aria "Nemico della patria" from Andrea Chenier. Proceeding from strength to strength, the audience witnessed the kind of star power that only the Metropolitan Opera can muster consistently on any given evening. My personal highlight list is below:
Pyotr Beczala: a powerhouse performance of the famous aria from Verdi's infrequently heard Luisa Miller, "Quando le sere al placido."
Dmitri Hvorostovsky: after a standing ovation, singing "Cortegiani, vil razza dannata" from Verdi's Rigoletto. His voice, while not what it once was, delivered all of a father's emotional anguish. Given the clearly fragile state of his health, this may well be the last time that Met audiences will ever see him perform.
Rene Pape: a "Mad Scene" from Boris Godunov riveting in its projection of the doomed Tsar's unbearable guilt.
Joseph Calleja and Sonya Yoncheva: a touching and gloriously sung Act I final scene from Puccini favorite, La Boheme.
Pretty Yende and Eric Owens: the emotional duet, "Bess, you is my woman now," from Gershwin's Porgy and Bess, ironically not performed in this house until a half-century after its US premiere.
Elina Garanca: a seductively sung aria from Saint-Saens' Samson et Delilah, "Mon coeur ouvre a ta voix," that might lead to a new role for her at the Met.
Vittorio Grigolo: an impassioned "E lucevan le stelle" from Puccini's Tosca in which he will be performing this coming season.
Javier Camarena: nine high "C"s delivered en pointe in the showstopper aria, "Ah, mes amis," from Donizetti's La Fille du Regiment.
Anna Netrebko (twice): a magisterial cavatina and aria, "Vien, t'affreti", from Verdi's Macbeth, and a heart-rending "Un bel di," from Puccini's Madama Butterfly.
Rene Fleming: in possibly her final season on the Met stage, rendering the bittersweet "Porgi, Amor," from Mozart's Nozze di Figaro in her alluring silvery voice.
Diana Damrau: "Ah, forse e lui…Sempre libera" from Verdi's La Traviata, an amazing display of coloratura dexterity and vocal abandon.
Joyce di Donato: "Bel raggio lusinghier" from Rossini's Semiramide. Ditto.
Ensemble (Latonia Moore, Dolora Zajick, Yusif Eyvazov, Zeljko Lucic, James Morris, Sava Vemic, and Met Chorus): Act II Finale from Verdi's Aida. Grand opera at its grandest as only the Met can do night after night.
There were rare disappointments like Kristine Opalais's underpowered "Vissi d'arte" (Tosca) and the final act duet from Massenet's Thais following which Fleming and Domingo were initially greeted by awkward silence from an audience either sated with the preceding vocal pyrotechnics or underwhelmed by the blandness of the music under Levine's baton.
What should also be vigorously applauded is Julian Crouch's amazing production blending partial sets with clever projections that consistently delivered the illusion of fully staged performances. This 50th Anniversary Gala, as noted by Peter Gelb at the post-performance dinner, acknowledges the literal passing of the baton from Music Director Emeritus James Levine, his 40-plus year tenure at the helm previously summarized in a brief film, to Yannick Nezet-Seguin who becomes the music director in 2020. The Gala also acknowledges the transition from the company's glorious vocal past (Dolora Zajick, James Morris, Placido Domingo) to a promising future (Pretty Yende, Ben Bliss, Latonia Moore). A once-in-a-lifetime event that did this company proud and augurs well for the future.