– –

The Collection
[Rating:4/5]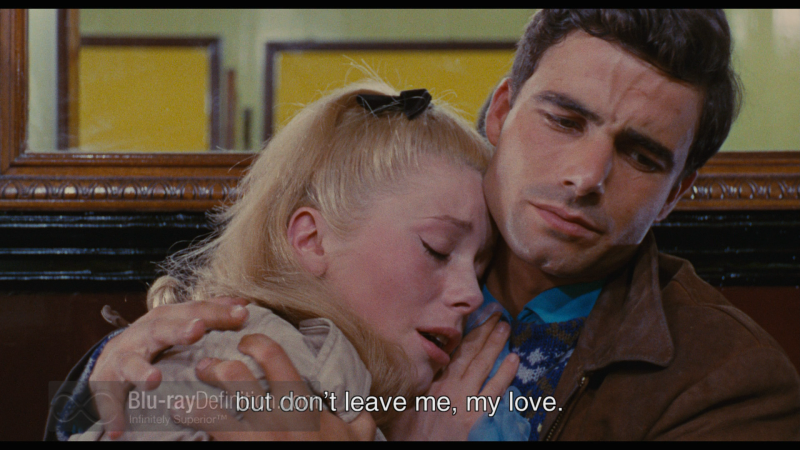 So, you don't know Jacques? French writer/director Jacques Demy, that is, who made films at the dawn of the Nouvelle Vague (New Wave) era. If not as well known now as his contemporaries like Jean-Luc Godard and Francois Truffaut, Demy made films that were more approachable, somewhat less avant-garde, and often closer in spirit to Hollywood than to Paris. The Criterion Collection's The Essential Jacques Demy features several of his better known productions.
Lola (1961)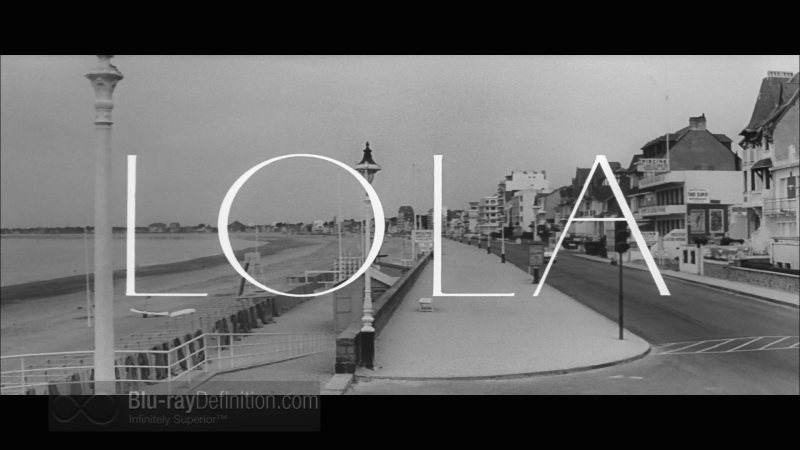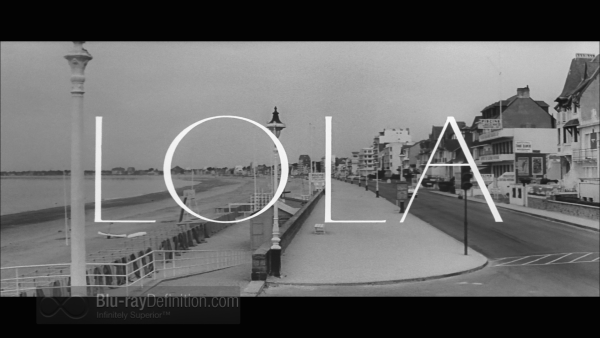 Lola, Demy's first feature-length film, an homage to directors Max Ophuls (The Earrings of Mme…) and Josef von Sternberg (Der blaue Engel), opens with a JR Ewing character driving a white Cadillac along the waterfront of Nantes (Demy's hometown). Lola (Anouk Aimee, Un Homme et Une Femme) works at a dance hall and is carrying on with American sailor, Frankie (Alan Scott).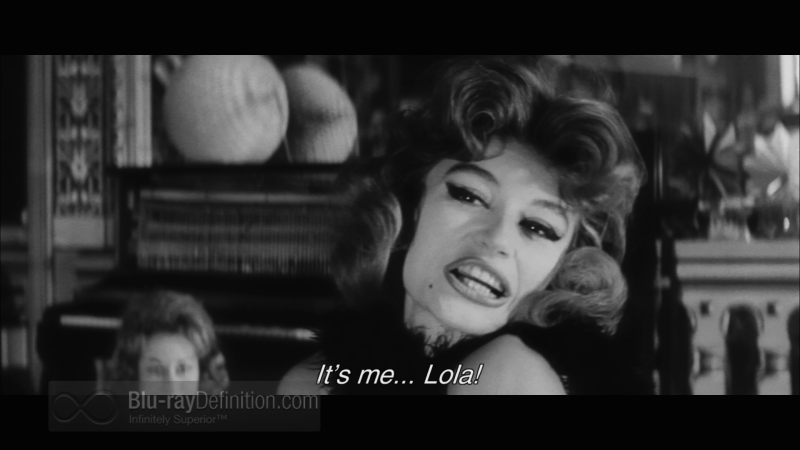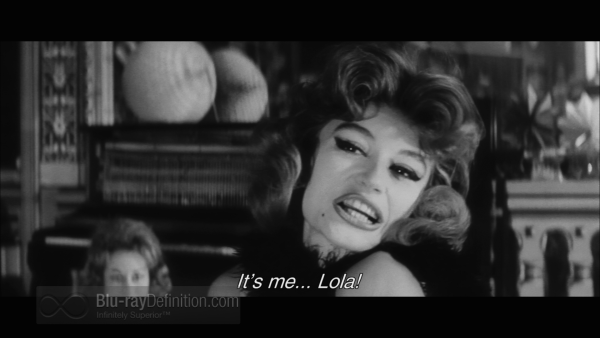 An aimless young man, Roland Cassard (Marc Marcel), literally runs into Lola whom he remembers as his childhood friend Cécile and her son Yvon (Gerard Delaroche). A local hair stylist (Jacques Lebreton) recruits Roland to smuggle diamonds, a gig that later falls through.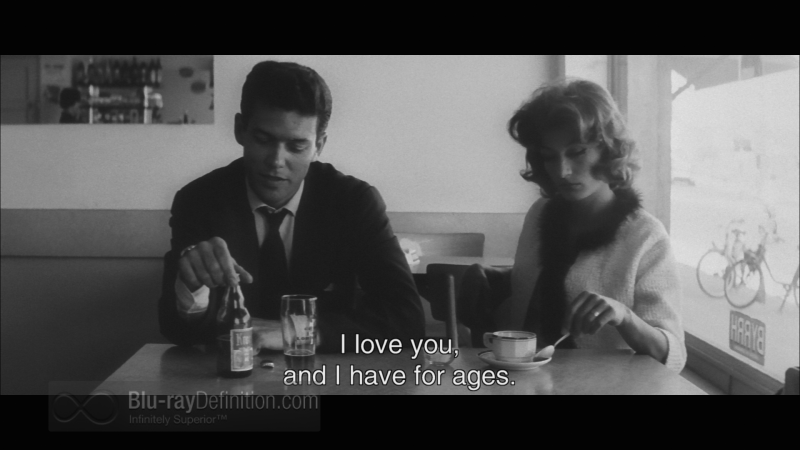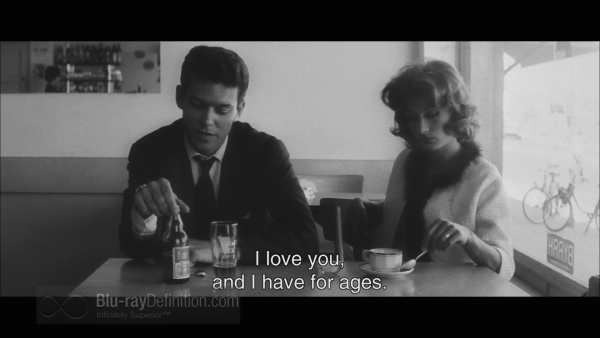 Over dinner, Lola tells Roland about her life and how she became pregnant by Michel (Jacques Harden) her one and only love.  Roland confesses that he loves Lola but she, in turn, says that they can only be friends.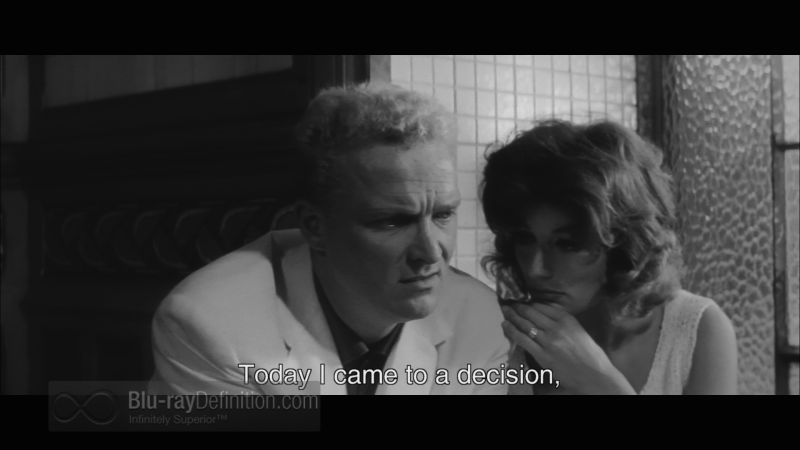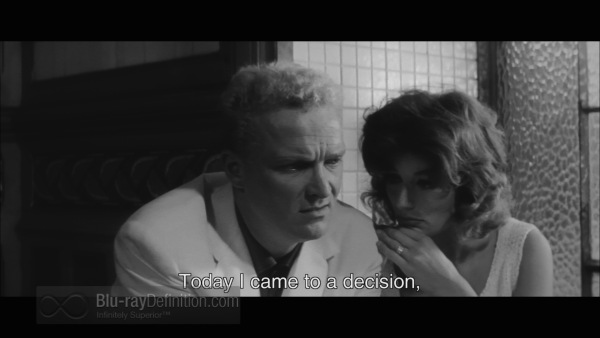 As we get to know Lola better, it becomes increasingly clear that she has the existenial duality of personas, so typical of New Wave cinema: a seductress by night and a loving mother by day. A few coincidental meetings later, we get an unexpectedly happy ending,  made a touch ambiguous in the film's final camera shots.
Bay of Angels (La Baie des Anges) ( 1963)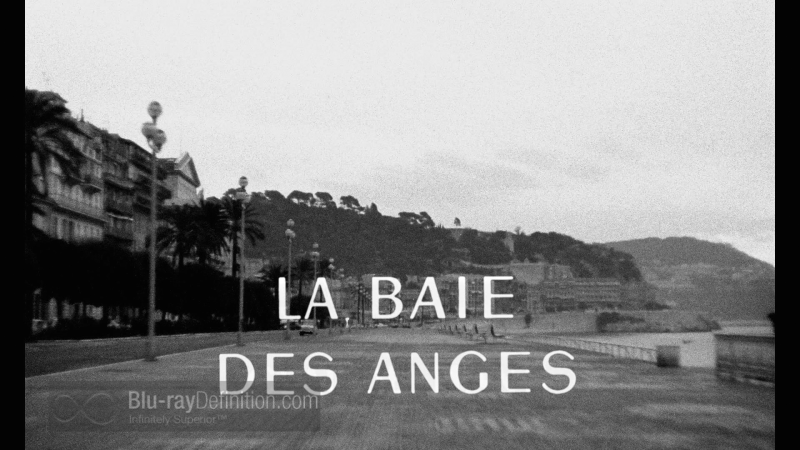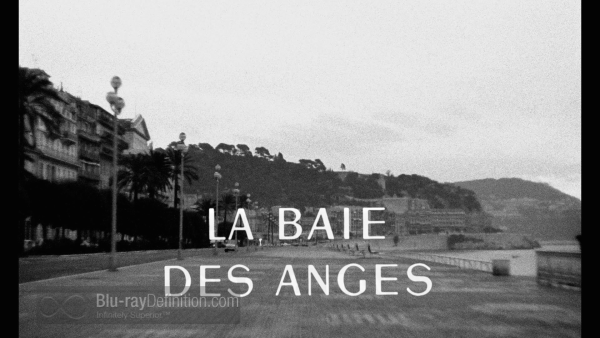 Caron (Paul Guers) convinces his friend Jean Fournier (Claude Mann), a bank employee, to play roulette at the local casino.  With beginner's luck, Fournier wins six months' salary in one hour.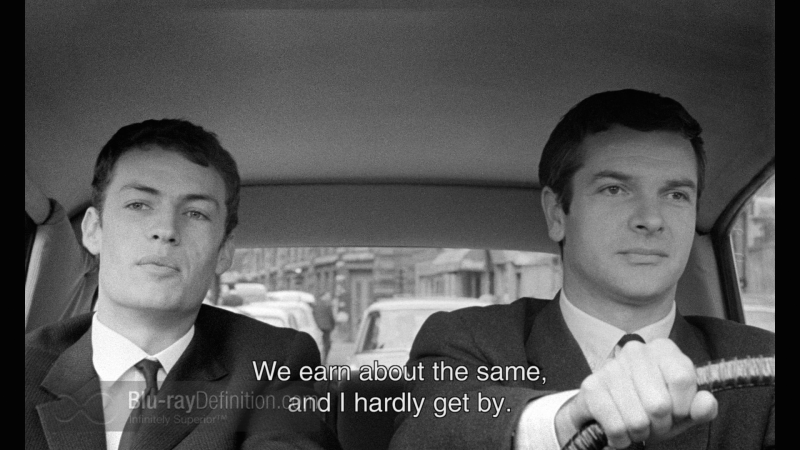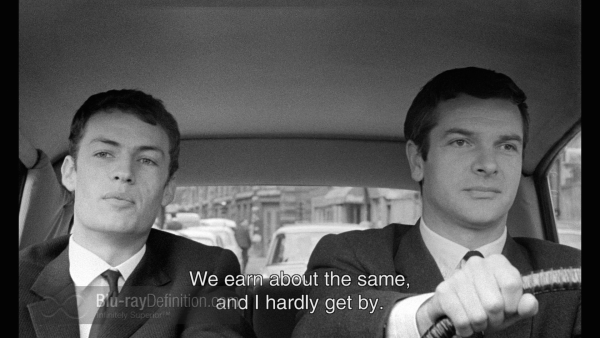 When Jean's father (Henri Nassiet) evicts him for gambling, he checks into a modest hotel in Nice. At the casino, Jeane meets a beautiful blonde, and his lucky streak continues. The blonde, Jacqueline Demaistre AKA Jackie (Jeanne Moreau), is a compulsive gambler and obviously older than Jean.  The remainder of Bay of Angels deals with the dark side of gambling addiction as Jean and Jackie hook up and continue their affair with roulette, winning big and losing big.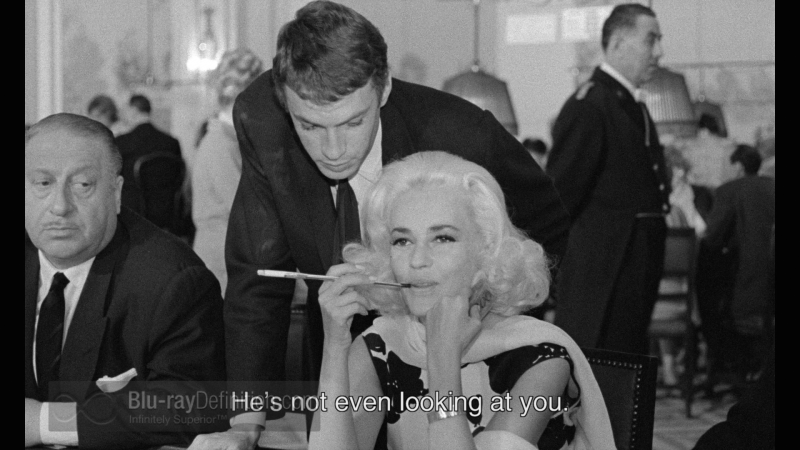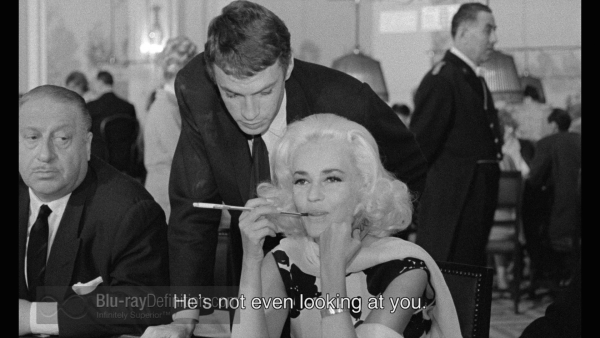 With less character development than in most of Demy's films, we get tidbits of Jackie's life and her failure at marriage and motherhood, while Jean is little more than a dramatic foil. The pair go to Monte Carlo and get a brief taste of the high life in the Hotel de Paris.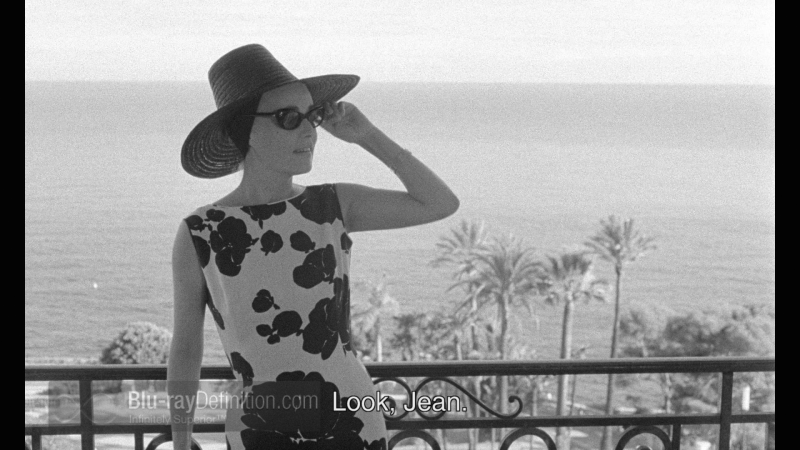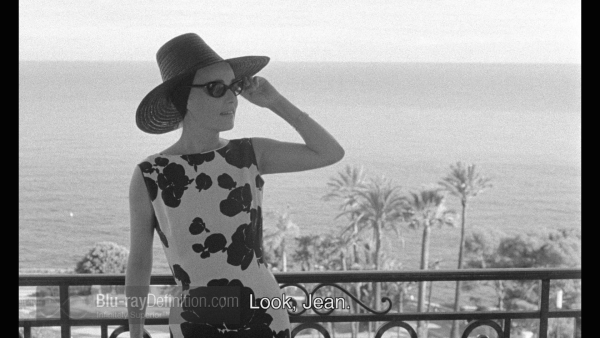 Jackie sums it all up: "If I loved money, I wouldn't squander it. What I love about gambling is this idiotic life of luxury and poverty." Jean puts a move on Jackie but is told that he is nothing but a "lucky horseshoe."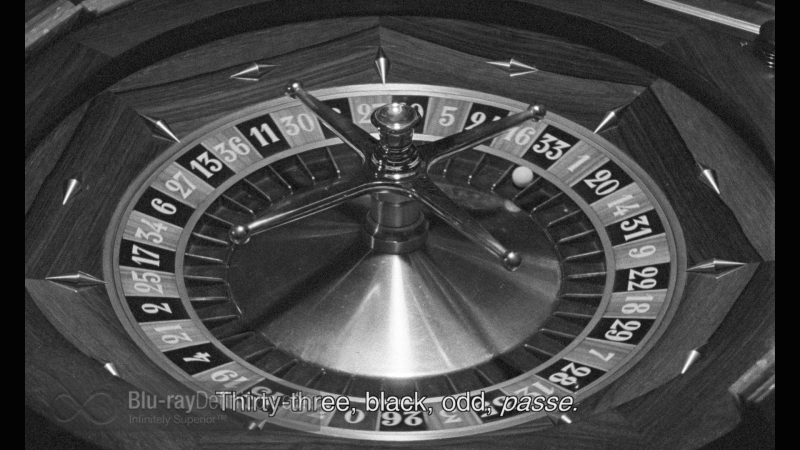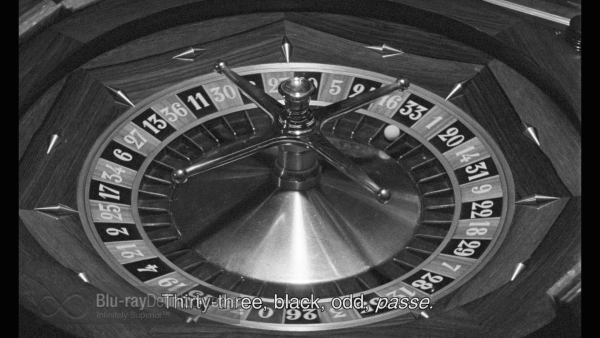 Gambling films have their moment of reckoning. In Bay of Angels, it is not the last spin of the roulette wheel but the weaving of a spider and prey relationship that concludes with an uncertain future for this couple but with the odds that it will be as short as the next game of roulette.
The Umbrellas of Cherbourg (Les Parapluies de Cherbourg) (1964)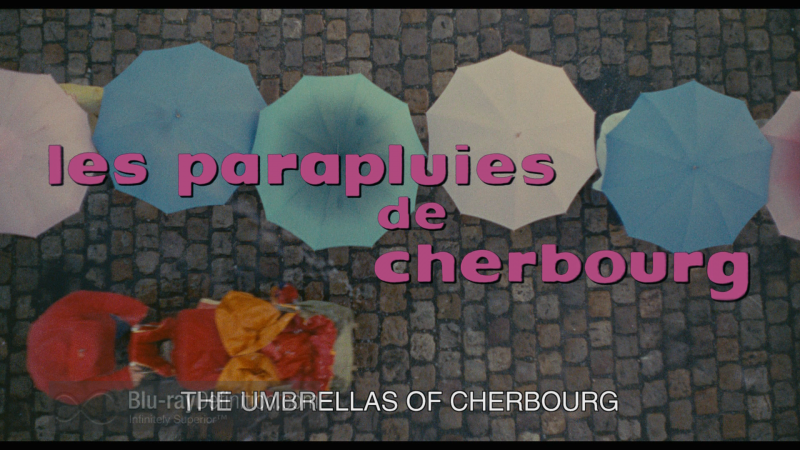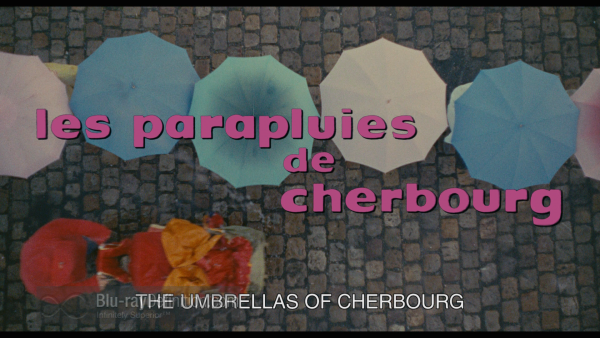 The Umbrellas of Cherbourg, a major departure from Demy's B&W films, is a Hollywood-like ultra-romantic technicolor musical, sung in its entirety and bolstered by the Michel Legrand earworm hit "I Will Wait For You." It is late 1950s Cherbourg, and the Emery family, Geneviève (Catherine Deneuve) and her mother (Anne Vernon) own a failing umbrella shop. Guy (Nico Castelnuovo), a dapper auto mechanic, loves Geneviève but must stay with his sickly aunt Elise (Claire Lechert) who is being cared for by Madeleine (Ellen Farner).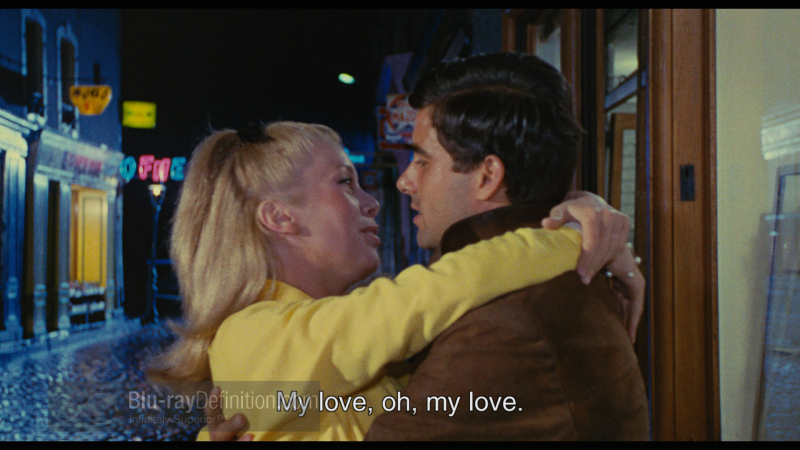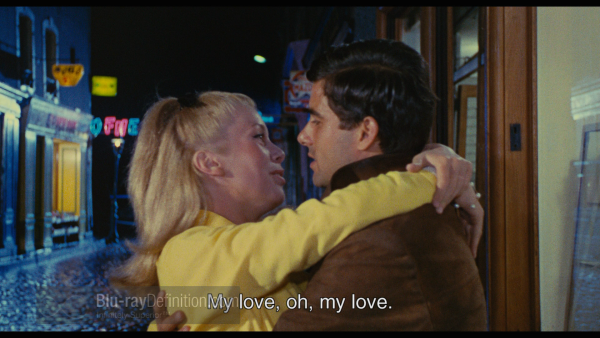 Wealthy jeweler Roland Cassard (Marc Michel), last seen in Demy's Lola, may be the Emery's ticket out of poverty if Madame can just get him to marry Geneviève.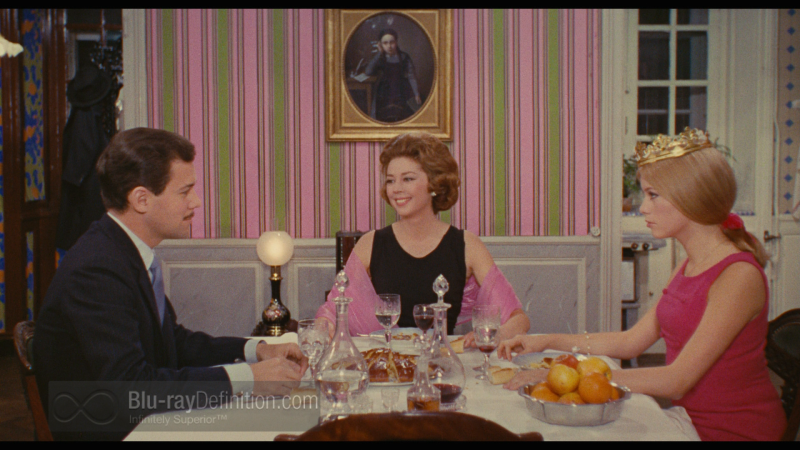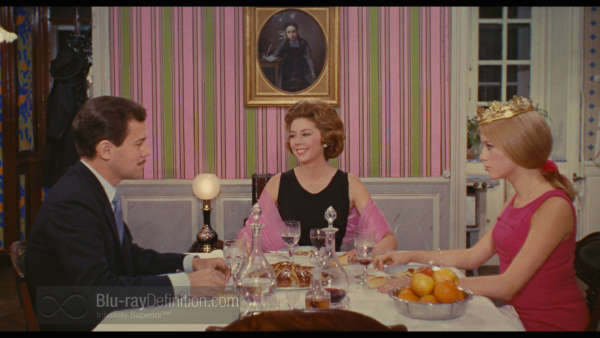 Before Guy leaves for two years' military service in Algeria, Geneviève vows to wait for him, and they make love. Two months later, we find Geneviève pregnant with Guy's child.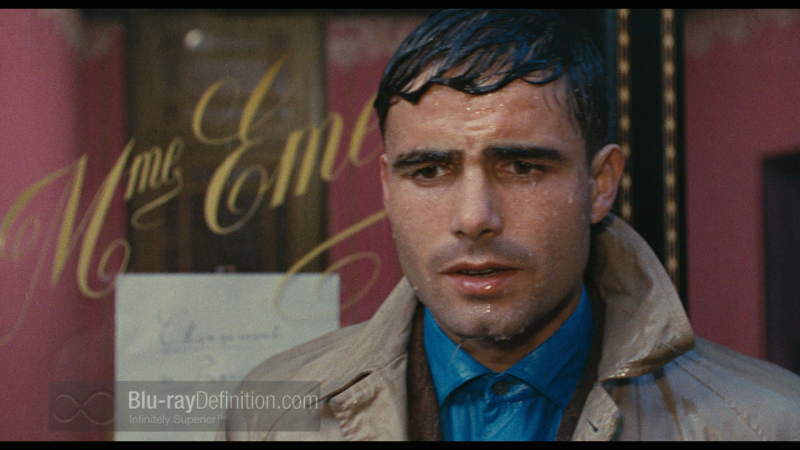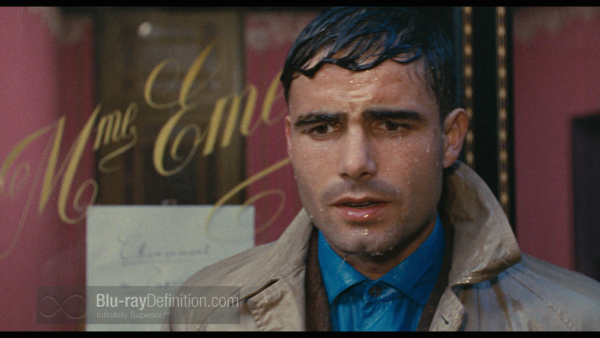 Guy returns from the front, a changed man, and finds that Geneviève has married Roland and left Cherbourg. In short order, he quits his job, gets drunk, and hooks up with a prostitute. Guy's aunt dies and, after inheriting her estate, he marries Madeleine.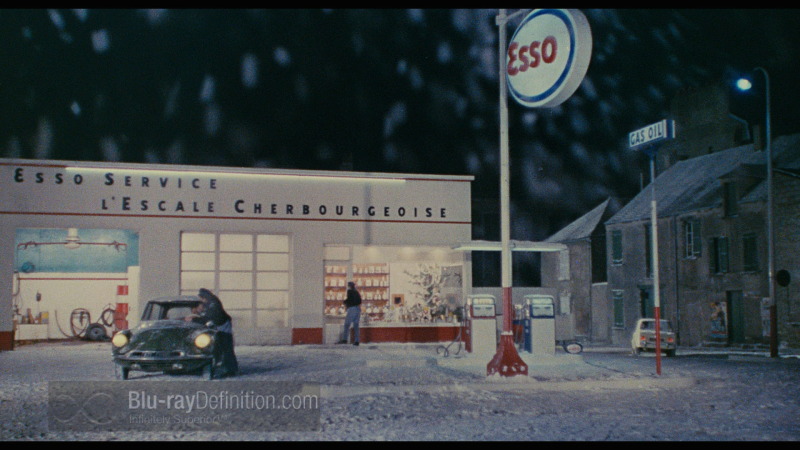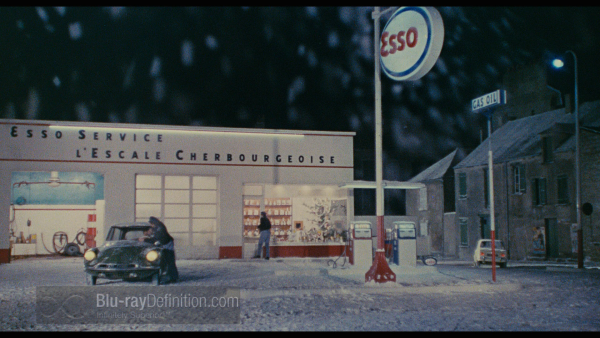 A few years pass. Guy and Madeleine now have a son, François. Guy is working at the Esso station purchased with his inheritance. There is one more plot twist that will leave a big lump in the viewers' collective throats and underscore a familiar Demy theme, the transitory nature of human relationships.
The Young Girls of Rochefort  (Les Demoiselles de Rochefort) (1967)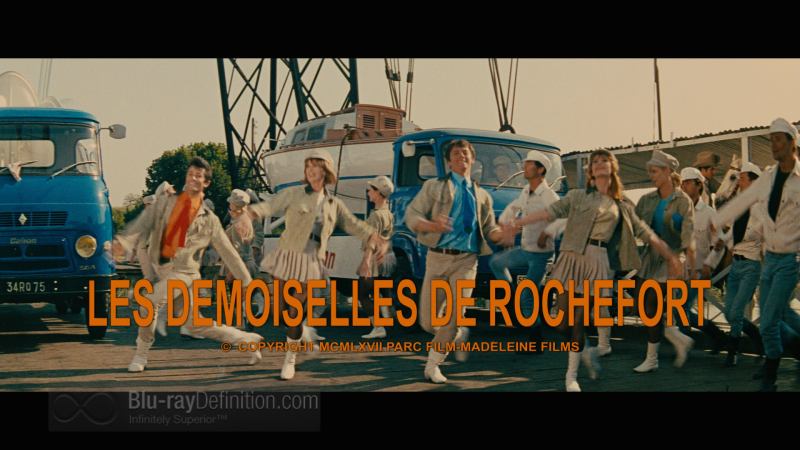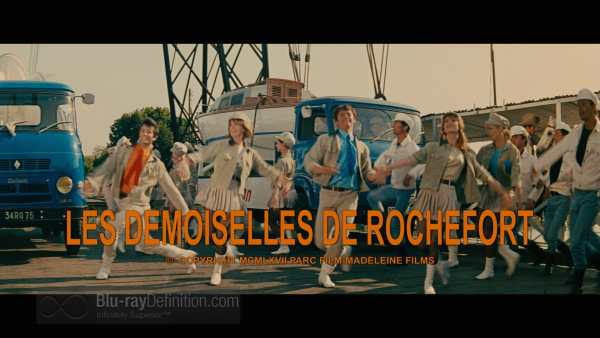 The Young Girls of Rochefort  is another Hollywood style musical, mixing musical numbers with spoken dialogue. It takes place during a weekend festival at a seaside resort. This film employs a common Demy dramatic device: a series of improbable coincidences that tie its characters together.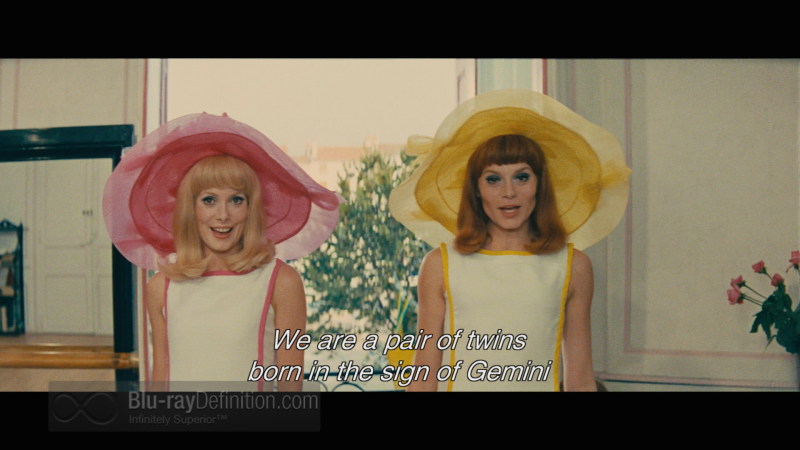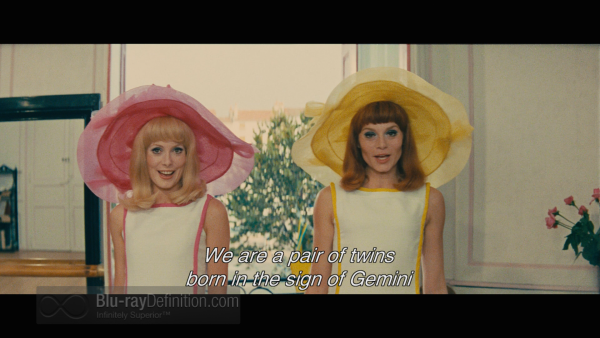 The "young girls" are twins (and real-life sisters) dance instructor Delphine (Catherine Deneuve) and music teacher Solange (Francoise Dorleac). Their mother Yvonne Garnier (Danielle Darrieux) runs a popular café and is unaware that her former fiancé, Simon Dame (Michel Piccoli), whom she deserted, has moved to Rochefort and opened a music store.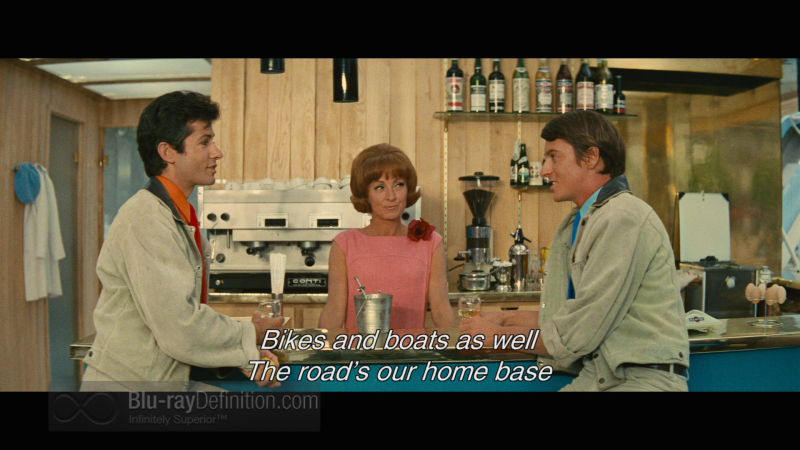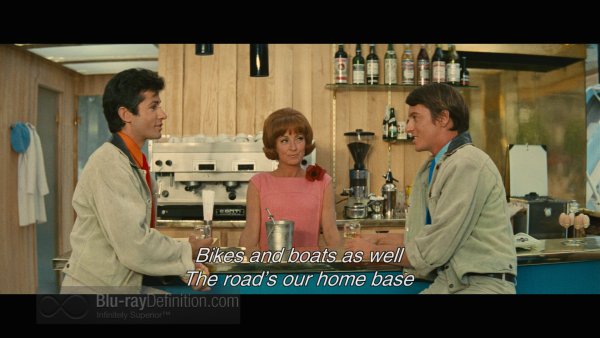 Young painter-poet Maxence (Jacques Perrin) who is being discharged from the Marines and looking for his "feminine ideal." He has painted a portrait of Delphine but has never actually met her.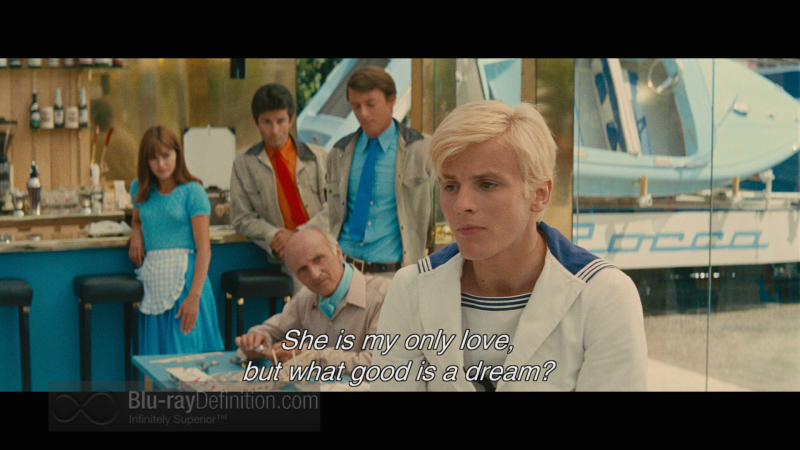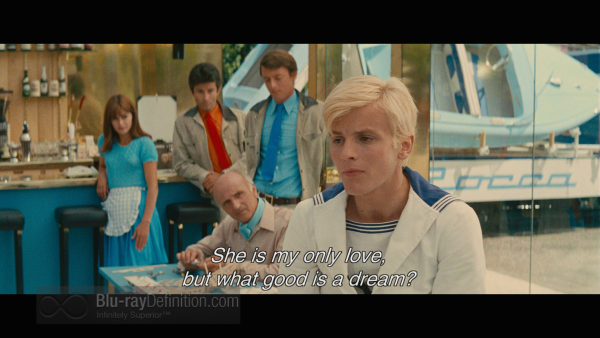 By chance, Solange enters Simon's store and gets the sad story of his being left by his fiancée (who, unknown to her, is Yvonne). Solange has a "meet cute" with American musician Andy Miller (Gene Kelly) who is looking for his friend Simon. Returning to Yvonne's café, we get her romantic backstory. Carnival workers, Etienne (George Chakiris) and Bill (Grover Dale) are seeking replacements for their two dancers who have taken off with some sailors. Yvonne volunteers her daughters and they agree to perform.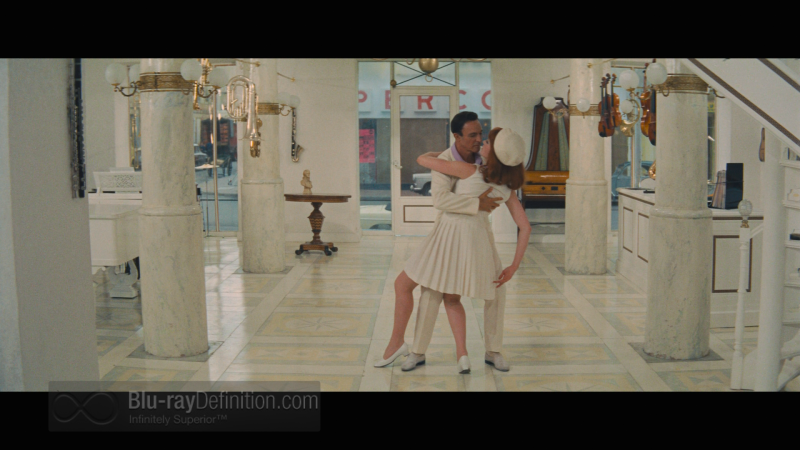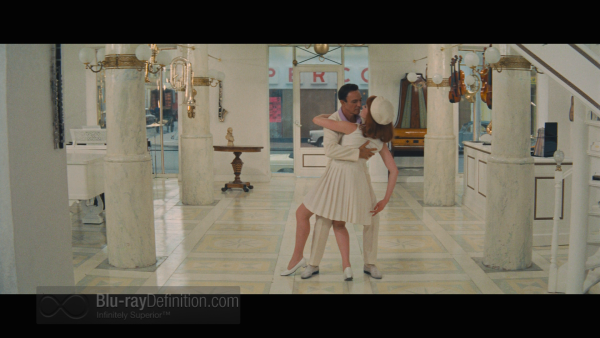 With Hollywood-spectacular choreography, the festival kicks off, and the sisters dance to great success. The Young Girls of Rochefort ends with its several subplots destined to be resolved after the cameras have stopped rolling. Not nearly as emotionally deep as The Umbrellas of Cherbourg, this film is still a heart-in-the-hand winner by its finale, heavenly choruses included.
Donkey Skin (Peau d'Ane)  (1970)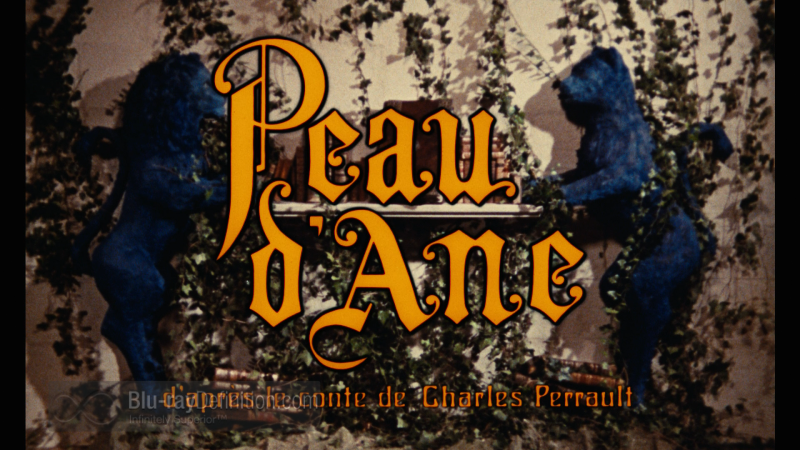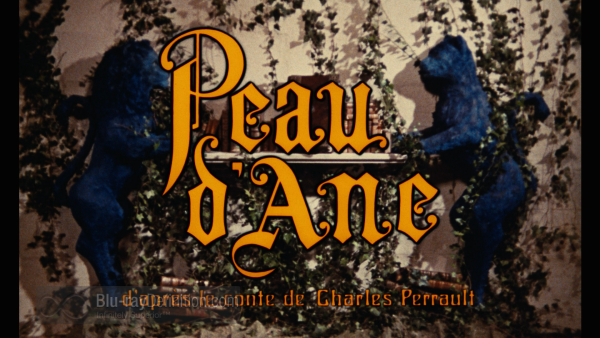 Demy adapts a Charles Perrault (Tales of Mother Goose) fairy tale for this technicolor musical film, Donkey Skin. A royal couple has a donkey that excretes gold, providing financial sustenance for the kingdom.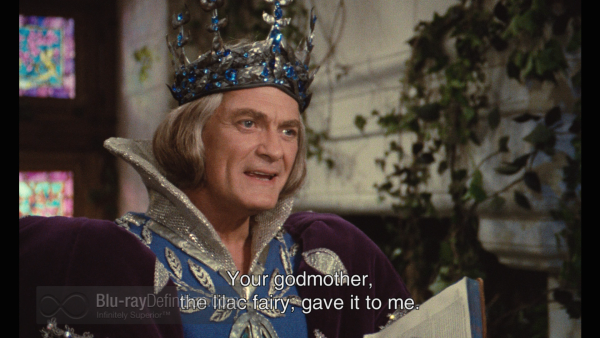 As the Queen (Catherine Deneuve) is dying, she makes the King (Jean Marais) promise to marry someone more beautiful than her. When the King's search for his new queen fails, he decides to marry his daughter, the Princess (also Catherine Deneuve).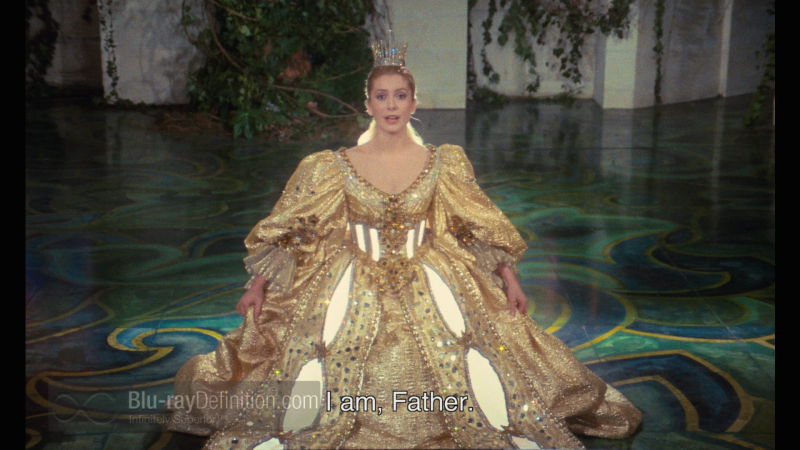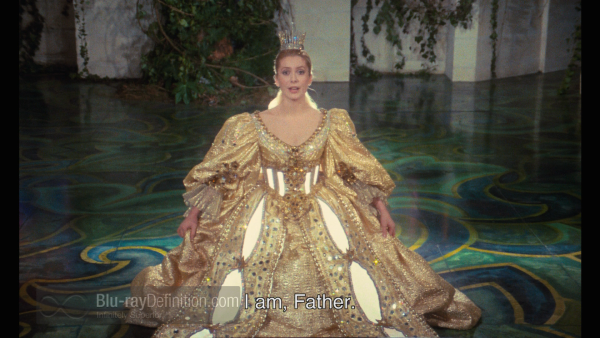 The Princess is understandably hesitant and seeks out the aid of her godmother, the lilac fairy (Delphne Seyrig). After rejecting one fabulous wedding gown after another, the Princess demands and gets the skin of the prize donkey that provides a disguise for her escape from the castle.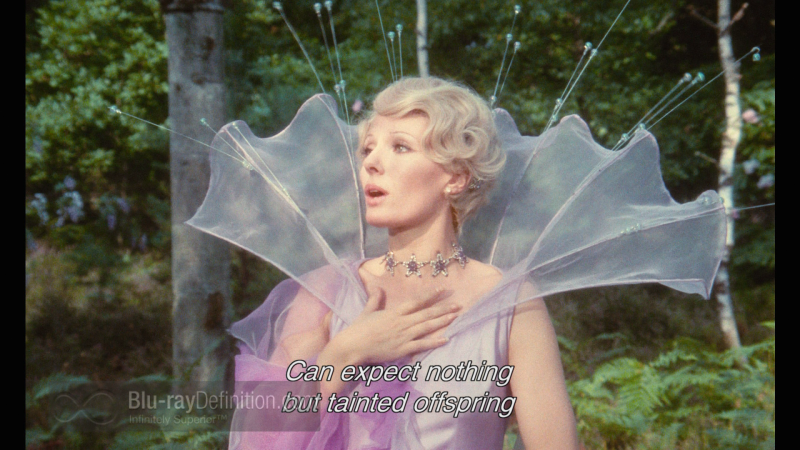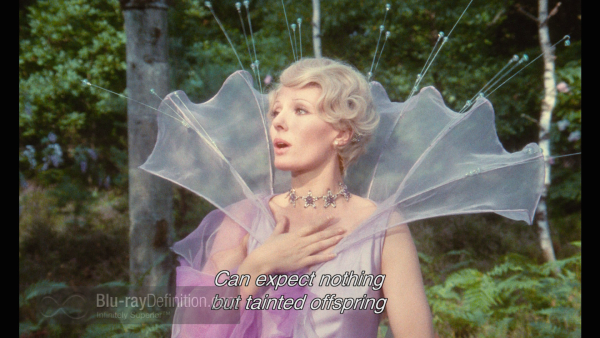 The King begins a massive but unsuccessful search for his daughter. Donkey Skin (as the Princess is now called) lives in a humble hut. Her only hope for happiness is to find Prince Charming (Jacques Perrin) and in true fairy tale style, he arrives, spies the Princess in her lowly abode but dressed to the nines, and is smitten.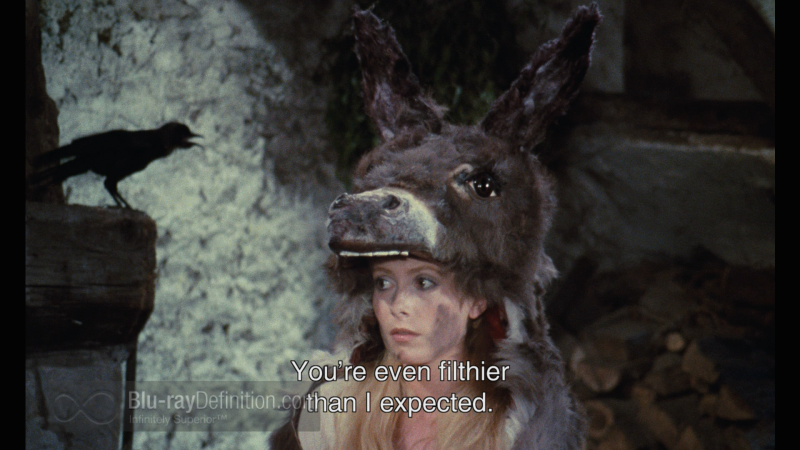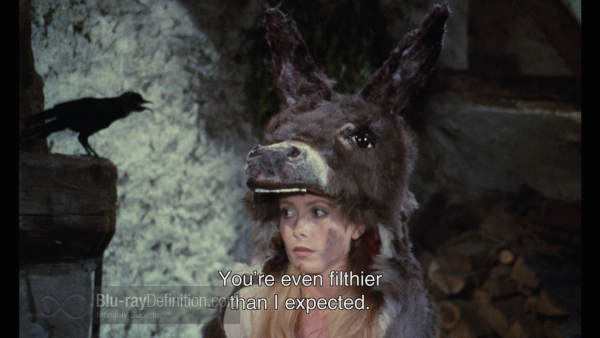 The Prince returns home to his parents, the Red King (Fernand Ledoux) and Red Queen (Micheline Presle) and seemingly falls ill, declaring that only a cake baked by Donkey Skin can cure him.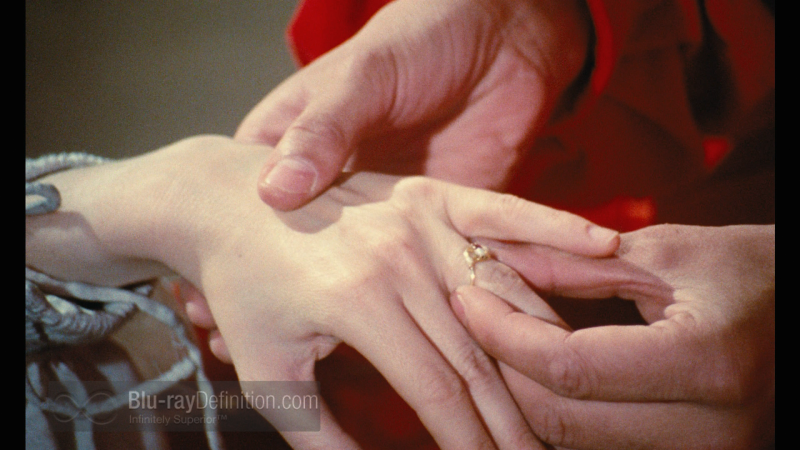 Of course the cake is baked, the Princess drops her ring in it (the Prince finds it) and,  if you have read Perrault's story, you know how this one ends. Even if you have not, you know how this one ends.
Un Chambre en Ville (A Room in Town) (1982)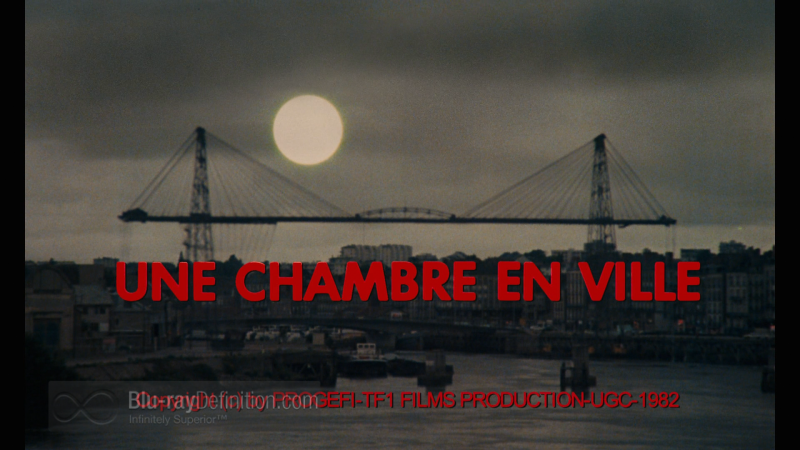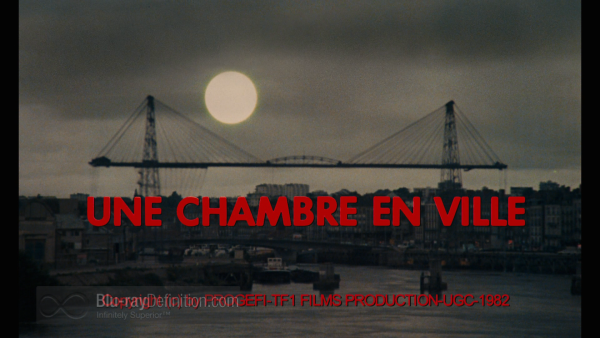 Like The Umbrellas of Cherbourg, Un Chambre en Ville is a near-operatic musical in which every line is sung. But unlike its predecessor, this film is an intense character study set against the backdrop of a workers' strike in Nantes during 1955. Perhaps the most dramatic of the Demy collection, the writer/director again uses  twisting and evolving personal intersections to drive the plot forward.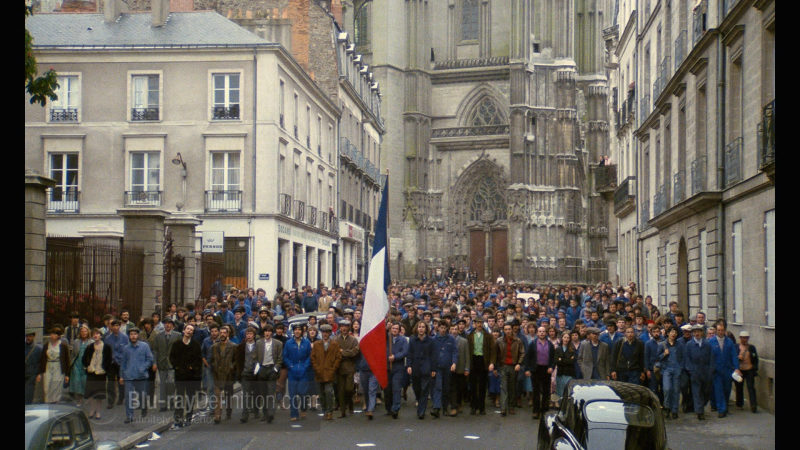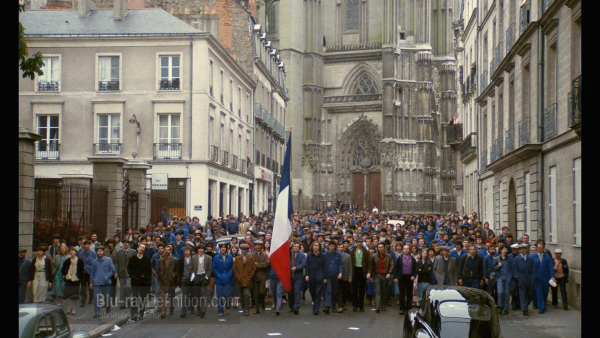 Opening with a labor demonstration, the scene shifts to Madame Langlois's (Danielle Darrieux) luxurious apartment. She is a bourgeois widow who likes her drinks and plays her late husband's compositions on the piano. François Guilbaud (Richard Berry), a metal worker and labor activist is boarding at Madame's apartment. Her daughter, Edith Leroyer (Dominique Sanda), visits, dressed only in a mink coat and tells Madame that her marriage to Edmond (Michel Piccoli) is failing.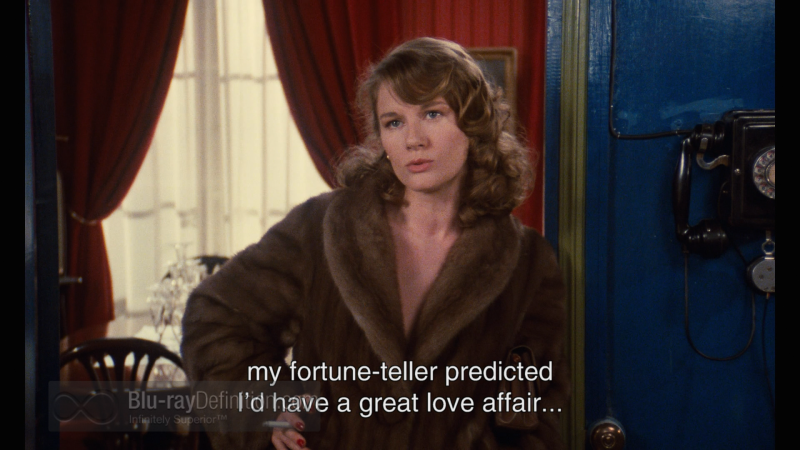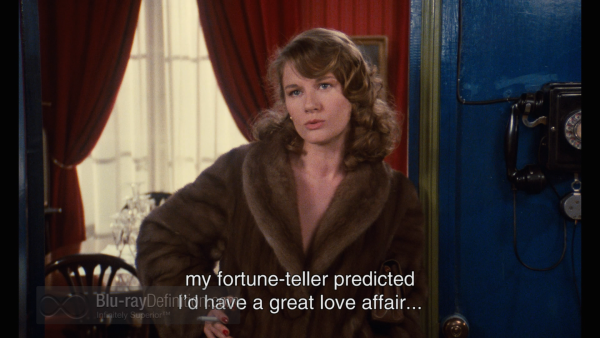 Violette (Fabienne Guyon), an innocent young girl and François's lover, tries to get him to marry her but her efforts are thwarted by the impending strike. Edith has a knock-down-drag-out fight with Edmond and, wandering the streets, runs into François.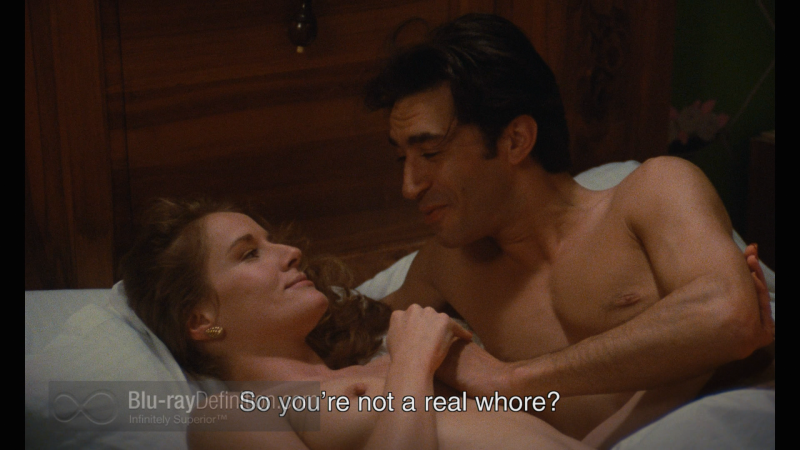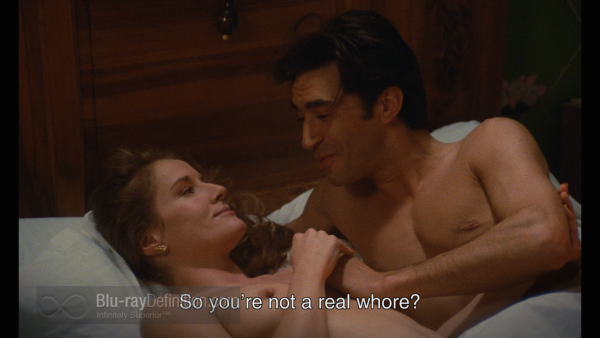 They find a hotel room much to their mutual satisfaction. Edmond goes to Madame's apartment when Edith does not return home, and threatens to kill his wife and her suspected lover. Edith and François have fallen deeply in love but now he must organize the next strike.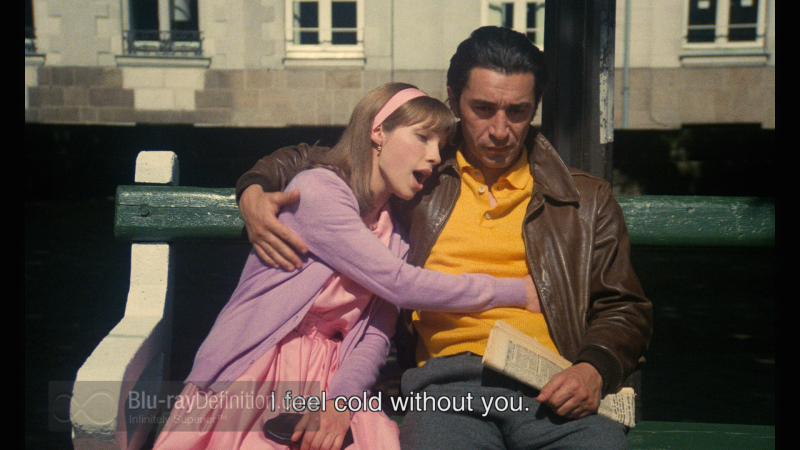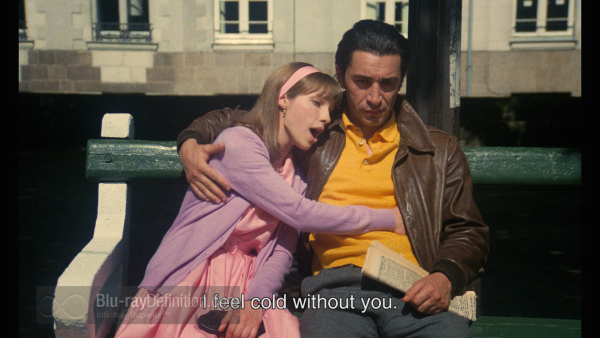 Violette informs François that she is pregnant, and he, in turn, tells her that he loves another woman. Returning to get her belongings Edith has a violent argument with Edmond that ends with his slitting his  throat.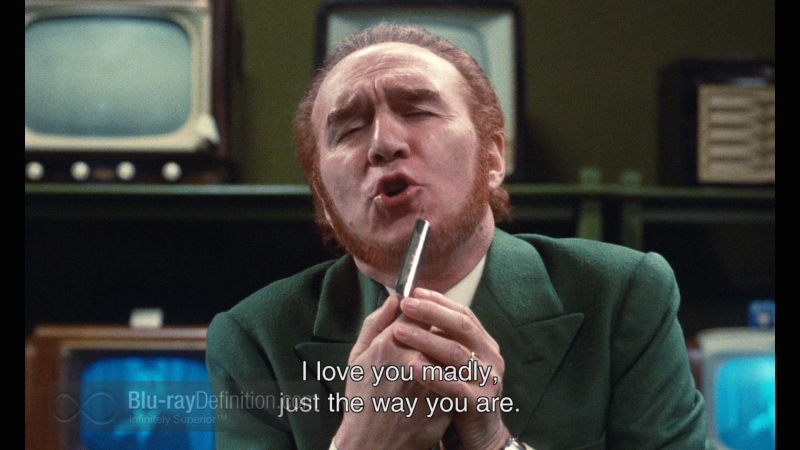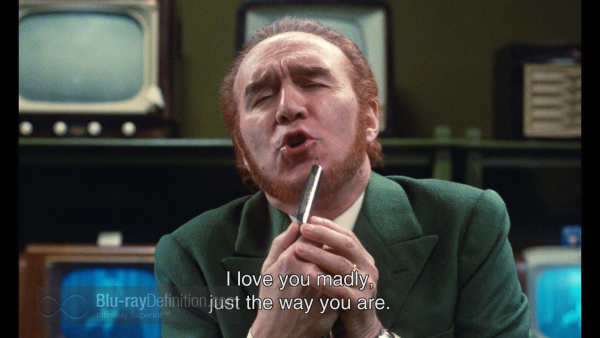 Edith returns to her mother's apartment and to her beloved Guilbaud. The day of the strike dawns with tragic consequences for the two lovers.
Video Quality
[Rating:3.5/5]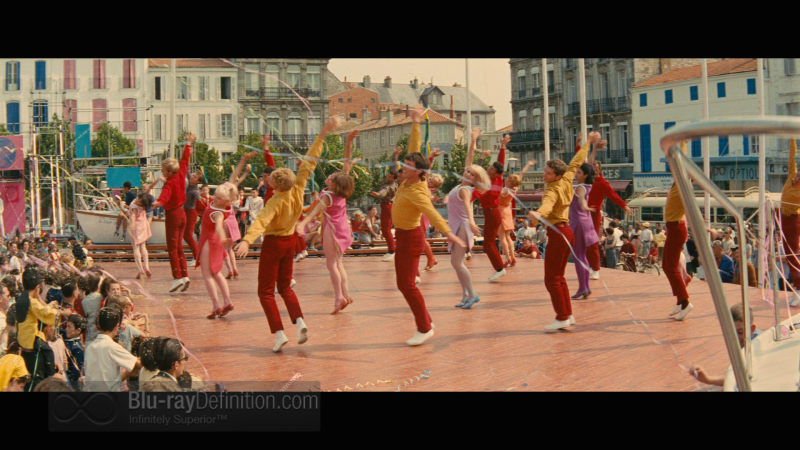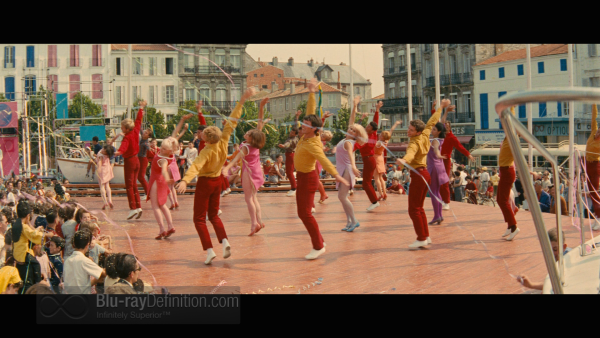 These films cover two decades, and the images improve considerably over time. For the most part, the color films are beautifully restored, the exception being Un Chambre en Ville that has surprising amount of grain. Restoration details are presented in each film at its beginning and are mostly 2K restorations of the 35mm original masters, using either Scanity or ARRISCAN digital scanners. Director Demy had a great eye for colors, with the big screen acting as his canvas, and uses them to make dramatic points like the reds and violets of Un Chambre en Ville, the whites and blues of The Young Girls of Rochefort, or the chromatic rainbows of Donkey Skin.
Audio Quality
[Rating:4/5]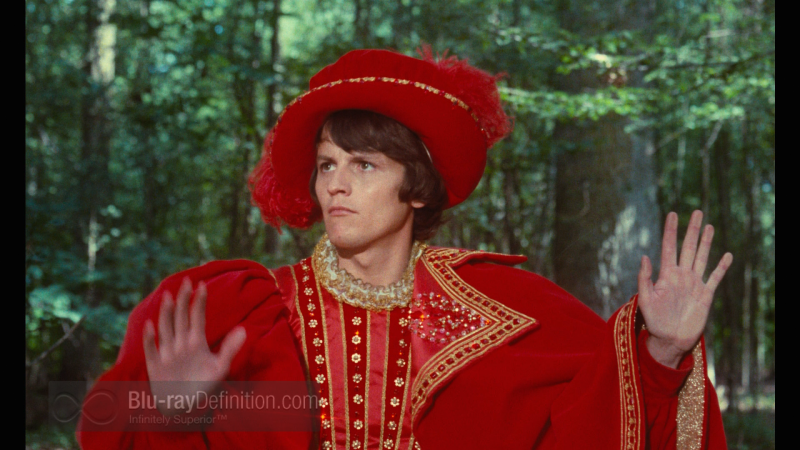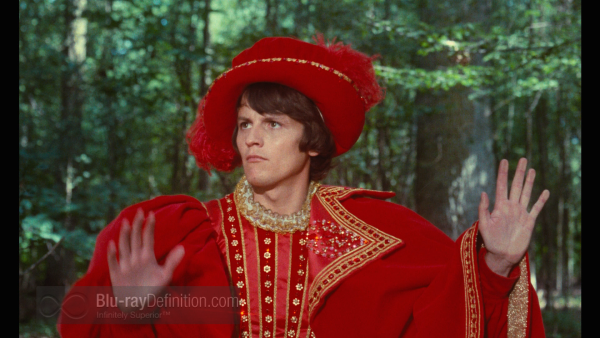 With the exception of the two earliest films that are somewhat boxy and compressed, the other soundtracks are terrific with great ambience and detail. Dialogue (essential to Francophones) is crisp and clear throughout. The musical scores by composers Legrand and Colombier are essential to each film's dramatic impact and in the last four, we get lush and lovely renditions. All of the soundtracks were remastered at 24-bits. Both B&W films' monaural soundtracks were taken from optical tracks or sound negatives. The Umbrellas of Cherbourg's 5.1 surround sound track was from an original monaural soundtrack and a 1992 Dolby SR restoration. The Young Girls of Rochefort's 5.1 surround sound track was adapted from its six-track original. Donkey Skin's original stereo mix was the source of its 5.1 surround track and Un Chambre en Ville's 2.0 surround track was from a 4-track magnetic original.
Supplemental Materials
[Rating:4.5/5]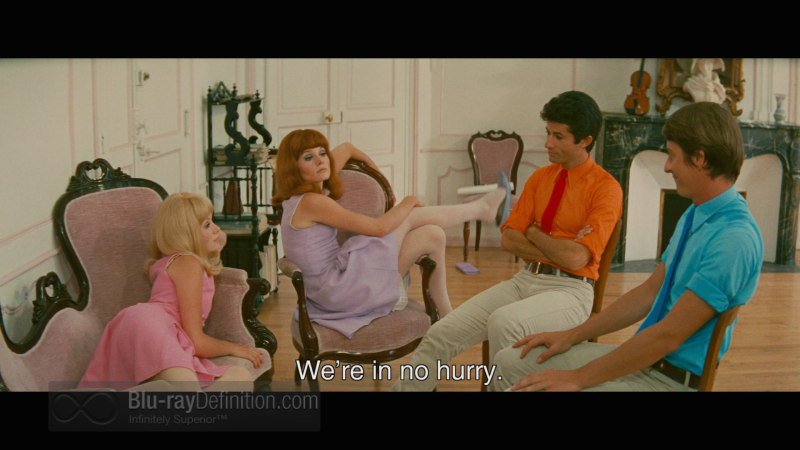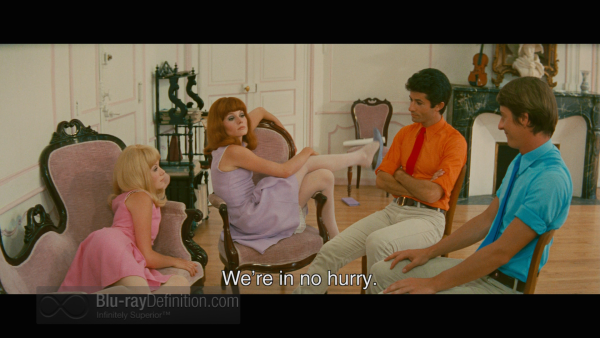 Criterion Collection gives us a deluxe program booklet with essays on all of the films, a biographical sketch of Jacques Demy, and details on the sight and sound restoration of each film. A generous list of extras follow:
Lola:
Anouk Aimee Interview with Agnes Varda (Demy's widow) (French Dolby Digital Mono 48kHz/16-bit) (3:27)
Lola's Song: Michel LeGrand discusses "C'est Moi, Lola" with Agnes Varda (French Dolby Digital Mono 48kHz/16-bit) (3:24)
Restoration Demonstration: Agnes Varda discusses the film's overhaul of a recovered negative that needed much assistance(French Dolby Digital Mono 48kHz/16-bit) (10:20)
 Les Horizons Morts (1951): Jacques Demy's acting debut (French Dolby Digital Mono 48kHz/16-bit) (8:22)
Le Sabotier du Val du Loire (1956): a Demy documentary of a week in the life of a clog maker (French Dolby Digital Mono 48kHz/16-bit) (23:32)
Ars (1959) : the story of Jean-Marie Baptiste Vianney the pastor of Ars (French Dolby Digital Mono 48k/16b) (16:43)
La Luxure (1962): a short made for the feature The Seven Deadly Sins, based on Demy's memories of growing up in Nantes (French Dolby Digital Mono 48kHz/16-bit) (14:51)
Theatrical Trailer
Bay of Angels:
Cinepanorama: 1962 interview with Jean Moreau on the film's set (French Dolby Digital Mono 48kHz/16-bit) (13:47)
Marie Colmant: 2013 interview with the coauthor of a Jacques Demy biography (English Dolby Digital Stereo 48kHz/16-bit) (10:09)
Restoration Demonstration: a blow-by-blow account of this film's restoration (French Dolby Digital Mono 48kHz/16-bit) (5:25)
Theatrical Trailer
The Umbrellas of Cherbourg:
Once Upon a Time…The Umbrellas of Cherbourg: A 2008 documentary about the film with interviews of director Demy, actors Deneuve and Michel, compoer Legrand, and filmmaker Varda (English/French Dolby Digital Stereo 48kHz/16-bit) (54:24)
Rodney Hill: An interview with film scholar Rodney Hill about this film. (English Dolby Digital Stereo 48kHz/16-bit) (5:25)
Cinepanorama: 1964 television interviews with Jacques Demy and Michel Legrand (French Dolby Digital Mono 48kHz/16-bit) (11:15)
Michel Legrand at the National Film Theater:  1991 audio excerpt about composing scores for Demy's films. (English Dolby Digital Mono 48kHz/16-bit) (26:46)
Catherine Deneuve at the National Film Theater:  1983 audio excerpt   (English Dolby Digital Mono 48kHz/16-bit) (11:03)
The Young Girls of Rochefort (1967):
Cinema: 1966 interview for French television with Jacques Demy and Michel Legrand (French Dolby Digital Mono 48kHz/16-bit) (11:02)
Jean-Pierre Berthome and Jacqueline Moreau: a 2013 conversation between film scholar Berthome and costume designer Moreau about her and her husband, Bernard Evein, collaboration with Jacques Demy. (French Dolby Digital Stereo 48kHz/16-bit) (26:01)
Behind the Screen: a 1966 Belgian documentary by Andre Delvaux with Bernard Evein discussing the making of the film (French Dolby Digital Mono 48kHz/16-bit) (34:59)
The Young Girls Turn 25: a 1993 documentary by Agnes Varda, Demy's widow, on her return to Rochefort, a quarter of a century later, with interviews with actors Deneuve, Perrin and Chakiris. (French Dolby Digital Mono 48kHz/16-bit) (1:06:52)
Trailer
Donkey Skin
Pour le Cinema: 1970 interviews with Jacques Demy, Catherine Deneuve, Jean Marais and Jacques Perrin (French Dolby Digital Mono 48kHz/16-bit) (11:45)
"Donkey Skin" Illustrated: 2008 images from Perrault's fairy tale (French Dolby Digital Mono 48kHz/16-bit) (10:58)
"Donkey Skin" and the Thinkers: A 2008 discussion between film critic Camille Taboulay, psychoanalysts Lucille Durmeyer and Jean-Claude Polack, and 17th century literature specialist Liliane Picciola about the themes of this film. (French Dolby Digital Mono 48kHz/16-bit) (16:43)
 Jacques Demy at the American Film Institute :A 1971 audio recording at the AFI with Demy taking questions about his career  (English Dolby Digital Mono 48kHz/16-bit) (42:05)
Un Chambre en Ville
Jacques Demy, A to Z: a 2014 must-watch visual essay about the writer/director by film scholar James Quandt career  (English Dolby Digital Stereo 48kHz/16-bit) (1:01:07)
Jacques Demy at the Midnight Sun Film Festival: a dialogue between Demy and Peter von Bagh at the 1987 film festival in Sodankyl, Finland (French Dolby Digital Mono 48kHz/16-bit) (16:14)
The World of Jacques Demy: a 1995 documentary about Demy, narrated by his widow, Agnes Varda,  containing interviews with Demy, Catherine Deneuve, Michel Piccoli, Dominique Sanda, Jeanne Moreau, and Anouk Aimee. (French Dolby Digital Mono 48kHz/16-bit) (1:31:40)
Restoration Demonstration: a brief look at the restoration of this film (French Dolby Digital Stereo 48kHz/16-bit) (5:51)
Trailer
The Definitive Word
Overall:
[Rating:4/5]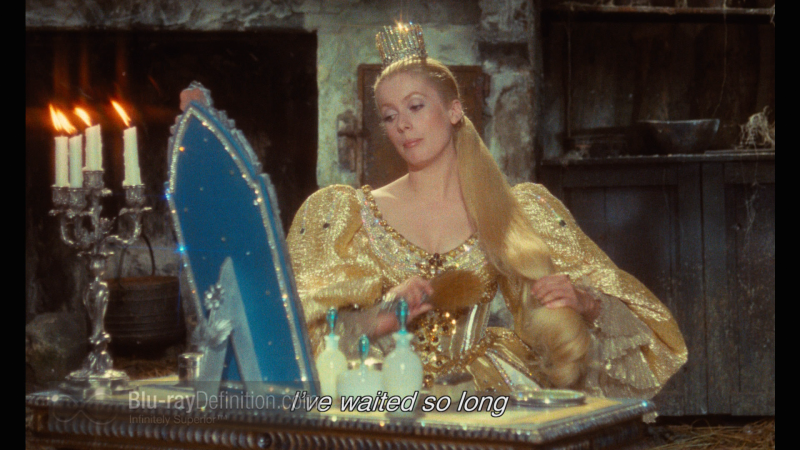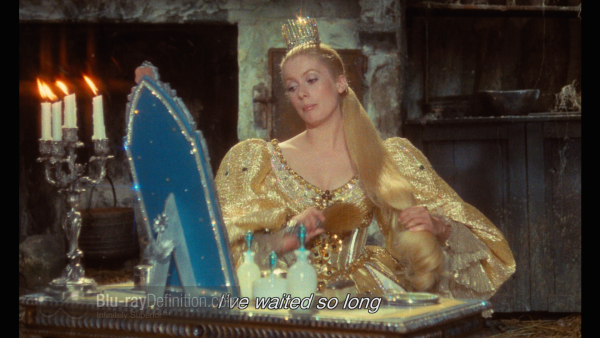 The Essential Jacques Demy is a definitive collection of half a dozen of Jacques Demy's best films, receiving fabulous makeovers from the Criterion Collection's restoration team. Even if the era of the big budget Hollywood musical may have passed, the four included in this set should make us nostalgic for its golden age. Laden with great casts, and terrific scores by Michel Legrand and Michel Colombier, these six films are sight and sound delights and make a strong case for writer-director Demy's cinematic genius.
Additional Screen Captures
[amazon-product]B00JPUUQ5A[/amazon-product]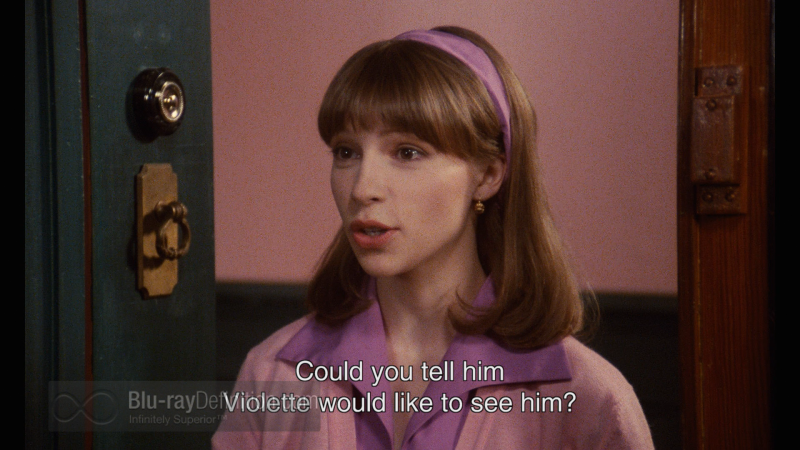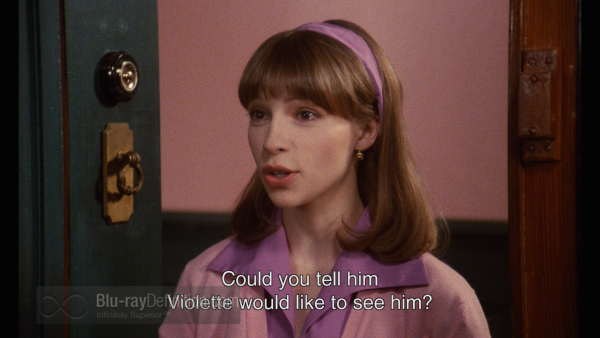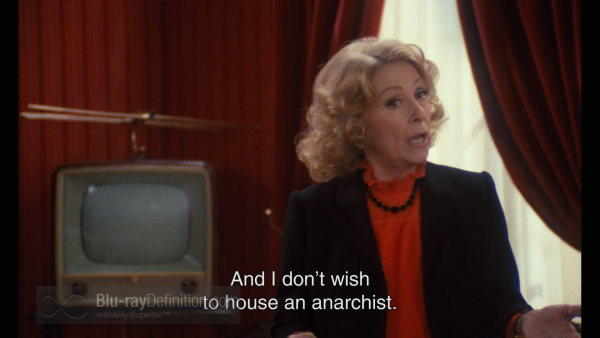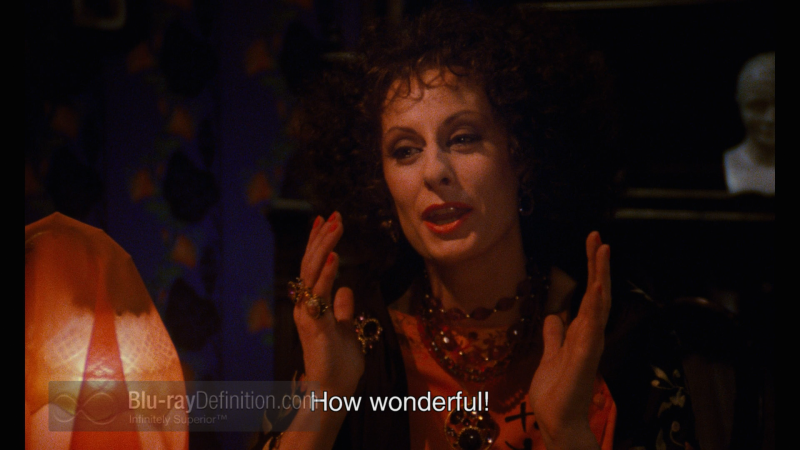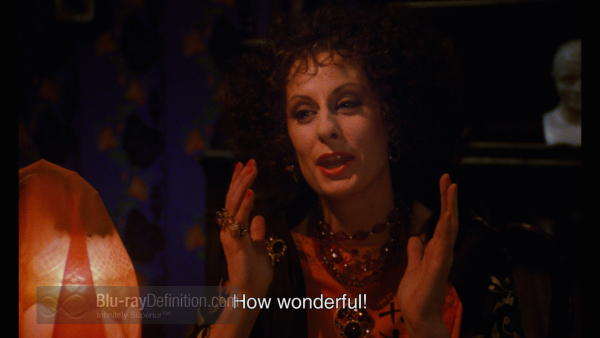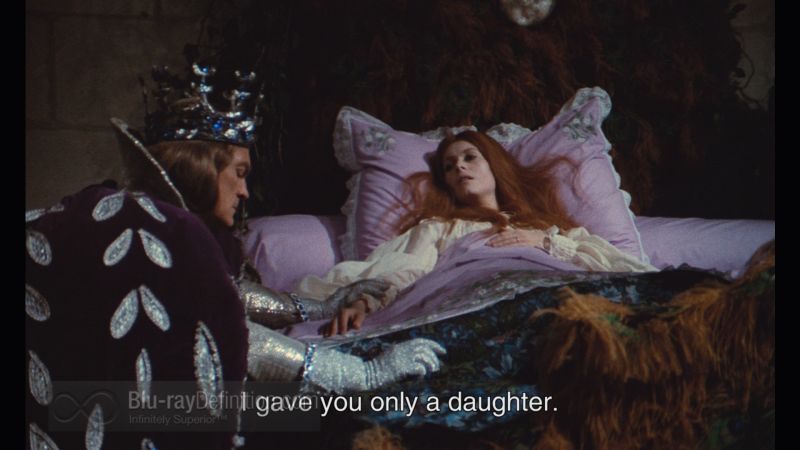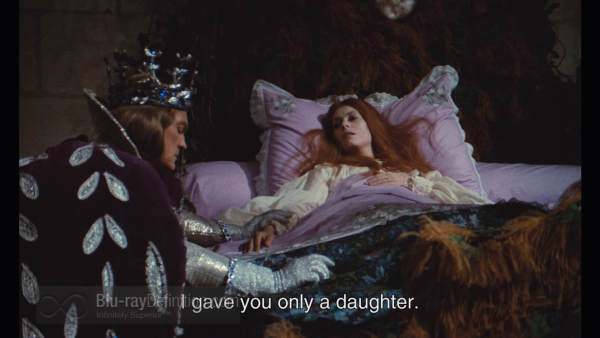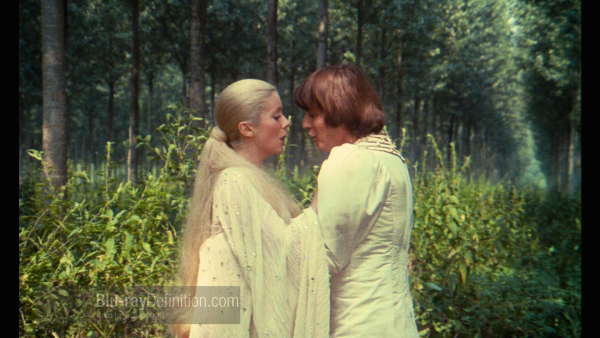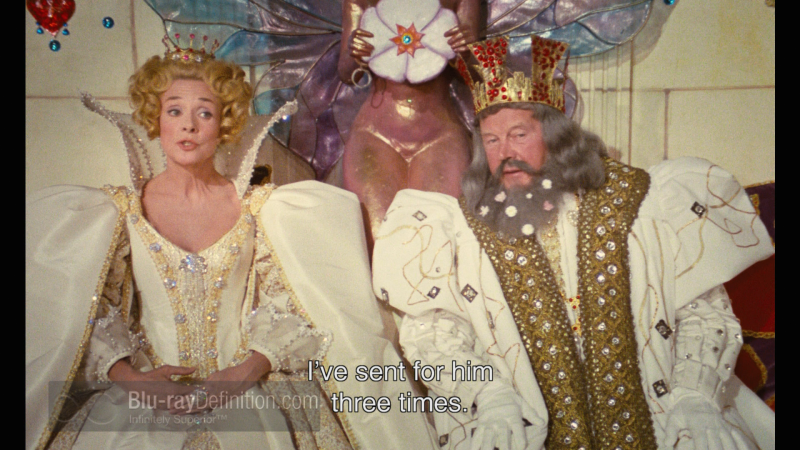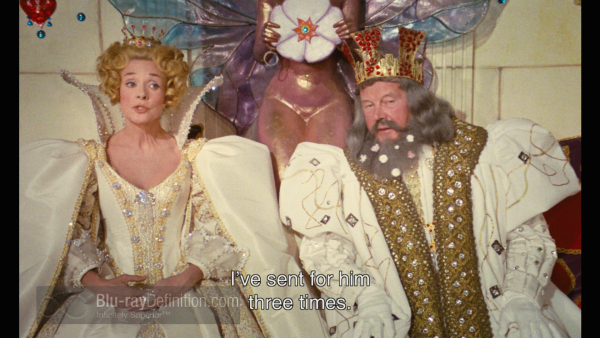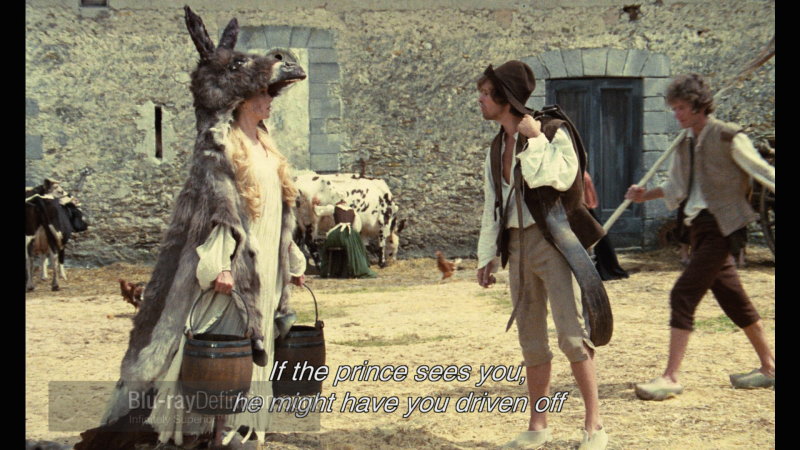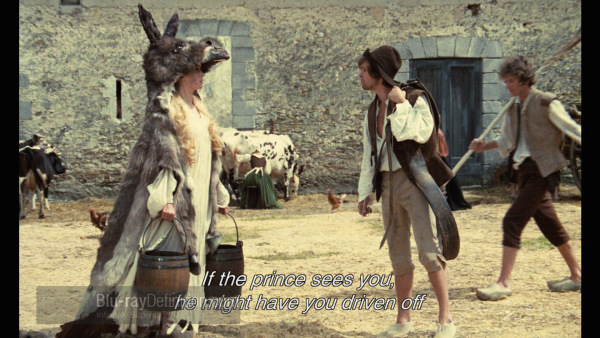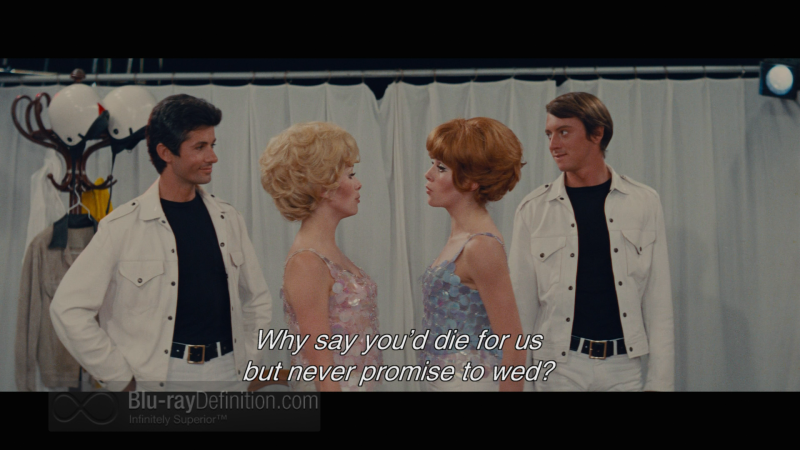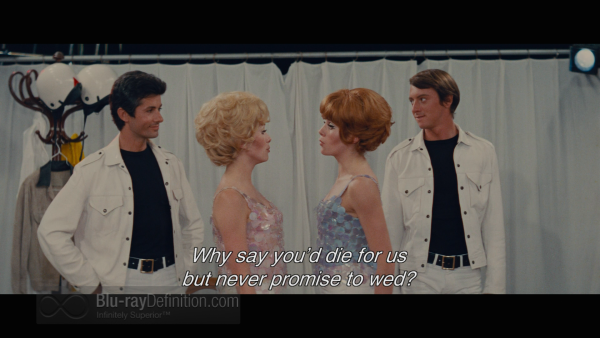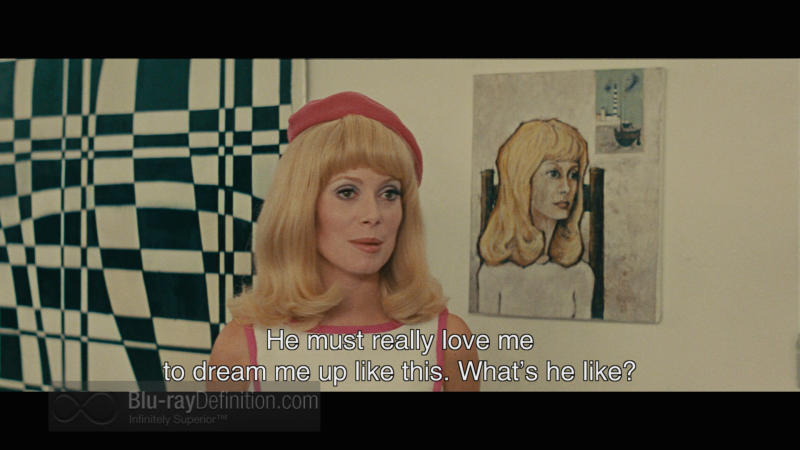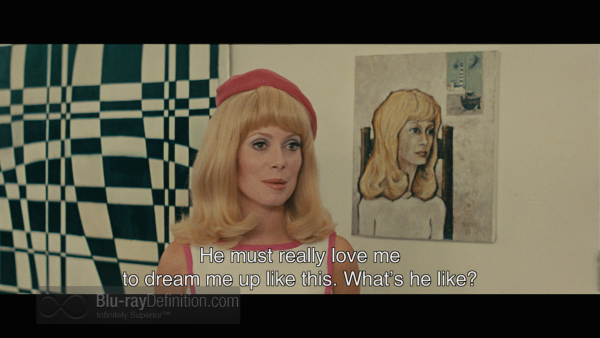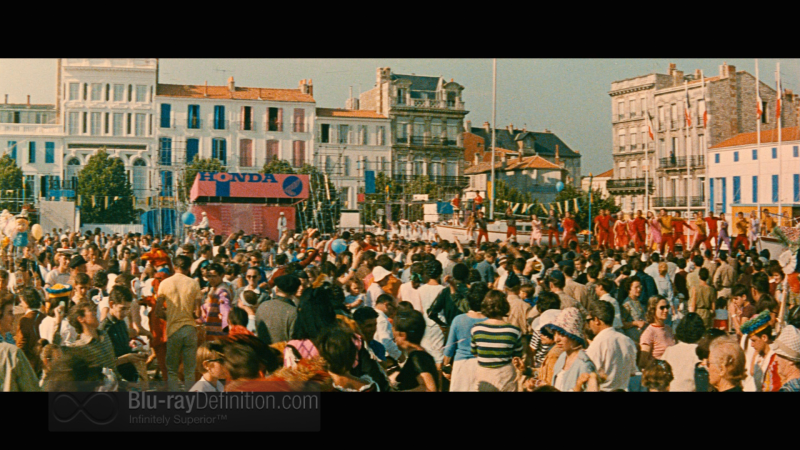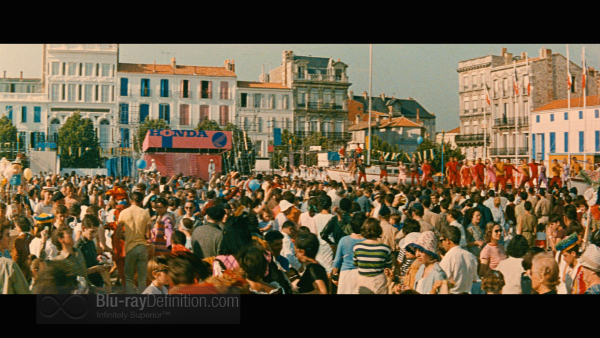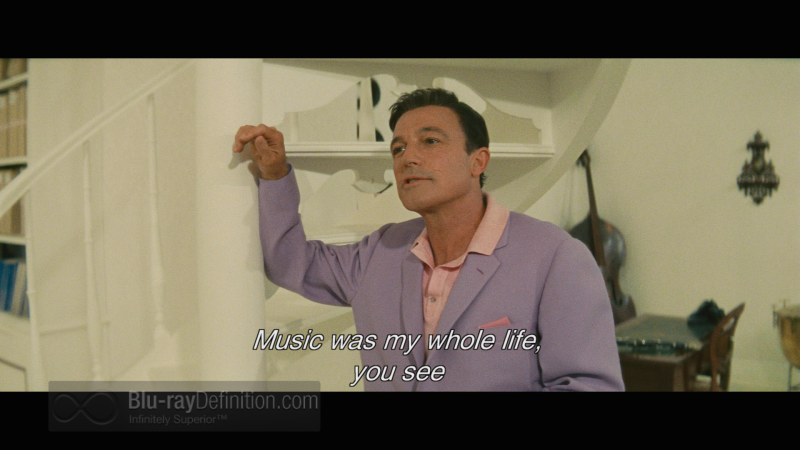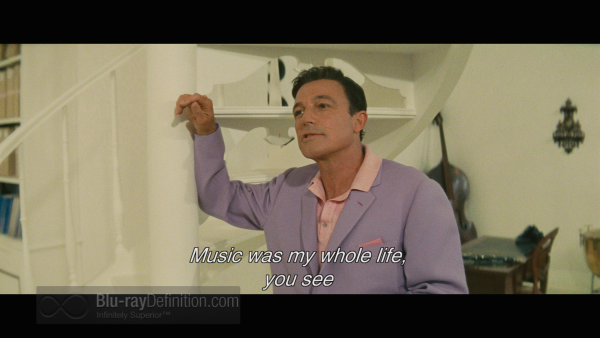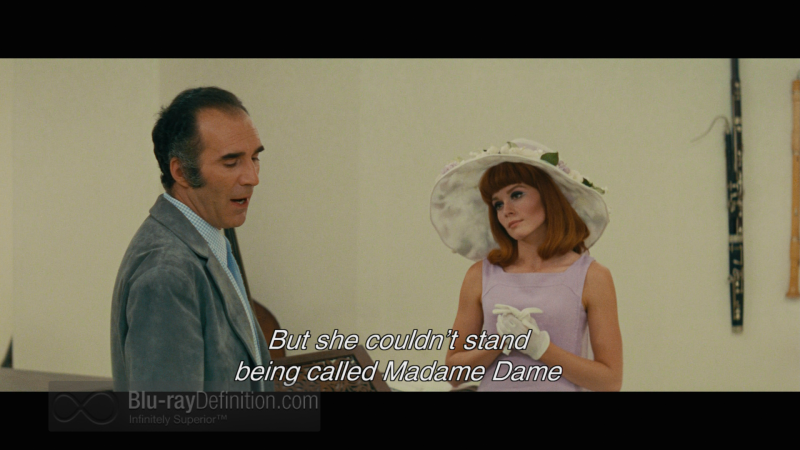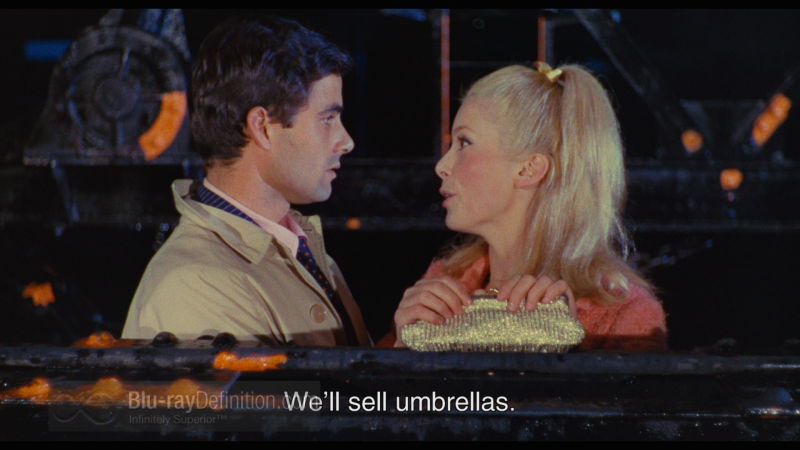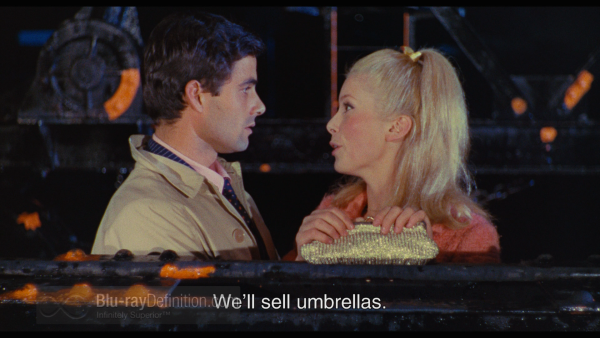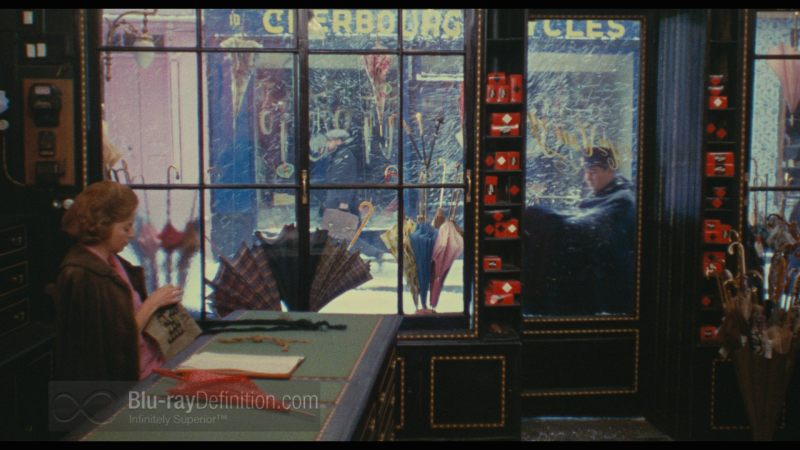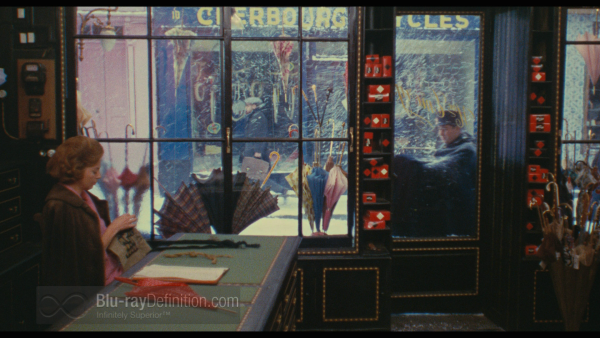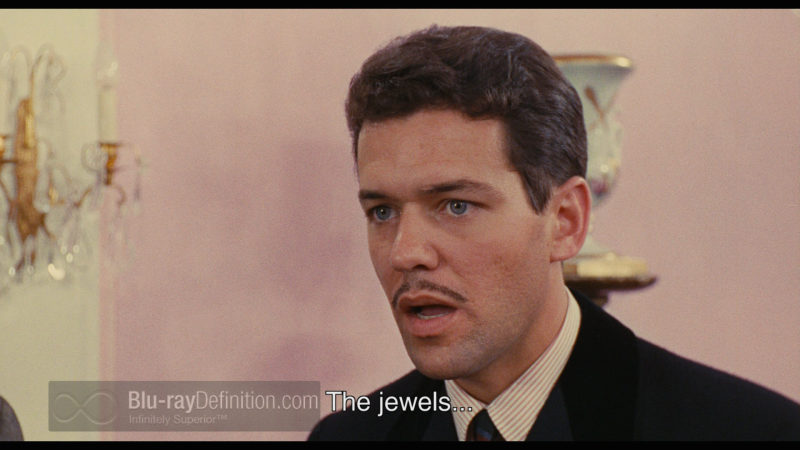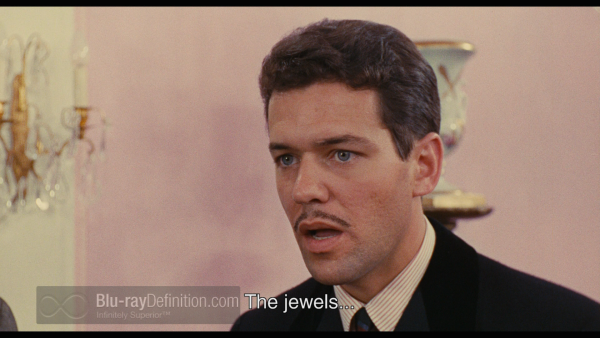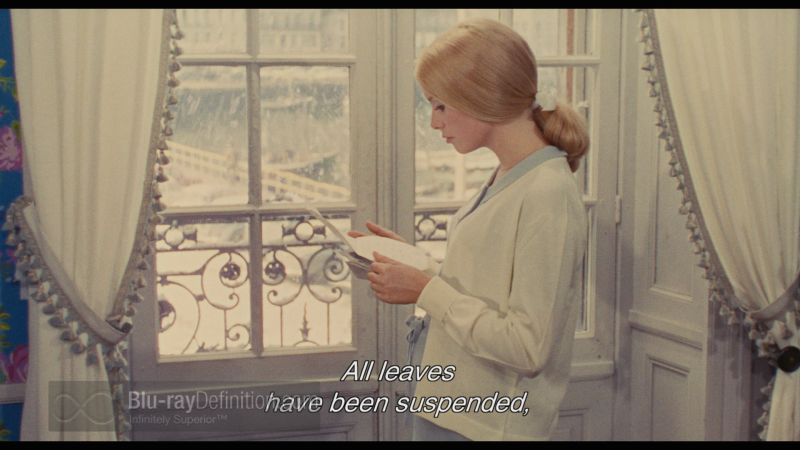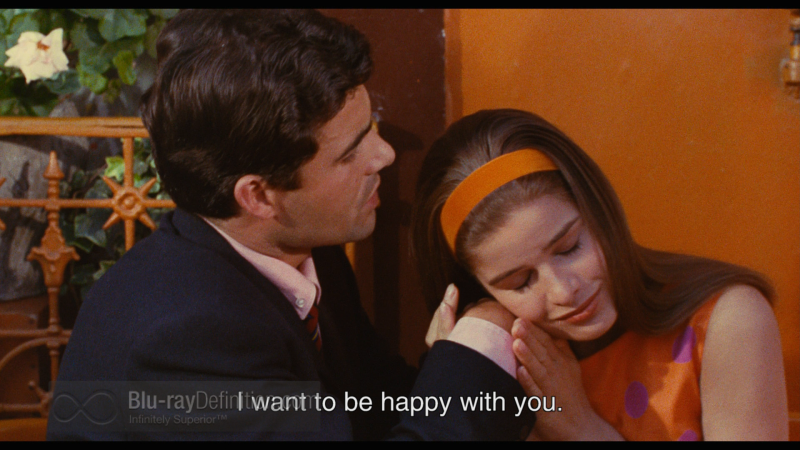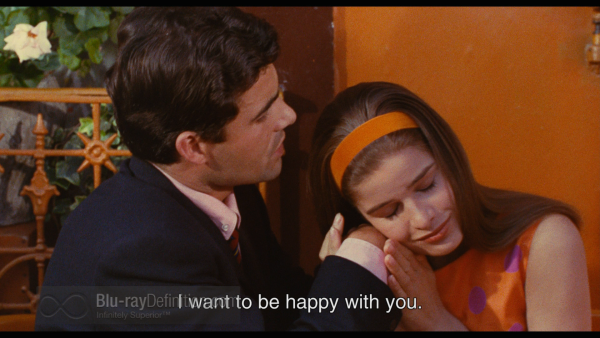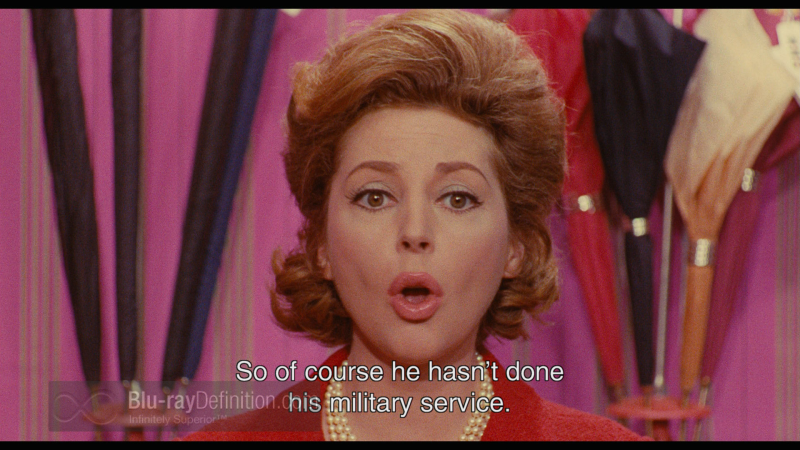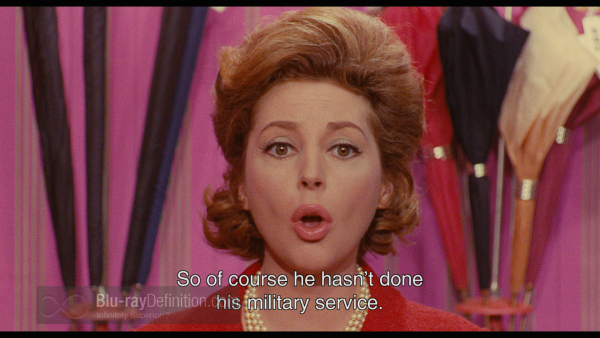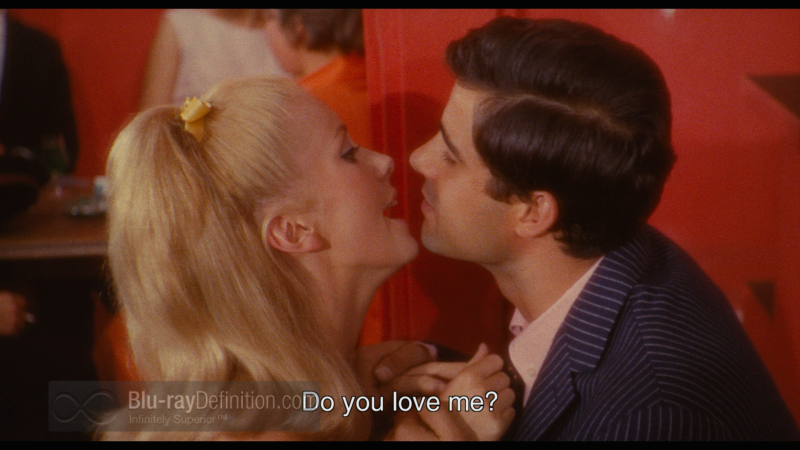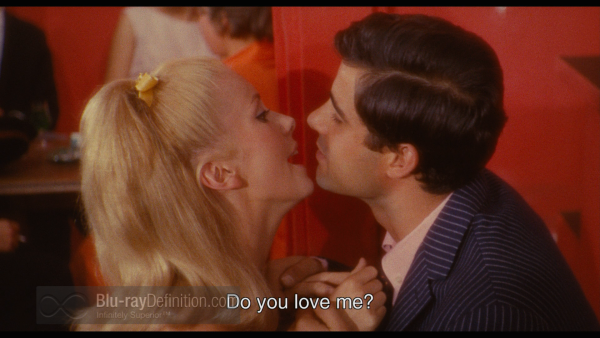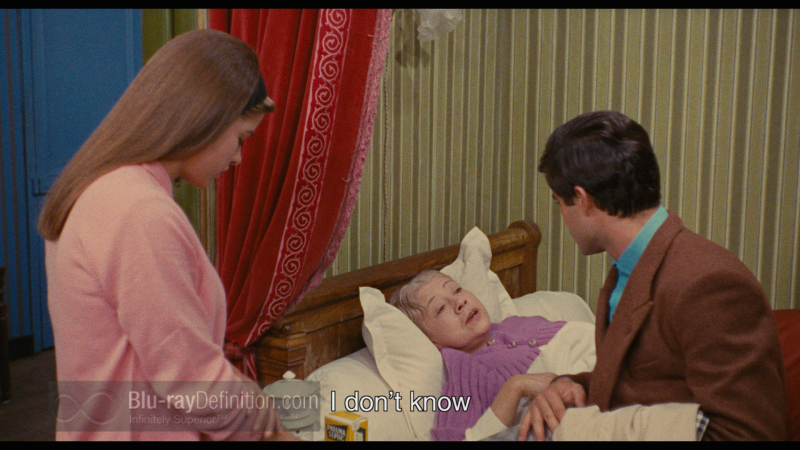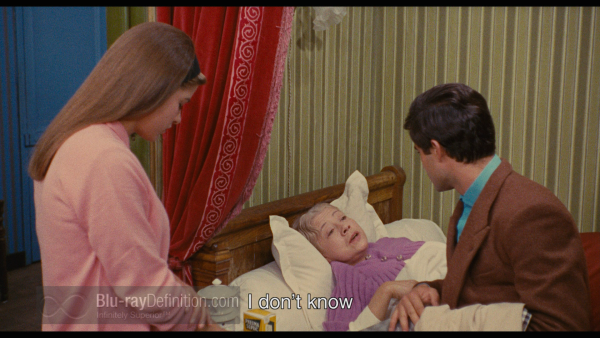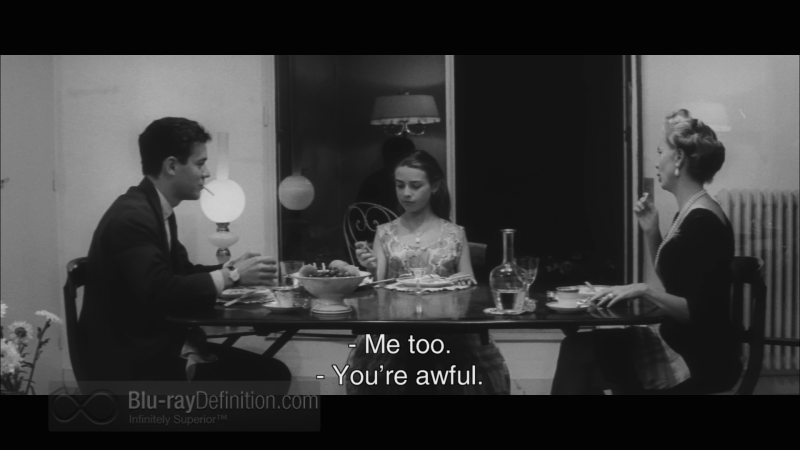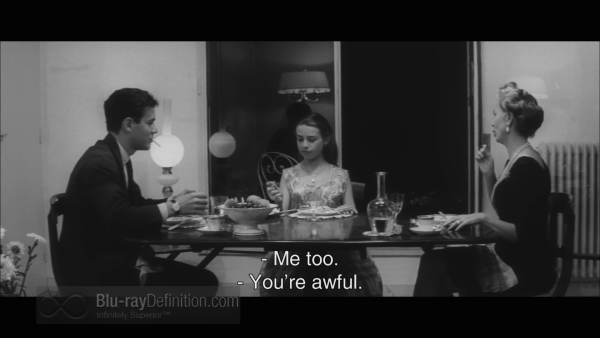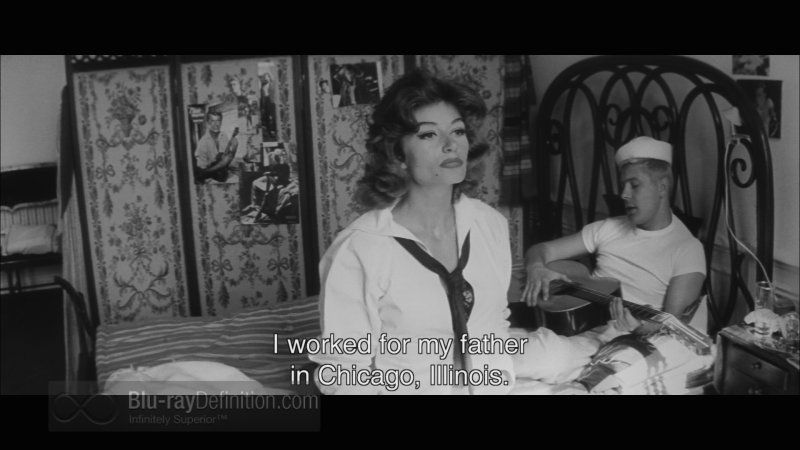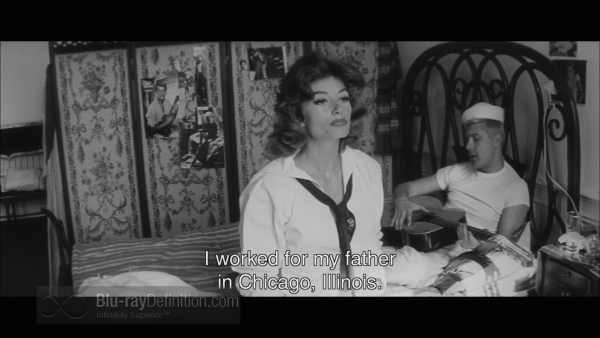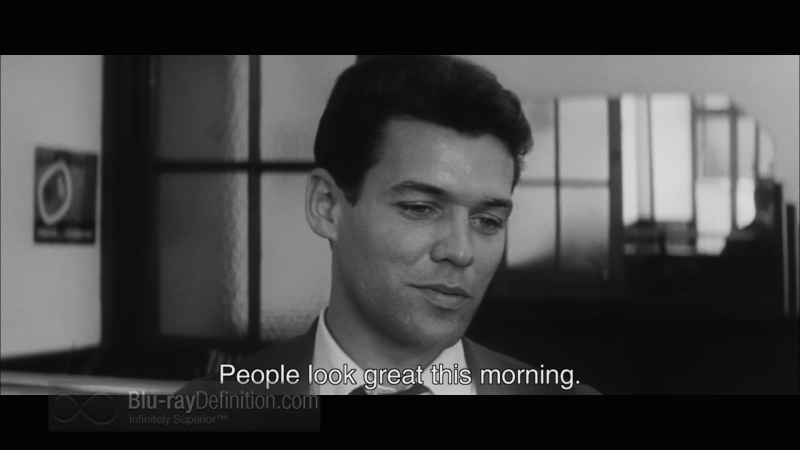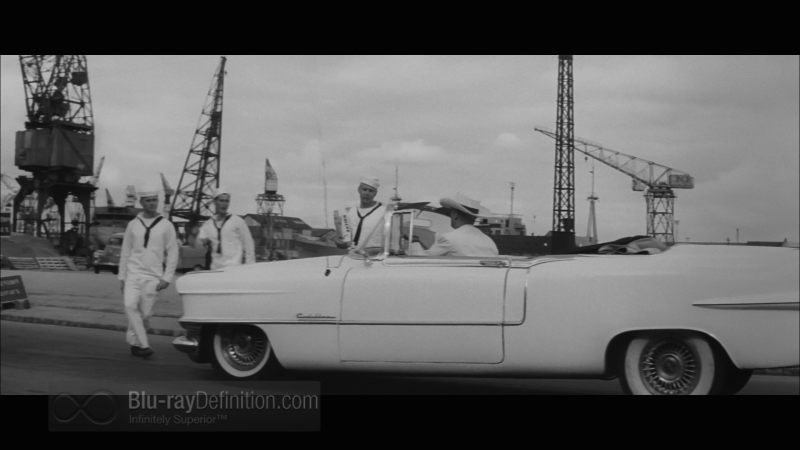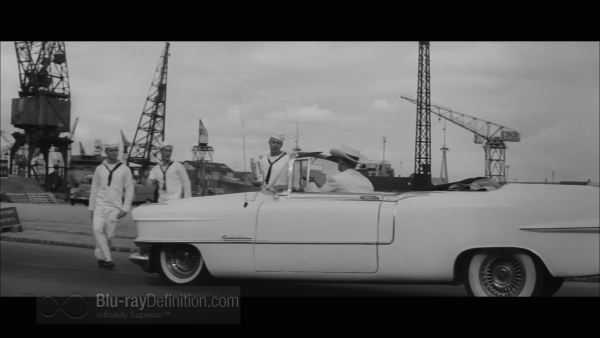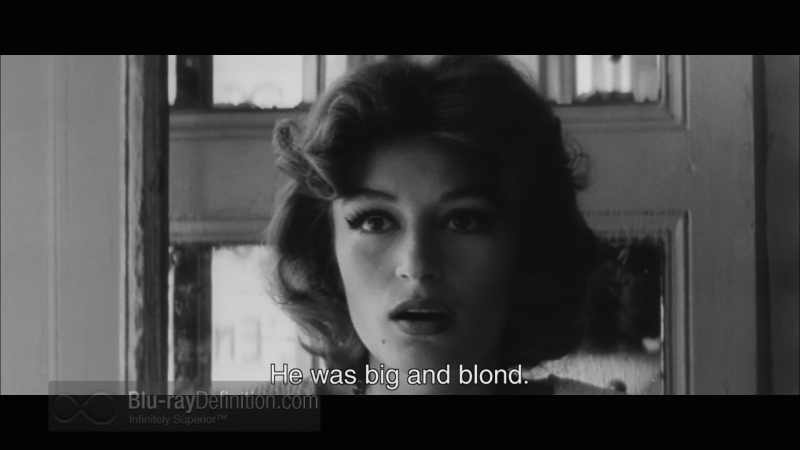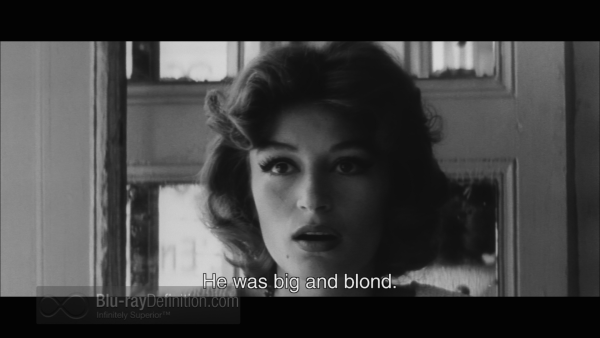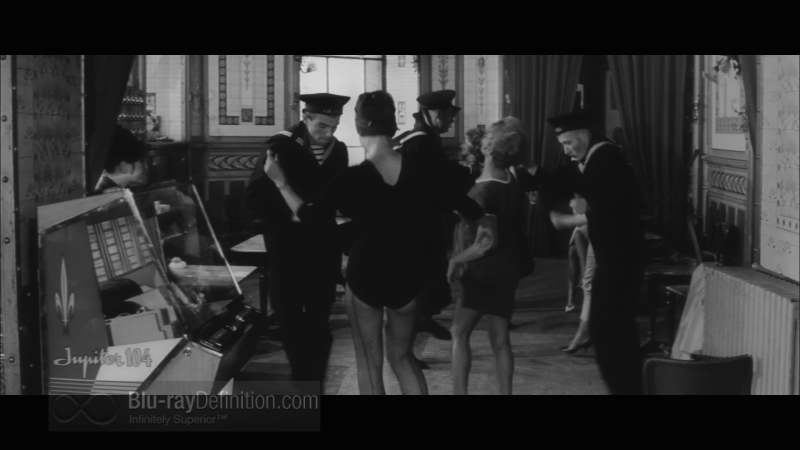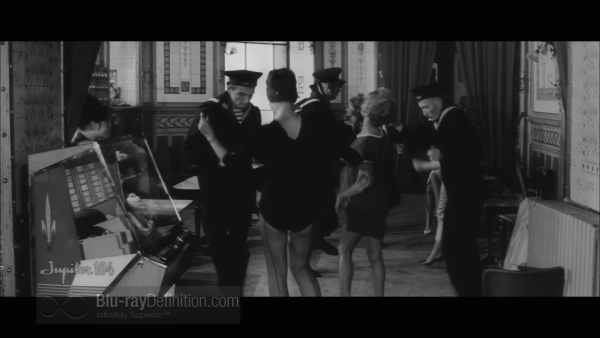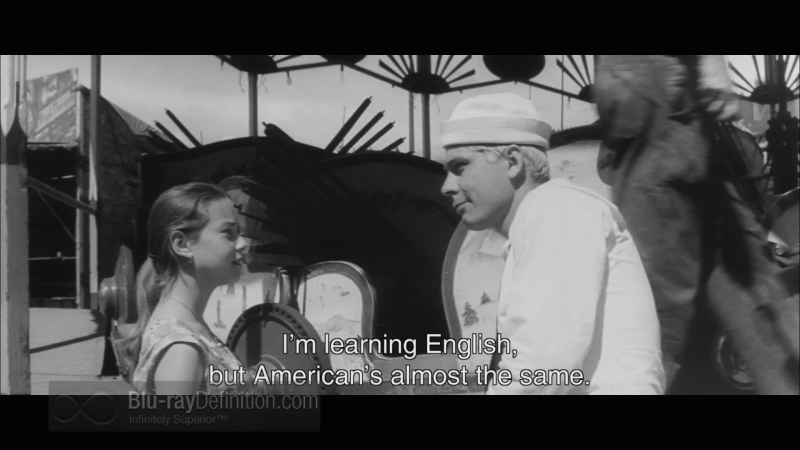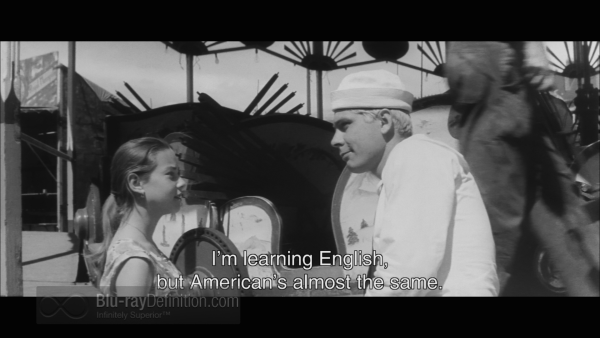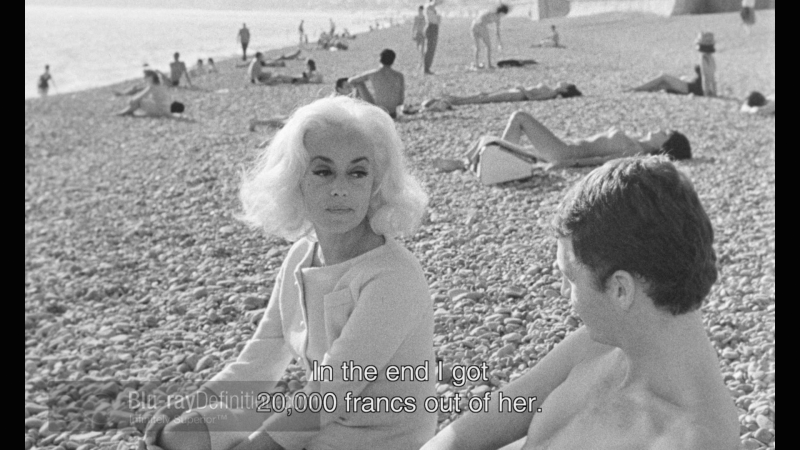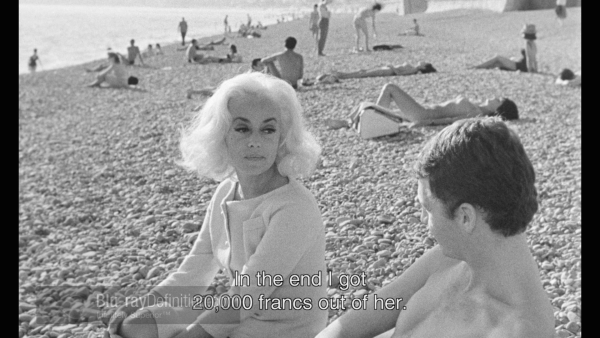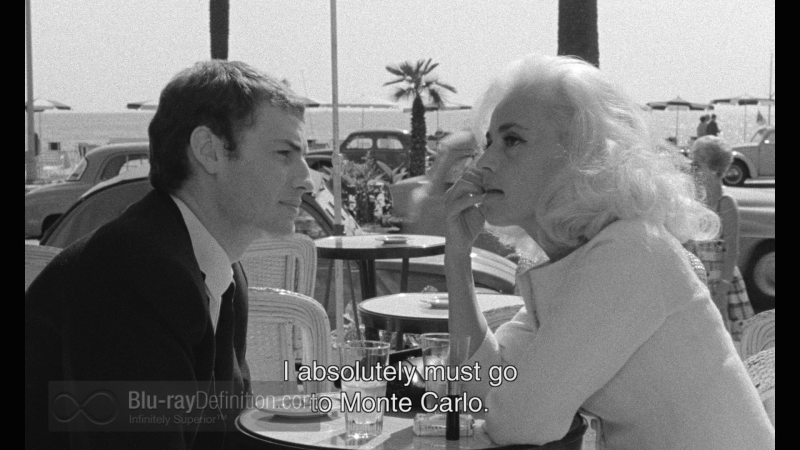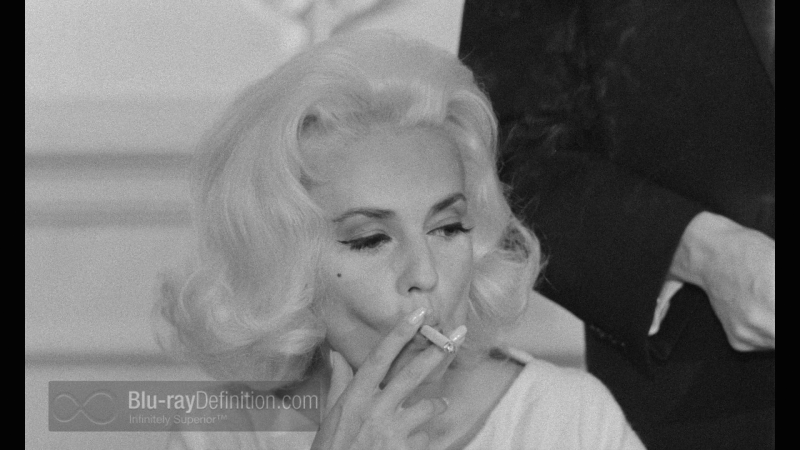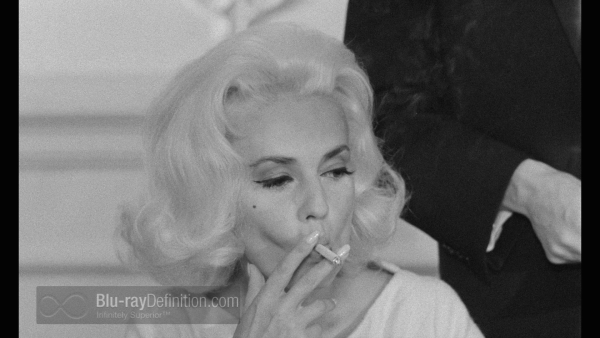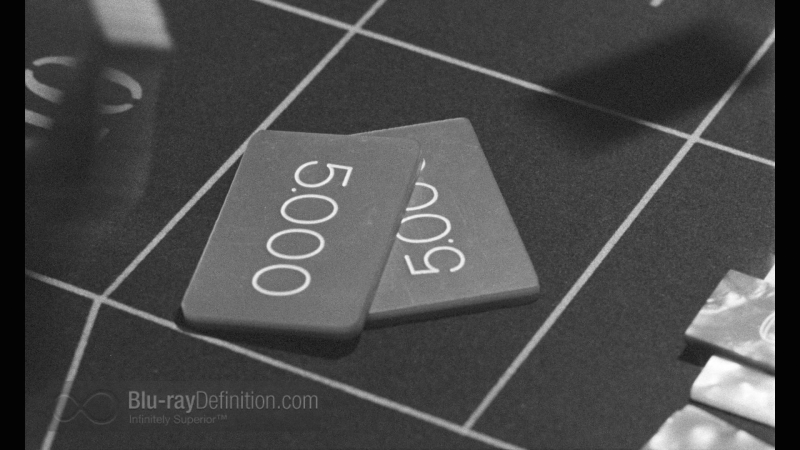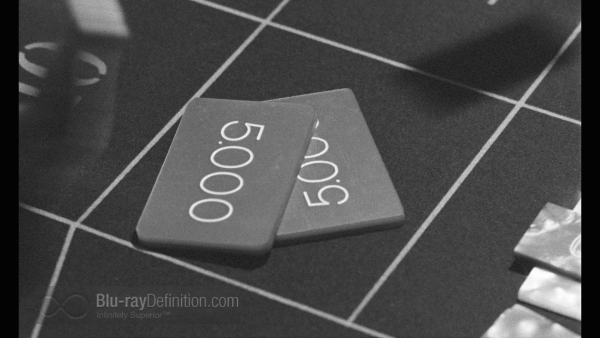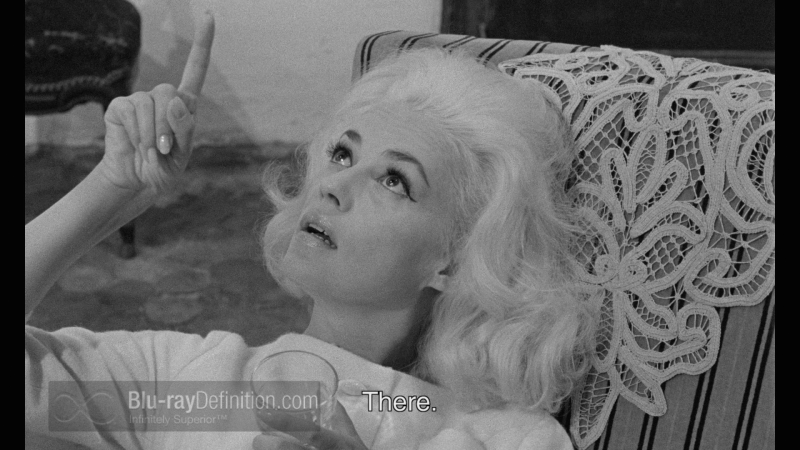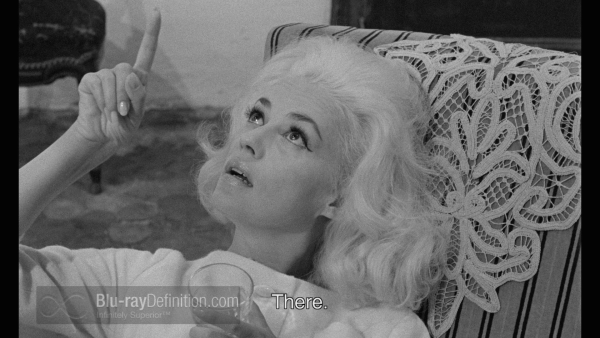 [amazon-product]B00JPUUQ5A[/amazon-product]