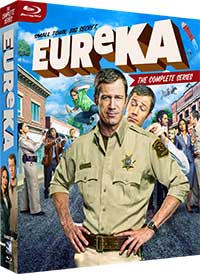 Eureka: The Complete Series comes to Blu-ray in a 12-disc collection from Mill Creek Entertainment covering all five of its seasons. This SyFy original series doesn't get too much attention, but it's one of the quiet, quaint, and quirky little low budget series from the perennially unfocused channel.
U.S. Marshall Jack Carter has an unfortunate auto accident that leaves him stranded in the quaint little Northwestern town of Eureka that turns out to be a top secret, off the map location where the U.S. government keeps its greatest and brightest minds to work on and develop top secret, top secret technologies. The town's sheriff retires, and Carter becomes the new sheriff in town, moving into a talking smart home with his rebellious teenage daughter Zoe (Jordan Danger) and answering to the beautiful but tough as nails Allison Blake (Salli Richardson-Whitfield). He's quickly initiated into the world of Eureka and finds that being sheriff in a town full of geniuses isn't as easy as he thought it would be, as he has to deal with their runaway inventions, infighting, and near-apocalyptic disasters.
Eureka's low budget doesn't hinder the series, but on the contrary gives it a an old-timey sci-fi feel. These are cutting edge gadgets that can ruin the world, but yet they all feel quaint and goofy at times. And then of course there's the diner with the cook who seems to be able to cook everything on a whim, the electric cars and more. But what also makes this series so enjoyable are the interpersonal relationships. There's good chemistry right from the start between Carter and Allison and they don't pull any punches about where that's going. Then Carter and his Deputy Jo (Erica Cerra) have great, light hearted banter, setting up their camaraderie, but there's also a very unusual romantic relationship you might not see coming between Jo and one of the other characters on the show.
For lighthearted sci-fi fun – and who couldn't use a little light hearted fun during these times we are in – Eureka: The Complete Series is an excellent choice.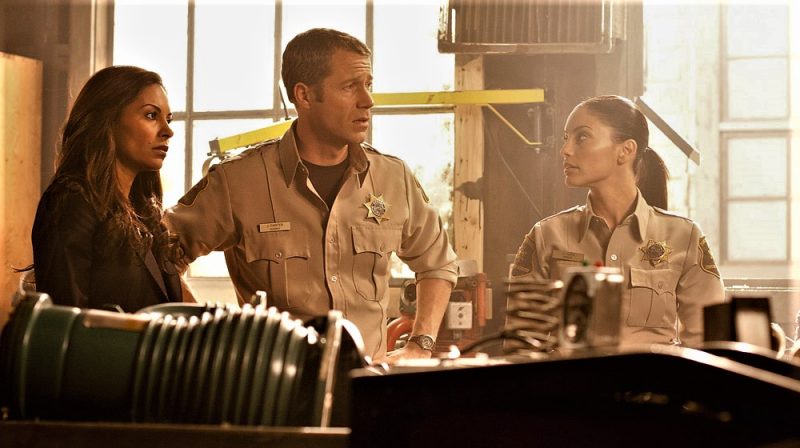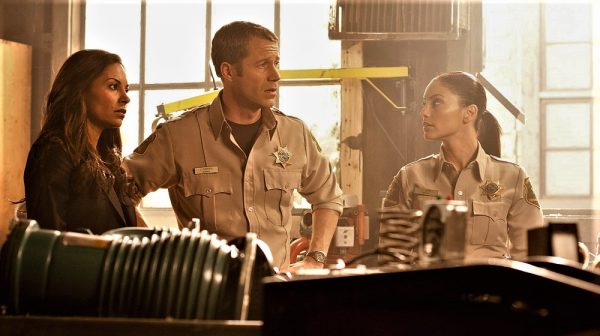 The Video
Eureka was shot digitally on the Sony F23. This is one of the earlier digital television productions and it looks that way. There's a lot of digital noise and softness in the image and this Blu-ray from Mill Creek Entertainment, which is framed at 1.78:1 and encoded in AVC 1080p, can't do much about that. It certainly eliminates all the posterization and macroblocking that was present in the cable broadcast of the series when I watched it during its initial run on SyFy, but if you're hoping for crisp detail and something comparable to the best reference releases in your catalogue, this isn't it.
The Audio
An English DTS-HD Master Audio 5.1 mix is the sole audio track included on Eureka: The Complete Series. This series has never had a great audio mix and it doesn't sound great here either, just competent and a step above the Dolby Digital broadcast and streaming quality with better clarity and a little bit more punch in the mid-range. The surround channels carry mostly low-level atmospherics.
The Supplements
Various outtakes, episodic commentaries with cast & crew, podcast commentaries, webisodes, gag reels, behind the scenes featurettes and more are included across the 12-disc set, but there are no new bonus features, so everything included here has been released in one form or another on Blu-ray, DVD, or the internet.
The Final Assessment
It took me a while to get to this review, but it was worth it. This show is still fun to watch, even if it isn't totally reference quality, but it doesn't need to be. The Blu-ray is a solid release for this series and superior to any broadcast or stream.
Eureka: The Complete Series is out on Blu-ray August 11, 2020 from Mill Creek Entertainment
---
The Creative Content: 4.0/5
The Video: 3.0/5
The Audio: 3.5/5
The Supplements: 3.0/5
Studios & Distributors: NBC Universal Television | Universal Cable Productions | Mill Creek Entertainment
Run Time: 558 Mins.
Street Date: 11 August 2020
Aspect Ratio: 1.78:1
Video Format: AVC 1080p
Audio Format: English DTS-HD MA 5.1
TV-Rating: TV-14
Subtitles: English SDH