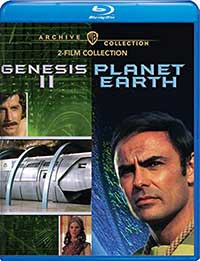 Genesis II (1973) and Planet Earth (1974) are two made-for-TV sci-fi movies written by none other than Gene Roddenberry that, in the typical style for Roddenberry who made his name with his sci-fi series Star Trek, each 74 minute movie tackles contemporary social issues under the guise of science fiction.
In the first film, Genesis II, Alex Cord stars as scientist Dylan Hunt who was working on a hyperbaric chamber to suspend the aging process and help astronauts travel long distances. When he is testing one of the chambers a cave-in in the underground facility leaves him trapped in suspended animation for centuries where he is awakened into a primitive, authoritarian society on Earth in the year 2133. What he finds, despite outward peaceful appearances, are two warring factions, the Pax, who were scientists that rebelled against the war-making military rulers, and the violent Tyranians who want to take over and rule as sort of fascist, Nazis. There is also a slave-labor underclass.
The second film is Planet Earth. This time John Saxon plays the Dylan Hunt character who also wakes up after years of being stuck in suspended animation, and he finds himself in a society ruled by women where men, referred to as Dinks, are treated as an underclass and slave laborers or breeders. Hunt is claimed by the sexy, strong-willed Pax woman Marg (Diana Muldaur) as her property, and he hooks a group of underground male resistance fighters.
Neither one of these movies, or pilots, is up to the usual Roddenberry quality. The characters are one-dimensional and the stories, especially in Planet Earth, are unusually misogynistic. I would chalk some of the social issues up to it being from a different era, but with it being so heavy-handed on the commentary of  strong women ruling, and dressing them up in the absolute most revealing clothes (that was possible to get away with at the time for American daytime television anyway), and how they all seem so man hungry, or get airheaded and tipsy, it's just ridiculous.
They had it better the first time around in the Genesis II, but even that one falls apart as the story starts to break down, characters come and go, and we really lose track of who the good guys and bad guys are even supposed to be.
Both of these films work for a little while, but taking them in back to back, even though they are only 74 minutes each, may be a bit much. They are only for the most ardent Roddenberry or sci-fi fans.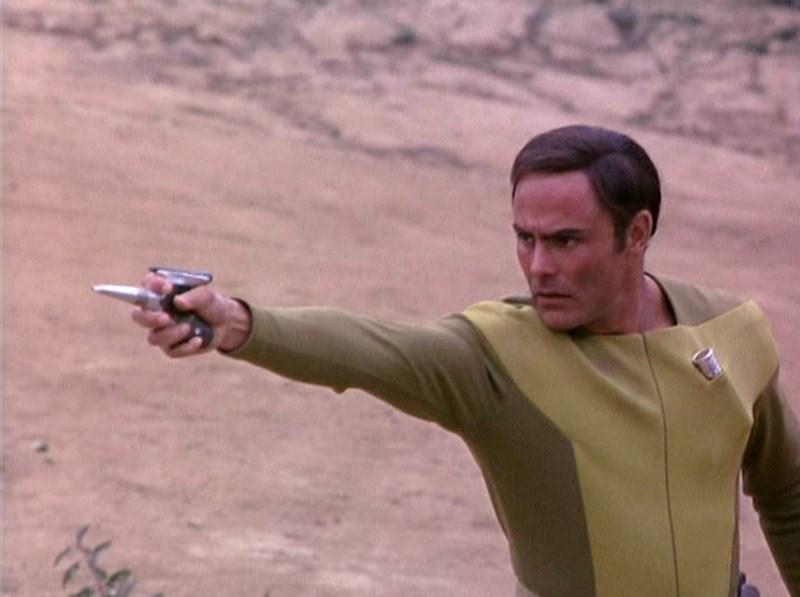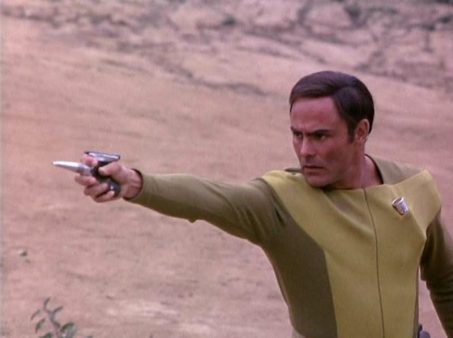 The Video
Genesis II and Planet Earth arrive on Blu-ray framed at their original TV aspect ratio of 1.33:1 in AVC 1080p. It looks about as good as it gets for a television production from the 1970s. Have I seen better restorations from the same era? Certainly. Even Gene Roddenberry's very own Star Trek looks crisper and more vibrant, but this isn't Star Trek and one can hardly expect Warner to plunk down big bucks on an expensive restoration to bring these two overlooked TV movies. The 35mm sources look well enough for each film, with clarity, and enough detail.
The Audio
Each film comes with its original monaural audio mix in DTS-HD Master Audio 2.0. There's nothing particularly special about the audio from these made-for-TV movies from the early 1970s, but the audio sounds about as good as can be expected.
The Supplements
This is a barebones release from Warner Archives with no bonus materials.
The Final Assessment
Not great TV movies, but as a look back into the early 1970s and some of Gene Roddenberry's work outside of Star Trek, these 2-movie collection is great to have for collectors.
Genesis II/Planet Earth 2-Movie Collection is out on Blu-ray September 29, 2020 from Warner Archive Collection
---
The Creative Content: 2.5/5
The Video: 4.0/5
The Audio: 3.5/5
The Supplements: 0/5
Studios & Distributors: Norway Productions | Warner Bros. Television | Warner Archive Collection
Directors: John Llewellyn Moxey (Genesis II) | Marc Daniels (Planet Earth)
Written By: Gene Roddenberry (Genesis II) | Gene Roddenberry (creator) | Gene Roddenberry (teleplay) | Juanita Bartlett (teleplay) | Gene Roddenberry (story) (Planet Earth)
Run Time: 74 Mins. each.
Street Date: 29 September 2020
Aspect Ratio: 1.78:1
Video Format: AVC 1080p
Primary Audio: English DTS-HD MA 2.0 Mono
Subtitles: English SDH