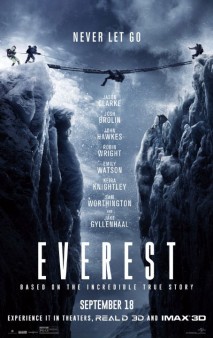 –
The Film

In 1996, dozens of people tried to get to the top of Mount Everest. Some succeeded, and some died trying. The gripping and realistic Everest recounts, in dramatic fashion, this event.
There were quite a few expeditions on Mount Everest in May 1996, and they all had one goal, to get themselves, and their clients (who paid $65,000 each), to the top of Mount Everest, and it was up to the expedition leaders to make this happen. Rob Hall was the leader for Adventure Consultants, and he happened to have Jon Krakauer on his team (journalist Krakauer, who was on an assignment for Outside magazine, would go on to write Into Thin Air, a book about the disastrous events that took place on the mountain during this climb ). Hall was also responsible for 7 other clients. The Mountain Madness expedition was led by Scott Fischer, who also had 8 clients, including Sandy Hill Pittman, a very wealthy New York Socialite who was, at the time, the wife of Robert Pittman, the founder of MTV. In addition to the clients, several sherpas (local people who are hired by the expedition companies to carry supplies and food up the mountain, and to fix the ropes and ladders to make it easier and quicker for the clients to get up – practically getting everything in place for the climb) were part of the teams as well. Of course most of Hall's and Fischer's clients were not professional mountain climbers, they climbed mountains as more of a hobby, and expected to reach the top of Mount Everest because of the huge amount of money they paid. One of Hall's clients was a postman (Doug Hansen). Another was a doctor from Texas (Beck Weathers). Also on Hall's team was Yasuko Namba, a Japanese woman who had climbed six of the Seven Summits. And Hall and Fischer knew that it was good for their businesses to have their clients actually make it to the top. So along with these two expeditions groups, other groups of people trying to climb the mountain at the same time were from South Africa, France, Tibet, and 13 members of a Taiwanese team.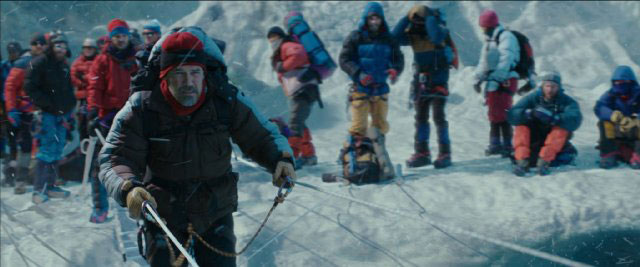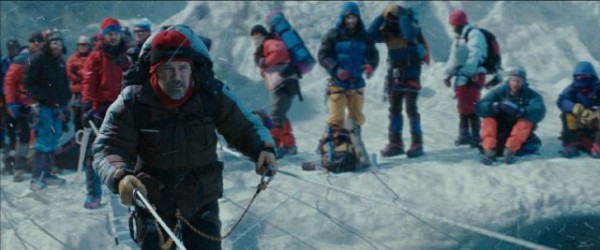 But the weather gods were not smiling on Hall and Fischer and their clients during this climb. And this is the story that Everest the film successfully and gloomily brings to life. We are introduced to the teams six weeks prior to the start of their expedition. Hall (played by Jason Clarke) is from New Zealand who leaves his pregnant wife (Keira Knightley) behind to go to work. Fischer (Jake Gyllenhaal) is the adventurer with a laid back attitude. Beck Weathers (Josh Brolin) says goodbye to his wife (Robin Wright) in Texas to try to accomplish the almost impossible task of getting to the top of Mount Everest. Doug Hansen (John Hawkes) meets up with the gang in Nepal, as does Sandy Hill Pittman (Vanessa Kirby), which is the starting point for all expeditions. It is in Nepal where the teams get to know each other and bond, but it's when they get to base camp that the adventure, and danger, begins. Base Camp is already at such a high altitude (17,600 feet), that climbers need to be acclimatized so their bodies can get used to the high altitude. It's also where the operations for the expeditions take place, led by Helen Wilton (Emily Watson). 'Everest' takes us with them on the journey of these teams climbing the mountain. But first they need to navigate the Khumbu ice fall, soaring ice towers and crevasses so deep that there really is no bottom. Camp I and Camp II are where the teams stop to rest, perhaps spending a few days here. But it's the Lhotse Face that is one of the most challenging bits on the mountain. It's a 3,600 foot wall of ice that they have to climb to reach Camp III, an altitude where most climbers need to use bottled oxygen just to breath. But it's above 26,000 feet, right below Camp IV, which is called "The Death Zone" because it's where humans cannot survive for long. If climbers have survived as high up as Camp IV, then it's full throttle ahead to reach the summit, usually at midnight so that the teams can reach it before noon, that if they survive the heavy gusts of wind, and the Hillary Step, a 40-foot tower of ice and rock on an exposed part of the mountain that becomes a human traffic jam for people getting to the top, as well as coming back down. But it's the climb back down that is hardest. The climbers are exhausted, some suffering from high altitude conditions, but it's the lucky ones who can make it down on their own, and it's these people who have to decide whether to save the almost dead or leave them behind to save their own lives. As recounted in 'Everest', Hall and Fischer's teams encountered a major storm on their way down, but it was not the only mistake that took place on that climb. Besides too many people on the mountain, Hall took Hansen up to top way past the agreed time. And the search for them cost another climber his life. Fischer was not in the best of shape as he was climbing to the top, and had a much harder time going down. And a storm overtook the climbers, which turned out to be unexpected and deathly. And it's reenacted in 'Everest' to extreme detail; high winds, blowing snow, climbers struggling just to survive, dead bodies littered here and there, and almost blacked-out conditions. Everest also recounts Weather's struggle for survival, Hall's loyalty to his client, and the operations team realizing that there is nothing they can do for the people trapped on the mountain.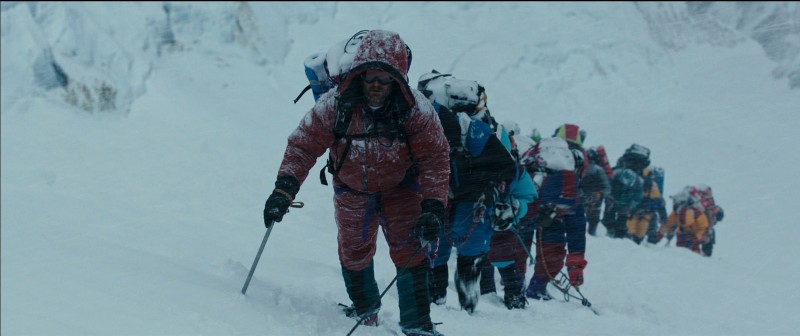 Everest successfully, and grippingly, tells the story of the people who survived the mountain that fateful year. And while there have been a few books and one television movie made about this event, Everest is based on the book by Weathers, Left for Dead: My Journey Home from Everest (2000), recollections from some of the survivors, as well as satellite phone conversations between the climbers, their families, and base camp. And the actors who portray the real life characters are superb. Josh Brolin has his best role in years as Weathers, a man who amazingly was left for dead on the mountain but somehow survived. Jason Clarke as Rob Hall is excellent — he's determined to get his clients to the top and at the same time determined to get back home to see the birth of his first baby. Emily Watson as Wilton, the base camp operations coordinator, is concerned, and then doomed, after she realizes that a few lives have been lost on the mountain. And John Hawkes as postman Hansen gives us a portrait of a man who wants to be there but is not experienced in any way to climb the mountain. Luckily Knightley's role is not on the mountain (can you actually see her playing someone who is climbing Mount Everest?), she plays Hall's wife back at home, and there's nothing she can do to help him. Gyllenhaal's role as Fischer is relegated to a few scenes, mostly up on the mountain – he's far from being the star of the movie. Director Baltasar Kormakur (2 Guns, Contraband), working from a script by William Nicholson and Simon Beaufoy, takes us with the teams on their journey, and it looks all too realistic. While there are lots of characters to keep track of (the all important Sherpas are virtually ignored), especially when they are all wrapped up — it's a bit hard to tell who is who — Everest brings to the big screen the real life 1996 Mount Everest disaster. Eight people eventually died during this expedition. 'Everest' was shot at a high elevation on the trek to Everest in Nepal, in the Italian Alps and at Cinecitta Studios in Rome, and Pinewood Studios in the UK. It can be experienced in IMAX 3D as well as standard 3D and 2D. Everest is a true epic adventure that will take your breath away.

Our Movie Rating:

[Rating:4/5]