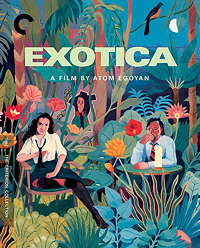 Exotica is a film from Canadian filmmaker Atom Egoyan. The film's story unfolds mostly in a high end, faux tropical strip club that gives the movie its name. Three stories intertwine. Francis (Brian Greenwood) is a grieving tax collector who lost his daughter and wife. He becomes infatuated with the beautiful young stripper Christina (Mia Kirshner), who also happens to be the former lover of the club's bitter DJ (Elias Koteas) but is now in a relationship with the club's pregnant owner Zoe (Arsinée Khanjian). Meanwhile, gay pet shop owner Thomas (Don McKellar), who is friends with Francis, has been smuggling animals into the country illegally and trying to pick up men at the ballet at nights.
The film slowly explores the various separate yet interrelated relationships of all the characters before culminating in an enigmatic ending, as is the usual case with Egoyan's films. No one in Exotica seems to exist on a normal emotional plain. Francis seems to be using the strip club as therapy while also meeting with an adolescent girl he pays to talk to him as sort of a surrogate for a real therapist and his dead daughter. Eric the DJ is obsessed with protecting Christina who also seems obsessed with comforting Francis whom she hardly knows. And the performances from the actors that Egoyan gets are also somewhat strange in a good way; they are complex while also being not quite of the usual grounded emotional variety.
One cannot mention Exotica without mentioning the visual aesthetics. The nightclub in particular is a placed bathed in pseudo-tropical style, flashing lights, fake parrots, plastic palm trees, and of course beautiful women in various states of dress. The way Atom Egoyan and director of photography Paul Sarossy capture it all is beautiful especially on their relatively limited budget.
The Video
The new digital transfer of Exotica was created in 4K on a Lasergraphics Director film scanner from the 35mm original camera negative under the supervision of director Atom Egoyan and director of photography Paul Sarossy. It is presented in its original 1.85:1 aspect ratio in an AVC 1080p encodement. The image is clean with a natural layer of grain. The color tilts towards a bluish tinge but looks good overall with strong dark levels and shadow details showing only hints of black crush in some places. There is some softness inherent in image most likely owing to the original production choices and the film's relatively low budget, but overall there is good detail especially in the closeups and given that much of this takes place in the darkly lit nightclub.
The Audio
The original 2.0 surround track was remastered from the 35mm magnetic track and is presented in a DTS-HD Master Audio 2.0 surround track. The sound mix is excellent given its age and that it is a 2.0 surround mix. The surround channels carry lots of ambience which comes across very nicely in the many scenes in the Exotica club and the low end is also quite beefy bulking up the dance music from the club and scenes where there is a thunderstorm.
The Supplements
As we have come to expect from Criterion, Exotica is packed with bonus features, including a whole other feature film from Egoyan, Calendar, a few of his shorts, and a 2012 commentary featuring the director that's a good listen.
Audio commentary by director Atom Egoyan and composer Mychael Danna recorded in 2012.
Atom Egoyan and Sarah Polley (1080p; 00:22:59) – This conversation between director Atom Egoyan and actor and filmmaker Sarah Polley was recorded by the Criterion Collection in Toronto in June 2022.
Calendar:

Atom Egoyan Introduction (1080p; 00:15:05)

(1080p; 01:13:23) In this 1993 feature by Atom Egoyan, a Canadian photographer (the director himself) and his wife (Egoyan's real-life wife, Arsinée Khanjian), who serves as his translator, travel to Armenia to capture images of ancient monasteries and churches for a calendar series.
Short Films – Atom Egoyan made the short film Peep Show in 1981, during his studies at the University of Toronto. In 1991, six of Canada's most talented directors collaborated on Montréal vu par…, a cinematic tribute to the city of Montreal on the occasion of its 350th Egoyan's contribution, En passant, conjures a Montreal where language seems to exist only as a series of symbols, signals, and signs. Artaud Double Bill is a short Egoyan made for the 2007 anthology film Chacun son cinema, commissioned for the sixtieth edition of the Cannes Film Festival.:

Peep Show
En Passant
Artaud Double Bill

Cannes, 1994 (1080p; 00:22:49) – Exotica premiered at the Cannes Film Festival in 1994. These audio excerpts from the film's press conference there feature director Atom Egoyan, actors Bruce Greenwood and Arsinée Khanjian, and producer Camelia Frieberg.
Booklet featuring an essay by author and filmmaker Jason Wood, film and cast credits, and information on the transfer.
The Final Assessment
Exotica is a film of obsession, voyeurism and interconnected experiences playing out in an almost surreal landscape of erotica. This Criterion Collection release presents it in a superb way on Blu-ray. Highly recommended.
Exotica is out on Blu-ray September 20, 2022 from Criterion Collection
---
Rating Certificate: R (for some sexuality and language)
Studios & Distributors: Alliance Entertainment | Ego Film Arts | Miramax | Ontario Film Development Corporation | Téléfilm Canada | The Criterion Collection
Director: Atom Egoyan
Written By: Atom Egoyan
Run Time: 103 Mins.
Street Date: 20 September 2022
Aspect Ratio: 1.85:1
Video Format: AVC 1080p
Primary Audio: English DTS-HD MA 2.0 Surround
Subtitles: English SDH