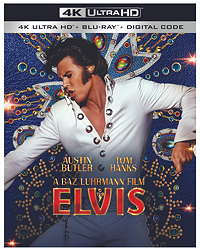 ELVIS is the latest biopic on the so-called "King of Rock and Roll" Elvis Presley (Played by Austin Butler). Baz Luhrmann applies his usual visual flair and musical style to tell the story of Elvis' life from childhood as he helps to change the popular musical landscape in the 1950s collaborating with vulturous manager Colonel Tom Parker (Tom Hanks), meeting the love of his life Priscilla (Olivia DeJonge) while doing mandatory military service in Germany, until meeting his untimely death at the age of forty-two in 1977.
Austin Butler's uncanny ability to capture Elvis' mannerisms overcomes what is an unfortunate makeup and prosthetic job that makes his face look more weird than it does like the real Elvis. Despite the latter issue, his performance is commendable and dazzling, especially next to Tom Hanks who also narrates the film from Col. Parker's perspective and comes off as the true villain in what is a strange and sad existence of a larger-than-life entertainer caught in a trap of poor management, fame, and drug abuse.
Luhrmann's dazzling direction, much more restrained and straightforward than usual for the director, is the cherry on top of the delicious musical and biographical cake, spurred on by Mandy Walker's beautiful cinematography. There is not a moment in this film that is not magnificent to look at or a performance that does not hold one's attention. These things are enough to overcome the inconsistencies in the narrative or, should I say, the artistic license taken in many of the factual items pertaining to Elvis' life. For instance, the family run LLC Elvis Presley Enterprises as presented in the film that was started at the beginning of Elvis' career spurred on by Col. Parker was not actually started until after Elvis died to oversee his estate. Or the very good friendship between Elvis and BB King, used as a means to prove that Elvis was not appropriating black music in this film, has never been confirmed by any source, not even BB King. They knew each other, but their level of friendship was not likely as presented in this film. Artistic license aside, ELVIS is an enjoyable, astonishing and, colorful, film from Luhrmann.
The Video
ELVIS was shot on the ARRI ALEXA 65, LF, and Panaflex System 65 on two sets of lenses, one for the first half of Elvis' life and one custom made set, the Panavision T-Series "Elvis" anamorphic lenses for the second half of his life with a classic flare and aberrations on the edges, made to cinematographer Mandy Walker's specifications. She did not want the film to look pristine like it would with modern lenses, but wanted to capture that retro, "dirty" look and the classic 1970s appearance for the second part of the film. It was shot in 4.5K and 6K and arrives on 4K Ultra HD in a 2.40:1 HEVC 2160p (4K UHD) Dolby Vision HDR encodement. The detail as the filmmakers intended is not as ultra-crisp or pristine as most modern digital productions, but do not get it wrong, there is plenty detail here and it looks amazingly filmic. The Dolby Vision coding adds a plethora of color depth and 'pop' in the specular highlights. The scenes on the Vegas strip look dazzling as does the montage of Elvis' films, especially Viva Las Vegas. Shadow detail is greatly extended, with lots of finer detail and depth of field with no crush.
The Audio
ELVIS comes to 4K Ultra HD with a Dolby Atmos sound mix. It works wonderfully for the musical numbers spreading lots of instrumentation and atmospherics around and supplying lots of height information. Dialogue-intense scenes calm down enough to balance things out naturally. Low end is also weighty, but not booming in any way. It works for this sort of music-heavy film, keeping the bass musical rather than bombastic.
The Supplements
ELVIS arrives with a few 'making of' featurettes that are interesting and generally self-descriptive, with nothing surprising.
Movies Anywhere Digital Code
Blu-ray with feature film and bonus features
Bigger than Life: The Story of ELVIS (1080p; 00:22:23)
Rock 'n' Roll Royalty: The Music and Artists Behind ELVIS (1080p; 00:07:33)
Fit for a King: The Style of ELVIS (1080p; 00:08:02)
Viva Australia: Recreating Iconic Locations for ELVIS (1080p; 00:07:26)
"Trouble" Lyric Video (1080p; 00:02:15)
Musical Moments (On the 4K disc also) – Directly select the various musical performances in the film
The Final Assessment
ELVIS dazzles and entertains at every turn. It gets some details wrong, but it gets all the entertainment right and paints a powerful and sad portrait of a legendary performer and his villainous manager. Recommended.
ELVIS is out on 4K Ultra HD Combo September 13, 2022 from Warner Bros. 2022
---
Rating Certificate: PG-13 (for substance abuse, strong language, suggestive material and smoking)
Studios & Distributors: Warner Bros. | Bazmark Films | Roadshow Entertainment | The Jackal Group | Whalerock Industries | Warner Bros. Home Entertainment
Director: Baz Luhrmann
Written By: Baz Luhrmann (screenplay by) | Sam Bromell (screenplay by) | Craig Pearce (screenplay by)
Run Time: 159 Mins.
Street Date: 13 September 2022
Aspect Ratio: 2.40:1
Video Format: HEVC 2160p (4K UHD)
HDR Format: Dolby Vision (HDR10 Compatible)
HDR Metadata:

MaxLL: 429 nits
MaxFALL: 116 nits

Primary Audio: Dolby Atmos (Dolby TrueHD 7.1 Compatible)
Secondary Audio: English Dolby DD 5.1 | English Descriptive Audio (US) | English Descriptive Audio (UK) | French DD 5.1 | Spanish DD 5.1
Subtitles: English SDH | French | Spanish | Danish | Finnish | Norwegian | Swedish