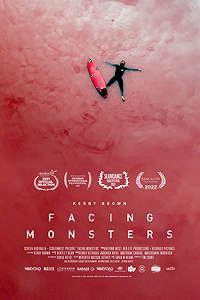 Facing Monsters will surely grab viewers like me who have surfed an ocean's waves at some point in their lives and who clearly understand how the risks of this sport increase with the size of the waves they attempt to ride in to shore. With a title that refers to some of the world's largest waves crashing off the western coast of Australia, this feature-length documentary chronicles the often-perilous journey taken by professional "slab wave" surfer  Kerby Brown as he and his brother Cortney seek out the biggest and most challenging waves they can possibly find.
Opening with the distant image of a surfer lashed to his board and floating on a sea of red, the camera moves progressively closer to reveal a badly injured and nearly unrecognizable Brown after his attempt to ride out "monster" waves off a distant island. What ensues is a fairly linear storyline that follows Brown and his family, including his father Glenn, mother Nola, and partner Nicole (and eventually his two young children) who are all impacted by this very dangerous pursuit.  As Kerby himself admits, there is something about the ocean that keeps calling out to him and which provides him with ultimately satisfying experiences that are unlike anything he could ever find on dry land. When Kerby tries to adopt a more conventional lifestyle with Nicole in Perth, his personal daemons surface and get exacerbated by his excessive use of drugs and alcohol. Kerby returns to the coast with his family and is buoyed by occasional visits from Cortney. Facing Monsters reaches a crescendo when the brothers discover the most challenging surf they have ever seen and Kerby's attempts to master the waves results in a close brush with death.
What elevates this film above and beyond most surfer epics that I have seen is the incredible blend of aerial and oceanic cinematography delivered by the cameras of Jeremy Ashton and Rick Rifici, respectively. The latter's shots literally immerse us in the huge waves that rise from and crash against the ocean's surface, in sharp contrast with much smaller size of the surfer who is trying to negotiate them. Writer-director Bentley Dean gives us a simple script that tries to draw out his star who is surprisingly camera-shy and covers how much his extreme sport worries a family who wonder if the next wipe-out will be his very last ride. The production team must also be congratulated for the way in which they have managed to work around the early days of COVID-19 in Australia. The result is a masterful film that leverages this continent's vast coastline as the stunning backdrop for a taut tale of derring-do by a man who is clearly fearless. Even if you know little or nothing about surfing, Facing Monsters will prove to be a compelling watch and keep you glued to the screen for its hour and a half running time. Highly recommended.
Facing Monsters will screen in select theaters beginning September 22, 2022 and be available as Digital VOD on November 15, 2022
---
Rating Certificate: Not Rated
Studios & Distributors: Beyond West Productions | Red Eye Production | Veerhuis Pictures | Garage Entertainment | Level 33 Entertainment
Country: Australia
Language: English
Run Time: 94 Mins.
Aspect Ratio: 1.85:1
Director: Bentley Dean
Written By: Bentley Dean
Release Date: 22 September, 2022