Aspect Ratio: 1.78:1
Video Codec: AVC/MPEG-4
Audio Codec: English Dolby TrueHD 5.1 (48kHz/24-bit); French Dolby Surround 2.0(224kbps); Spanish Dolby Mono (2.0/224kbps)
Subtitles: English, English SDH, French, Portuguese, Spanish
Region: ABC (Region-Free)
Discs: 1
Studio: Paramount
Release Date: June 9, 2009
List Price: $29.99
Overall
[Rating:4/5]
The Film
[Rating:3/5]
Video Quality
[Rating:4.5/5]
Audio Quality
[Rating:4/5]
Supplemental Materials
[Rating:3/5]
Click thumbnails for high-resolution 1920X1080p screen captures
More screen captures (16 total)

(Screen captures are lightly compressed with lossy JPEG and thus are meant as a general representation of the content and do not fully reveal the capabilities of the Blu-ray format)
The Film
[Rating:3/5]
Upon its release in 1987 Fatal Attraction become a cultural phenomenon. Striking a nerve with both men and women alike as well as raising the ire of feminists, the film went on to earn itself six academy award nominations. The one question that remains, even some twenty-two years later is — why?
Sure, the acting in Fatal Attraction was top-notch, with an incredible, and memorable performance from Glenn Close and a surprisingly believable performance from Michael Douglas. What isn't believable, however, is the storyline. Maybe something with such slowly simmering sexuality and — at the time — an unpredictable ending was so unique in 1987 that Fatal Attraction was fated to go on to such successful heights.
But, watching Fatal Attraction today, the film has certainly not aged well. Being billed as a thriller and romance, Fatal Attraction comes across as neither. What it does seem like today is a high budget, slickly directed film with a B-Movie-type script.
Michael Douglas plays happily married and successful lawyer Dan who throws his happiness (and piece of mind) away for a weekend of adultery with Alex Forest (Glenn Close), a woman he meets at a publisher's party. Alex quickly becomes possessive and needy, eventually devolving into every man's nightmare — a crazy woman who just won't go away.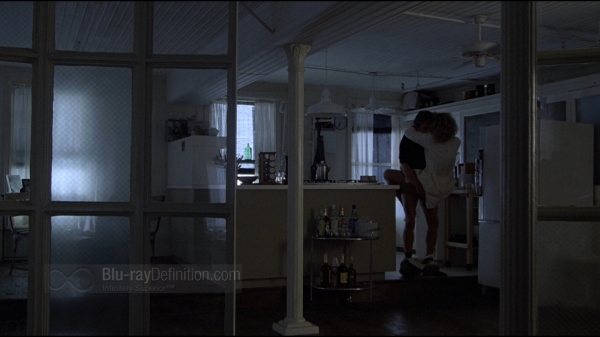 Scorned by Dan's seemingly thoughtless and disrespectful treatment of her, Alex takes to threatening Dan, pouring acid on his car, and eventually attacking his wife (Anne Archer) and daughter (Ellen Hamilton Latzen). This leads up to the film's most famous scene, its finale with a knife wielding Glenn Close attacking Dan and his family in their home. Unfortunately, the whole lead up to this, which is basically the entire film after the point Dan and Alex get together, is where the film succumbs to completely unbelievable scenarios.
Alex' descent from a high-powered, single working woman into a blubbering and maniacal scorned woman with no sense of self is unrealistic at worst, comical at best. The character of Dan is also flawed; he inspires no sympathy. The guy had everything going for him and risked it all on a woman he hardly knew. Why are we supposed to like these characters and cheer either of them on?
Adrian Lyne's (Nine ½ Weeks, Indecent Proposal, Flashdance, Lolita) direction saves the film. His slick production and dramatic lighting give the film a touch of class and add at least a sense of the "thriller" aspect that is really missing from the screenplay. Unfortunately, Lyne's direction is not enough to redeem this film as anything more than a voyeuristic view into dysfunctional human sexuality.
Video Quality
[Rating:4.5/5]
Paramount has done a fine job bringing this catalogue title to Blu-ray Disc. The film arrives in its original theatrical aspect ratio of 1.78:1 in a 1080p/24 AVC/MPEG-4 video encoding that looks sharp, and detailed. There are only occasional hints at the source's age in some specks here and there, but Fatal Attraction looks surprisingly clean for a film that is over twenty years old.
Black levels are solid with good shadow detail, contrast looks good with no clipping apparent and compression artifacts are not an issue. Flesh tones sometimes look a little unnatural with some slight red push, but other than that colors are natural. Texture in clothing and skin is superb, and detail remains consistent from close-ups to long shots.
Audio Quality
[Rating:4/5]
Fatal Attraction is provided with an English Dolby TrueHD 5.1(48kHz/24-bit) lossless mix that may very well be overkill for the purposes of this soundtrack. It's not that the sound is horrible — not at all. The sound is quite excellent, with decent dynamic range, clear intelligible dialogue that sounds natural, and smooth high frequencies that reveal themselves mainly during the scene with Glenn Close and Michael Douglas dancing in the Latin nightclub.
The problem is that the surround channels are almost nonexistent in this mix. There is some very subtle ambience panned into the rear and some occasional atmospheric foley effects, but mostly the mix is front-heavy and a bit on the dry sounding side. Deficits aside, it is still a good sounding mix for the material.
There are also French Dolby Surround 2.0 (224kbps) and Spanish Dolby Mono (2.0/224kbps) options available.
Supplemental Materials
[Rating:3/5]
This Fatal Attraction BD release is provided with a strong compliment of supplements that delve into the many aspects of Fatal Attraction as a film and social phenomenon. The actors and filmmakers are all on board for interview segments and there has even been provided the original ending — the sole extra available in high definition.
The supplements available on this release are:
Commentary by Director Adrian Lyne — The film's director gives an interesting and detailed commentary offering up quite a few golden nuggets of trivia.
Forever Fatal: Remembering Fatal Attraction (1.33:1; 480i/60) — The starring cast and crew reminisce on the working on the film.
Social Attraction (1.33:1; 480i/60) — Fatal Attraction's social implications, particularly the reaction of feminists towards the film, are discussed in this featurette.
Visual Attraction (1.33:1; 480i/60) — This featurette explores the visual style of Fatal Attraction.
Rehearsal Footage (1.33:1; 480i/60) — Video footage of rehearsals between Glenn Close and Michael Douglas before the start of filming.
Alternate Ending with Introduction by Director Adrian Lyne (1.78:1; 1080i/60)– This ending was excised from the film and replaced with the ending we are all familiar with today due to bad results during audience testing.
Original Theatrical Trailer (1.78:1; 1080p/24)
The Definitive Word
Overall:
[Rating:4/5]
Twenty-two years later, Fatal Attraction shows its age as a story, but Paramount has given this classic film a strong transfer making it one of the best looking catalogue releases on Blu-ray today, even if its surround mix is dull.