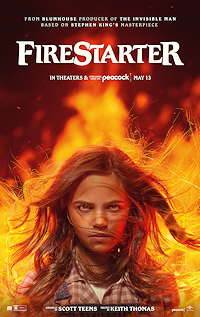 You have to wonder why anyone, Blumhouse Productions included, would go to the trouble of remaking an adaptation of the 1984 Stephen King film Firestarter that was mainly noteworthy for Drew Barrymore's break-out role as Charlene "Charlie" McGee. Otherwise, film critics generally panned this sci-fi/horror/special effects extravaganza with the barest modicum of a plot. Now we get the 2022 version which follows the original storyline with a few variations.
We see a flashback of baby Charlie setting her crib on fire, the first evidence of her pyrokinetic abilities, and is only saved by her quick-thinking dad, Andy McGee (Zac Ephron) who extinguishes the blaze.  The backstory of Charlie's origin involves a visit by Andy and his wife Vicky (Sydney Lemmon) to a laboratory and entering the trial of an experimental psychedelic drug, Lot-6, which gives telepathic powers or "push" to the former and telekinesis to the latter.
Returning to the present, Charlie (Ryan Kiera Armstrong) gets into trouble at school by blowing up a bathroom stall after she is bullied by some classmates.  Meanwhile, Andy is earning a living as a counselor and we see him giving a push to a woman to quit smoking. Captain Hollister (Gloria Reuben), a military officer at "The Shop," a covert ops headquarters, is keeping tabs on Charlie's activities. Hollister visits Dr. Wanless (Kurtwood Smith), the developer of Lot-6, and is advised to kill Charlie. She then engages John Rainbird (Michael Greyeyes), another Lot-6 product, to do the job. Rainbird obliges by visiting Charlie's home and, in the process, kills Vicky, while Andy and Charlie escape.
Andy and Charlie are hitchhiking to Boston and receive a lift from Irv Manders (John Beasley) whose wife Essi (Sheila Boy) was paralyzed in a car crash that he caused. Charlie convinces Irv that his wife has forgiven him but Irv has already called the police after seeing pictures of her and Andy on television.  The police arrive as does Rainbird who shoots them all as trucks from The Shop appear to capture Andy, Charlie and Rainbird.  Andy uses his telepathy again that enables Charlie to escape into a nearby forest.
Charlie traces a telepathic signal to The Shop and finds Andy in a cell with Captain Hollister. She finds out it was Rainbird who actually sent the message from his own cell. Andy urges Charlie to burn the whole place down which means killing him and Hollister but freeing Rainbird from his holding cell. The film culminates in a fire fest and an ending considerably different and less satisfying than the one provided by King's original novel and its first film adaptation.
As lame as the 1984 original Firestarter was, its supporting cast far was far superior to what we get in the remake that included Heather Locklear, George C. Scott, Louise Fletcher, and David Keith whose Andy was more sympathetic than the Andy that Zac Ephron gives us. As far as the character of Charlie is concerned, Barrymore's portrayal is more impactful as her 9-year-old babyface makes her malevolence even more shocking. While the casting of a Native American as Rainbird made more sense on paper than was that of George C. Scott, the latter was a far more accomplished performer.  The only areas in which this 2022 version outpoints the original are in the CGI effects—not a surprise—and its mercifully shorter running time by nearly a half-hour. Taken as a whole, this relatively low-budget film, by today's standards, may recover its 12-million-dollar cost but if you want to save yourself the trouble of spending your hard-earned dollars on the big screen offering, it is available at no charge on Peacock's ad-supported tier. Or you can just skip it which is my personal recommendation.
Firestarter is now showing in theaters and streaming Peacock
---
Rating Certificate: R (for violent content)
Studios & Distributors: Blumhouse Productions | Angry Adam Productions | Boulderlight Pictures | Weed Road Pictures | Universal Pictures
Country: USA
Language: English
Run Time: 94 Mins.
Aspect Ratio: 2.39:1
Director: Keith Thomas
Written By: Scott Teems
Release Date: 13 March 2022