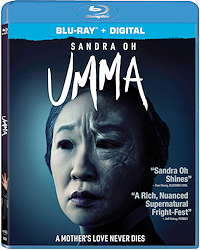 First time feature film director/writer Iris K. Shim takes the reigns for Umma, the story of Amanda (Sandra Oh) who has been living a quiet life on an out of the way farm off the grid in America with her high school aged daughter Chris (Fivel Stewart) beekeeping and selling her small batch honey. Haunted by memories of her past and supposedly afflicted by an illness that causes her to have to avoid electricity, Amanda's quiet life with her daughter is disrupted when her uncle arrives with the remains of her mother from Korea. She is warned her mother's spirit cannot rest until it finds a proper burial, but Amanda still wants nothing to do with the remains.
After the arrival, very strange things begin happening around the farm. When Amanda discovers that Chris may be applying to college, her worry over being alone and that she may be turning into her mother she never wanted to become begins to manifest. Is she having some sort of breakdown or is it her mother's spirit come back to haunt her?
Umma is, unfortunately, not a very good film. It spins its wheels for too long and relies on jump scares rather than building a narrative and a provocative thriller to scare the audience. The plot loses focus rather quickly as well, as Shim can't seem to decide if she is giving us a haunted house story, a demonic possession story, an undead story, or a psychological horror story. The result is a muddled storyline that is only carried off with a modicum of success thanks to the fantastic performance from Sandra Oh who elevates this material to a level it would never have achieved without her.
The Video
One can't really argue with the strong image presentation of Umma on Blu-ray. The 2.39:1 AVC 1080p encodement has crisp details and strong depth of field. There's a natural look that gives it that extra bit of cinematic feel, and in the plentiful dark scenes, the shadow details are very nuanced, never getting swallowed up in crush or noise.
The Audio
Umma comes to Blu-ray with what is a very good English DTS-HD Master Audio 5.1 mix. While there are some moments where the mix is dry, they fit the scenes perfectly well. Overall, this is a very well-balanced and dynamic mix that has superb atmospherics and placement of eerie sounds throughout the soundstage. The opening chapter also provides an excellent thunderstorm that claps and booms with extended low frequencies and rain that engulfs you.
The Supplements
Sony provides a Movies Anywhere digital code as the only bonus with this release.
The Final Assessment
A disappointing horror film that is only good for the strong performance from Sandra Oh and the reference quality Blu-ray from Sony.
Umma is out on Blu-ray+Digital May 17, 2022 from Sony Pictures Home Entertainment

---
Rating Certificate: PG-13 (for terror, brief strong language and some thematic elements)
Studios & Distributors: Catchlight Studios | Raimi Productions | Stage 6 Films | Starlight Media
Director: Iris K. Shim
Written By: Iris K. Shim
Run Time: 83 Mins.
Street Date: 17 May 2022
Aspect Ratio: 2.39:1
Video Format: AVC 1080P
Primary Audio: English DTS-HD MA 5.1
Secondary Audio: English Audio Descriptive Service | French DTS-HD MA 5.1 | Portuguese DTS-HD MA 5.1 | Spanish DD 5.1 | Thai DD 5.1
Subtitles: English | English SDH | Chinese Simplified | Chinese Traditional | French | Indonesian/Bahasa | Korean | Portuguese | Spanish | Thai