Paramount will be bringing the 2011 remake of the 1980s classic Footloose to Blu-ray Combo Pack (Blu-ray + DVD + Digital Copy) on March 6, 2012 at a SRP of $29.99.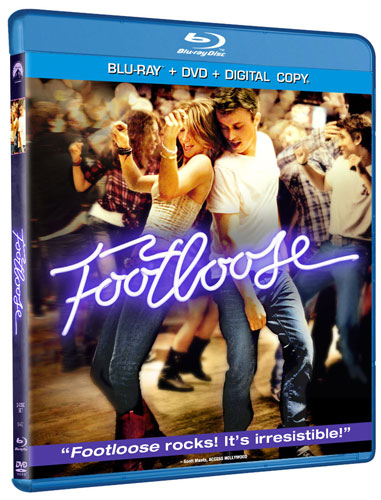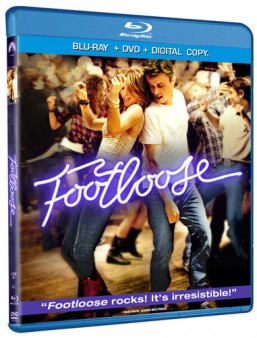 The Footloose Blu-ray is presented in 1080p high definition with English 5.1 DTS-HD Master Audio, French 5.1 Dolby Digital, Spanish 5.1 Dolby Digital, Portuguese 5.1 Dolby Digital and English Audio Description with English, English SDH, French, Spanish and Portuguese subtitles.
See press release for further details.
Press Release
"Footloose rocks!  It's irresistible!"—Access Hollywood
THIS IS OUR TIME…
TO CUT LOOSE WITH AN EXHILARATING, CONTEMPORARY TAKE ON THE 80s CLASSIC
Footloose
Sensational Re-Imagining Debuts March 6, 2012 in a Blu-ray™/DVD Combo Featuring More Than an Hour of Bonus Material Including Deleted Scenes, Behind-the-Scenes Featurettes and More!
HOLLYWOOD, CALIF. – Called "fantastic" (People), "exciting" (Ain't It Cool) and "high energy fun" (US Weekly), the contemporary re-telling of the beloved classic FOOTLOOSE debuts in a Blu-ray/DVD combo pack with UltraViolet™ and a Digital Copy, On Demand and for Digital Download on March 6, 2012 from Paramount Home Entertainment.  Boasting high-energy dancing, an inspirational story and an impressive cast of rising stars and screen veterans, writer/director Craig Brewer's (Hustle & Flow) modern update thrilled audiences of all ages with its combination of youthful spirit and infectious fun.
Newcomer Kenny Wormald stars as Ren MacCormack, a city kid transplanted to the small town of Bomont where dancing has been outlawed.  Ren goes up against Bomont's reverend (Dennis Quaid) to challenge the ban with the help of the minister's daughter (Julianne Hough, "Dancing with the Stars") and in the process reminds the entire town that dancing is more than youthful exuberance—it's a celebration of life.  The film also stars Andie MacDowell (Beauty Shop) and Miles Teller (Rabbit Hole) and features an outstanding soundtrack with musical artists including Blake Shelton, Big & Rich, Ella Mae Bowen and more.
The FOOTLOOSE Blu-ray/DVD combo pack includes over an hour of bonus features such as deleted scenes, a look back at the original film, featurettes on the stars and their dancing, commentary by Brewer, music videos and more.  In addition, all  Blu-ray and DVD releases available for purchase will be enabled with UltraViolet, a new way to collect, access and enjoy movies.  With UltraViolet, consumers can add movies to their digital collection in the cloud, and then stream or download them – safely and securely – to a variety of devices.
FOOTLOOSE Blu-ray/DVD Combo Pack
The FOOTLOOSE Blu-ray is presented in 1080p high definition with English 5.1 DTS-HD Master Audio, French 5.1 Dolby Digital, Spanish 5.1 Dolby Digital, Portuguese 5.1 Dolby Digital and English Audio Description with English, English SDH, French, Spanish and Portuguese subtitles.  The DVD in the combo pack is presented in widescreen enhanced for 16:9 televisions with English 5.1 Dolby Digital Surround, French 5.1 Dolby Digital Surround, Spanish 5.1 Dolby Digital Surround and English Audio Description with English, French, Spanish and Portuguese subtitles. The digital copy is presented in English and is compatible with iTunes® and Windows Media. Bonus features on the Blu-ray are as follows:
Commentary by director Craig Brewer
Jump Back: Re-Imagining Footloose
Everybody Cut: The Stars of Footloose
Dancing with the Footloose Stars
Deleted Scenes with optional commentary by director Craig Brewer
"Footloose" Music Video by Blake Shelton
"Fake ID" Music Video by Big & Rich
"Holding Out For A Hero" Music Video by Ella Mae Bowen
Footloose Rap
FOOTLOOSE will also be available on a single-disc DVD presented in widescreen enhanced for 16:9 televisions with English 5.1 Dolby Digital Surround, French 5.1 Dolby Digital Surround, Spanish 5.1 Dolby Digital Surround and English Audio Description with English, French and Spanish subtitles.  The disc includes the following special features:
Commentary by director Craig Brewer
Deleted Scenes with optional commentary by director Craig Brewer
"Fake ID" Music Video by Big & Rich
–
[amazon-product]B002ZG97M4[/amazon-product]