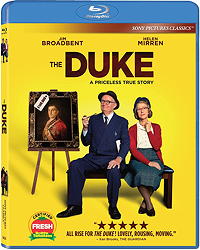 Set in 1961 London, The Duke follows the story of 61-year-old Kempton Bunton (Jim Broadbent) a taxi driver who is anti-establishment and always out to raise-hell, so to speak. When we first meet Kempton he is raising a fuss with the TV license-fee collectors (in Britain one must pay a license to own a TV and people would ride around in a van with a detector to pick up the signals to check for unlicensed users). He's refusing to pay the fine for his television since he removed the device inside of it that allowed him to receive the BBC.  After a small stint in jail, he launches a campaign to get free television for older Brits. His long-suffering wife Dorothy (Helen Mirren) has had just about enough of him. Meanwhile, the United Kingdom has just purchased a portrait of The Duke of Wellington worth hundreds of thousands of pounds, and Kempton becomes the prime suspect in its theft when the painting goes missing and demands come into the government for its ransom to go to charities.
Based on a true story, The Duke is a charming little indie film that is both funny and heartwarming thanks to the performance from Jim Broadbent. It takes on the establishment without launching any big attacks. This is a classic David versus Goliath story, but being from 1961, it allows for the distancing from contemporary issues even as there are many issues that still translate to today.

The Video
The Duke arrives with a 2.39:1 AVC 1080p encodement on Blu-ray from Sony Pictures Classics. This is a gorgeous transfer with nothing to complain about, really. There are rich mid tones, inky yet nuanced shadow details that have just the slightest bit of crush, but nothing that takes a lot of the detail away. Flesh tones are natural and overall detail is crisp. There is no noise or edge enhancement.
The Audio
The English DTS-HD Master Audio 5.1 mix for The Duke works well for this film. The dialogue is clean and full in the center channel, and the score is airy and ambient through the surround channels. There isn't deep low end, but enough to give a solid underpinning to the bottom.
The Supplements
There isn't much provided here. There's a very brief 'making of' with short interviews with the cast and crew and the trailer.
Making 'The Duke' (1080p; 00:02:50)
Theatrical Trailer (1080p)
The Final Assessment
The Duke is a surprisingly good film, especially for one 'based on a true story.' The performances, visuals, and comedic writing all add up to a pleasant time. This one is highly recommended.
The Duke is out on Blu-ray July 26, 2022 from Sony Pictures Home Entertainment

---
Rating Certificate: R (for language and brief sexuality)
Studios & Distributors: Pathe UK | Ingenious Media | Screen Yorkshire | Kempton Productions | Yorkshire Content Fund | Neon Films | Great Bison Productions | Sony Pictures Home Entertainment
Director: Roger Michell
Written By: Richard Bean (screenplay by) | Clive Coleman (screenplay by)
Run Time: 95 Mins.
Street Date: 26 July 2022
Aspect Ratio: 2.39:1
Video Format: AVC 1080p
Primary Audio: English DTS-HD MA 5.1
Subtitles: English | English SDH | French | Spanish