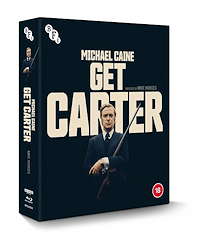 The classic British crime drama Get Carter from director Mike Hodges caused a bit of controversy in 1971 during its release due to its visceral violence and terrible treatment of women. By today's standards the violence itself may not be too shocking even if the treatment of women doesn't hold up so well. That said, the latter is nothing out of the ordinary when compared to other films of the era such as A Clockwork Orange, just as one example.
Michael Caine plays a London gangster, Jack Carter who travels to the Northern England city of Newcastle to investigate when his brother dies in a car accident. Carter believes his brother has been murdered and he is singularly out for blood. His investigations uncover a plethora of local sins amongst the Newcastle underworld, but first on his agenda is getting his niece out from the world of porn. This then untangles an entire web of corruption and crimes that just may lead him back to his brother's killer – and no one is safe.
Filled with lots of characters and despicable people, including Carter himself, Hodges' film was typical of the era in that it was both paranoid, distrustful of institutions, and firmly put anti-heroes in the lead roles. This is a world populated by people no one could like.
With the help of cinematographer Wolfgang Suschitzky, the film also gets an almost giallo visual aesthetic in may places. There is a particular use of split staging and reflections in mirrors, windows, or the scene where Michael Caine is viewing the film of his niece in the porn as we see it reflected behind him. It's as if Hodges is giving us a view of the world that is cracked in two, the dichotomy of doing evil to achieve a good, or the world reflected at us, ironically through a reflection of film.  Almost an art film rather than a mainstream crime drama, Get Carter didn't fare well in the UK upon its release but has grown in stature over the years to become regarded as one of the greatest British films ever made and one of Michael Caine's best performances.
The Video
Get Carter has been newly restored in 4K from the original camera negative by the BFI and approved by director Mike Hodges for this 4K Ultra HD Blu-ray release. It appears on disc in a 1.85:1 HEVC 2160p (4K UHD) Dolby Vision (HDR10 compatible) encodement.  The film has never looked better on home video than it does here. Apart from some unavoidable spots where the combination of film softness and the production techniques lower the detail and crispness, this is a very detailed and natural looking transfer. The film grain is present and natural without overwhelming the image and excessive DNR does not appear to be present even as the image is cleaned up nicely where possible. There are no glaring issues with source damage like scratches or dirt. The Dolby Vision HDR is used judiciously, not to apply a gimmicky appearance, but to give a wider array of color to the palette, like a more vibrant cherry red to the telephone Michael Caine uses, or the green shade of lights in the rain at night. The infamous phone sex scene with Britt Ekland at the bed and breakfast has a dazzling display of colors in the lamplight, separation between the inky shadows, and specular highlight 'pop.' The BFI have done a superb job with this now over 50-year-old film.
The Audio
The original monaural sound mix for Get Carter is provided in LPCM 1.0. There is nothing particularly wrong with the sound given it sounds clear minus some minor clipping in the source here and there and dialogue is intelligible, but it is mastered rather low, dynamic range is narrow, and I needed to turn the sound up about 12db above normal listening levels.
The Supplements
This is a masterful and packed to the gills collection of bonus features that does this film right. The audio commentaries are superb, including the one with the director, cinematographer, and actor Michael Caine. I also thoroughly enjoy the commentary with Kim Newman and Barry Forshaw as Newman in particular is one of my favorites to listen to always.
First pressing only: 80-page book with new essays by Mark Kermode and Tim Pelan; Alex Cox's introduction to the 1990 Moviedrome TV broadcast; an essay on composer Rod Budd and interviews with contemporary musicians/soundtrack composers by Jason Wood; biographies of Mike Hodges and Michael Caine by John Oliver; an extract from Michael Caine's autobiography What's It All About; credits and notes on the special features and restoration.
Newly recorded introduction by Michael Caine (1080p; 00:02:30)
Commentary by Mike Hodges, Michael Caine, and Wolfgang Suschitzky
Commentary by Kim Newman and Barry Forshaw
Isolated Score Track
Bonus Features on Separate Blu-ray Disc:
NEW (2022) Mike Hodges in Conversation (1080p; 01:00:13) – Mike Hodges looks back over his career as a filmmaker, in conversation with Samira Ahmed at a live event recorded at BFI Southbank, London, in May 2022.
NEW (2022) Klinger on Klinger (1080P; 00:24:09) — Tony Klinger recalls and evaluates the career of his father, Michael Klinger, Producer of Get Carter.
NEW (2022) Don't Trust Boys (1080p; 00:21:53) — Actor Petra Markham reflects upon her career on stage and screen and recalls her role in Get Carter.
NEW (2022) The Sound of Roy Budd (1080p; 00:17:07)—Film music expert Jonny Trunk explores the varied career of Roy Budd, and revisits Budd's iconic, minimalist score for Get Carter.
BBC Look North location report (1080p; 00:04:48; 1970) – Surviving footage of a 1971 report on Get Carter's making, from the BBC's regional news programme.
Roy Budd Plays 'Get Carter' (1080p; 00:03:39; 1971) – The soundtrack maestro – in a darkened dubbing theatre – performs the main theme to the film, on three different keyboards.
Michael Caine's message to premiere attendees (1080p; 00:00:46; 1971) – A filmed introduction to the Get Carter premiere, shot on the King's Road, Chelsea, in 1971.
The Ship Hotel – Tyne Main (1080p; 00:33:26; 1967) — Philip Trevelyan's evocative documentary film about a pub on the banks of the River Tyne
International trailer (1080p; 1971) – The original international trailer for Get Carter.
Re-release trailer (1080p; 2022) – The trailer for the BFI's re-release of Get Carter in 2022.
Script gallery (1080p) – The original script for Get Carter.
The Final Assessment
Just go out and get this masterpiece of cinema. Praises to the BFI for a fantastic effort on both the restoration and the brilliant collection of bonus features for this one, it's must-own for any cinephile.
Get Carter is out on 4K Ultra HD + Blu-ray Extras in the UK on 1 August, 2022 from the BFI
---
Rating Certificate: UK-18
Studios & Distributors: Metro-Goldwyn-Mayer British Studios | BFI
Director: Mike Hodges
Written By: Mike Hodges (screenplay) | Ted Lewis (novel
Run Time: 111 Mins.
Street Date: 1 August 2022
Aspect Ratio: 1.85:1
Video Format: HEVC 2160p (4K UHD)
HDR Format: Dolby Vision (HDR10 Compatible)
Primary Audio: English LPCM 1.0
Subtitles: English SDH