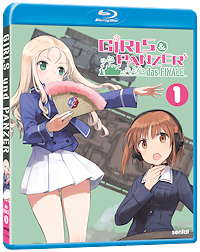 The mixture of fun, high school hijinks and battle strategy return in this first part "finale" of this popular series. Girls und Panzer das Finale: Part 1 is a 50-minute-long comedic journey with the girls of Ooarai Academy as they try to rescue the college prospects of friend and schoolmate Momo, who has let her preoccupation with finding new tanks for their battle in the Caterpillar Tread Cup allow her to fail her college entrance exams. So, they craft a plan to save Momo – elevate her to overall commander and have Miho stepdown, so Momo can demonstrate her skills and win an scholarship, but their rivals won't let them win their battles so easily. Or will they? The French team they must face seem to be coming apart at the seams, split into two factions, but it's still a tough fight. Fortunately for our team of battle-hardened high schoolers, they have new allies on their side, the school's scary marine corps.  This OVA movie series has all the elements of this franchise that make it enjoyable, including the great tank battle action sequences plonked down in the middle of girls' high school comedic drama. The kawaii character designs and sailor girl uniforms only serve to make the contrast more apparent and more fun. The kitschy military musical scores and news reel segues add to the meta effect and enjoyment of this in every way.

Girls und Panzer das Finale (TV) (Anime) (2017)
The Video
The digital animation for Girls und Panzer das Finale: Part 1 is presented in a clean and crisp 1.78:1 AVC 1080p encodement on Blu-ray. The colors look vibrant, and contrast is strong, with inky blacks, no issues with noise or excessive color banding, or things like jaggies around the line art.
The Audio
Girls und Panzer das Finale: Part 1 comes with the original Japanese-language and the English dub mixed in wonderful lossless DTS-HD Master Audio 5.1. You get placed in the center of the battles and other sound effects when the tanks aren't rolling are quite spacious, like the footsteps when the girls head to the depths of the school and meet the marine students. There are plenty of solid effects placed around. The low-end isn't exceptionally robust, but it is more than enough to give the sound effects a solid foundation.
The Supplements
There isn't anything too special offered here but there are the usual clean animation openings and closings, a Japanese Promo that's funny, and the trailer for the second part.
Clean Opening Animation (1080p; 00:01:46)
Clean Closing Animation (1080p; 00:01:49)
Japanese Promo (1080p; 00:01:32)
Part 2 Trailer (1080p; 00:01:02)
The Final Assessment
This OVA is good fun, action packed, and looks and sounds great. Recommended.
Girls und Panzer das Finale: Part 1 is out on Blu-ray September 14, 2021 from Sentai Filmworks

---
Rating Certificate: TV-14 (V)
Animation Studio: Actas
Distributor: Sentai Filmworks
Director: Mizushima Tsutomu
Written By: Yoshida Reiko
Run Time: 48 Mins.
Street Date: 14 September 2021
Aspect Ratio: 1.78:1
Video Format: AVC 1080p
Primary Audio: Japanese DTS-HD MA 5.1
Secondary Audio: English DTS-HD MA 5.1
Subtitles: English