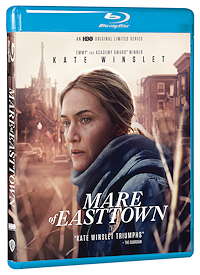 In Mare of Easttown, Kate Winslet plays Mare Sheehan, the sole detective in a small Pennsylvania town where everyone knows everyone, but there are still some small-town peccadilloes that will come to the surface. With her own life in a shambles after the loss of her son to a suicide, the subsequent breakup of her marriage, her rebellious teenage daughter, and her nosy mother at home, Mare is paired with a new partner at work, Detective Colin Zabel (Evan Peters) to dig into a new case — the murder of local girl. Anyone could be the suspect with one girl already missing, a priest in town with a previous charge for having sex with an underage girl, and a shocking revelation about the paternity of the dead girl's son.
This limited series is a slow-burner crime thriller that takes a while to get going, but once it does it hooks you. Episode one is just a setup of the characters and gives you the baseline of where you are and who you're dealing with, but from there it is a go. The acting, production, and most of all perfect stew of topics make this a very apposite and topical series that incorporates so much of the issues plaguing working class America today, from obvious issues of violence to opioid addiction and a sense of everything spiraling out of control. Winslet is brilliant as Mare, and it is probably one of her greatest characters to date. To say more about this series would spoil the mystery. Just watch it. It can be binged in a weekend. It's that good.

Mare of Easttown (TV) (2021)
The Video
Mare of Easttown was shot on the Arri Alexa Mini with Leitz Summilux-C lenses in the ProRes 4444 format at 3.2K and uses a 2K DI. The Blu-ray is in an AVC 1080p encodement framed in the OAR of 2.00:1. The series is not one that 'pops' at all, it has an almost monotone palette that uses lots of earth tones, browns, ambers, dark greens or will sometimes shift to greyer, cooler tones but still desaturated a tad. That said, this transfer looks very good, with excellent detail overall, good front-to-back extension and nuance in the shadows. Flesh tones have a natural hue and contrast can at times be quite striking.
The Audio
Mare of Easttown is a quiet, dialogue-driven series and the English DTS-HD Master Audio 5.1 mix presents it more than well enough with clear and full dialogue that remains mostly in the center. Occasionally some action takes dialogue off to the far sides/surrounds, but mostly we get some delicate atmospherics in the surrounds such as traffic in the distance, wind, the low din of the police station, and it all sounds realistic.
The Supplements
The 'Making of' featurette is the longest and most interesting bonus while the other three are brief, but all include some snippets of interviews and behind-the-scenes looks that are of interest.
Invitation to the Set (1080p; 00:02:21)
Welcome to Easttown (1080p; 00:03:19)
Mare of Easttown: A Closer Look (00:02:51)
Making Mare of Easttown (1080p; 00:08:38)
The Final Assessment
Another fantastic HBO Original drama. It looks great on Blu-ray and since it is a 2K DI from a 3.2K source, 4K would likely be asking for too much. Highly recommended.
Mare of Easttown is out on Blu-ray September 14, 2021 from Warner Bros. Home Entertainment

---
Rating Certificate: TV-MA
Studios & Distributors: Home Box Office (HBO) | Mayhem Pictures | wiip studios | Warner Bros. Home Entertainment
Run Time: 417 Mins.
Street Date: 14 September 2021
Aspect Ratio: 2.00:1
Video Format: AVC 1080p
Primary Audio: English DTS-HD MA 5.1
Subtitles: English SDH | French | Dutch | Danish | Finnish | Swedish