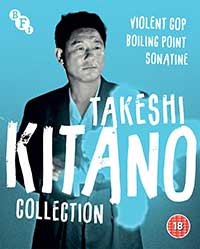 The Takeshi Kitano Collection brings together three of the Japanese auteur's strongest, most well-regarded films of his early filmmaking career. In Japan, Kitano is more widely recognized as 'Beat' Takeshi, a 'charismatic man of the people', as film expert Jasper Sharp describes him, who first broke out in 1975 on the television talent show Rival Big Laugh! (Raibaru dai-bakusho!) as half of the comic duo Two Beats. But by the 1980s, Kitano had shed his partner and branched off into doing more dramatic roles, mostly in the yakuza genre, on Japanese television.
In 1989, with his busy television schedule getting in the way of filming scheduling for Violent Cop, the original director, Fukasaku, quit the production and jokingly recommended Kitano, or so the legend goes. The directorial debut finds Kitano playing a cop, Azuma, who is prone to violence who stumbles across dealings between his colleagues and a drug-dealing yakuza crime boss. Instantly, Kitano's filmmaking instincts become apparent in his dry, contemplative style, favor toward wide lenses and deep staging, and the unexpected outbursts of violence.
Boiling Point (1990) was Kitano's second feature and the first film he wrote himself. The result is was an even stronger sense of the auteur locked away inside Kitano as he moved the setting to the countryside, the lush and verdant Okinawa, which is a perfect backdrop for his love of deep staged shots and the occasional long lens to focus in on the stoic, often emotionless, yet prone to outbursts of violence and unexpected hijinks yakuza character he would perfect in these films. Here Kitano comes into the film quite late playing an unhinged yakuza in exile in Okinawa who is out for revenge who takes two Japanese junior baseball players under his wing when they arrive in Okinawa looking for a gun to seek revenge on a group of yakuza gangsters after they severely injure their coach and boss.
Finally, the collection includes Sonatine (1993), perhaps the best of the early Kitano films. In this film Kitano shows a mastery of the camera and further develops his personal style of yakuza genre, adding in plenty of color and contrast while still maintaining plenty of the wide framing and deep staging he favors. Set again in his beloved Okinawa, Kitano plays listless Tokoyo yakuza Aniki Murakawa who is sent to Okinawa with his underlings to settle a dispute between two rival factions. While there, he settles into a house and meets a beautiful girl that he develops a fondness for. People start dying and time keeps passing, with Murakawa becoming more and more suspicious about why he was sent away. One of the most visually stunning moments comes when the gang members set off fireworks on the beach at night, perhaps a foretelling of Kitano's 1997 film Hana-bi (Fireworks).
Each of these films has as its through-line the style of Kitano, whose character and direction holds the attention and hits viewers with left hooks of violence. His visual style is also quite distinctive without being intrusive. Each included film will yield so many secrets and pleasures after multiple viewings.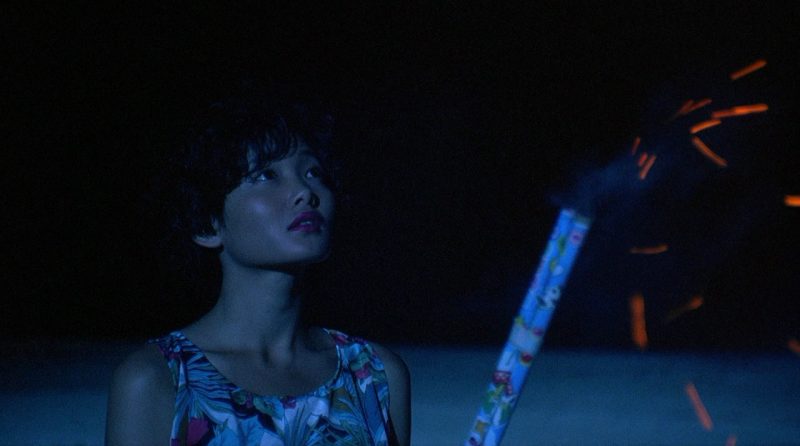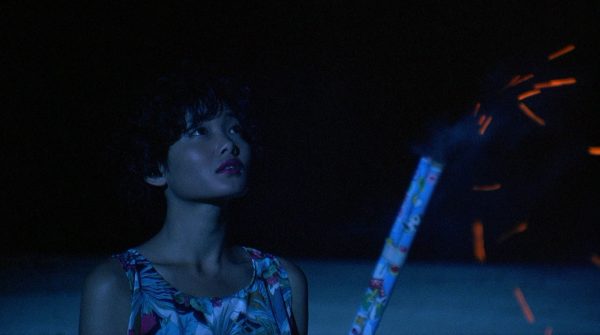 The Video
The films presented in this release were sourced from High Definition master materials created by Shochiku Co., Ltd and are presented in their original aspect ratios. Each film comes with an AVC 1080p encodement on Blu-ray and each is framed at 1.85:1. There is some film softness and also some soft-focused shots, but overall these transfers look wonderfully filmic, clean, and organic, with only the occasional scratch or tramline visible. Film grain looks natural, detail is strong, and colors are natural and vibrant, especially in Sonatine, which makes spectacular use of color and contrast.
The Audio
Violent Cop and Boiling Point come with Japanese LPCM 2.0 mono audio mixes and Sonatine comes with a LPCM 2.0 stereo audio mix. All three films sound excellent with clean dialogue and superb dynamics, but Sonatine obviously expands the soundstage even further with strong stereo imaging.
The Supplements
Each film in the Takeshi Kitano collection is provided with a 44-page book with new writing on the films and their director by Japanese film experts Tom Mes, Jasper Sharp, Mark Schilling, and film critic James-Masaki Ryan. Additionally, there are audio commentaries and interviews with cast and crew all worth watching.
Violent Cop
Feature-length commentary by Chris D, punk poet, singer, actor, film historian, and author of Outlaw Masters of Japanese Film.
That Man is Dangerous: The Birth of Takeshi Kitano (1080p; 00:20:20) – Producer Masayuki Mori and actor Makoto Ashikawa discuss how Kitano came to direct Violent Cop and the unique approach he took in doing so.
Trailer
Boiling Point
Feature-length commentary by film critic David Jenkins
Okinawa Days: Kitano's Second Debut (1080p; 00:20:10) – Producer Masayuki Mori and actor Yurei Yanagi discuss 1990's Boiling Point. Although it was his second film, the documentary looks at how it really announced Kitano as a filmmaker, and one of its young stars looks back fondly on the film that launched his career.
Teaser Trailer
Trailer
Sonatine
Feature-length commentary by Chris D, punk poet, singer, actor, film historian, and author of Outlaw Masters of Japanese Film.
Trailer
The Final Assessment
BFI have a winner with this awesome collection of Takeshi Kitano yakuza films. They look great and the set includes a good amount of bonus materials.
The Takeshi Kitano Collection is out on Blu-ray in the UK 29 June 2020 from BFI
---
The Creative Content: 4.0/5
The Video: 4.0/5
The Audio: 4.0/5
The Supplements: 3.0/5
Rating Certificate: UK:18
Studios & Distributors: Bandai Visual Company | Shochiku | Yamada Right Vision Corporation | BFI
Director: Takeshi Kitano
Writers: Hisashi Nozawa (Violent Cop) | Takeshi Kitano
Run Time: 294 Mins.
Aspect Ratio: 1.85:1
Video Format: AVC 1080p
Primary Audio: Japanese LPCM 2.0 Mono | Japanese LPCM 2.0 Stereo (Sonatine)
Subtitles: English