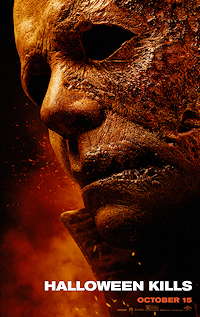 Since John Carpenter's original Halloween made its silver screen debut in 1978, Halloween Kills becomes the twelfth installment in this slasher-horror film franchise. As the sequel to the 2018 Halloween reboot, it picks up the storyline from the final scene in which Michael Myers (James Jude Courtenay) had stabbed Laurie Strode (Jamie Lee Curtis) in the abdomen and then got trapped in the burning basement of Laurie's home.
A brief flashback to 1978 shows how a young Deputy Frank Hawkins (Thomas Mann) prevented Dr. Sam Loomis  (Donald Pleasance) from killing Michael who later escaped from the mental hospital to wreak havoc on the good people of his home town of Haddonfield, Illinois.
It is once again Halloween night in Haddonfield, and, in a local bar, Tommy Doyle (Anthony Michael Hall) and friends Marion Chambers (Nancy Stephens), Lindsey Wallace (Kyle Richards) and Lonnie Elam (Robert Longstreet) reminisce about the events of 40 years ago. Meanwhile, Michael has emerged from the burning basement, wipes out an entire company of firemen and makes his way into town. Knowing that Michael is back, Tommy organizes an angry mob to rid the town of this terrifying serial killer.
Laurie has been taken to Haddonfield Memorial Hospital where she undergoes emergency surgery. Karen Nelson (Judy Greer), Laurie's daughter and Allyson (Andi Matichak), her granddaughter, try to prevent Laurie from learning that Michael has survived but the older woman stubbornly attempts to join the vigilantes. She finally faints and is returned to her hospital bed next to that of a recovering Frank Hawkins (Will Patton) one of Michael's earlier stabbing victims.  Allyson and her ex-boyfriend Cameron Elam (Dylan Arnold), join Cameron's father Lonnie to visit Michael's boyhood home in hopes of stopping the killer, but we already know that this is going to be a very bad move.The body count continues to rise up until the curtain finally falls on Halloween Kills.
From the very first Halloween film, one that I still consider to be the best of the bunch, the past four decades have shown that there is still a large fan base for these horror films. What becomes evident from viewing these films in chronological order is that the special effects, particularly evident in the copious spurts of blood, have greatly improved over time. Jamie Lee Curtis appears to have gotten a hall pass for most of these proceedings and has turned things over to her younger cast members who do a decent of job of keeping the shocks coming at us.  Writer-director David Gordon Green and screenwriter Danny McBride reprise their roles from the 2018 Halloween remake and deliver much of the same blood, gore, stabbing, slashing, and hacking that has always characterized these films.  For Halloween fans, this will provide the kind of screen fare that they have come to expect when Michael Myers goes on his trademark killing spree. For the rest of us ordinary viewers, this will just be another case of same old, same old, with an utterly predictable storyline that pretty much sucks out any suspense about what finally happens. If there is a core theme in this film, and there is one, it is that evil incarnate is very difficult to stop let alone eradicate. Without completely giving away this film's ending, let it be known that there will be a sequel, Halloween Ends, scheduled for release in 2022. So perhaps Michael Myers will get one last hurrah after all, and maybe, just maybe, we will finally get to see the face hidden behind his Halloween mask.
Halloween Kills is now being shown in theaters and is streaming on Peacock
---
Rating Certificate: R (for strong bloody violence throughout, grisly images, language and some drug use)
Studios & Distributors: Universal Pictures | Miramax | Blumhouse Productions | Trancas International Films | Home Again Productions | Rough House Pictures | Peacock
Country: USA
Language: English
Run Time: 105 Mins.
Aspect Ratio: 2.39:1
Director: David Gordon Green
Written By: David Gordon Green | Danny McBride | Scott Teems
Release Date: 15 October 2021