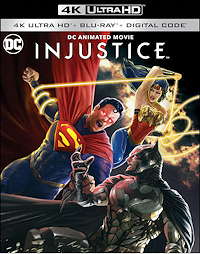 The latest DC Animated Movie, Injustice, finds the Joker (Kevin Pollak) arriving in Metropolis and causing a tragedy that sets a series of terrifying events in motion. Superman (Justin Hartley), emotionally scarred, goes on a reign of tyranny, bringing down everyone from dictators to terrorists and even stopping the US military from dropping drones that will kill civilians. His actions split the loyalties of the Justice League, and only one person can stop the madness – Batman.
This latest film is good on multiple levels. First, the story. Exploring what would happen if Superman lost his moral compass and there were no one powerful enough to stop a virtual god is a setup that has a lot of room for exploration, and they do a good job in a short time touching on much of the pressure points. Second, the character design and artwork are brilliant. Joker looks appropriately menacing, unlike in the adaptation of The Killing Joke where there was very little detail in the Joker's face, here he is evil looking, and Batman also looks dark and brooding. Third, but not last, the action sequences are energetic and bombastic. This is what one expects from a DC  animated feature film.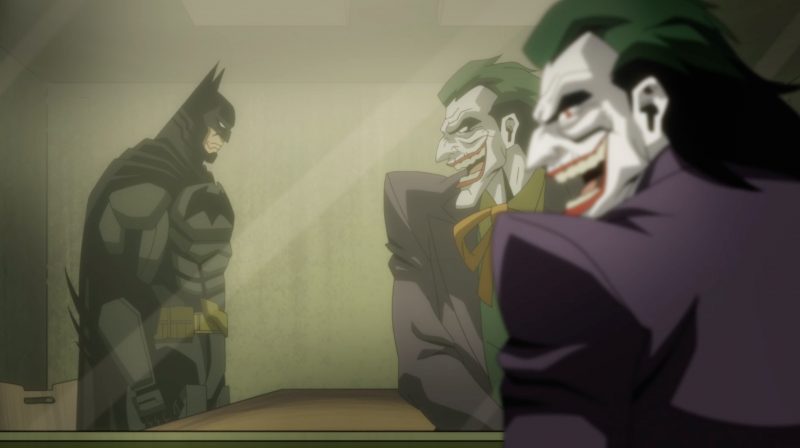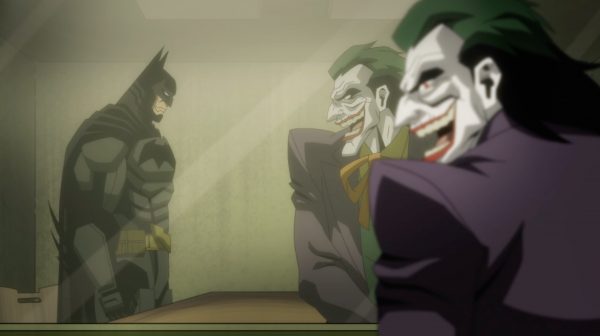 The Video
On the 4K Ultra HD Blu-ray Disc Injustice gets a 1.78:1 HEVC 2160p (4K UHD) with HDR10. The colors are vibrant, though there isn't an incredible amount of "make you squint" extra brightness. In comparison, the included Blu-ray also has a cleaner look. The 4K does have some color banding in things like the skies whereas the Blu-ray looks much more pristine, and the colors don't lose much vibrancy and both discs are nearly as equal when it comes to detail.
The Audio
Injustice is another DC Animated Universe with an enjoyable lossless DTS-HD Master Audio 5.1 mix. It is aggressive and has robust low frequencies, solid sound effects through the surround channels, and lush atmospherics. The dialogue never gets lost in the fray of the sound effects either.
The Supplements
This release has fewer bonus features than most DC Animated Universe originals, having only one new featurette, but the usual previews and 'From the DC Vault' episodes are included.
Digital Copy Code
Blu-ray w/Feature Film and Bonus Features
Adventures in Storytelling – Injustice: Crisis and Conflict (1080p; 00:30:55)
A Preview of Reign of the Supermen (1080p; 00:02:48)
A Preview of The Death of Superman (1080P; 00:07:04)
From the DC Vault: Justice League – "Injustice for All" (1080P; 00:21:39)
From the DC Vault: Justice League – "Injustice for All: Part II" (1080P; 00:21:55)
The Final Assessment
Great fun, a thoughtful story and gorgeous animation on a solid 4K disc.
Injustice is out on 4K Ultra HD Combo October 19th, 2021 from Warner Bros.

---
Rating Certificate: R for bloody violence
Studios & Distributors: Warner Bros. Animation | DC Entertainment | Warner Bros. Home Entertainment
Director: Matt Peters
Written By: Ernie Altbacker | Tom Taylor | (based on the graphic novel by) | Ian Rodgers
Run Time: 78 Mins.
Street Date: 19 October 2021
Aspect Ratio: 1.78:1
Video Format: HEVC 2160p (4K UHD)
Primary Audio: English DTS-HD MA 5.1
Secondary Audio: French DD 5.1 | Spanish DD 5.1
Subtitles: English SDH | French | German SDH | Italian SDH | Spanish | Danish | Finnish | Norwegian | Swedish