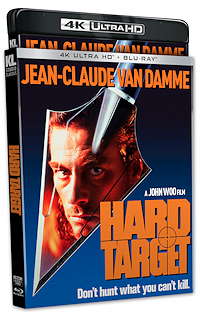 Hong Kong director John Woo entered Hollywood with Hard Target starring Jean-Claude Van Damme. Van Damme plays Chance Boudreaux, a Cajun merchant seaman who stumbles into saving a beautiful woman in distress, Natasha Binder (Yancy Butler), from a gang of thugs on the streets of New Orleans. Chance agrees to help Natasha find her missing father (Chuck Pfarrer), a homeless Vietnam veteran. The two of them eventually find out that Natasha's father has become the victim of the nefarious Emil Fouchon (Lance Henriksen) who arranges hunts with human prey for wealthy sportsmen looking for a bigger thrill. Fouchon gets word of Chance and Natasha investing her father's murder he sends his henchmen after them, which leads to their flight to a cabin in the Bayou where Chance's Uncle Douvee (Wilford Brimley) resides setting up a showdown between Fouchon, his mercenary army, and Chance.
While Hard Target has a lot of the kinetic energy of John Woo's Hong Kong action films, much of Woo's vision is hampered by interference from outside influences by producers. This keeps the film from ever reaching the artistic climax, despite the awesome set pieces that define any good Woo or Van Damme picture. We get the famous roundhouse kicks, the car chases, gunplay, explosions, and two nefarious villains in the form of Lance Henriksen and Arnold Vosloo as his most trusted mercenary.
Visually, Woo doesn't disappoint with Hard Target, offering gorgeous shots of the French Quarter, gritty slow-motion shots, and his set pieces in the Mardi Gras storage facility and in the cemetery. While it lacks some of the focus of Woo's best work and has some painfully bad dialogue at times, this film is still worth a watch and makes for some good popcorn entertainment.

The Video
Hard Target is taken from a brand new 4K Restoration of the Unrated International Cut – from a 4K Scan of the original camera negative. It appears on 4K Ultra HD in a 1.85:1 HEVC 2160p (4K UHD) encodement with Dolby Vision HDR compatible with HDR10. The HDR has a MaxLL of 1387 and a MaxFALL of 581.
While there are some frames where the practical effects and slow-motion show some elevated film grain, lens dirt, and softness, overall, this is a pleasing transfer that has a fine layer of grain, sharp detail especially on closeups where one can make out the individual hairs in Van Damme's stubble or the texture of leather. The application of the Dolby Vision provides only a subtle addition of brightness, but a more natural array of colors such as more nuanced sunsets, flames that 'pop' just a bit more from the screen and have more color gradations than the Blu-ray. Speaking of the included Blu-ray, it also looks very strong, but the grain doesn't resolve quite as finely as on the 4K disc and we don't see as much 'pop' in some of the specular highlights, but there is a very similar appearance between the two discs.
The Audio
The 5.1 DTS-HD Master Audio mix on this release (included on both the 4K and Blu-ray) is a decent sounding mix that is spacious and has clear dialogue, spaces the score out through the surrounds which also carry the occasional solid foley effect and plenty of atmospherics. The 2.0 stereo mix is also very good, sounding very wide, dynamic, and clean. Now for the not so good – there's an error on the 5.1 mix where the channels reverse. At the time of writing this review Kino Lorber has already confirmed they will be offering replacements. If you want to hear this, because it can be easy to miss, you can around the 20:40 mark on the 4K disc where the trolley is panning to the left of the screen; the sound of the trolley briefly pans to the right before being panned into the surround left channel. There is no flaw on the 2.0 mix.
The Supplements
I enjoyed the audio commentary from film historians Brandon Bentley and Mike Leeder. They give a conversational and informational commentary with plenty of trivia on the film. The new interviews with the cast, crew, and director are also strong inclusions.
Audio commentary by film historians Brandon Bentley and Mike Leeder
From Hard Boiled to Hard Target: Interview with Director John Woo (1080p; 00:12:52)
Henriksen vs. Van Damme: Interview with Actress Lance Henriksen (1080p; 00:08:46)
Hard Times in The Big Easy: Interview with Actress Yancy Butler (1080p; 00:14:36)
Gun Fu and Van Damage: Interview with Stunt Coordinator Billy Burton (1080p; 00:09:05)
Hard Target Trailer (1080p)
The Final Assessment
A film that is a fun watch if an imperfect one comes to 4K with a pleasing new transfer and good audio mix that has a flaw Kino Lorber promises to address.
Hard Target (Special Edition) is out on 4K Ultra HD December 7, 2021 from Kino Lorber
---
Rating Certificate: R (for a great amount of strong violence, and for language)
Universal Pictures | Alphaville Films | Renaissance Pictures | S & R Productions | Kino Lorber
Director: John Woo
Written By: Chuck Pfarrer
Run Times: 100 Mins.
Street Date: 7 December 2021
Aspect Ratio: 1.85:1
Video Format: HEVC 2160p (4K UHD)
HDR Format: Dolby Vision (HDR10 Compatible)
Primary Audio: English DTS-HD MA 5.1
Secondary Audio: DTS-HD MA 2.0 Stereo
Subtitles: English SDH