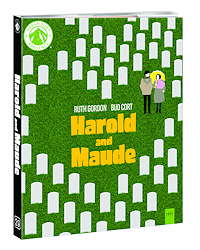 Harold and Maude has become an essential cult classic in the intervening years since its 1971 release. Directed by Hal Ashby (Shampoo), the dark comedy follows wealthy, listless, and morbid teenager Harold (Bud Cort) whose mother has lost all hope in him living a normal life. He likes to pretend to kill himself in elaborate settings as if taken right out of what would become known as slasher films – hanging himself by stepping off a chair, slitting his wrists in a blood-stained bathroom, shooting himself in the head. Harold also likes to spend his time going to funerals for people he doesn't know. It's at one of these funerals he meets the free-spirited 79-year-old Maude (Ruth Gordon) who convinces him to hang out with her, stealing the priest's car and going for a joyride. The two will form a quick friendship that will involve more car thefts courtesy of Maude who seems to treat all property as public property she can borrow at will, stealing a dying tree from the public sidewalk to replant it in the forest, and speeding, which, of course, leads to stealing the highway patrolman's motorcycle.  As Harold's mother ramps up her efforts at matchmaking for her son, Harold finds himself falling for the happy-go-lucky septuagenarian and planning on marrying her. Most of all, Maude teaches Harold important lessons on life, how to open to it being the main thing.
Harold and Maude is a strange film indeed. Firstly, the idea of a teenager and a 79-year-old falling in love is not one that is covered much, especially not if we are talking about the older party to this relationship being the woman – and this was 1971! Secondly, the quirky, dark comedy touching at times on slapstick is not always easily approachable. This is the sort of comedy that can easily fly over heads, like Ashby's Being There (1979) starring Peter Sellers. That said, if you get this sort of comedy, then it will instantly click, and this film with its flawless performances from Cort and Gordon and the classic soundtrack from Cat Stevens with such memorable songs as "Miles from Nowhere," "Where Do the Children Play?" and "Tea for the Tillerman" make this an immensely re-watchable film.
The Video
Harold and Maude has been restored and remastered for this 50th anniversary release. The original camera negative was scanned in 4K and Paramount undertook what they call a "careful color correction and cleanup" to pay homage to and closely match the work of original director of photography John Alonzo and the look of the film. The result is this 1.85:1 framed AVC 1080p encodement on Blu-ray that looks better on home video than the film has ever looked before and looks authentic to the films of the era. The film grain looks very natural and provides lots of textured detail in the clothing, the brickwork and rocks, the roads and on skin. Some darker scenes can look a bit grainy and murky, but this is not the transfer, it is the original cinematography and film source.
The Audio
According to Paramount the soundtrack has been completely remixed using recently discovered tracks to "add clarity and depth". It is very clean with a narrow stereo field for the dialogue and foley effects, but the Cat Stevens songs fill the stereo field wonderfully while the surrounds carry a tasteful amount of ambience.
The Supplements
True to the Paramount Presents line, this title comes in collectible packaging with a slipcover featuring a fold-out of the original theatrical poster and an interior spread with key movie moments. There is also a Digital Copy code.
(NEW) Audio commentary by Larry Karaszewski and Cameron Crowe
(NEW) Yusuf/Cat Stevens on Harold and Maude (1080p; 00:05:48)
Theatrical Trailer #1 (SD)
Theatrical Trailer #2 (SD)
The Final Assessment
Paramount Presents has done a bang-up job with yet another essential classic film, providing a beautiful new restoration for this dark comedy cult classic on Blu-ray for its 50th anniversary in its collectible packaging. If they could add anything it would only be a robust booklet and more on-disc bonus features.
Harold and Maude is out on Blu-ray December 7, 2021 from Paramount
---
Rating Certificate: PG
Studios & Distributors: Mildred Lewis and Colin Higgins Productions | Paramount Home Entertainment
Director: Hal Ashby
Written By: Colin Higgins
Run Time: 91 Mins.
Street Date: 7 December 2021
Aspect Ratio: 1.85:1
Video Format: AVC 1080p
Primary Audio: English Dolby TrueHD 5.1
Secondary Audio: German DD 2.0 Mono | French DD 2.0 Mono
Subtitles: English | English SDH | German | French