Logitech Squeezebox Radio Wi-Fi music player
What a great time this is to be a music and technology lover. From the iPhone, Google Android smart phones, to advanced car stereos with satellite radio and digital media player integration, we now have more options to enjoy music easier, cheaper and in more environments than ever before. Bringing that flexibility to fruition in the home environment has been slow, but every year more products steadily arrive to expand your home listening options beyond simple CD players and AM/FM radio. Almost 10 years ago, a company called SlimDevices introduced a small device that connected to your home stereo to stream MP3s stored on a computer elsewhere in your house. Over the next few years, the company released improved models, renamed Squeezeboxes, and developed quite the enthusiast following. In 2006, the company was acquired by Logitech, but the Squeezebox branding of devices remained. In the years following, the product offerings, and popularity of such, continued to increase. The Squeezebox line still includes models designed to connect to a traditional stereo, such as the audiophile-oriented Transporter, and newly released Touch model, as well as the Squeezebox Radio Wi-Fi music player which is the subject of this review.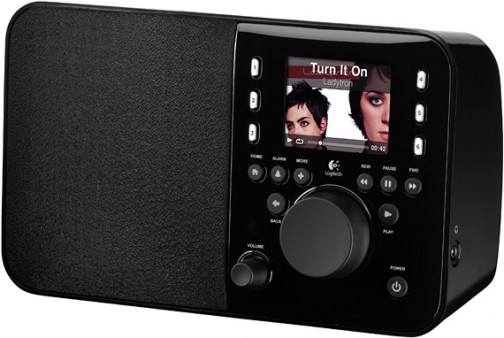 A nice size family
The basic goal of all of the Squeezebox devices is to provide playback of your digital music files stored on your home computer, as well as access to internet radio and subscription music services such as Rhapsody, Napster, Pandora, etc. I consider myself very familiar with the Squeezebox family of products. I currently use the original Squeezebox Classic, Transporter, Squeezebox Boom, Squeezebox Remote, and Squeezebox Touch. Why would I have all of these? If you're unfamiliar with these products, you may underestimate the convenience, flexibility and overall fun they can bring to your music listening. I've acquired each of these over the past years to provide music in various rooms in my house. When the Squeezebox Radio recently arrived, I had high expectations of it being able providing just as much flexibility for music streaming to even more places in my home.
Small, but packing a punch
The Squeezebox Radio is a compact and sturdy unit that provides for mono sound played back over a dedicated 3″ powered woofer and 3/4″ soft dome tweeter. The right half of the unit contains the 2.4″ color screen as well as several navigation buttons and knob. The enclosure of my review unit was a high-gloss black (also available with red rear casing) that was carefully covered in plastic film to prevent scratches. You do get a printed start-up guide, but not much else is in the package. After removing the plastic film, I immediately plugged in the power via supplied wall-wart type adapter. A working Wi-Fi or LAN connection is absolutely required for further setup. Once I powered the Radio on, I was guided to connect to my Wi-Fi home network using the large rotary knob on the front to enter characters and password. After a quick success there, I was prompted to either sign-in, or create an account with www.mysqueezebox.com. This website is Logitech's online interface which allows for personalized access to a variety of Apps like Pandora, dozens of internet radio services, Facebook, podcasts, SIRIUS internet radio and other services. You can use the mysqueezebox.com interface from your device as a portal completely separate from your locally stored music files. Next, the Radio automatically recognized I was running an application of the Squeezebox Server on one of my home computers. This free Logitech software for Windows, Mac OS X and Linux (as well as a few other specific devices) is the aggregating interface to all of the stored music on your computer or Network Attached Storage device. If you don't have Squeezebox Server already installed on a computer, you will want to install that ASAP, and have it scan for your digital music. More assistance on how this is accomplished can be found on the mysqeezebox.com website. The Radio does offer standalone functionality via mysqueezebox.com, but without an application of Squeezebox Server running on a device within your home, you won't have access to your locally stored digital music files. File types supported by the Radio include FLAC, MP3, WMA, WMA Lossless, AAC, Apple Lossless, WAV, and AIFF. Since the Radio has characteristics of a tiny computer, you will also be prompted to install the latest software update, which is automatically pulled via internet. The entire setup process is fast enough that you should be ready to go in under 5 minutes.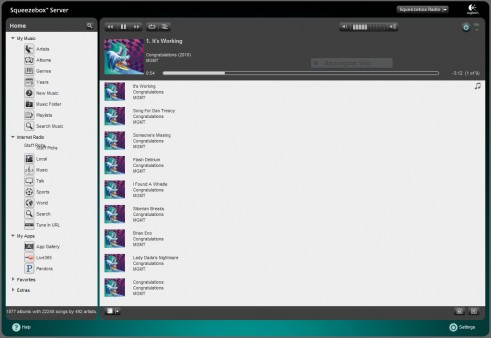 Configuration
The Radio is a relatively easy device to configure and use. The device itself runs an operating system called SqueezeOS, found on other Squeezebox devices like the Touch and Remote. The home screen is clean and uncluttered in its default configuration. At the home screen, you'll find options for accessing My Music, Internet Radio, device settings, My Apps and Favorites. You can customize the home screen to show as few or as many/more of these types of options as you'd like. One of the great features of the Radio is the option to use it as a full-blown alarm clock. You can set several different alarms, with sonic notification options including your own music, internet radio, or choose from a pleasant (or not-so-pleasant) stored library of sounds. The display also has an auto-dimming mode, perfect for use on a nightstand. The LCD display is especially nice for showing album cover art, but at only 2.4″ diagonal, I found it too small to be useful unless you're within arms reach. The clock screen saver is of a larger font, viewable from across a room. To the sides of the LCD screen, you get 6 hard buttons to use as presets. They work just like a car stereo, press and hold to save your favorite play list or internet radio station. With the big navigation knob, and transport buttons, the front panel does seem almost cluttered for having everything in such a small area. I'm not sure if any buttons could be removed in a future design, but it borders on intimidating-looking, considering how simple it really is to use.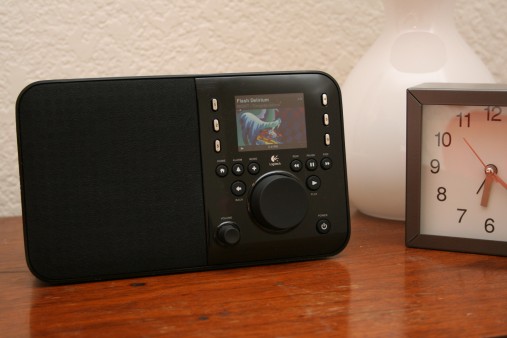 What do you sound like?
Although the Radio is a mono device, Logitech has always paid close attention to the sonic performance of its Squeezebox devices. The internal speakers are powered by a 10watt Class D amplifier. After setup, I was eager to hear just how this little box would sound. Since the setup steps already recognized my Squeezebox Server running on another computer in my house, I had instant access to every song I have digitally stored (already aggregated into a library by Squeezebox Server). From the home menu, I selected a play list I recently created. The first song to come on was New Order's "Thieves Like Us." Listening to this song, and several others, I found the sound to be a bit small, with a heavy focus on the midrange. One of the first things I initially thought was that this device would be absolutely perfect for talk radio. With music, you do get decent sound, that does emphasize the vocal range. The sound is not colored in an unpleasant way. However, you won't be making any audiophile comparisons or doing any serious listening with this device. It will work best as background music, or as your primary music source if you are relatively close to it, such as on a desk. In my kitchen, I have Squeezebox Boom. It is a larger device, similar in function and purpose to the Radio. It does have stereo sound, but omits the color display as it runs an older internal operating system. The Boom could be used in a party environment and still provide quality sound at louder volumes. The Radio does still sound good at even up to about 85% of its volume settings, with very little distortion. But, the sound is still heavily focused on midrange. That actually works in the Radio's favor at low volumes! If you're considering it for nightstand use, you'll be able to get satisfactory sonics from music and especially talk radio at even the lowest of volumes. I'm sure this was all intentional in design, and helps me appreciate all the considerations that had to be made for this device.
Look Ma, no wires
The internal 802.11g antenna appeared to provide good range, allowing me to place the Radio in a bedroom at the farthest end of the house from my wireless router. Wi-Fi, at my house, has always been a dicey proposition. At certain periods of the day, I get interference from what I can only determine to be a neighbor's electronic devices. Although I've tried different channels, some other gremlins, or possibly space aliens, want to interfere with both my 802.11g and 802.11n frequencies. What does this mean for the Radio or other wireless Squeezebox devices? Since the Squeezeboxes constantly communicate via Wi-Fi back to your computer that is running the Squeezebox Server software, every menu interaction including volume control and streaming quality depends on a robust Wi-Fi connection. If you don't have that, you might be met with laggy interaction with the device, buffering of streaming music, and other inconsistencies. This can be frustrating enough to make you think the device itself is to blame. In most cases, a hard wired LAN connection will eliminate these oddities, and allow the Radio to perform to its maximum potential. I ultimately ended up using the Radio with a wired LAN connection, just to ensure consistency at all times. Something to keep in mind if you've had difficulty with your own Wi-Fi. In a true demonstration of "use this anywhere," Logitech supports an optional rechargeable battery pack for the Radio. This would allow for the ultimate freedom to bring the device anywhere around your home as a truly wire-free way to listen to music. As of this writing, the battery packs were in short supply via Logitech, so I was unable to test this feature.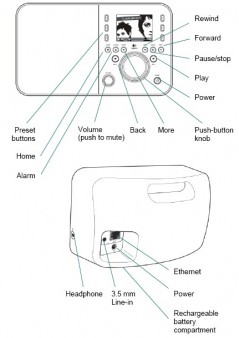 Something for everyone
The configuration options and features of the Squeezebox Radio are practically too many to comprehensively mention. It should be noted that the Squeezebox Radio is not an AM/FM radio at all.  There is no antenna to receive traditional radio broadcasts.  However, there is a Local selection under the internet radio menu which let me quickly select from the streaming feeds from my local stations.  There is Facebook integration which allows you to share your music recommendations and see your friends recommendations via the display. The Squeezebox Server software integrates with iTunes, allowing streaming of all your non-DRM iTunes music. The My Apps and plugin offerings are virtually limitless, as the open source code allows for enthusiasts and third parties to create applications that range from screen savers to weather updates. Although there is no included remote control, you are able use an Apple iPhone or iTouch (via and app called iPeng) as well as Android mobile devices as a Wi-Fi remote control. The Radio has a 3.5mm rear input port to support playback from a device like an iPod. There is also a headphone jack on the side should you need to listen without disturbing others. You can also use this headphone output along with an adapter cable to connect to your home stereo. People considering this connection method for a more permanent basis may want to consider the Squeezebox Touch instead. While the Touch doesn't offer a speaker, it has a full host of audio connection types, and its touch-screen navigation and included remote make it a more suitable candidate for permanent connection to a dedicated stereo. Just the fact that the Squeezebox Radio allows for a variety input and output configurations from such a small, simple device speaks to the innovation and value that Logitech as provided.
The Good
Simple to configure and use
Easy access to stored music files
My Apps feature offers dozens of online listening services
Small form factor makes for great bedside or alarm clock use
Supports a wide variety of music file types
The Bad
Small size means you can't fill a big room with sound
A bigger screen would be useful
No included remote
The Scorecard:
Design:
[Rating:4.5/5]
Performance:
[Rating:4/5]
Value:
[Rating:5/5]
Overall:
[Rating:4.5/5]
The Definitive Word
Logitech has delivered another impressive addition to their Squeezebox family. Although I recognize this particular device may not be the initial Squeezebox product someone would consider buying, it is easy enough for a novice to setup. As an auxiliary bedroom or kitchen unit, the Radio is a no-brainer for someone already using Squeezebox products. It's a great way to bring access to all of your digitally stored music and internet radio to any place in your home that you're not going to put a full-blown stereo. The smallish sound is commensurate with its size, but is certainly appropriate for casual listening and the small footprint is appreciated. Highly recommended!
More Information:
Logitech Squeezebox Radio Wi-Fi music player (SRP $199)
Purchase:
[amazon-product]B002LARRDK[/amazon-product]
[amazon-product]B002LARRDU[/amazon-product]
BestBuy.com:
Join the Discussion on Our Forum