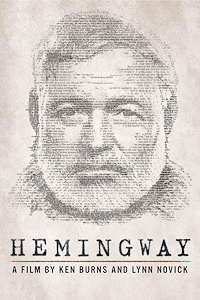 In Hemingway, Ken Burns and his frequent collaborator Lynn Novick give viewers a literal, highly detailed cradle-to-grave account of the life of Ernest Hemingway. The three-episode series is divided into three distinct time periods: A Writer (1899-1929); The Avatar (1929-1944); The Blank Page (1944-1961).
Beginning with Hemingway's modest middle-class upbringing in Oak Park, Illinois, his fascination with foreign venues is ignited when he becomes an ambulance driver for the Italian army during World War I. While in Italy, Hemingway suffers what would be  the first of a long series of serious wounds sustained during his life when he is hit by mortar fire.  After the war, he gets hired by the Toronto Star and later marries the much older St. Louis native Hadley Richardson. A turning point in Hemingway's life and writing career occurs when he and Hadley move to Paris, and Ernest meets some of the pre-eminent writers of the times like Gertrude Stein and James Joyce. He publishes two books of short stories and his first two highly acclaimed novels, The Sun Also Rises and A Farewell to Arms. Still in Paris, Hemingway begins an affair with the well-to-do Pauline Pfeiffer who becomes his second wife. Before the newlyweds leave that city, Hemingway suffers his first of numerous concussions that, as they piled up during his life, may have caused him to have chronic traumatic encephalopathy.
The second installment covers Hemingway's move to Key West, Florida, his initial safari in Africa and an important wartime correspondent assignment to Spain where he meets rival foreign correspondent Martha Gellhorn who will become his third wife. Ernest and Martha make Cuba their new home in 1937 and both get assigned to cover the final year of World War II during the liberation of Paris. Riding in with the troops, Hemingway meets Time Magazine correspondent Mary Welsh.
The final episode covers Hemingway's last years. After divorcing Gellhorn and marrying Mary, the Hemingways continue to live in Cuba but on a trip to Africa, they are nearly killed in two successive plane crashes. Hemingway suffers serious injuries which would lead to his eventual physical and mental deterioration, a process hastened by his chronic alcoholism.  Although Hemingway receives the Pulitzer Prize for his masterpiece, The Old Man and the Sea and, later, the Nobel Prize for Literature, he suffers from worsening depression and eventually, like his father before him, he commits suicide in his house in Ketchum, Idaho.
This Burns-Novick Hemingway film biography pulls no punches and spares no details in its mélange of photographs and film clips, Peter Coyote's narration, and voiceovers by Jeff Daniels as Hemingway and Patricia Clarkson, Keri Russell, Mary-Louise Parker and Meryl Streep as the voices of Hemingway's four wives.  There are insightful interviews with contemporary authors like Edna O'Brien, Tobias Wolff, Abraham Verghese, and Mario Vargas Llosa, and one of Hemingway's sons Patrick.
Given the six-hours devoted to a single individual, we get an intense, unvarnished portrait of a giant in American literature, with his warts and all. What many viewers might not have known is that the young Hemingway was movie-idol handsome and readily attracted women wherever he went. While there is no question about Hemingway's genius and his lasting impact on the generation of writers that followed him, there is also no attempt to cover up his character flaws, conflicted views about women in a man's world, and his occasional bouts with writer's block.  A device that works quite well as it weaves in and out of the episodes is seeing a typed page begin to appear on the screen as it is being read by Jeff Daniels. This image gives us as close to a pristine view of the creative process as we are ever likely to get. What also gets conveyed to perfection is the larger-than-life character that Hemingway really was, whether on safari in Africa, fishing with friends off the Florida Keys, watching a bullfight in Madrid or holding court in Havana's Floridita bar. While not a feature on PBS's Masterpiece Theater, Hemingway the film is in every sense of the word, a real masterpiece of documentary cinema. Highest recommendation.
---
If you found this article useful please consider clicking the button below and donating to help keep TheaterByte funded, which will allow us to continue posting great content.
---
Hemingway is now airing on the PBS Network and the PBS Documentaries Prime Video Channel
---
Rating Certificate: TV-14
Show Creator: Ken Burns | Lynn Novick
Original Release Date: 5 April 2021
Network: PBS
Ep. Run Time: 120 Mins.
No. Eps.: 3
Studios & Distributors: Florentine Films | WETA | PBS