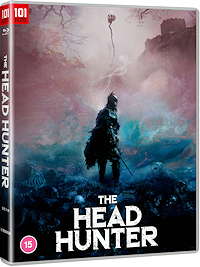 This microbudget fantasy-horror film, The Head Hunter, from writer/director Jordan Downey who co-writes the screenplay with Kevin Stewart does wonders with its tiny $30,000 budget even if it can become a little monotonous and a tad too slow at times.
Set at the edge of an unnamed medieval kingdom, a magical kingdom, a warrior who collects the heads of the monsters he protects the realm from on the wall of his small cabin, monsters like mountain trolls. There is one monster's head that does not adorn his collection – the monster that killed his daughter! So, he sets out to capture that creature, and it becomes a deadlier matchup than he expected.
Jordon Downey's film is constrained by its tiny budget, but thanks to ingenious camera work, production design, and some practical effects, The Head Hunter is able to escape some of that 'I shot this on my mom's four-year-old iPhone' look and actually create a lot of atmosphere. From the dingy cabin that our warrior resides in to the judicious use of the 'monster' effects that flash across the screen, Downey shows that he knows how to make a lot of nothing. Unfortunately, the film does run out of steam after a while given the lack of dialogue and limited production resources. Thankfully, after 72 minutes, it wraps up.

The Video
This film had a budget of around $30 thousand. One shouldn't expect an awesome picture in this Blu-ray, which appears in an AVC 1080p encodement framed at 1.78:1. There is a lot of noise and banding in the shadows in particular, but the brighter scenes look clean with good detail and flesh tones. The filmmakers favor earth tones like browns and tans, wood, so nothing really 'pops' here, but what they've done with the little budget is still quite miraculous.
The Audio
The Head Hunter comes with a LPCM 2.0 stereo audio mix that is surprisingly good. Although the film has very little dialogue or big sound effects, there are good dynamics, stereo imaging is exceptionally wide, and the sound is clear with good low end and punch in the midrange.
The Supplements
Two audio commentaries and a Making Of are a welcome addition for this low budget fantasy/horror film. They both add another layer to this atmospheric B-movie.
How We Made Head Hunter Audio Commentary with Jordan Downey, Kevin Stewart, and Ricky Fosheim
Why We Made Head Hunter Audio Commentary with Jordan Downey and Kevin Stewart
Making Of Featurette (1080p; 00:02:05)
The Final Assessment
Add The Head Hunter to your B-movie collection and keep an eye on this filmmaker who is able to transform this microbudget into something that almost looks like it costs double or triple its value. 101 Films offers a cool genre release with this one.
---
If you found this article useful please consider clicking the button below and donating to help keep TheaterByte funded, which will allow us to continue posting great content.
---
The Head Hunter is out on Blu-ray in the UK 12 April 2021 from 101 Films
---
Rating Certificate: UK:15
Studios & Distributors: Brayne Studios | Detention Films | 101 Films
Director: Jordan Downey
Written By: Kevin Stewart | Jordan Downey
Run Time: 72 Mins.
Street Date: 12 April 2021
Aspect Ratio: 1.78:1
Video Format: AVC 1080p
Primary Audio: English LPCM 2.0 Stereo
Subtitles: English HOH