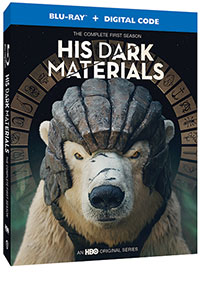 His Dark Materials finally brings Philip Pullman's fantasy novels to long-form television giving it an adaptation it deserves and hopefully wiping away all memory of the awful big-screen adaptation The Golden Compass.
The story follows the journey of young orphan girl Lyra (Daphne Keen) who was left at Oxford's Jordan College as a baby by her mysterious uncle Lord Asriel (James McAvoy) as a means to keep her safe from evil forces out to harm her. Lyra live in a world where people's souls manifest themselves outwardly as daemons, powerful animals that live alongside them that can speak and have incredible powers such as the ability to shapeshift. When Lyra goes in search of a missing friend of hers and to find her uncle who is persona non grata by the powers that be who control magic, she uncovers a conspiracy involving missing children and ends up at the center of an epic showdown.
Across its eight fantastical episodes, His Dark Materials gets a lot of things right. Firstly, the scope of the world is captured in all the vastness set forth in Pullman's novels. The visual effects are impeccable, and one is certainly engaged by the numerous characters. There is an overriding sense of dread and things to come, especially in the deliciously villainous portrayal of Mrs. Coulter by the gorgeous and talented Ruth Wilson.
The series does falter, however, in capturing a sustained sense of magic, charm, and adventure. It perhaps leaned a little too heavily into the darker side of the material, which ironically, doesn't quite work on a sustained level for this series as well as it does for other fantasy and sci-fi shows. That being said, with the inclusion of an excellently cast Lin-Manuel Miranda as Lee Scoresby and marvelously executed action, effects, and even scoring, this is a series that definitely entertains despite its weaknesses and seems certain to improve given the stunner of a finale.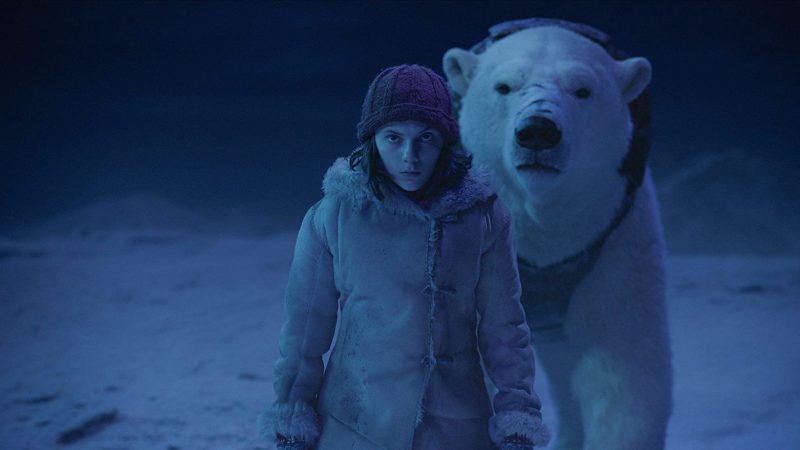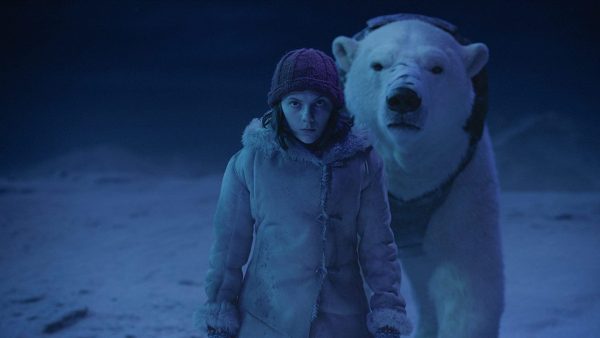 The Video
His Dark Materials was shot digitally on the Arri Alexa LF and Sony CineAlta Venice cameras at 4.5K and 6K respectively with ZEISS Supreme Prime lenses, making it all the more disappointing that we don't get a native 4K Ultra HD Blu-ray release for this series, which is prime material for the format. That being said, the 1080p AVC encodement on Blu-ray looks very strong even if the production's artistic intent sort of stifles the colors, making everything look intentionally desauturated and at times nearly monochromatic. There are moments where that works, however, such as Ruth Wilson's striking vermillion dress popping off the screen against the backdrop of the otherwise drab and cool colors.
The Audio
His Dark Materials comes with a lossless English DTS-HD Master Audio 5.1 for the primary audio and a French Dolby Digital 5.1 dubbed audio mix. The sound for this epic fantasy series lives up to expectations for an HBO series being in line with the likes of Game of Thrones, Westworld, and Watchmen. There's excellent balance, clear dialogue, a superb blend of the score into the main sound, and solid effects mixed into the surround channels. Low end is also nicely extended into the lower frequencies.
The Supplements
The strongest bonus feature included is the over half-hour-long 'making of' Making His Dark Materials which goes on-set and behind the scenes on the series' production. Otherwise, we get several interesting yet brief interviews with the cast and featurettes on the various production elements such as costume design and set design.
Digital Code
Adapting His Dark Materials (1080p; 00:04:04)
Building His Dark Materials (1080p; 00:05:54)
Dressing His Dark Materials (1080p; 00:03:15)
The Daemons of His Dark Materials (1080p; 00:03:43)
James McAvoy: Bringing Lord Asriel to Life (1080p; 00:03:17)
Lin-Manuel Miranda: Bringing Lee Scoresby to Life (1080p; 00:02:25)
Ruth Wilson: Bringing Mrs. Coulter to Life (1080p; 00:03:24)
Dafne Keen: Bringing Lyra Belacqua to Life (1080p; 00:04:26)
Making His Dark Materials (1080p; 00:33:11)
The Final Assessment
His Dark Materials is HBO's latest entry in the epic fantasy genre coming in to save the day for those jonesing in the absence of Game of Thrones. While this series is decidedly more TV-14 than TV-MA, it is darker-hued and a better adaptation than the film was. There's room for improvement and hopefully, a second season will kick this one into high gear, but the first season is still a good start and this Blu-ray collection is great for binging.
His Dark Materials: The Complete First Season is out on Blu-ray+Digital August 4, 2020 from Warner Bros.
---
The Creative Content: 3.5/5
Studios & Distributors: Bad Wolf | British Broadcasting Corporation (BBC) | Home Box Office (HBO) | New Line Cinema | Scholastic | Warner Home Video
Writers: Philip Pullman | Jack Thorne (adaptation)
Run Time: 460 Mins.
Street Date: 4 August 2020
Aspect Ratio: 1.78:1
Video Format: AVC 1080p
Primary Audio: English DTS-HD MA 5.1
Secondary Audio: French DD 5.1
Subtitles: English SDH | French | Dutch |Portuguese | Chinese| Danish | Finnish | Norwegian | Swedish