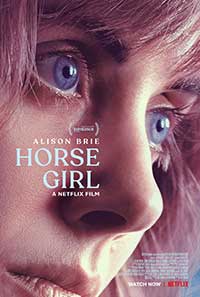 Advance warning—if you are easily disturbed by psychotic breaks, hallucinations, delusions or just plain bizarre behavior, better not watch Netflix's new release Horse Girl because Alison Brie will take you right down that psychological rabbit hole and not let you get out for nearly two hours. The film's title refers to a horse that Sarah (Brie) once rode, but, for reasons that are never quite fully explained, she is prohibited from riding Willow by the stable owners.
Sarah works at a small crafts store with her good friend Joan (Molly Shannon) and shares an apartment with Nikki (Debby Ryan).  Whether it is working, attending Zumba classes or visiting seizure-ridden Heather (Meredith Hagner), Sarah's life is lonely and rather joyless. To perk her up, Nikki and her nearly live-in boyfriend Brian (Jake Picking) invite over Darren (Matthew Gray Guber). The evening goes well until Sarah has one of her frequent nosebleeds and proceeds to have too much to drink.
There are more harbingers of her progressive mental and emotional deterioration as stepfather Gary (Paul Reiser) helps retrieve the car that she abandoned during a sleep-driving episode. Sarah questions Gary about her mother's mental illness that led to suicide and wonders if this condition could be hereditary. Disturbing, lucid visions recur, particularly one involving the plumber Ron Santiaguez (John Ortiz). A date with Darren looks promising when the conversation turns to the paranormal until they visit the cemetery where Sarah's mother is buried, and Sarah suggests that she might have been abducted and cloned by aliens.
[envira-album id="122268″]
When Sarah shows up stark naked at the crafts shop, Joan intervenes to get her admitted to a lockdown unit at a psych ward. Social worker Ethan (Jason Duplass) probes her troubled past but, after escaping, Sarah begins to believe that she has become her grandmother. With Willow in tow, and, dressed in her grandmother's clothes, Sarah seeks a welcome release from what has become her surreal life and a possible return to the alien world.
Horse Girl is a very disturbing portrayal of a woman's battle with the mental problems that threaten her very existence. Alison Brie, who co-wrote the script with director Jeff Baena, turns in a tour-de-force performance as we follow her descent into the madness that becomes all-consuming and defies limited attempts to restore sanity. Unlike Girl, Interrupted in which the young heroine eventually surmounts her psychological problems, such an outcome would seem unlikely for this film's heroine. The film's concluding fantasy sequence might symbolize the isolation that many mentally ill individuals experience or possibly Sarah's increasingly vivid visions of alien abduction are actually real rather than psychotic delusions.  However this film may be interpreted by its viewers, it is worth watching for Brie's surprising departure from the comedic roles in which she has usually been cast.
Horse Girl is streaming now on Netflix
[youtube https://www.youtube.com/watch?v=ieqemSsMxek&w=850&h=478]
---
The Film: 3.0/5
Studios & Distributors: Duplass Brothers Productions | Netflix
Rating Certificate: R (Language and some sexuality, graphic nudity, drug use)
Country: USA
Language: English
Run Time: 103 Mins.
Aspect Ratio: 1.85:1
Director: Jeff Baena
Writers: Jeff Baena | Alison Brie
Release Date: 7 February 2020