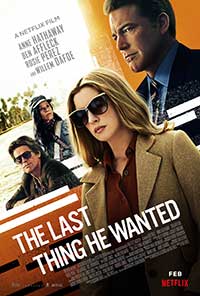 It is 1984 and Elena "Ellie" McMahon (Anne Hathaway) is a Central America war-zone journalist for The Washington Post.  Ellie and her colleague Alma Guerrero (Rosie Perez) have been reporting on the ongoing crimes against humanity in El Salvador when their bureau office is raided and the pair barely escapes back to DC. Later, at a press conference, Elena embarrasses Secretary of State George Shultz (Julian Gamble) with questions about the US Navy's mining of the shipping lanes to Nicaragua.  We discover that Elena is a tough cookie, a breast-cancer survivor, and a divorced mother whose daughter Cathy (Onata Aprile) is away at a boarding school. Under obvious pressure from the State Department,  her boss Stuart James (Robert Sedgwick) shifts her assignment away from Central America and to cover Ronald Reagan's re-election campaign trail.
Ellie's life makes a sharp detour after an unexpected call from her estranged and mentally declining father Richard "Dick" McMahon (Willem Dafoe), a small-time arms dealer who is cooking up the biggest sale of his life in Costa Rica. Dick is suddenly hospitalized and gets a reluctant Ellie to take over this transaction on which he has staked everything that he owns. After she departs, a meeting with the deal broker Max Epperson AKA Bob Weir (Carlos Leal)  falls through, and Ellie still flies with the arms shipment to Costa Rica. However, it soon becomes apparent that this deal is just a set-up to get at Dick. Ellie gets tossed into the shady politics of American involvement in the region that, along with her shady driver Jones (Ed Gathegi), will take her on a dark and dangerous journey through Costa Rica from which there may be no safe or certain return.
[envira-album id="122287″]
Writer-director Dee Rees's script careens from one confusing sidebar to the next with dramatic nonsequiturs too numerous to mention. While The Last Thing apparently had something to do with the Iran-Contra arms affair and the Sandinistas in Nicaragua how this ties into what appears on the small screen remains far from obvious. Even the film's title is unclear—is it a  final warning from a father to his daughter or is it the anticipated success of his final arms sale? A talented cast is utterly squandered in what was probably a "paycheck" film for them all. As is their wont, Hathaway and Dafoe go all-in on their respective parts, such as they are. A laconic Ben Affleck makes a brief appearance as Treat Morrison, Shultz's protégé and ambassador-at-large, who engages in a gratuitous one-night stand with Hathaway. Rosie Perez and Toby Jones also appear in what are essentially throwaway roles. As much as I tried to stay with this film over its two-hour running time, I had continual difficulty following the thread of its meandering storyline or understanding the motivation of most of its characters.  I can only imagine that author Joan Didion must have cringed when she watched how Rees and company wantonly reinvented her novel, including a revised ending that made little sense. The Last Thing is a very forgettable film and I can assure you that watching it is the very last thing that you should want to do.
The Last Thing He Wanted is streaming now on Netflix
---
The Film: 2.0/5
Studios & Distributors: Elevated Films | Pimienta | The Fyzz Facility | Netflix
Rating Certificate: R (Language, some violence, disturbing images, brief nudity)
Country: USA
Language: English
Run Time: 115 Mins.
Aspect Ratio: 1.85:1
Director: Dee Rees
Writer: Dee Rees | Marco Villalobos
Release Date: 21 February 2020