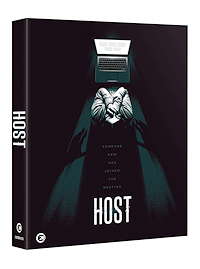 The 2020 Shudder Original lockdown horror film Host (not to be confused with the 2006 South Korean monster film The Host from director Bong Joon-ho) caused a bit of a stir at the time, being one of the first pandemic-related films to hit.
The story follows a group of six friends stuck at home during Covid-19 lockdown who, feeling lonely, isolated, and far apart due to quarantining, decide to get together on Zoom calls. This time around it is Haley's (Haley Bishop, Angle Has Fallen, Deep State) to Host the video call and she decides to organize a what she believes will be a fun activity for the group. She hires a medium to join the video chat to conduct a séance.
Jemma (Jemma Moore, Wonder Woman) decides to prank the group and invent the story of a boy from her school who hanged himself, expressly ignoring the warnings of the medium to not joke around with the spirits. Her silly prank turns into something more serious, opening a doorway for a malevolent spirit to crossover, taking the form of the invented boy from her story. The friends slowly begin to notice strange happenings in their homes and in the backgrounds of their friends' video chats as the entity terrorizes them, more and more violently.
Host started its life as a short video by director Rob Savage in early 2020 that was intended as a prank. The video went viral and Savage decided to take the concept to a longer format. It was filmed entirely during Covid-19 quarantine lockdown restrictions with all the actors working remotely, setting up their own cameras and lighting, and even setting up their own practical effects after online virtual training sessions. The end result is quite original and authentically thrilling, one that does effectively capture the mood of being isolated and the anxieties, especially early on in the pandemic, of being locked up, afraid of what was to come, and so far from friends and loved ones.
Visually, Host doesn't look great, but it looks familiar, at least to anyone familiar enough with video conferencing and social media platforms. Miraculously, Savage does manage to maintain a sense of suspense and manages to avoid stagnation or the minutiae of using and troubleshooting technology, cutting right to the good stuff. Only time will tell if this film will stand the test of time, but it has a lot going for it that can make it a standout cult hit in the vein of The Blair Witch Project.
The Video
Host arrives on Blu-ray in an AVC 1080p encodement framed at 1.78:1. This looks better than the Shudder stream, for sure, but it's never going to be a reference quality film in the same way The Blair Witch Project is never going to be a reference quality video presentation. The film is basically one long Zoom call, with all the low quality video that goes along with that. The transfer at the very least doesn't seem to add any additional issues.
The Audio
Host comes with an English DTS-HD Master Audio 2.0 stereo audio mix that is about as good on quality as the video is, meaning if you know how the sound for a Zoom chat is, that's about what you're going to get from this mix, and that is the dynamics are limited, the stereo imaging is narrow, and clarity is not always the greatest, but the codec does its best.
The Supplements
Making up for the lackluster video and audio quality inherent to the production of the film are the extensive bonus features included with this release. On-disc features are well-rounded including two commentaries, a cast interview, short films and more. Additionally, this limited edition adds an excellent bound booklet with essays and beautiful rigid slipcase with newly commissioned artwork, and 6 collectors' cards.
Director & Producer Commentary
Cast Commentary
Cast Interview (1080p; 00:29:23)
Behind-the-Scenes (1080p; 00:34:19)
Is there Goblins Now? – original prank video (1080p; 00:02:09)
Kate Scare – prank video test run (1080i; 00:02:40)
BFI Q&A (1080p; 01:07:47)
Evolution of Horror Interview (1080p; 00:34:15)
Dawn of the Deaf – short film (1080p; 00:12:22)
Salt – short film (1080p; 00:02:09)
The Host Team Séance (1080p; 00:09:33)
Limited Edition Contents:
Rigid slipcase featuring new artwork by Thomas Walker
Perfect-bound booklet with the original story outline and new essays by Ella Kemp and Rich Johnson
6 collectors' art cards
The Final Assessment
A chilling and inventive lockdown horror film shot remotely, this new limited edition UK release from Second Sight is packed with bonus features and extras. This film will never look or sound great, but the extras and the horrors make this a worthy purchase.
---
If you found this review useful please consider clicking the button below and donating to help keep TheaterByte funded and to allow us to continue posting great content.
---
Host (Limited Edition) is out on Blu-ray 22 February 2021 from Second Sight Films in the UK and will soon be available for Pre-Order from the Second Sight website.
---
Rating Certificate: UK: 15
Studios & Distributors: Shadowhouse Films | Vertigo Releasing | Shudder | Second Sight Films
Director: Rob Savage
Written By: Gemma Hurley | Rob Savage | Jed Shepherd
Run Time: 57 Mins.
Street Date: 22 February 2021
Aspect Ratio: 1.78:1
Video Format: AVC 1080p
Primary Audio: English DTS-HD MA 2.0 Stereo
Subtitles: English SDH