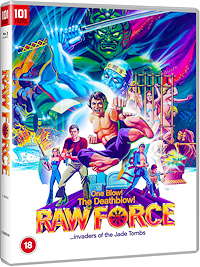 Interested in watching a film with caged naked women, bad martial arts, incompetent villains, a heavy who looks like Hitler, cannibal monks and zombies? Then the 1982 film Raw Force from director Edward Murphy is just the film for you. Admittedly, this one flew right under my radar –until now. I wouldn't be surprised if many but the most ardent of genre fans did not know about this one given the very limited run these sorts of films tended to have. I believe there were only a couple hundred prints in distribution.
This over-the-top exploitation flick follows a group of martial arts students who are sailing to an island off of the Philippines known as Warrior Island, purported to house the ghosts if disgraced martial arts warriors. In fact, the island is home to a group of cannibal monks who feast on young women because they believe it helps them raise the dead. Meanwhile, the martial arts students run afoul of a group of villains, led by a Hitler lookalike, who operate a female slavery ring to sell women to the monks in exchange for jade.
Raw Force is really the sort of film that is so bad it's funny and it throws absolutely every genre you can imagine into the mix for one gloriously insane exploitation extravaganza. One of the most hilarious scenes come when the "team" of students end up on the island being attacked by zombies and can easily run away, but one guy for some reason hangs back to fight them off. And I haven't even mentioned the tied-up naked girl on the boat who seems to have been forgotten about altogether. Raw Force stars exploitation greats Cameron Mitchell and Vic Diaz.
The Video
The original 35mm source for this 1982 low-budget film looks generally good and natural most of the time with some vibrant primary colors, like the rich, cherry red color of the van the villains drive, and mostly natural flesh tones, but it is also has quite coarse grain that is very elevated in the dark scenes. Furthermore, there are quite a few places where there is heavy source damage like dirt and scratches visible and the detail softens a lot. It's hardly a flawless or consistent transfer, but it is somehow fitting for this sort of film that would be right at home at a grindhouse.
The Audio
The original monaural mix is included in a LPCM 2.0 track on this Blu-ray of Raw Force. It's a serviceable and intelligible track but that's about it. There does seem to be an unusually excessive amount of sibilance in the dialogue, but that is likely in the original recording and not the transfer.
The Supplements
The audio commentary is both humorous and informative, and will be the best extra to go through on this disc.
Commentary with David Flint and Adrian Smith
Destination: Warriors Island: The Making of Raw Force (1080p; 00:14:31)
Audio Interview with Jim Wynorski – On his Raw Force Experience (1080p; 00:05:04)
Original Theatrical Trailer (1080p)
The Final Assessment
Crazy, exploitative, gloriously madcap, definitely "grindhouse" and just right for genre fans to laugh at. It's so bad it's almost good.
---
If you found this review useful please consider clicking the button below and donating to help keep TheaterByte funded and to allow us to continue posting great content.
---
Raw Force is out on Blu-ray for the first time in the UK 8 February 2021 from 101 Films.
Raw Force is available for order on the 101 Films store.
---
Rating Certificate: UK:18
Studios & Distributors: Ansor International | American Panorama | 101 Films
Director: Edward D. Murphy
Written By: Edward D. Murphy
Run Time: 96 Mins.
Street Date: 8 February 2021
Aspect Ratio: 1.78:1
Video Format: AVC 1080p
Primary Audio: English LPCM 2.0 Mono
Subtitles: English HOH