Estimated reading time: 6 minutes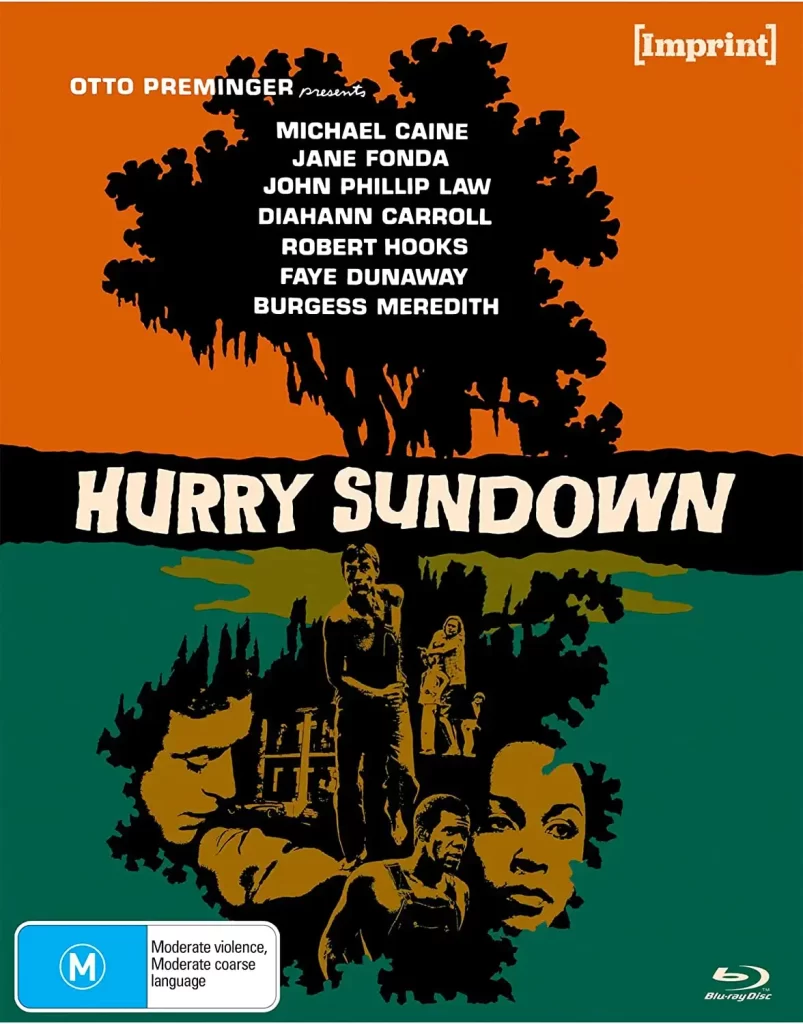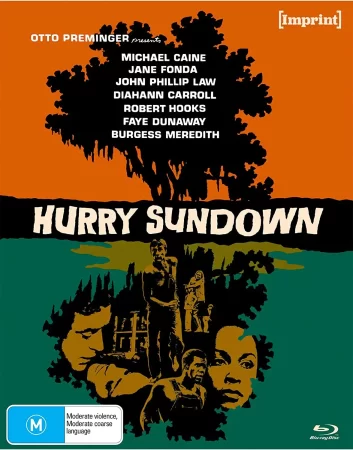 Otto Preminger directed the 1967 film Hurry Sundown, a film about the racial tensions in the Jim Crow Deep South. The cast was a who's who of Hollywood actors at the time including Jane Fonda, Michael Caine, Diahann Carroll, Burgess Meredith, Faye Dunaway, and George Kennedy.
Caine plays Henry Warren, a landowner who wants to buy up all the land in a small Georgia farming town so he can make a lucrative development deal. But two swathes of farmland remain out of his reach. One patch belongs to the Black family the Scotts whose matriarch Rose (Beah Richards) used to work as a servant for Henry's wife Julie Ann's (Jane Fonda) family, raising her as her nanny. When Henry sends Julie Ann over to convince Rose to sell, Rose gets so upset she ends up dying from a heart attack. The land then passes to her son Reeve (Robert Hooks) who refuses to sell. Meanwhile, Rod McDowell (John Phillip Law) and his wife Lou (Faye Dunnaway), are a poor white couple who are Henry's cousins and the white family who own and live on the neighboring farm to Reeve's. Despite pressure from Henry, Rod decides to cast his lot with Reeve and the two devise a scheme to use dynamite to irrigate their lands. Their cooperation upends the Jim Crow laws and status quo of the area and leads to violent reprisals and machinations to try to steal the Reeve farm from under them using the courts and a particularly racist judge, with Burgess Meredith playing it him to the hilt.
The film was released the same year as Stanley Kramer's Guess Who's Coming to Dinner. Both films dealt with race relations and were groundbreaking in their own way, but Hurry Sundown was not a success in the way Coming to Dinner was. Despite that, it made history in its own way, being the first integrated cast to film in the post-Jim Crow South, garnering death threats for its crew, and requiring protection from Louisiana State Troopers where they filmed.
Even as the film was not one of Preminger's best, it hits hard, though a bit on the nose, and has all the signatures of Preminger's work like the smooth tracking shots and the gorgeous scenery. The acting is also excellent from all the cast involved.
Diahann Carroll and Burgess Meredith in Hurry Sundown (1967)

Faye Dunaway and John Phillip Law in Hurry Sundown (1967)

Jane Fonda in Hurry Sundown (1967)

Michael Caine and Faye Dunaway in Hurry Sundown (1967)

Michael Caine and Jane Fonda in Hurry Sundown (1967)

Michael Caine, Robert Hooks, and John Phillip Law in Hurry Sundown (1967)

Hurry Sundown Blu-ray (Imprint)

Hurry Sundown Blu-ray (Imprint)
The Video
Imprint provides Hurry Sundown on Blu-ray in an AVC 1080p encodement framed at 2.35:1. This transfer does not look like a new restoration nor does Imprint claim it as such. This was released in the US on Blu-ray in 2014 and this release does not look like it has been upgraded in any way. The color looks solid, but there is softness and some speckling, scratches, and flicker that can be seen throughout. Grain is a bit coarse and harsh as well.
The Audio
Imprint Films' release of Hurry Sundown comes with its monaural mix in LPCM 2.0. The audio track provides the film with intelligible dialogue and little noise or hiss.
The Supplements
The two new bonus features included in this release, the audio commentary and video essay, are both excellent inclusions from film historian Daniel Kremer. He offers a lot of parallels between the careers of Otto Preminger and Stanley Kramer.
Audio Commentary by Film Historian Daniel Kremer (NEW)
The Great Ecstasy of Tree-Climber Otto- Or How I Learned to Stop Worrying and Love Late Preminger – video essay by film historian Daniel Kremer (NEW) (1080p; 00:12:53)
Directed by Otto Preminger – An Appreciation by Peter Bogdanovich (1080i; 00:32:37)
Theatrical Trailer (720p)
Limited Edition slipcase on the first 1500 copies with unique artwork
The Final Assessment
The new bonus features are the biggest reason to pick up this release of Hurry Sundown, which appears in a gorgeous slipcover and satisfying if not absolute reference Blu-ray transfer from Imprint.
---
Hurry Sundown (1967) – Imprint Collection #202 is out on Blu-ray in Australia February 22, 2023, from Imprint Films. Available for purchase on the Via Vision/Imprint website.
---
Rating Certificate: Australia:M
Studios & Distributors: Otto Preminger Films | Paramount Pictures | Via Vision Entertainment | Imprint Films
Director: Otto Preminger
Written By: Horton Foote | Bert Gilden (novel) | Katya Gilden (novel)
Run Time: 142 Mins.
Street Date: 22 February 2023 (AU)
Aspect Ratio: 2.35:1
Video Format: AVC 1080p
Primary Audio: English LPCM 2.0 Mono
Subtitles: English HOH