Estimated reading time: 11 minutes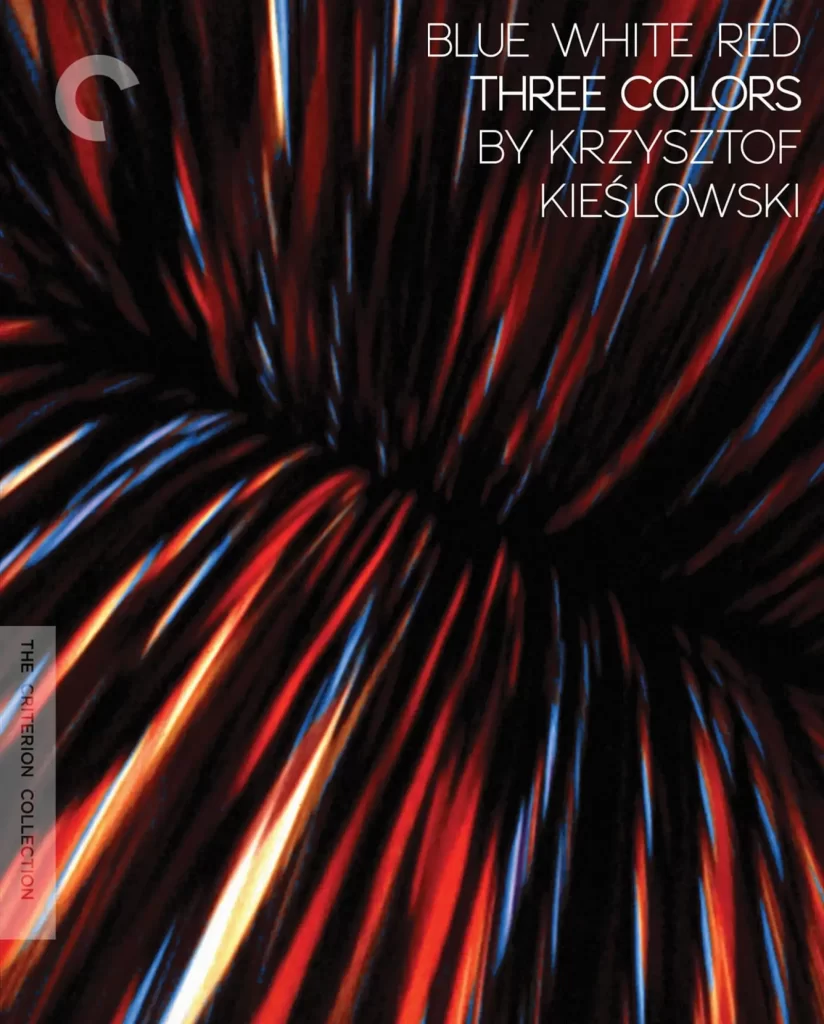 Polish director Krzysztof Kieślowski created the visionary Three Colors Trilogy of art films in the mid-1990s, each film chromatically titled, Blue, White, Red, respectively, the tricolor of the French chevron. The Criterion Collection has given its imprimatur to the 4K restoration of these three films. The unifying theme here is the director's realization of three stories that could be viewed as chapters of the same novel. What binds them together is an intimate focus on interpersonal relationships, although the outcomes vary considerably from one film to another. Be advised that the pace of these relatively short 90-minute features is quite deliberate. As foreign-language (French and Polish) movies, the momentum of the plots is further reined in by the added time needed for non-polyglot viewers to read the subtitles. Nothing exactly comparable to the Three Colors trilogy occurred in serious 1990s cinema.
Blue
Blue, the color equivalent of liberty, updates the life of Julie (Juliette Binoche), widow of a famous composer who was killed, along with their daughter, in a tragic automobile accident.  While the celebrity of this event is highlighted, there is, from the outset, ambiguity, including the lingering question about who wrote the composer's music. As part of her recovery process, Julie divests herself of her home and material possessions, and rekindles her life as a single woman in Paris. As she enters a voyage of self-discovery and independence, some startling revelations are made, including her husband's lover carrying his unborn child, a senile mother who does not recognize her, and an eventual pathway to the future.
White
The sense of White or equality is rather liberally constructed from the embers of an apparent misalliance. A hapless Polish hairdresser Karol (Zbigniew Zamachowski) ends up with a French wife Dominique (Julie Delpy) who divorces him on the grounds that their marriage was never consummated. Penniless, homeless, and tormented by his ex-wife, Karol has himself air-shipped in a trunk back to Poland by his friend Mikolaj (Janusz Gajos). The convoluted plot has the hero becoming a Euro entrepreneur with the Midas touch whose one remaining desire is to reconnect with Dominique. This tale of conjugality gone wrong is characterized by the adage, "revenge is a dish best served cold." At story's end, Dominique may have gotten her just deserts, but Karol is left spiritually empty.
Red
Red, the color of fraternity, strays more from the fairway than its predecessors in its treatment of this theme. The final installment in the Kieslowski trilogy unites legendary actor Jean-Louis Trintignant (Judge Joseph Kern), star of "A Man and a Woman," with Irene Jacob (Valentine), a denizen of the demimonde of haute couture. When Valentine hits a stray dog, she is led into a completely unfamiliar world, fraught with personal intrigue, and spiked by her ambiguous relationship with Judge Kern. The good judge eavesdrops electronically on his neighbors and shares a dark moment of his soul when he rendered a biased court ruling. This film culminates in a boating accident that unexpectedly reunites the protagonists from the two preceding films.
The Video
The new 4K restorations of all three films were undertaken by MK2 at Hiventy in Joinville-le-Pont, France, using the original 35mm camera negatives. The restoration of Blue was supervised by director of photography Sławomir Idziak; the restoration of Red was supervised by cinematographers Piotr Sobociński, Jr. and Michał Sobociński, the sons of director of photography Piotr Sobociński. No indiciation is given for who oversaw the restoration of White, but an archival 35mm theatrical print was used as a color reference.
Each film is framed in its original 1.85:1 aspect ratio and given a HEVC 2160p (4K UHD) Dolby Vision HDR encodement. Blue has HDR10 metadata with a MaxLL of 298 nits and MaxFALL of 175 nits. White has a MaxLL of 1164 nits and MaxFALL of 368 nits and Red shows a MaxLL of 341 nits and MaxFALL of 183 nits.
I compared each 4K disc to the 2011 Criterion Blu-ray (the Blu-rays included with this release are identical to the 2011 Criterion Blu-ray release) and to the 2011 Artificial Eye UK Blu-ray release. There is a definite upgrade in detail and granularity as compared to both releases. Red remains the most colorful of the three film, but in this set it also seems to have the grittiest or 'noisiest' grain. The specular highlights are good, but not what I would call the sort that 'pop' or look gimmicky, they have been gently upgraded with added brightness. The scene with Irene Jacob blowing bubble gum against the red background stands out with superb vividness, even against the older Criterion Blu-ray. The Artificial Eye Blu-rays have always had a less saturated palette therefore really look washed out in comparison to the slightly wider color gamut presented in these releases. Other standouts are the blue crystal mobile in Blue glistens beautifully and looks especially colorful.
Each film in the collection has an exceptional amount of detail and good handling of color. Naturally, White presents the least color of the three films, but it does manage the color white well. The noisiness in the darker scenes is still present, but less abrasive than on the 2011 Blu-ray from Criterion. I'm hoping to get the Curzon UK 4K release to see how it compares and if the color is consistent with the previous Artificial Eye Blu-ray release.
The Audio
The 4K Ultra Discs present the films with 5.1 mixes created from the 35mm magnetic tracks. This is an upgrade over the 2011 Criterion Blu-ray releases with came with DTS-HD Master Audio 2.0 surround tracks. The 2011 Artificial Eye Blu-ray releases came with 5.1 mixes. These mixes are not labeled as "new" mixes, so I don't know if they are the same mixes that appeared on the 2011 Artificial Eye Blu-rays. In any case, just like those 2011 5.1 mixes, these DTS-HD Master Audio 5.1 mixes sound more balanced and have a more natural sounding atmosphere than the 2.0 surround mixes on the Blu-rays. The dialogue is also clearer.
The Supplements
The on-disc supplements are on the included Blu-ray Discs and remain the same as the 2011 release, just as the included Blu-rays have not been updated in anyway. There is also a booklet with essays by film critics Colin MacCabe, Nick James, Stuart Klawans, and Georgina Evans; and reprinted interviews with cinematographers Idziak, Edward Kłosiński, Piotr Sobociński, we get on-disc features as listed below in each disc.
Blue:
On Blue (1080p; 00:20:46) – This video essay was written and narrated by film studies professor Annette Insdorf, author of Double Lives, Second Chances: The Cinema of Kieślowski.
Kieślowski's Cinema Lesson (1080i; 00:07:35) – In this piece from 1994, director Krzysztof Kieślowski discusses a scene from Blue, specifically his idea behind a close-up shot of a sugar cube.
Juliette Binoche (1080i; French w/English subtitles; 00:24:27) – In this audio commentary from 2004, actor Juliette Binoche revisits selected scenes from Blue.
Zbigniew Preisner (1080p; 00:21:33) – In this interview, recorded by the Criterion Collection in 2011, composer Zbigniew Preisner recalls his harmonious collaboration with director Krzysztof Kieślowski on the Three Colors trilogy, No End, The Decalogue, and The Double Life of Véronique.
Reflections on "Blue" (1080i; 00:17:27) – In this program, film critic Geoff Andrew, actor Juliette Binoche, filmmaker Agnieszka Holland, cinematographer Sławomir Idziak, film studies professor Annette Insdorf, and editor Jacques Witta reflect on the production of Blue and the questions posed by director Krzysztof Kieślowski in his work.
Kieślowski: The Early Years (1080i; 00:14:59) –In this interview program from 2003, film critic Geoff Andrew, filmmaker Agnieszka Holland, cinematographer Sławomir Idziak, film studies professor Annette Insdorf, and actor Irène Jacob examine Krzysztof Kieślowski's formative years and the political and social circumstances that shaped his direction and philosophical choices in cinema.
Two Student Films – While a student in Łódź, Krzysztof Kieślowski made the 1966 silent short The Tram, about a flirtatious boy and pretty girl. That same year, he portrayed a tortured artist in his classmate Piotr Studzinski's short The Face. Both films are presented here courtesy of the Polish National Film, Television, and Theatre School in Łódź.
Trailer (1080p)
White:
On White (1080p; 00:21:48) – This video essay was written and narrated by film critic and festival curator Tony Rayns.
Kieślowski's Cinema Lesson (1080i; 00:10:49) — In this piece from 1994, director Krzysztof Kieślowski reviews the opening scene from White and reveals how it was shaped in the editing room.
Zamachowski and Delpy (1080p; 00:18:17) – In this program, produced by the Criterion Collection in 2011, Polish actor Zbignbiew Zamachowski and French actor Julie Delpy share their memories about the making of White and discuss their admiration for director Krzysztof Kieślowski.
Krzysztof Piesiewicz (1080p; 00:21:23)– in this interview, recorded by the Criterion Collection in 2011, Krzysztof Piesiewicz, cowriter of the Three Colors trilogy as well as a defense attorney and politician, discusses his long friendship and collaboration with director Krzysztof Kieślowski.
The Making of "White" (1080i; 00:16:11) – In the following behind-the-scenes program, director Krzysztof Kieślowski discusses some of the key narrative details in White and the challenges and pleasures of shooting in Poland.
Two Documentaries:

Seven Women of Different Ages (1978)

Talking Heads (1980)

Trailer (1080p)
Red:
On Red (1080p; 00:22:01) – This video essay was written and narrated by film writer Dennis Lim.
Kieślowski's Cinema Lesson (1080i; 00:08:41) — In this piece from 1994, director Krzysztof Kieślowski discusses the final editing of the scene from Red where Rita, the dog, runs away, which he refers to as "the first critical moment in the film."
Irène Jacob (1080p; 00:16:26) – In this interview recorded by the Criterion Collection in 2011, the actor Irène Jacob discusses her experiences working with director Krzysztof Kieślowski (she also appears in the film The Double Life of Véronique), and talks about her and costar Jean-Louis Trintignant's tightly choreographed performances in Red.
Marin Karmitz (1080i; 00:10:50) – In this interview from 2001, Marin Karmitz, producer of the Three Colors trilogy, recalls the making of Red and the insistence in Hollywood that the film be considered for the Academy Awards.
Jacques Witta (1080i; 00:12:46) – In this 2001 interview, Jacques Witta, editor of Blue and Red, reveals why certain scenes (and parts of shots) in Red were ultimately removed, and shares anecdotes about director Krzysztof Kieślowski's process in the editing room.
Behind the Scenes of Red (1080i; 00:23:30) – This piece juxtaposes footage of Krzysztof Kieślowski directing Red with corresponding scenes as they appear in the film.
Kieślowski Cannes 1994 (1080i; 00:15:11) – this short documentary, shot at the time of Red's world premiere at the Cannes Film Festival, includes interviews with director Krzysztof Kieślowski and actors Irène Jacob and Jean-Louis Trintignant, as well as footage of Kieślowski announcing his retirement from filmmaking.
Krzysztof Kieślowski: I'm So-So… (1080i; 00:55:36) — In 1995, a small video crew interviewed Kieślowski at his home in Poland; Red had been released the previous year, and the director had retired from filmmaking.
Trailer (1080p)
The Final Assessment
This classic trilogy of films gets a solid upgrade on 4K Ultra HD. It may not be perfect in every way but comparing them to the previous Blu-ray releases leaves no doubt that we are getting an advancement in detail, color and depth. If I have one criticism it is that Criterion Collection have not upgraded the included Blu-ray Discs and have merely chosen to repackage the same 2011 discs, non-restored.
---
Three Colors Trilogy is out on 4K Ultra HD + Blu-ray February 7, 2023, from the Criterion Collection
---
Rating Certificate: R (for some sexuality) (Blue) | R (for some sexuality and language) (White) | R (for a brief but strong sex scene) (Red)
Studios & Distributors: MK2 Productions | CED Productions | France 3 Cinéma | CAB Productions | Zespol Filmowy "Tor" | Canal+ | Centre national du cinéma et de l'image animée (CNC) | Eurimages | Criterion Collection
Director: Krzysztof Kieslowski
Written By: Krzysztof Kieslowski (scenario) | Krzysztof Piesiewicz (scenario) | Agnieszka Holland (scenario collaborator)
Run Time: 98 Mins. (Blue) | 91 Mins. (White) | 99 Mins. (Red)
Street Date: 7 February 2023
Aspect Ratio: 1.85:1
Video Format: HEVC 2160p (4K UHD)
HDR Format: Dolby Vision (HDR10 Compatible)
HDR10 Metadata:

MaxLL: 298 (Blue) | 1164 nits (White) | 341 nits (Red)
MaxFALL: 175 nits (Blue) | 368 nits (White) | 183 nits (Red)

Primary Audio: French DTS-HD MA 5.1 | Polish DTS-HD MA 5.1
Subtitles: English