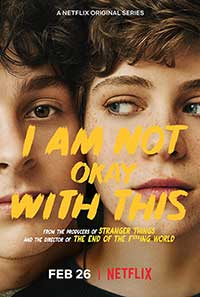 At the very start of I Am Not Okay With This there is a foreshadowing of a disaster yet to come, as an androgynous 17-year old Sydney "Syd" Novak, covered in blood, is briefly seen walking down the street.  Syd attends Westinghouse High School, lives with her waitress mother Maggie (Kathleen Rose Perkins), looks after her shy younger brother Liam (Aidan Wojtak-Hissong), and hangs out with her best friend and "secret crush" Dina (Sofia Bryant).  Reluctantly, Syd agrees to spend time with her weird neighbor Stanley Barber (Wyatt Oleff) who constantly fidgets with his Rubik's cube.  Mrs. Cappriotti (Patricia Scanlon), the school guidance counselor, suggests that Syd start a diary to help her cope with her unresolved anger over her father's suicide a year earlier. The diary turns out to be a game-changer in some unexpected ways, and occasional entries are referenced in the episodes that follow.
Syd begins to suspect that she may possess telekinetic powers. When Dina starts dating the boorish school football star Bradley Lewis (Richard Ellis), Syd causes him have a nosebleed in front of her BFF. Syd's fit of pique creates a crack in the wall of her bedroom, and later, she collapses an entire aisle of canned food in the grocery store.  During Brad's birthday party, Syd finds Dina alone in a bedroom and impulsively kisses her, completely catching her friend off-guard.  Distraught, Syd runs into the woods and Stan witnesses her topple the surrounding trees with a scream.  Later, Syd confesses to Stan that her superpowers seem to be tied to her emotions and asks him to keep her "secret" between them. More demonstrations by telekinetic Syd occur during a school detention session with Brad, Dina, Stan, and school slut Jenny Tuffield (Sophia Tatum) (whom we later find out had sex with Brad). When Jenny gets Syd riled up, she rushes off to the school library and causes all of the bookcases to crash to the floor. After recovering the security camera footage of this cataclysmic event, Syd tells Stan that she felt someone else was lurking in the shadows of the darkened library, although there is no evidence of this on the videotapes.
The Westinghouse homecoming dance has finally arrived, and, having rejected Stan's invitation, Syd comes with Dina who had just broken up with Brad. In spite of the cheerful decorations and the uptempo 1980s playlist in the school gym, you just know that something bad is about to happen and Syd will somehow be involved in it.
[envira-album id="122496″]
This show's teen-angst vibe reminded me a lot of the hit Netflix series The End of The F***ing World that also happened to be the creation of writer-director Jonathan Entwistle and comic book author Charles Forsman. Sophia Lillis maintains the façade of unspoiled innocence in sharp contrast to her volatile temper and incredible powers. Her portrayal of a young woman looking for meaning in her not-so-okay life is spot on and one of the principal reasons for watching this series of millennial-length episodes, all running less than 30 minutes. Her costars Bryant and Oleff complement her performance perfectly and all three are age-appropriate for their characters. As was the case in TEOTFW, adults fare poorly in this show but when Kathleen Rose Perkins' Maggie finally lets down her guard, you really get to see a woman who has suffered silently, and her heartbreak is totally credible.
Netflix has had a "monster" sci-fi hit with Stranger Things, another adolescent coming-of-age show whose heroine "Eleven" or "El" also possesses superpowers. Fans of that show should immediately gravitate to I Am Not Okay With This, and, like myself, hope that there will be a Season 2 since the final episode left a lot of storyline danglers. As we hunker down for however long the COVID-19 pandemic lasts, this is most assuredly a binge-watcher par excellence. Highly recommended.
I Am Not Okay With This is streaming now in its entirety on Netflix
[youtube https://www.youtube.com/watch?v=M9vp9lhZiqU&w=850&h=478]
---
The Creative Content: 4.0/5
Show Creators: Christy Hall | Jonathan Entwistle
Original Release Date: 26 February 2020
Streaming Service: Netflix
Ep. Run Time: 18-28 Mins.
No. Eps. 7
Studio/Distributor: 21 Laps Entertainment | Netflix Studios
Rating Certificate: TV-MA