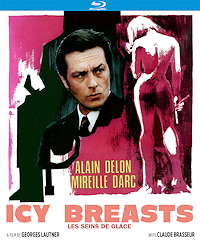 Icy Breasts (Les seins de glace) is the 1974 noir from Georges Lautner starring international French film star Alain Delon.
On a beach in Nice, François (Claude Brasseur), a TV writer with a good sense of humor meets the mysterious blonde Peggy Lister (Mireille Darc) and falls in love with her on sight. François begins a sort of creepy stalking of Peggy that one supposes passes for flirting, but Peggy seems unimpressed and most of all disinterested in men. She does eventually seem amused by François. After he follows her to a luxurious villa, François finds that Peggy appears to be in a strange relationship with high powered attorney Marc Rilson (Delon). Peggy claims Delon is her divorce lawyer, but it turns out Peggy's husband is dead, and Marc, a married man, seems fascinated himself with the widow. François becomes worried for Peggy, thinking that Marc is keeping her practically a prisoner and doesn't seem to mind when more men around Peggy begin to die, and Marc reveals to him that Peggy is in fact a mentally unstable drug addict.
Icy Breasts must be one of the weirdest film noirs ever put to film. I say "film noir" in the broadest sense, because it has some of the earmarks of the classic genre, such as the mysterious femme fatale, a protagonist drawn into a dangerous mystery, and a pulpy plot, but visually it does not really owe much to the classic genre apart from some moments were Lautner uses some fairly low camera angles. And it is "weird" in the sense that, this story grows from mysterious to just nuts by the time we reach the conclusion. Alain Delon's character is not really given any motivation for his dedication to Peggy other than lasciviousness and the characters make the worst decisions for unknown reasons at almost every turn.
Even with all these faults, it's hard to deny that this film is almost impossible to look away from and the cast all do a marvelous job with their roles. Delon seems believably dangerous and lustful, Brasseur is marvelously hapless, and of course, the lovely Mireille Darc goes from frightened lamb to dangerous seductress in the blink of an eye. This is the stuff cult classics are made of.

The Video
Icy Breasts is a 4K restoration from the original camera negative. The original 35mm film stock is transferred to Blu-ray in an AVC 1080p encodement framed at 1.66:1. This film has a very cool, desaturated palette, fittingly for the title, which translates to roughly the same thing from the original French Les seins de glace. This film will not be a favorite of grain haters, because there is a thicket of grain layered over this image and bit of film softness that permeates the picture. Distance shots collapse into a blur, not necessarily out of focus, but more an almost impressionistic placement of shapes, color, and grain. It's not that the restoration or encodement is not good, it's the original production choices that make this film not exactly the sort of film that going to look great, offer beautiful shadows, sharp details and vibrant colors, but this restoration presents it organically and free from compression noise, edge enhancement, or issues with DNR.
The Audio
The original monaural mix and English dub are both supplied in very serviceable lossless DTS-HD Master Audio 2.0. They are clean and free from any major audible pops, hiss, or clicks.
The Supplements
There is only the excellently thorough audio commentary from the three film historians and additional KL trailers, including a couple for other films by Georges Lautner.  Don't pass up giving the commentary a listen.
Audio commentary by film historians Howard S. Berger, Steve Mitchell, and Nathaniel Thompson
Trailers:

Diabolically Yours
Farewell Friend
The Sicilian Clan
The Widow Couderc
Texas Across the River
Le Professionnel
The Final Assessment
This new 4K restoration of one of the wildest French film noirs you will ever see is perfect for genre fans. This one should be on the list of cult films you probably never heard of.
Icy Breasts is out on Blu-ray July 6, 2021 from Kino Lorber
---
Rating Certificate: Not Rated
Studios & Distributors: Lira Films | Belstar Productions | Capitolina Produzioni Cinematografiche | Kino Lorber
Director: Georges Lautner
Written By: Richard Matheson (novel) | Georges Lautner (scenario)
Run Time: 105 Mins.
Street Date: 6 July 2021
Aspect Ratio: 1.66:1
Video Format: AVC 1080p
Primary Audio: French DTS-HD MA 2.0 Mono
Secondary Audio: English DTS-HD MA 2.0 Mono
Subtitles: English