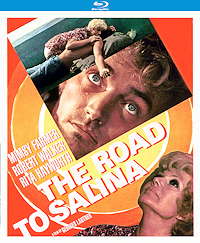 The Road to Salina (La route de Salina) is a 1970 English-language film from French director Georges Lautner that has been nearly forgotten in the interim years since its brief release. As Larry Karaszewski in the Trailers from Hell describes it almost perfectly, it's a drive-in arthouse feature, slow-burn and stony, but a film that probably is ready for reassessment right about now.
Jonas (Robert Walker, Beware! The Blob!) is a young drifter who stops a desolate roadside service station where the owner Mara (Rita Hayworth in her second to last film appearance) claims he is her son Rocky who went missing years before. Jonas is taken aback by the situation, believing Mara to be no more than a delusional older lady, but tired and hungry he takes her up on her offer for food and room and board. Things become even stranger when Mara's friend and neighbor Warren (Ed Begley, Billion Dollar Brain) stops by to visit her and acts as if Jonas is Rocky, Mara's long-lost son. Upping the ante further is Mara's carefree and sexy daughter Billie (Mimsy Farmer, The Perfume of the Lady in Black) and she also accepts Jonas as her brother Rocky.
Despite his trepidations, Jonas stays in this awkward situation, even as a pseudo-incestuous relationship begins to develop between himself and his alleged sister Billie, spawning an oddly jealous rather than concerned reaction from Mara. As Jonas continues to investigate who Rocky is, trying to find out how much like Rocky he may look like, he uncovers a grave secret that Billie may have killed her own brother.
Lautner's film reveals itself like a slow moving revery. In fact, the whole thing is in fact told as a recounting of events from Jonas' perspective as he is in a police car, something that Lautner only hints at from time to time throughout the film.  It is shot in a more straightforward, American way, like the burgeoning New American Cinema, in fact, open shots, real colors, limited edits. It is the performances that carry this very odd story. Rita Hayworth, even though she was very much suffering a decline at this point, puts in a fantastic performance as does cult film star Mimsy Farmer as the enchantress who eventually leads Jonas into his own unhinged spiral.

The Video
The Road to Salina is a new 4K restoration taken from the original 35mm camera negative and it shows in this 2.35:1 AVC 1080p transfer on Blu-ray. The film grain is thinly layered, natural, detail is crisp, contrast is wide, and the colors look natural. There's a natural sense of warmth to the palette for this film set in the desert, outdoor scenes have that sunny glow to them, and one can see the beads of sweat on people's skin. This a great transfer.
The Audio
The Road to Salina has an English DTS-HD Master Audio 2.0 monaural audio mix and a French DTS-HD MA 2.0 monaural dub. Both sound well enough for a 1970 mono mix and present clean dialogue and relatively full sounding foley effects.
The Supplements
The audio commentary included with this film offers superb insight into the film, the actors, and the director. I suggest watching the film and then definitely watching it again with the commentary shortly after for a better appreciation.
Audio commentary by film historians Howard S. Berger, Steve Mitchell, and Nathaniel Thompson
Trailers from Hell with Larry Karaszewski (1080p; 00:03:29)
And Hope to Die – Trailer
The Widow Couderc – Trailer
Rider on the Train – Trailer
The Man who Haunted Himself – Trailer
Dog Day – Trailer
Le Professionnel — Trailer
The Final Assessment
An A+ restoration of a forgotten film presented on Blu-ray offers an opportunity for a reassessment of this very entertaining gem.
The Road to Salina is out on Blu-ray July 6, 2021 from Kino Lorber
---
Rating Certificate: R
Studios & Distributors: Fono Roma | Les Films Corona | Selenia Cinematografica | Transinter Films | Kino Lorber
Director: Georges Lautner
Written By: Georges Lautner (screenplay) | Maurice Cury (novel) | Pascal Jardin (adaptation) (dialogue) | Jack Miller (adaptation) (dialogue)
Run Time: 96 Mins.
Street Date: 6 July 2021
Aspect Ratio: 2.35:1
Video Format: AVC 1080p
Primary Audio: English DTS-HD MA 2.0 Mono
Secondary Audio: French DTS-HD MA 2.0 Mono
Subtitles: English