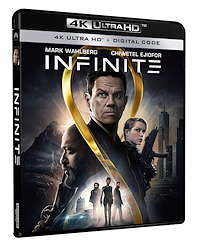 Infinite is the sci-fi film from director Antoine Fuqua (Training Day, The Equalizer) based on the novel The Reincarnationist Papers by D. Eric Maikarnz. The film premiered in 2021 on the Paramount+ streaming network as an exclusive and now makes its way to home video.
Mark Wahlberg plays Evan McCauley, a guy who is suffering with thoughts and memories in his head that he doesn't recognize, believing himself to be a schizophrenic. He's been self-medicating with black market pills to quiet the voices in his head, but Evan is about to learn he isn't mentally ill. A secret society enters his world. Calling themselves "Infinites," they have a special ability to reincarnate and remember all their past lives. The Infinites are deep into a civil war amongst themselves. They have split into two factions, "the Believers," who use their ability to help humanity, and "the Nihilists" who believe the ability to be a plague and want to use their advanced technology to destroy all of humanity. Evan holds the key to help the Believers stop the Nihilists' leader Bathurst 2020 (Chiwetel Ejiofor) who has a doomsday machine he wants to set off that will end everything.
This story had so much potential, but the execution of it leaves that potential unexplored. Fuqua, as always, delivers the goods on the action with this film, offering up what amounts to some loosely strung together action set pieces that are adrenalin fueled and flawlessly executed. His sense of visual style on full display as well. This film looks slick and glossy, helped by the 4K production and Dolby Vision (see below). But beyond these things, the narrative is sort of haywire. I mean, why do these advanced people even need to use some strange supercomputer to destroy humanity? Wouldn't, you know, setting off every nuclear weapon in the world work just as well? Surely there are already enough of them infiltrated into the world's governments. The acting and dialogue are also letdowns. There is no evidence of the superb cast is used to their full effect at any point. This is phoned in and one can pretty much see why this was rerouted from the cinemas to Paramount+.
The Video
Infinite was shot in ARRIRAW 4.5K, utilized a 4K digital intermediate, has Dolby Vision HDR, and is encoded in HEVC 2160p (4K UHD) framed at 2.39:1 with HDR metadata that reads a MaxLL of 1000 nits and a MaxFALL of 512 nits. I watch in Dolby Vision on a CX model LG OLED. The image for this film is pristine as one would hope and expect for a purely digital production shot in 4K. There does seem to be a bit of 'grain' or something added to the image to give it a little more of an organic appearance, but the detail and textures are crisp. The dynamic range is also excellent, providing some rather obsidian blacks up against the 'pop' of bright specular highlights from things like the spark of bullets, or the sheen off the red Ferrari in the opening car chase scene. Some blacks drop a little to the point where they can seem like they are crushing out, but not to the point where we are losing major amounts of detail. Meanwhile, the excessive amounts of CGI visual effects can often themselves give a smooth patina to the image rather than a three-dimensional, textured look.
The Audio
Infinite comes with an English Dolby Atmos audio mix. This has an expanse sound with lots of atmospherics and movement through the surrounds and deep low-end frequencies. There isn't much height awareness, it sounds like mostly stagnant effects or atmospherics in the heights/overheads, but overall, we get excellent dynamics with clean dialogue and easy-on-the-ears high frequencies.
The Supplements
A small selection of making-of featurettes with cast and crew and behind-the-scenes looks are included alongside a Digital Copy Code.
Digital Copy Code
They Call Themselves Infinites (1080p; DV; 00:07:43)
The Kinetic Action of Infinite (1080p; DV; 00:08:56)
Anatomy of a Scene – Police Station & Forest (1080p; DV; 00:12:55)
Infinite Time (1080p; DV; 00:05:11)
The Final Assessment
A very disappointing film that has great action and a gorgeous visual style com es across beautifully on 4K Ultra HD and offers a significant upgrade over the streaming version on Paramount+.
Infinite is out on 4K Ultra HD Blu-ray May 17, 2022 from Paramount
---
Rating Certificate: PG-13 (for sequences of strong violence, some bloody images, strong language and brief drug use)
Studios & Distributors: Paramount Pictures | New Republic Pictures | Di Bonaventura Pictures | Closest to the Hole Productions | Leverage Entertainment | Paramount+ | Paramount Home Entertainment
Director: Antoine Fuqua
Written By: Ian Shorr (screenplay by) | Todd Stein (screen story by) | D. Eric Maikranz (based on the book by)
Run Time: 106 Mins.
Street Date: 17 May 2022
Aspect Ratio: 2.39:1
Video Format: HEVC 2160p (4K UHD)
HDR Format: Dolby Vision (HDR10 Compatible)
HDR Metadata: MaxLL 1000 nits | MaxFALL 512 nits
Primary Audio: English Dolby Atmos
Secondary Audio: English Audio Description | German DD 5.1 | Spanish (Castilian) DD 5.1 | Spanish (Latino) DD 5.1 | French DD 5.1 | Italian DD 5.1
Subtitles: English | English SDH | Cantonese | German | Spanish (Castilian) | Spanish (Latino) | French | Mandarin | Polish | Simplified Chinese