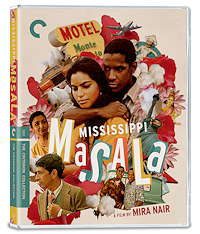 Mississippi Masala is the 1991 romantic drama from filmmaker Mira Nair that goes well beyond the bounds of its genre to explore the destruction of racism that cut across all cultures.
In 1972, under the brutal Amin regime in Uganda, Jay (Roshan Seth), a man of Indian descent, must leave the country with his family when Amin declares "Africa for Africans" and forces all Asians, who have been living there for generations, out of the country. Jay comes to hate all blacks and vows to fight to win back the property stolen from him by the Ugandan government.
The film now flashes forward to 1990 Mississippi where many of the Indian families who did leave Uganda and other places have settled and become the dominant owners of small, independent motels. Jay's daughter Meena (a 24-year-old Sarita Choudhury in her debut role), meets the local African American businessman Demetrius (Denzel Washington) — who has built a thriving carpet cleaning company around the motel industry — after a fender bender and the two hit it off. Their romance stays quiet until one of Meena's relatives discover the pair in flagrante, which exposes the bubbling racism and traditional mores of the two communities of color who are living side-by-side in an already racist South.
Nair infuses this film with high drama, anxiety, and a beautiful visual aesthetic influenced by modern photography, the latter courtesy of director of photography Edward Lachman (Carol, The Virgin Suicides). The story touches delicately on the ironies of two peoples who suffered racism both turning about and discriminating against one another, Jay not wanting Demetrious for his daughter because of his color and his position, and Demetrious blaming is business issues on the Indian community. There are also some pointed comments from the black people in his life about why he shouldn't be dating Meena. The genius of the film is the romance, even with the struggles that Nair and screenwriter Sooni Taraporevala do not smooth over, is not smothered in the story, and the chemistry between the leads is palpable.
Mississippi Masala (1991)
The Video
This new digital restoration of Mississippi Masala was created in 4K resolution on a Lasergraphics Director film scanner from the original 35mm camera negative under the supervision of director of photographer Ed Lachman and director Mira Nair. It appears on Blu-ray in its original 1.85:1 aspect ratio in an AVC 1080p encodement. This is and has always been a somewhat soft, diffuse looking film, but it looks wonderful, natural, and authentic in this presentation from Criterion. The color palette, filled with bold primaries like greens and yellows, teal, orange, and salmon colors, not dissimilar to what we might see in a more traditional Bollywood film, really stand out nicely. There's good detail and an impressive amount of shadow detail. One can make out the individual strands of hair in Sarita Choudhury's long, dark brown tresses throughout the film.
The Audio
The original 2.0 surround soundtrack was remastered from the 35mm magnetic track and brought to Blu-ray in DTS-HD Master Audio 2.0 surround. You'll need an AVR or Pre/Pro capable of decoding the Pro Logic from this to get the surround in the rear channels, which is a mono track that provides a nice bit of subtle atmospherics. The audio across the three front channels is solid, with clear and full dialogue and wide stereo panning of effects.
The Supplements
The bonus features are not necessarily extensive for this release, but quantity doesn't always equal quality. What we have here is a superb level of quality, starting with the absolutely engaging audio commentary from Mira Nair who not only gives insight into the film's production, but the cultural history and aspects of the film.
NEW Audio commentary by director Mira Nair recorded in 2021
NEW Sarita Choudhury and Devika Girish (1080p; 00:25:33) – In this interview, recorded in New York in 2022 for the Criterion Collection, actor Sarita Choudhury talks to critic Devika Girish about her film debut as Mina in Mississippi Masala.
NEW Sooni Taraporevala (1080p; 00:14:12) – In this interview, screenwriter Sooni Taraporevala talks about collaborating with director Mira Nair. It was recorded in 2022 in Mumbai for the Criterion Collection.
NEW Ed Lachman (1080p; 00:16:27) – In this interview, recorded in New York in 2022 for the Criterion Collection, director of photography Ed Lachman talks about shooting on location in Uganda and Mississippi.
NEW Mitch Epstein – In this interview, photographer Mitch Epstein talks about his foray into production design on Mississippi Masala. It was recorded in 2022 in New York for the Criterion Collection.
Booklet: Essay by critic Bilal Qureshi and extended excerpts from Mira Nair's production diary
The Final Assessment
While this film may at times feel like Nair is performing a cinematic juggling act of handling so many social issues, none ever feel like they are being surfaced unnaturally or messaged in any way, and this film holds up surprisingly well even given the changing society we find ourselves in. The restoration from Criterion is  well done and the film has never looked so good.
Mississippi Masala is out on Blu-ray & DVD May 24, 2022 from Criterion Collection
---
Rating Certificate: R (for sensuality and language)
Studios & Distributors: Black River Productions | Channel Four Films | Cinecom Pictures | Mirabai Films | Movie Works | Studio Canal Souss | Criterion Collection
Director: Mira Nair
Written By: Sooni Taraporevala
Run Time: 117 Minutes.
Street Date: 24 May 2022
Aspect Ratio: 1.85:1
Video Format: AVC 1080p
Primary Audio: English & Swahili DTS-HD MA 2.0 Surround
Subtitles: English SDH