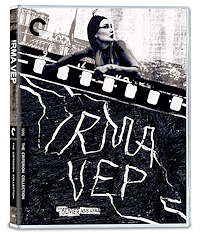 Irma Vep, the film written and directed by written and directed by Olivier Assayas, blurs the lines of reality and fiction. Infused with 1990s alternative rock energy, the film follows a washed-up French filmmaker, René Vidal (Jean-Pierre Léaud), who tries to launch a comeback by remaking the classic silent serial Les vampires about a group of jewel thieves and he casts Hong Kong actress Maggie Cheung in the lead role as the head of the gang, Irma Vep. Cheung has a brilliant turn in in the film playing herself and getting so caught up in her pseudo-S&M-outfitted character role she begins burgling guests at her hotel and getting mixed up in a flirtation with a lesbian relationship with Vidal's costume designer Zoé (Nathalie Richard).
Assayas' film is an easy blend of scripted dialogue, improvisation, kinetic energy, and rock and roll. The film flits between an almost Cinéma verité style with handheld cameras and severe closeups, and a cut and paste sample style, with rushes of Maggie Cheung as Irma Vep mixing with clips of the silent serial Les vampires. Mix these together with the hip soundtrack and wry comedy and Vep is one of those genie-in-a-bottle moments in cinematic history.


The Video
The new 2K digital restoration of Irma Vep was taken from the original 16mm and 35mm camera negatives and approved by director Olivier Assayas. The film appears in its original 1.66:1 aspect ratio encoded in AVC 1080p on Blu-ray from Criterion Collection. There's a good amount of grain layered over the image, but it looks natural at all times and there are no instances of noise or posterization. Flesh tones look natural and peachy. Of course, this film does switch around formats going from color to black-and-white and with silent film clips added into the mix, plus shifting from 16mm to 35mm. It looks rather consistent all things considered.
The Audio
The 5.1 surround track was remastered from the 35mm magnetic track and restored by L.E. Diapason in Paris. The DTS-HD Master Audio track works fine for this film that switches between heavily front-forward, dialogue-driven, silent film clips, and '90s alternative/Euro-rock music that carries a good punch.
The Supplements
This release is stuffed with new and archival extras plus one 'episode' of the classic silent serial that inspired this film. The only thing missing is an audio commentary but with all Criterion Collection has included it is barely missed.
Essay by film critic Aliza Ma
Disc 1
Olivier Assayas (1080p; 00:28:36) – An interview with director Olivier Assayas recorded by the Criterion Collection in January 2021.
Olivier Assayas and Charles Tesson (1080i; 00:33:45) – Recorded in 2003, director Olivier Assayas and critic Charles Tesson discuss their love of Asian Cinema, their visit to Hong Kong in 1984, and how Maggie Cheung came to star in Irma Vep.
Maggie Cheung and Nathalie Richard (1080i; 00:17:26) – In this 2003 interview, actors Maggie Cheung and Nathalie Richard recall the making of Irma Vep.
On the Set of Irma Vep (1080i; 00:30:00) – Thirty minutes of behind-the-scenes footage from the making of Irma Vep.
Disc 2
Les vampires: Hypnotic Eyes (1080p; 00:58:50) – Les vampires, a ten-part 1915-16 serial by Louis Feuillade, follows a gang of jewel thieves known as the Vampires; their criminal rival, Moreno; the journalist on their tails, Phillipe; and Phillipe's sidekick, Mazamette. This fifty-eight-minute episode, Hypnotic Eyes, was sixth in the series and features the leader of the Vampires gang, Irma Vep, who helped inspire the eponymous film by Olivier Assayas.
Musidora, The Tenth Muse (1080p; 01:07:54) – This 2013 documentary by Patrick Cazals features family and friends of Musidora, as well as scholars, looking back on the life of the actor, musical-hall performer, and pioneering filmmaker, who originated the role of Irma Vep in Louis Feuillade's serial Les vampires.
State of Cinema, 2020 (1080p; 00:46:20) – Invited by the Belgian publisher Sabzian to discuss the state of cinema, director Olivier Assayas gave this address, titled "Cinema in the Present Tense," in June 2020.
Man Yuk: A Portrait of Maggie Cheung (1080i; 00:05:00) – Olivier made this short film in 1997 as a commission for the Foundation Cartier pour l'art contemporain in Paris.
Black-and-White Rushes (1080i; 00:03:52)
The Final Assessment
An excellent art film that is edgy, funny, and still relevant. Highly recommended.
Irma Vep is out on Blu-ray April 27, 2021 from the Criterion Collection
---
If you found this article useful please consider clicking the button below and donating to help keep TheaterByte funded, which will allow us to continue posting great content.
---
---
Studios & Distributors: Dacia Films | Canal+ | Janus Films | The Criterion Collection
Director: Olivier Assayas
Written By: Olivier Assayas
Run Time: 99 Mins.
Street Date: 27 April 2021
Aspect Ratio: 1.66:1
Video Format: AVC 1080p
Primary Audio: Multilingual French/English DTS-HD MA 5.1
Subtitles: English | English SDH