–
The Series
[Rating:4/5]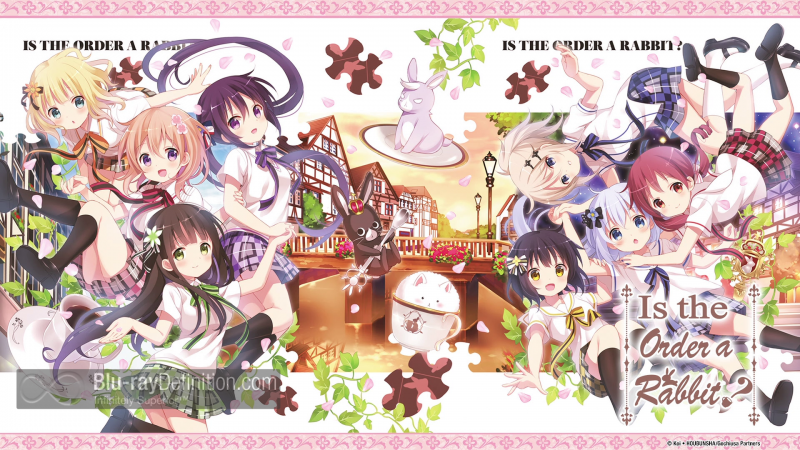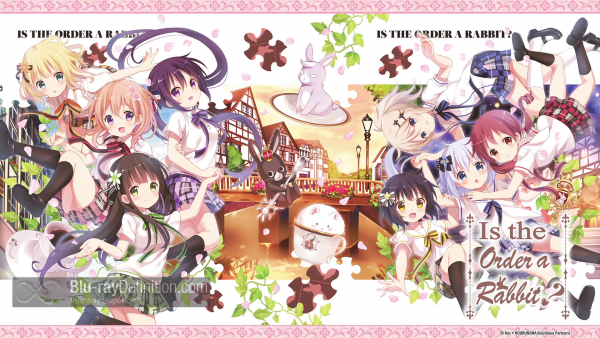 Is the Order a Rabbit? (ご注文はうさぎですか?) is the anime series based on the 4-panel manga series by Koi. A comedy, slice of life series that is all about nothing in particular other than a group of middle school and high school freshman girls that all work in cafes an specialty tea shops, the series is cute, charming, and very moe in the truest sense.
The central protagonist is Cocoa, a girl starting her first year of high school who gets lost in a new town looking for her boarding house when she stumbles across a strange cafe named "The Rabbit House" where an emotionless young middle school girl named Chino works while keeping a rotund, talking rabbit named Tippy on her head. Rabbit House just so happens to be the boarding house Cocoa was looking for, but out of gratitude to Chino for helping her out anyway, Cocoa decides to work part time at The Rabbit House anyway, along with Chino and another girl, the gun-crazed Rize, a first year high schooler from a different school. Cocoa is also over the moon for girls younger than her, she has a sister complex and can't get enough of trying to cuddle Chino, who really would rather she didn't. Meanwhile, Cocoa also befriends another first year high school girl, Chiya, from her own school, who works at The Rabbit House's rival, a gourmet tea shop, and another girl named Syaro, a childhood friend of Chiya whom all the other girls assume is rich, but is really on a scholarship to Rize's school.
This is one of those typical, everyday, weird, sometimes surreal, comedy series where, the characters seem to never be in school or have any homework, and crazy things happen, but in the whole universe of the series, it's just business as usual. A running theme, obviously, for this show is rabbits. So, rabbits, feral and otherwise, seem to turn up everywhere – on the streets, in parks, falling out of the sky. Chiya has a rabbit in her tea shop, and of course, the Rabbit House has Tippy, the talking rabbit, whom it is hinted at is actually Chino's grandfather metamorphosed into a rabbit. The characters for this show couldn't possibly get any more lovable, and the comedy is funny, sometimes gut busting, and sometimes just whacky. There's no overuse of physical gags, just ridiculous things that happen.
As for the animation, it is simple, not groundbreaking, but appealing. It has a decidedly feminine appeal, so this is not one with an overabundance of testosterone, in accordance with the theme of the series. Backgrounds are a bit indistinct at times, but the character designs are all quite kawaii and unique.

Video Quality
[Rating:4.5/5]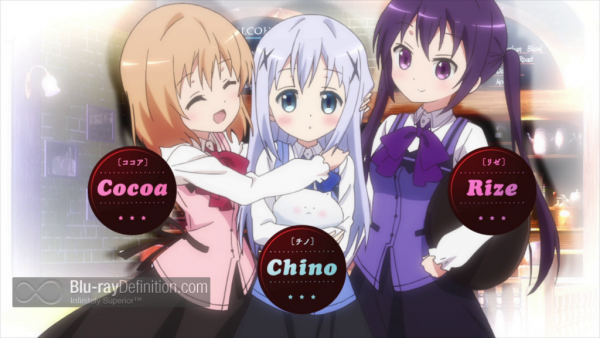 The series comes to Blu-ray with an AVC/MPEG-4 1080p encodement from Sentai Filmworks. The transfer of the digital animation looks rather good, with very little in the way of color banding, but perhaps just a slight bit of softness that could be a part of the artistic intent. Colors are mostly subdued, with some pastels, a few earth tones, and some subtle primaries, especially greens and blues, that don't pop vividly, but look good nonetheless.

Audio Quality
[Rating:4/5]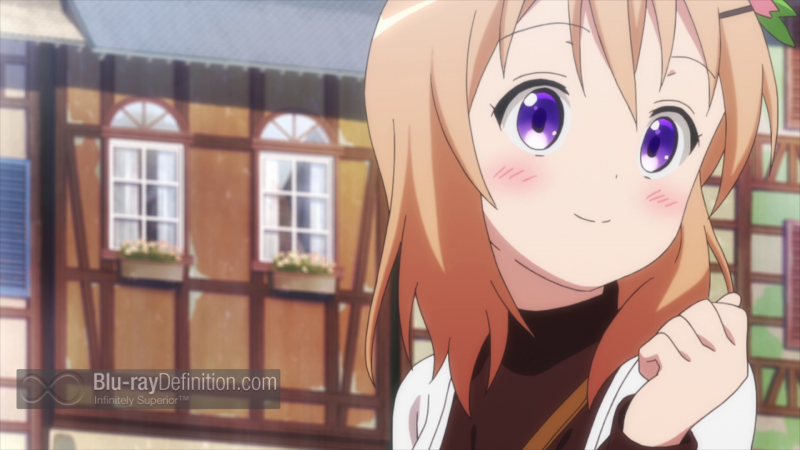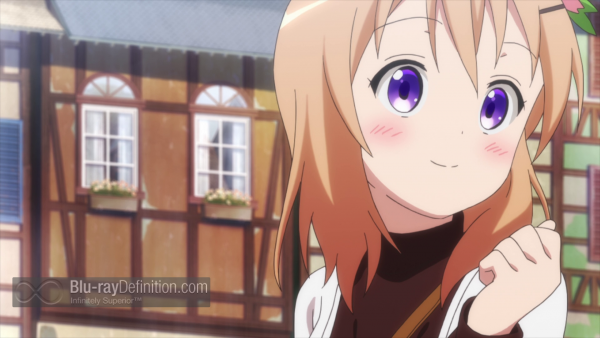 Is the Order a Rabbit? has a simple stereo DTS-HD Master Audio 2.0 (48kHz/24-bit) soundtrack in Japanese only. Given this is a slice of life comedy, it doesn't have the sort of in your face sound effects that grab your attention and extra wide dynamic range, but the mix is still good for what it is. The quaint musical accompaniment, little foley effects, and dialogue are all handle extremely well, with excellent balance, clean sound and good dynamics.The voice cast are also strong. They are very good at conveying that moe appeal.

Supplemental Materials
[Rating:0.5/5]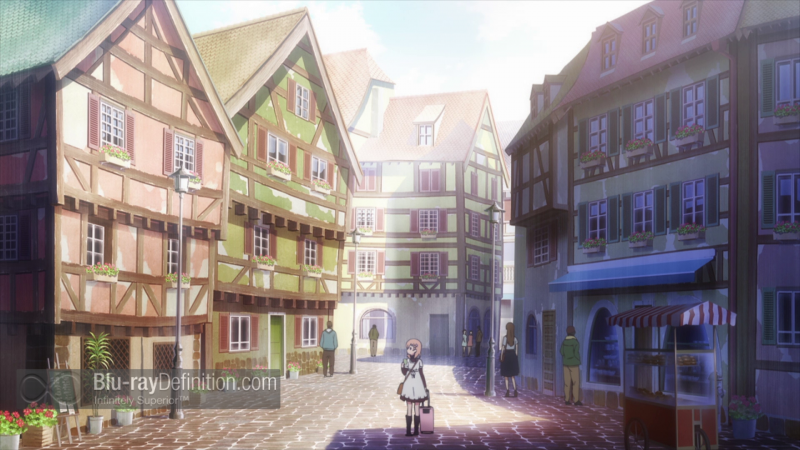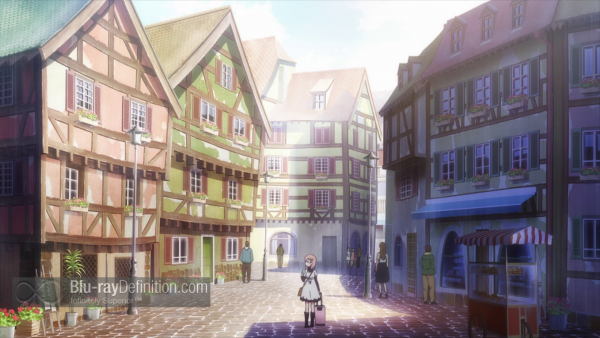 The Clean opening and closing animations and Sentai Filmworks trailers are included.

The Definitive Word
Overall:
[Rating:4/5]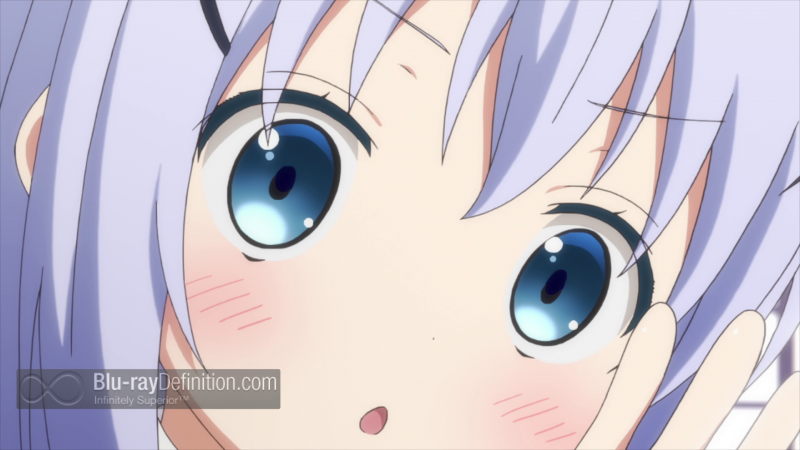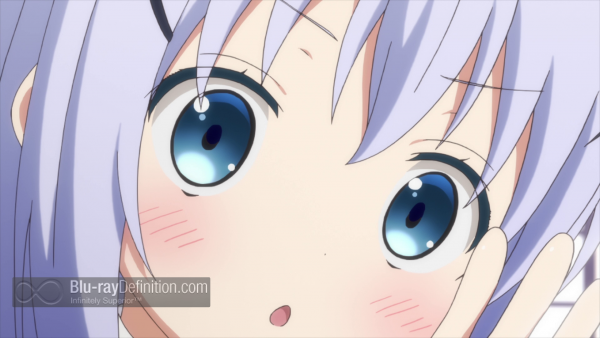 I liked Is the Order a Rabbit? a lot. It's not as innovative as other series in this genre such as Hidamari Sketch, but it is quite pleasant, funny, and it keeps you wanting more.
Additional Screen Captures