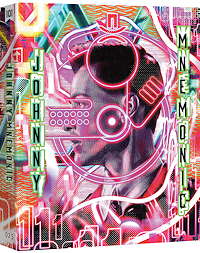 Johnny Mnemonic is the 1995 B-grade cyberpunk film based on the 1981 William Gibson short story that first helped kick-off the cyberpunk era in fiction.
Set in the near-future where the information superhighway has quickly and greatly advanced and people's overuse of the technology has spawned a new disorder called Nerve Attenuation Syndrome, Keanu Reeves plays Johnny, a data courier who takes on a job he hopes will help him pay to reattain the childhood memories he had to give up in order to outfit his brain to be a data carrier. In the middle of having data dumped into his brain Johnny is nearly killed by Yakuza who ambush the procedure and the mnemonic trigger needed to unlock the data in his brain is partially destroyed. He travels from Beijing to New Jersey hoping to recover the data which has also been overloaded into his brain and can cause "neural seepage," which can kill him. Along for the ride is Jane (Dina Meyer) and a rebel group known as the LoTeks who live outside the high-tech world. Johnny meets a number of eccentric characters along the way including Street Preacher (Dolph Lundgren), the cybernetics expert Spider (Henry Rollins), and dangerous businessman Takahashi (Beat Takeshi Kitano), all of whom seem to have an interest in the data he is carrying in his head.
William Gibson wrote the screenplay for Johnny Mnemonic, but the film diverges from the original short story in many ways and faced a lot of interference from the producers and studio, plus incorporated elements from some of his other short stories. The result is a film that really makes not much sense but can be visually and aurally stimulating taken in small doses. Reeves puts in an adequate performance and we can see glimpses of what would shoot him into superstardom with The Matrix only four years later.
The Video
101 Films provides Johnny Mnemonic in a 1.85:1 AVC 1080i/50 encodement on Blu-ray. By the frame rate and resolution alone you can likely guess this is not a new restoration or remaster – not even close. In fact, I would hazard a guess given the 1080i/50 resolution that this is coming from a broadcast master because there really is no other reason for it. It's a bit disappointing given the 1080p trailer included on the release (see below) looks way better than the feature. What we get here is a film that looks a soft, noisy, and has lots of posterization. If you don't mind this and just want to slip into a 1990s cheesy cyberpunk fever dream that looks about as good or better than an old VHS tape, then have at it.
The Audio
There's a German release of this film that brings new Atmos and Auro-3D mixes, but here we get English DTS-HD Master Audio 5.1. The sound is competent, I would say a bit on the tizzy side with the digital bent of the industrial-influenced soundtrack. That said, it has a good amount of low end and midrange punch.
The Supplements
This is where 101 Films really brings the goods for Johnny Mnemonic. No one can deny this is an attractive set with beautiful artwork, a good set of collectibles, and well-rounded bonus features, including a new and informative audio commentary from film critic Rich Johnson. I also enjoyed the short film from Channel 4, Tomorrow Calling, also based on a William Gibson short story; it ties everything all together.
Limited Edition Booklet: Features 'Future Proof: A Cyberpunk 101' by Rich Johnson and 'The Semiotic Ghosts of William Gibson' by Brian J. Robb
Limited Edition packaging with new artwork by Lucas Peverill
Set of art cards – reproductions of Spanish lobby cards
Commentary with Director Robert Longo
NEW Commentary with Film Critic Rich Johnson
Japanese Director's Cut (SD; 01:43:03)
Short Film: Tomorrow Calling (PAL SD; 00:11:09) – Channel 4 UK short film based on a short story by William Gibson.
Featurette (PAL SD; 00:05:24) – Archival featurette on the film.
Behind the Scenes (PAL SD; 00:05:03) – Archival behind the scenes production footage from Johnny Mnemonic.
Interviews from the Shoot (PAL SD; 00:11:27):

Keanu Reeves
Robert Longo
William Gibson
Dina Meyer
Dolph Lundgren
Ice-T

Music Video (SD; 00:03:53)
Trailer (1080p)
The Final Assessment
101 Films provides this 1990s B-grade cyberpunk cult film in a beautiful collectible package that rises to the level of many of the other bigger boutique labels like Arrow or Eureka. If they manage to get the picture and audio quality in line with the sheer collectability of their releases, then they will be an undeniable force. That said, this is still enjoyable set chock full of bonus features, a director's cut, and collectible gems. It may not be videophile quality, but it's undeniably cool and will looks great on your shelf.
Johnny Mnemonic (Limited Edition) is out in the UK on Blu-ray 25 April 2022 from 101 Films

---
Studios & Distributors: TriStar Pictures | Alliance Communications Corporation | Cinévision | 101 Films
Director: Robert Longo
Written By: William Gibson
Run Time: 96 Mins.
Street Date: 25 April 2022
Aspect Ratio: 1.85:1
Video Format: AVC 1080i/50
Primary Audio: English DTS-HD MA 5.1
Subtitles: English SDH