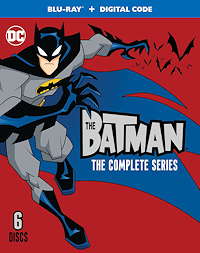 The Batman, the animated series that ran from 2004-2008, brought a new twist to this well-worn DC superhero. The story looks at a young Bruce Wayne as he just begins to don the cape and cowl as Batman in Gotham City, causing a new crop if supervillains to emerge, such as The Joker, Riddler, and Penguin. Each of these villains is masterfully reimagined as well – Penguin a master fighter who's lost his family fortune, Joker a full-on demented clown. The series' animated style borrows heavily from anime while also staying true to traditional DC styles. Some well-known actors lend their voices, such as Ming-Na Wen as Detective Ellen Yin, Clancy Brown and Mr. Freeze, and Gina Gershon as Catwoman.

The Video
The Batman has been reformatted from its original 1.33:1 aspect ratio to 1.78:1 for this release from Warner Bros. and brought to disc in an AVC 1080p encodement. The upscale looks surprisingly good, but one can still see hints of softness, as if there is just a bit of a soft lens over the image. The colors look great, however, and this series abundant in primary 'pop' really benefits from this new transfer.
The Audio
The Batman gets an enjoyable lossless DTS-HD Master Audio 2.0 stereo mix on Blu-ray. No, it's not 5.1, but it sticks with the original format in which the series was broadcast and sounds even better, more distinct, and more dynamic in this lossless format.
The Supplements
The spread around bonus features cover most aspects of the series' production, but what we don't get with this release are any other DC Showcase shorts or previews of upcoming DC Animated features.
Digital Copy Code
The Dark Dynasty Continues (1080p; 00:15:56)
The Batman: Season 3 Unmasked (1080p; 00:08:05)
Joining Forces: The Batman's Legendary Team-Ups (1080p; 00:25:21)
The Batman: Season 4 Unmasked (1080p; 00:9:22)
The Batman Junior Detective Challenge (1080p; 00:05:28)
The Batman Junior Detective Exam – Level 2 (1080p; 00:04:44)
Building The Batman (1080p; 00:06:43)
Gotham PD Case Files (1080p; 00:06:24)
New look, New Direction, New Knight (1080p; 00:05:45)
The Final Assessment
A visually appealing series with great action sequences and villains that really bring a challenge. This is a great companion to the more art deco inspired Batman animated series. Recommended.
The Batman: The Complete Series is out on Blu-ray March 1, 2022 from Warner Bros.

---
Rating Certificate: TV-Y7
Studios & Distributors: Warner Bros. Animation | DC Comics | Warner Bros. Home Entertainment
Creator: Bill Finger
Run Time: 1385 Mins.
Street Date: 1 March 2022
Aspect Ratio: 1.78:1
Video Format: AVC 1080p
Primary Audio: English DTS-HD MA 2.0 Stereo
Secondary Audio: French DD 2.0 Stereo | Spanish DD 2.0 Stereo
Subtitles: English SDH | French | Spanish | Dutch