– –

The Film
[Rating:4/5]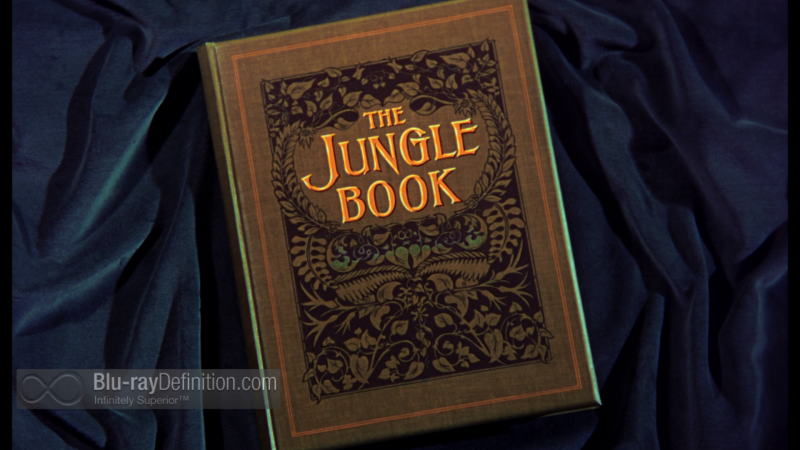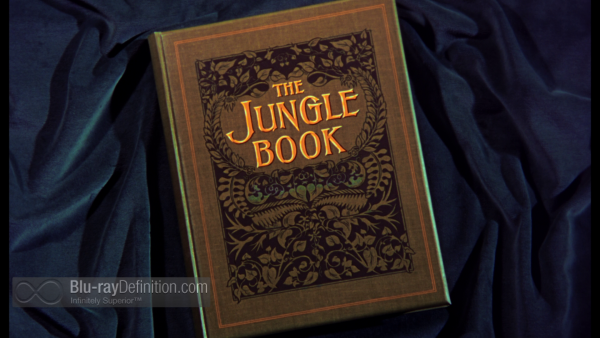 1967's The Jungle Book was the last animated feature that Walt Disney himself had a hand in producing. It was also the third fully-animated feature from the studio to use the xerography process (the first was One Hundred and One Dalmations and the second The Sword in the Stone) that directly transferred the animators' character sketches to the animation cels, bypassing the clean-up stage. This led to rougher character edges, a less rounded look, and something more stylized than Disney had been doing before.
The story is based on Rudyard Kipling's rather darkly-toned series of stories about a feral boy named Mowgli (voiced here by Bruce Reitherman). Abandoned in the jungles of India and raised by wolves, Mowgli is watched over by a black panther named Bagheera (Sebastian Cabot) and befriends a rather free-spirited bear named Baloo (Phil Harris) who teaches Mowgli that he must look for the "Bare Necessities". With man-eating Bengal tiger Shere Khan (George Sanders) returning to the jungle, the animals, including Mowgli's wolf pack and Bagheera, believe it best that he finally return to his man village, but Mowgli doesn't want to go. More adventures ensue as Mowgli tries to stay in the jungle while avoiding Shere Khan, including being kidnapped by a gang of monkeys and taken to their leader, King Louie (Louis Prima) the orangutan, for a jazzy performance of "I Wan'na Be Like You".
While director Wolfgang Reitherman and the animators do preserve the somewhat darker tone of Kipling's book while making it light enough for children, they don't quite succeed in fixing a linear narrative. The Jungle Book is a rather episodic story, and the film from Disney remains a series of set pieces, from the opening segment when Mowgli is first discovered, to the Elephant brigade, to the "Bare Necessities" and on. It seems as if Mowgli, through his battle to remain in the animal world and constantly being pushed toward the world of men, is just going from one elaborate production to the next. These excellently animated scenes often with catchy tunes are enjoyable, nonetheless, but the overall feeling of the film does not have the same cohesiveness of some other Disney classics such as Snow White, Cinderella, or Sleeping Beauty.
Video Quality
[Rating:4/5]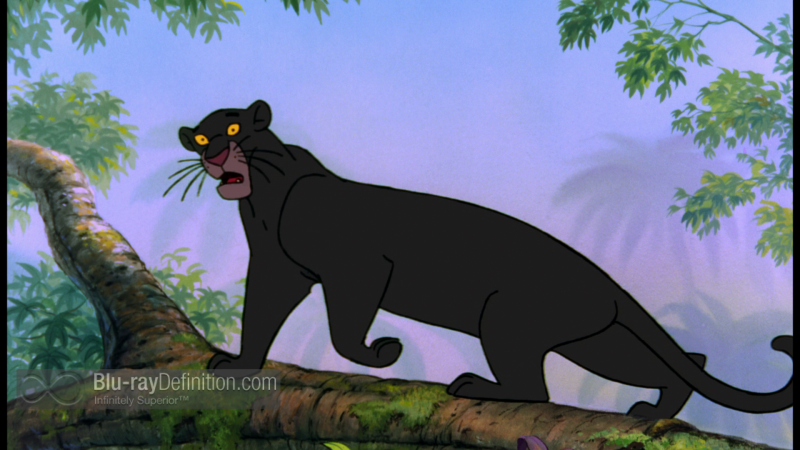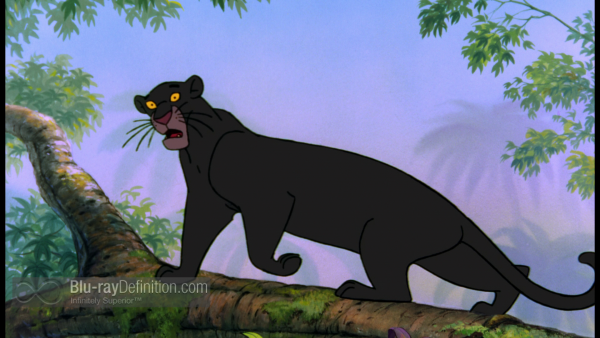 Disney gives us The Jungle Book in its original 1.75:1 aspect ratio on Blu-ray in an AVC/MPEG-4 1080p encodement. It's been cleaned up a lot, to the point where source damage in the original film and cels is not an issue, but we still get a lot of the detail in the sketch work from the stylized character designs. There is a very thin veneer of grain, but mostly The Jungle Book looks  spotless and crystal clear, almost a little too clean and smooth, and just a bit soft.
Audio Quality
[Rating:4.5/5]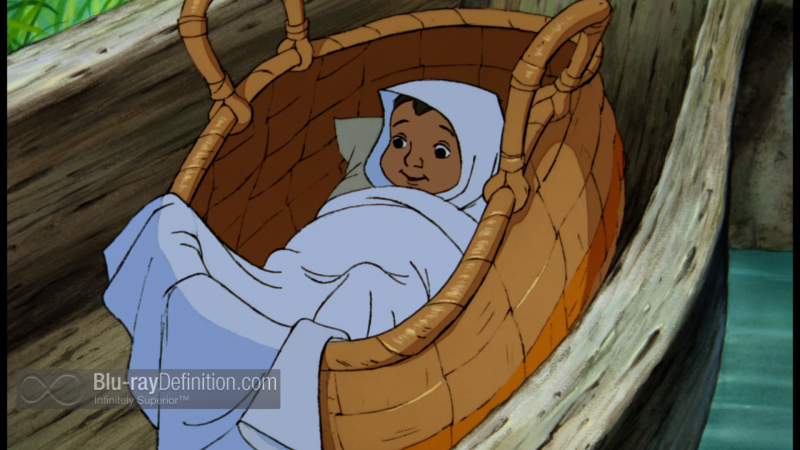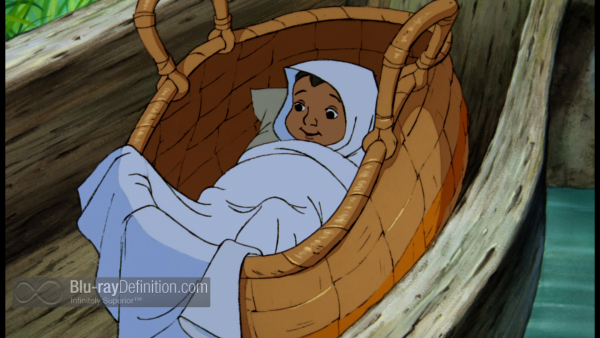 We get the option of watching The Jungle Book with a new English DTS-HD Master Audio 7.1 (48kHz/24-bit) mix and the original monaural track in Dolby Digital 1.0. There are also dubs in French Dolby Digital 5.1, Portuguese Dolby 1.0, and Spanish Dolby 1.0. The lossless 7.1 track is clean and dynamic with lots of ambience, a wide stereo spread, and big low frequencies. It may not be the authentic experience, but it is entertaining nonetheless. Meanwhile, the 1.0 mix is much boxier, but it will bring you back in time, even if the clarity of the picture doesn't quite match up.
Supplemental Materials
[Rating:4.5/5]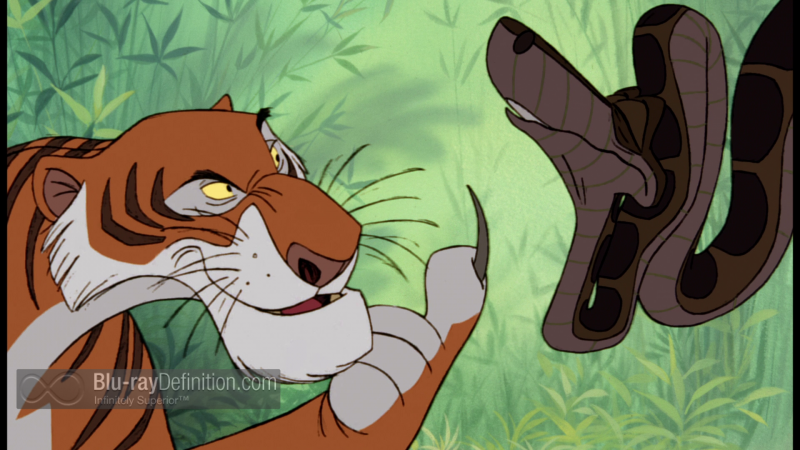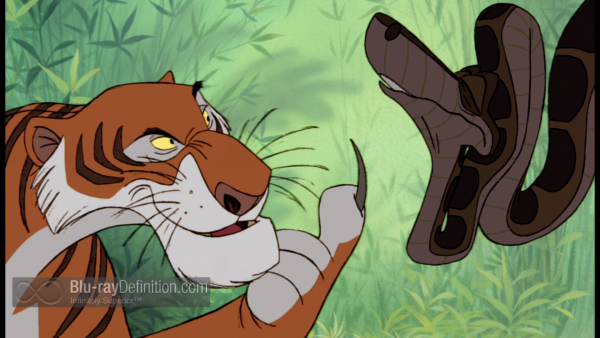 We are given a slew of new, Blu-ray exclusives plus older, DVD port-overs that fill this set up.
The supplements:
DVD
iTunes Digital Copy (HD)
Introduction by Diane Disney Miller
Introduction by Richard M. Sherman
Disney Intermission Bear-E-Oke Sing-Along Hosted by Baloo
Music, Memories & Mowgli: A Conversation with Richard M. Sherman, Diane Disney Miller and Floyd Norman (1.78:1; 1080p/24; 00:09:49)
Alternate Ending – Mowgli and The Hunter (1.78:1; 1080p/24; 00:08:46)
I Wan'na Be Like You: Hangin' Out at Disney's Animal Kingdom (1.78:1; 1080p/24; 00:18:25)
Bear-E-Oke Sing-Along
@Disneyanimation: Sparking Creativity (1.78:1; 1080p/24; 00:09:14)
Classic DVD Bonus Features:

Backstage Disney:

The Bare Necessities: The Making of The Jungle Book (1.33:1; SD; 00:46:27)
Disney's Kipling: Walt's Magic Touch on a Literary Classic (1.33:1; SD; 00:15:01)
The Lure of The Jungle Book (1.33:1; SD; 00:09:28)
Mowgli's Return to the Wild (1.33:1; SD; 00:05:09)
Frank & Ollie: Frank Thomas & Ollie Johnson Discuss Character Animation (1.33:1; SD; 00:03:46)
Deleted Scene: The Lost Character – Rocky the Rhino (1.33:1; SD; 00:06:36)
Disneypedia: Junglemania! (1.33:1; SD; 00:14:21)

Music & More:

Disney Song Selection
"I Wan'na Be Like You" Music Video Performed by Jonas Brothers (1.33:1; SD; 00:02:51)

Audio Commentary with composer Richard M. Sherman, animator Andreas Deja and the voice of Mowgli Bruce Reitherman plus guest archival appearances
The Definitive Word
Overall:
[Rating:4/5]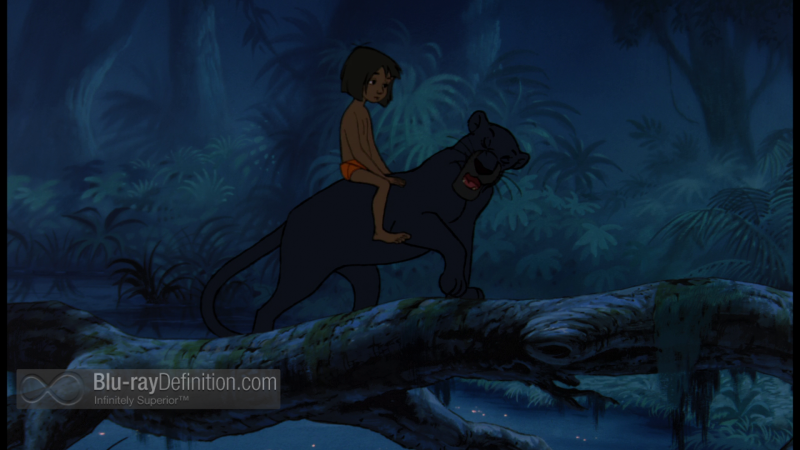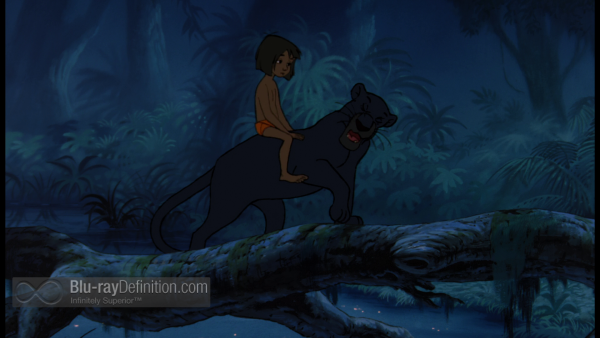 I still have "The Bare Necessities" ringing in my head, which is a testament to the catchiness and charm of this beloved Disney number. On the whole, The Jungle Book is an enticing film to view, with beautiful character designs and detailed backgrounds. It will no doubt make excellent entertainment for the whole family now as it has done for years.
Additional Screen Captures
[amazon-product]B00GDT4M1A[/amazon-product]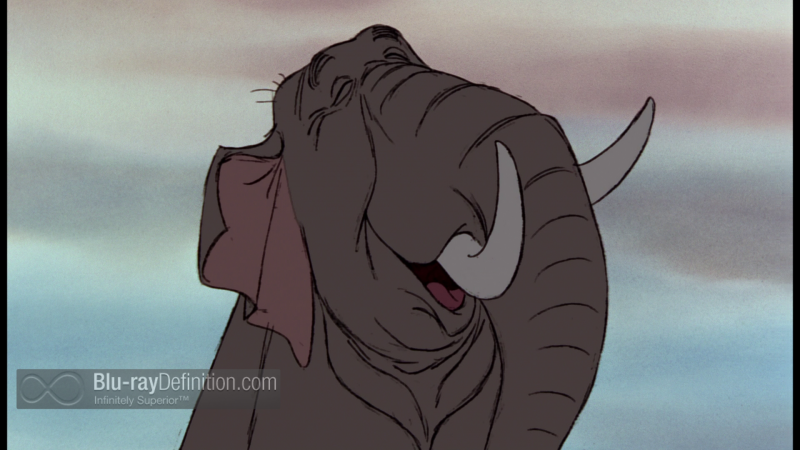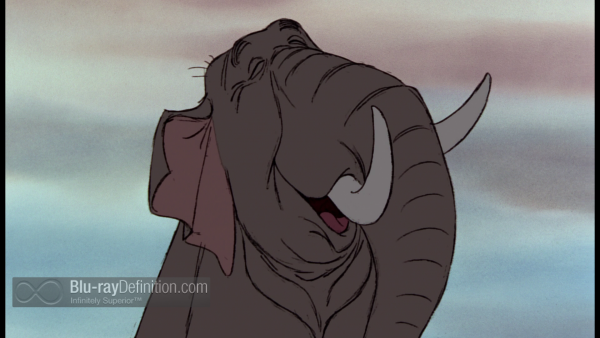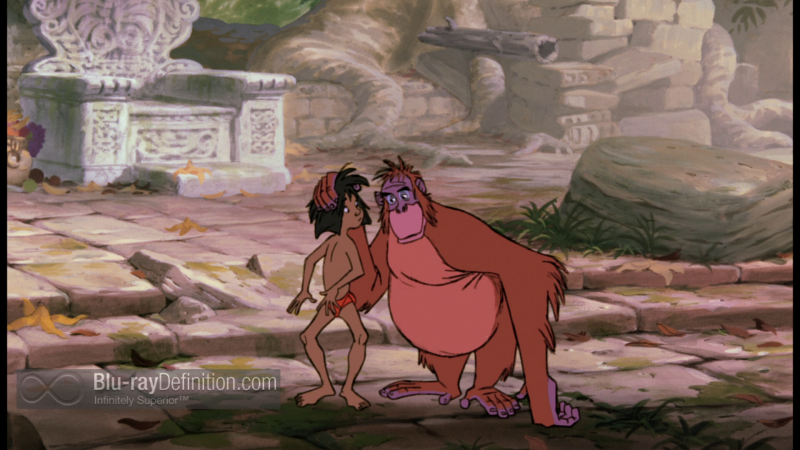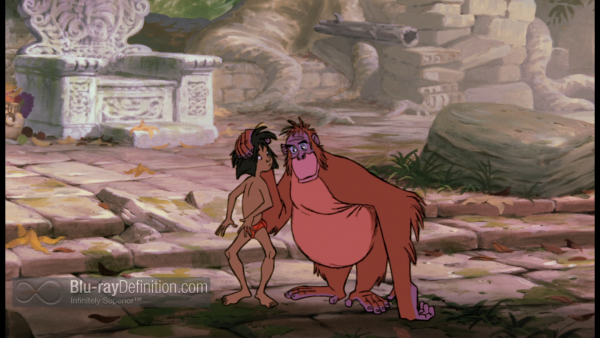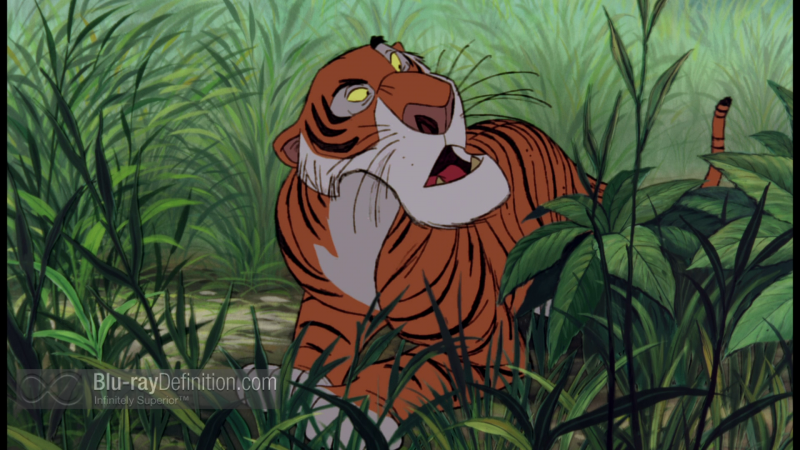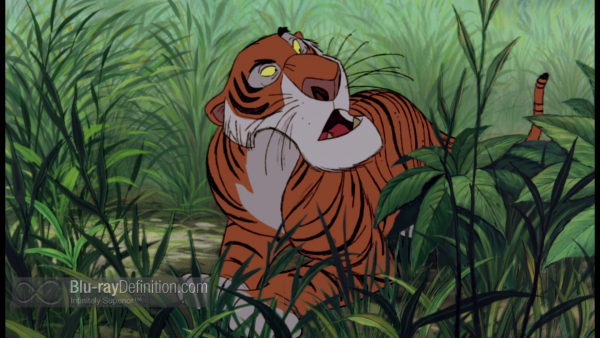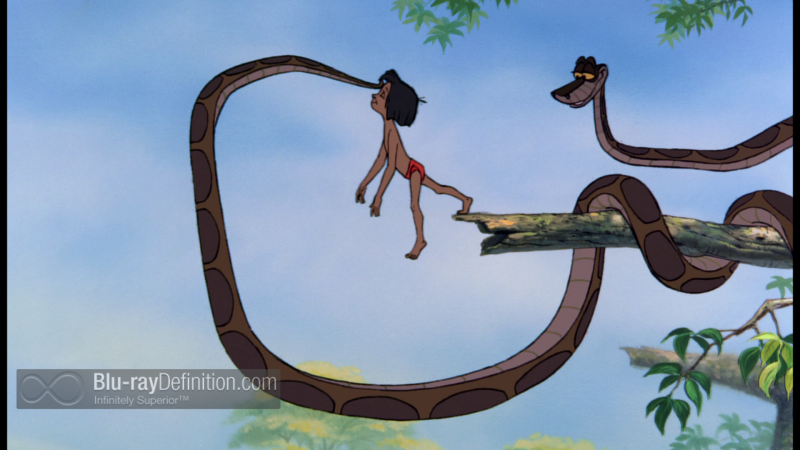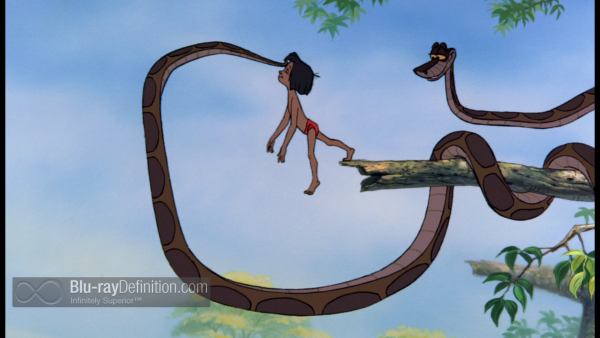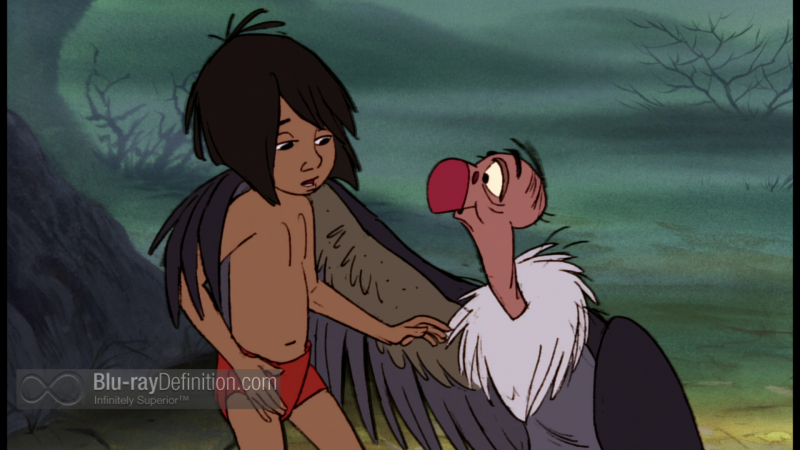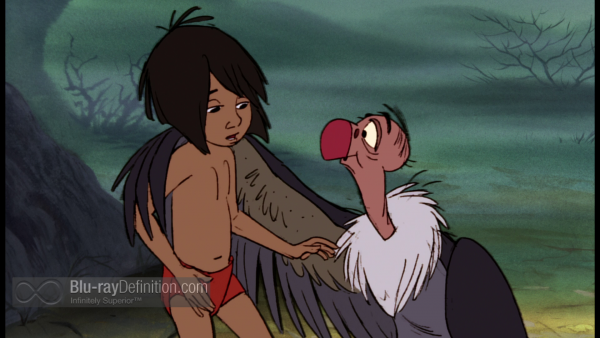 [amazon-product]B00GDT4M1A[/amazon-product]